Looking for the best cat litter mats to prevent your kitty from tracking litter all over the house?
We've rounded up our top five favorites.
Read on to find out our #1 pick!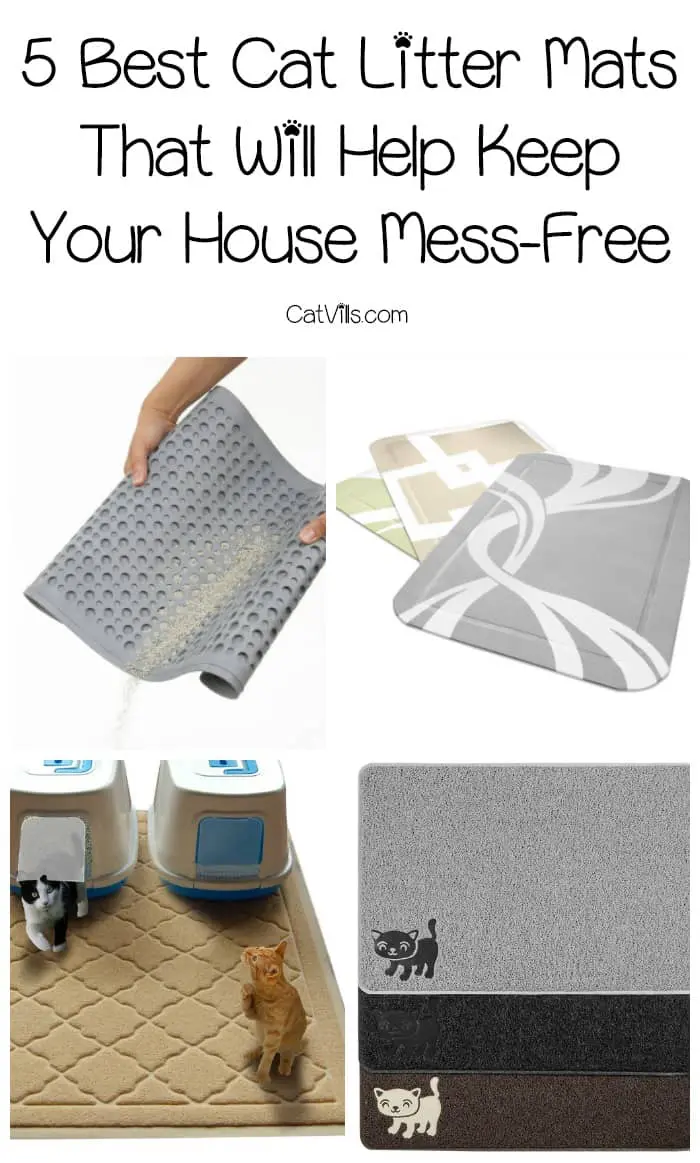 Now that you've figured out where to hide your litter boxes and how to get rid of the stinky odors, there's just one more little problem – how do you keep your cat from tracking litter from one end of the house to the other every time he goes to the bathroom?
Vacuuming works, of course, but – especially with multiple cats – some days it gets pretty frustrating trying to keep up with the mess, and it's always surprising to me how far they can manage to spread the stuff.
Also, I don't know about your cats, but every time I get the vacuum out, they act like I've sent some sort of demon after them (and I promise, no matter what they tell you, I don't actually chase them around the house with it).
To keep the trauma to your brave little wildcats to a minimum, it's probably easier to try to stop the litter before it gets ground into the carpet.
Your best bet is a cat litter mat, which sounds easy enough until you get to the litter aisle of your local pet superstore, or type "litter mat" into your Amazon search bar.
There are so many options, and so many completely different types – which one do you choose?
Below are five different cat litter mats with high customer satisfaction ratings across the board.

Top 5 Cat Litter Mats to Keep Your House Cleaner
Affiliate links included below. We earn a commission if you make a purchase at no extra cost to you.
5. Petfusion SmartGrip Cat Litter Mat
4. Petlinks Purr -fect Paws Cat Litter Mat

The Purr-fect Paws mat has a simple, but effective design.
3. iPrimio Cat Litter Trapper

*If your cat is consistently going outside the box, please consult your veterinarian – this is often a sign that your cat is having bowel or bladder issues, which can be deadly serious and must be addressed immediately.
2. Smiling Paws BPA-Free Premium Cat Litter Mat

1. Easyology Premium Cat Litter Mat

Read our full guide about this mat: Easyology Jumbo Cat Litter Mat Review (Is it Right for You?)
Overall, there are many good litter mats available to keep your floors mess-free, and the best one for your needs may depend on space available, budget, and litter box size – as well as your cat's toileting habits.
My advice is to have a look at these five, and see if they will do the trick for you – I'm betting at least one of them will.
Have you found any other fantastic cat litter mats that keep your kitties from tracking a mess all over your house? Share below!