Are you looking to buy the best automatic wet food cat feeder?
You made a smart choice by clicking on this article!
I'll make sure you know everything there is to know about these products with a detailed buying guide.
But before we dive into those discussions, let's take a look at some of the top options available.
Top Automatic Wet Food Cat Feeders at a Glance
FYI, this post contains affiliate links. We earn a commission if you make a purchase at no extra cost to you.
Check this comparison table for a quick guide. Read the review for further details.
The 5 Best Automatic Wet Food Cat Feeder Options (Detailed Guide)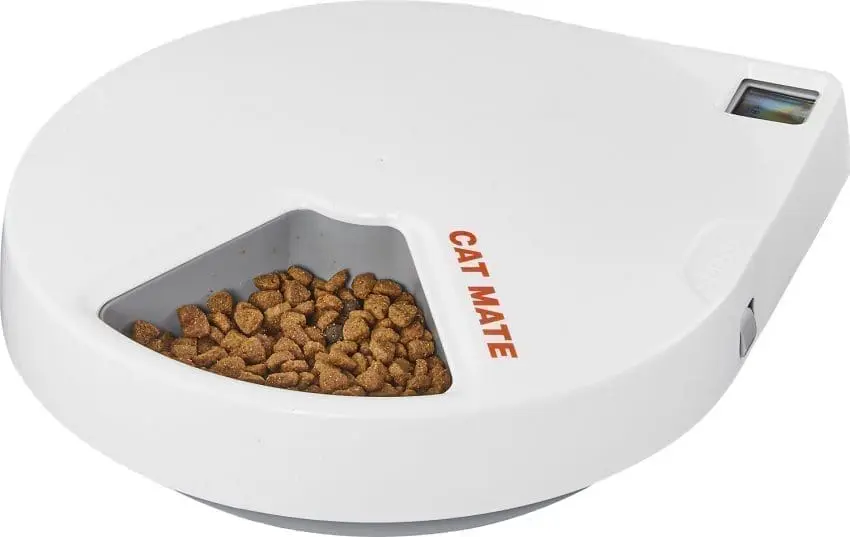 If you're looking for an option to feed multiple cats, Cat Mate's C500 Automatic Cat Feeder is an ideal fit.
This automatic cat feeder comes with five food compartments to keep each cat's food separate.
It'll make keeping the proportions of each meal much easier than with other models.
You'll also love this product's easy programming feature.
It allows you to set four different times for meals, such as breakfast, lunch, dinner, and an evening snack.
benefits:
Five food compartments, each holding 11.5 oz of wet food
Dishwasher safe bowl and cover
Programmable up to 4 meals
Equipped with a tamper-resistant lid
Features ice packs to keep food fresh
3-year warranty
Drawbacks:
It doesn't keep food fresh for extended trips
Not ideal for determined cats, as one reviewer states
Final Verdict:
Multiple cat owners won't find many available options better than this one. The programming feature and five food compartments make it a perfect fit.
It's well-known for the tamper-resistant lid, as well. This feature will stop your food-obsessed cats from getting their hands on an extra meal or two.
However, this automatic feeder isn't the best for extended trips. Most users reported a 36-hour window being how long it's capable of keeping food fresh.
One Chewy reviewer also explained that it's a "Nifty system … if you don't have determined cats," as they can easily break into the other compartments.
But if you're looking for an effective feeder to feed your fairly mellow cats while at work, this model could easily be an excellent choice.
SureFlap's Microchip Automatic Cat Feeder is easily the most advanced option on our entire list.
It earns this title by using a programmed microchip collar tag, which will prevent the device from opening a compartment for the wrong pet.
The programming process isn't too complicated, either, as it consists of pressing a single button.
You also can rely on the wet food being fresh with its sealed bowl design.
It's easily among the best dry cat food and wet food automatic feeder options.
benefits:
Excellent choice for cats on a diet
Sealed bowl to keep wet food fresher
Includes a microchip dog collar tag to prevent opening for wrong pet
Holds both dry and wet food
One button programming process
Drawbacks:
Pricy option
Closes slowly, according to some owners
Final Verdict:
If you're looking for the Porsche of automatic cat feeders, this one is a perfect fit. It offers a simple, effective way of ensuring your cat gets the right food whenever you're away.
It doesn't over-complicate things with challenging to use programming settings, as well. Most of these advanced options tend to fail in this regard.
But this sophisticated design does come with a downside, its price tag. You'll have to spend a lot more on this option than any other on our list.
One reviewer on Chewy also complained that it closed slowly enough for cats to "swoop in and inhale the food."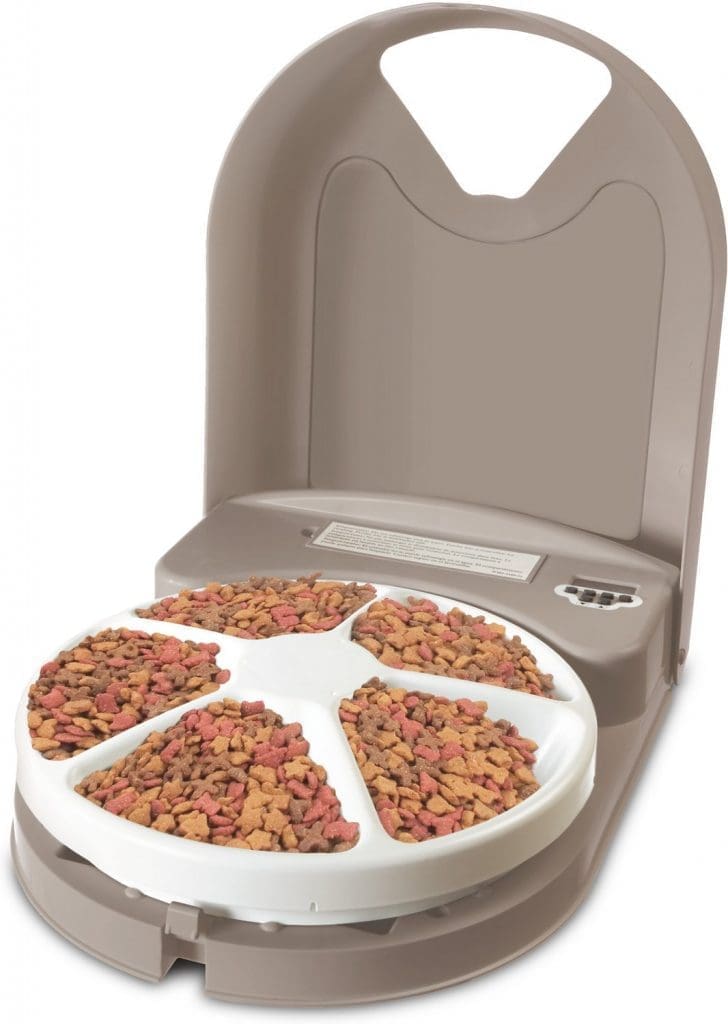 The PetSafe Eatwell 5-Meal Automatic Cat Feeder excels when it comes to making your life easier.
Its entire design oozes convenience as there's nothing complicated about it. You won't even have trouble cleaning it as the food trays are dishwasher-safe.
The five 1-cup portion sections make it a suitable companion for any busy owner, as well.
Simply program their five meals, and spend the weekend away relaxing without a worry.
benefits:
Five food sections, each holding 1-cup
Programmable up to 5 meals
Dishwasher-safe, BFA-free plastic food trays
Long-term battery operation (up to 12 months)
Automatically rotates to next tray on a set time
Easy to use
Drawbacks:
Loud noise operation, bad for skittish cats
"Rough on the whiskers," according to one customer.
Final Verdict:
The product's easy-to-use construction has made it a favorite among both cat and dog owners.
You don't even have to worry about power outages, as it operates entirely on batteries.
It'll provide 12 months of battery operation without a single change needed. Automatic pet feeders don't get much more convenient than this one.
Owners with skittish cats will need to choose a different model, though. It has a loud motor that can scare them away from using it.
One user did say that it was "rough on the whiskers," due to the design. It tends to rub against them.
Your favorite part about ORSDA's Automatic Wet Food Cat Feeder will be its ability to prevent cat food thievery.
Its sealed lid and dispenser have become known for their stopping of even the most intelligent cats.
As one customer put it, "It's hard for my cats to break into and one of them is very determined."
It sounds like an excellent choice for anyone with a food-obsessed cat.
Don't overlook its ability to hold 2 pounds of wet food, either, as it's a perfect setup for an extended trip.
benefits:
Five compartments, each holding up to 2 pounds of wet food
Programs up to five meals per day
Waterproof, easy to clean design
Sealed lid and dispenser prevent cat thieves
Dual power supplies (DC power and 3 AAA batteries)
Smart voice interaction
Drawbacks:
Settings are a little complex to navigate
Batteries are hard to install
Final Verdict:
Overall, its anti-thievery abilities and large food capacity make it a must-have for most cat owners.
It's easy to see how practical the dispenser would be when taking a weekend trip.
I only wish the programmable settings were a bit easier to navigate. There were more than a few complaints about them in the customer reviews.
Sale
Automatic Cat Feeder Wet Food, ORSDA Pet Auto Feeder for Small Dogs and Cats, 5-Meals Timed Dog Food Dispenser with Portion Control, Programmable Timer, Voice Recorder, Batteries & USB Power Supply
😸Great for Overnight Wet Food - Works great for overnight feeding so that your cat would stop waking you up everyday at the crack of dawn!With ORSDA timed pet feeder, you can easily manage pet mealtimes with a full work or school schedule, leave for the night and no need to worry about your cat.
😸Precise Portion Control - With a built-in timer, this auto pet feeder features 5 compartments for use with dry, moist, and wet food or even treats and medication. (Each tray slot holds for 1.6lbs dry food or 2 lbs wet food.) ORSDA automatic cat feeder delivers precise portions and dispense small amounts of food at certain intervals. Ideal for cats, small dogs, dieting pets, aging pets or other pets that requires more frequent feeding or with special needs.
😸Smart Voice Interaction – Featured with a multifunctional panel for smart programmed settings and Voice Recorder. Built-in voice recorder notifies your dog for each meal with a personalized voice recording. Press and hold the record button to start recording the voice message, it will play automatically before feeding. Even if you are not at home, your pet will feel at ease. (e.g. Here, Kitty! Come and eat.)
😸Easy To Clean & Water Proof Design- Both the cover and food bowl are removable and top-shelf dishwasher safe. Thanks to the sealed tray design, you have no needs to worry about short circuit if the water drop inside. The sealed lid and dispenser prevent pets prying paws to turn the tray and steal food to keep its hygiene and safety.
😸Dual Power Supplies - Our automatic pet feeder dishes out 1 to 5 meals per day and is connected to wall power, and conveniently, it can also run on 3 D-batteries in the event of a power outage. (Long lasting than other feeders with small battries.) (Batteries are NOT included) Your pets will never miss a feeding with our smart dog feeder!
Our final product, Faroro Automatic Wet Food Cat Feeder, is a hassle-free option that doesn't get too far ahead of itself.
In other words, nothing about this cat feeder will bring you any stress.
You'll have no problem setting it up with its built-in timer and five food compartments.
Its dual power supply will ensure the product keeps running even if a power outage occurs.
Plus, it has a very affordable price for an effective wet food cat feeder.
benefits:
Five compartments, each holding 1 cup of food
Programs up to four scheduled meals
Dual power supply (DC power and batteries)
2-year warranty
Built-in voice recorder
Affordable price
Drawbacks:
Some complaints about durability
Drains batteries like crazy
Final Verdict:
This product might not be flashy or groundbreaking, but it does its job without any issues.
It'll provide your cat with four scheduled meals without a single sense of trouble.
You can even program your voice into the device to act as an alarm for mealtime.
This aspect could make sure your cat becomes comfortable with the food dispenser quicker.
I do have to note a few customers did mention longevity concerns with the device, though.
But most people seemed overly happy with how it held up over months and months.
Faroro Automatic Cat Feeder Dry Wet Food Dispenser with Programmable Timer Up 5 Meals per Day 10s Voice Recorder for Cats, Dogs and Small Animals
CUSTOMIZED FEEDING PLAN - An easy-to-set built-in timer that runs on a 24-hour schedule that will help you create a good feeding routine for your pet. The device offers five compartments (one tray for instant feeding and the other 4 trays for scheduled meals) that allow you to program 4 different meals.
ENCOURAGE BALANCED DIET - Each compartment can hold up to 8oz (1 cup) of food. With multiple slots, you can alternate both dry and wet food for your lovely pet, feeding a balanced diet. It allows keeping refrigerated food fresh for as long as 12 hours.
DUAL POWER SUPPLY - The feeder has a dual power supply that uses both 3 D batteries and also a power adapter (DC power adapter included, batteries not included). In case of power outage, the device will not be reset and continue to function.
HUMANIZED DESIGN - The feeder comes with a built-in voice recorder that allows you to record a 10 seconds message to invite her to eat. The message will play 3 times during feeding times. Food tray and top cover can be easily disassembled for cleaning and are also dishwasher safe.
PROFESSIONAL AFTER-SALE SUPPORT - After purchasing please contact Faroro after-sales team to activate the 2-YEAR warranty. Faroro provides 24/7/365 professional service and technical support. Faroro Smart Pet Care always be with you.
Things to Look for When Buying the Best Automatic Wet Food Cat Feeder
Certain factors will play a massive into determining what automatic wet food cat feeder is suitable for you.
I'll discuss each of them below to ensure you can easily select one capable of fitting your needs to a tee.
Design Quality
A high-quality automatic cat feeder for wet food will need a well-built, sturdy construction.
It's a necessary attribute because some cats are a bit mischievous, which leads them to try a food robbery.
These attempts are commonplace among younger cats that aren't used to the device.
But a well-constructed cat feeder will prevent those robberies from ever occurring.
You also will need an automatic wet food cat feeder with a top-tier locking mechanism.
It'll help stop cat thieves, keep the wet food fresher, and prevent air from coming into the device.
Schedule Flexibility
Some automatic cat feeders don't offer user flexibility when it comes to scheduling feeding times.
It makes them super inconvenient for you, as your cat will have to adjust, which takes some time.
Honestly, the best automatic cat food dispenser will provide the ability to schedule your own times.
You'll want to set up those feeding times based on your preferences rather than some pre-programmed nonsense.
An owner who wants to feed their cat at 3 am, 9 am, 2 pm, and 9 pm should have no issues setting their machine to these times.
In other words, your chosen model should have no problems adapting to your cat's routine feeding schedule.
Buying one with predetermined feeding times only defeats the purpose of getting one.
After all, the entire reason for purchasing these devices is the convenience offered by them.
Quantity of Meals
Low-quality feeders will only dispense one meal rather than multiple.
You'll also come across others that can provide two, while the most popular options will distribute five meals within 24 hours.
Given the variation, you must decide how many meals are suitable for your needs.
Some owners might want to use their feeder for a single meal when they're away at work.
Others will need to have an option capable of dispensing multiple meals during a long trip.
If you're one of these people, I'm always going to recommend buying an option that can do up to five meals.
But it's important to remember you should never use a feeder "as a way to not hire a pet sitter, walker, or boarding facility." It would be best if you always had a friend check on them when taking extended trips.
In any case, it'd also be wise to get a feeder that can dispense both dry and wet food.
You never know when a situation might arise where a food switch is necessary, such as a new medication.
These dual purposes options will ensure you're never caught off guard because of your cat's food needs.
Bowl Size
Bowl size will be a massive determining factor in what automatic feeder best suits your situation.
Each owner will need to consider how much food to feed their cat and choose an option that can do it.
This aspect might seem like common sense, but owners can get caught in other factors like the design or advanced features and lose track of what's most important.
Many wet food dispensers will come with a bowl size of a single cup per meal.
But if you need large quantities for multiple cats, some high-quality choices hold 1.5 cups per meal.
If you don't know how much to feed your cat, Dr. Jennifer Coats offers a simple guideline to follow within this article. It'll provide you with a perfect answer about a cat's proper wet food or dry food intake.
Price
As with any product, the price tag will be a giant cog into what becomes your ideal option.
Building a budget based on your specific needs is an easy way to make its role in this decision stress-free.
For instance, a person who needs a 1.5-cup model will require higher budget ranges than other owners.
Your budget should reflect this reality to ensure it remains realistic.
You can then use it to lessen your choices into a more manageable number. It's a simple trick that'll streamline the process into becoming a lot easier.
Battery Life
Buying an automatic cat feeder that runs exclusively on electricity isn't a smart move.
You'd be better off choosing one with a backup battery feature to ensure it can run when a power outage occurs.
If a power outage or blackout occurs, these devices will switch to using their batteries without messing up the schedule.
It's a rather impressive feature that could save you from having a severe issue.
After all, options without this feature won't dispense food during these power outages.
Your cat will miss their scheduled meals and become overly hunger for an extended period.
It becomes even more imperative for people taking extended trips to buy options with backup battery features.
You don't want to leave your cat without a meal for days, which could happen with an electric-only device.
But please, make sure to check each option's battery lifespan before choosing one.
You're going to want a model capable of running on its batteries for a significant time frame. Otherwise, this feature becomes utterly useless.
Product Warranty
Product warranties are crucial elements to any worthwhile electronic purchase. You'll want a protection plan against the feeder malfunctioning or enduring some breakage.
These policies will offer it by ensuring you can get them replaced or your money back.
It's a simple way of becoming more comfortable investing a lot of money into these products.
More importantly, brands that offer warranties tend to make high-quality devices. It wouldn't make sense to provide a protection policy with junk products.
Cleaning Process
You never want to buy an automatic cat feeder with a complicated cleaning process. It becomes an even significant necessity with options used for wet food.
Wet food particles get stuck and create build-ups a lot easier than dry food.
As a result, the dispenser can become stinky and filled with bacteria capable of causing your cat issues.
Avoiding this problem comes down to doing some serious research into each model's customer reviews.
You want an option with multiple buyers raving about how cleaning it was a simple, stress-free task.
If the automatic feeder isn't easy to clean, these devices' pros aren't worth your time. These pros are something that I'll discuss in more detail within our next section.
Are Automatic Feeders Okay for Cats?
If you're deciding whether to buy one, knowing these pros and cons is essential. It's the only way to know if these devices would be a good fit in your home.
Let's dive into the pros first to explain what makes people see these devices as useful.
benefits of Automatic Cat Feeders
You can store extra food inside its additional container or reservoir. It'll keep it safe from pests and cats with a massive appetite.
Sturdy construction and large size help keep these food containers from tipping over and wasting food.
Provides your cat with a routine of predictable mealtimes even when you aren't home. It makes them ideal for busy owners who are traveling or working a lot.
Easier to offer minor, proportioned means regularly to help cats with obesity issues or other health conditions.
Outdoor cats can get their food more safely without worrying about attracting other wildlife. After all, there won't be excess food.
Since you're now familiar with the benefits, it's time to move on to those pesky cons. Here are a few reasons why getting an automatic cat feeder wouldn't be a wise move.
Cons of Automatic Cat Feeders
Most models will lack sensors and continue dispensing meals, even if your cat didn't finish their last meal.
Cleaning these devices can be an issue as they often feature complex designs. Most of them will even require disassembling them to clean the various moving parts.
Their dispensing routine can be highly noisy, which could be an issue for pets who are skittish. It may even keep them from eating when they're hungry.
Some automatic feeders can't function without electricity, which makes them problematic during power outages. How is your cat supposed to eat?
You can't monitor what pet's eating the meal inside multi-pet households. It becomes a severe issue when those pets share a feeding area, and one is a bit more dominant than the others.
Overall, the best automatic cat feeders are convenient devices that can make your life much easier.
But it's crucial to obtain one of top-tier quality like the ones mentioned in this article.
These disadvantages will soon be the only thing that defines your experience using one if you don't.
Final Words
I hope these discussions on automatic cat feeders for wet food answered all your questions.
But if you have any more, please leave a post in our comment section. Thanks for reading!
Our Top Pick
If you don't have enough time to read our entire article, selecting SureFlap's Microchip Automatic Cat Feed would be an excellent choice.
It'll have no issues providing a cat with their wet food while you're away on a trip or at work.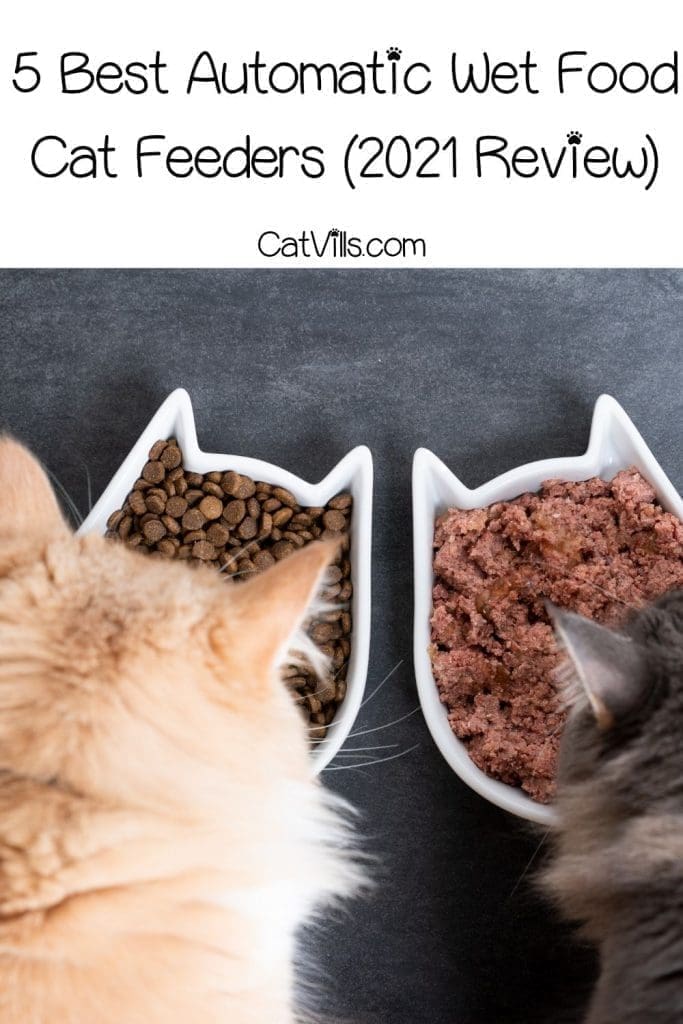 What is your favorite and best automatic wet food cat feeder? Share with us below!
Ben Robers
My name is Ben Roberts, and I absolutely love animals. So, naturally, I love writing about them too! As far as my animals, I have a Pit-bull, a Beagle-lab mix, a Chihuahua, and one old cat. Each one of them provides me with a new adventure every day. And the best part is they're all best friends. Well, except the cat when he gets a little annoyed.
Last update on 2021-09-24 / Affiliate links / Images from Amazon Product Advertising API