If you're looking for some bald cat names, you're in the right place!
Below, we'll look at 150 incredible names for hairless cats.
They are perfect for hairless cat breeds such as the Mexican hairless cat breed.
See this table below for a quick list of names. Read further for the complete list.
| Bald Cat Names for Females | Bald Cat Names for Males |
| --- | --- |
| Xanthe | Adel |
| Nefertiti | Amon |
| Bast | Anubis |
| Hathor | Aton |
| Isis | Heru |
| Neith | Horus |
| Lucille bald | Osiris |
| Lady Godiva | Seth |
| Fluffy | Seti |
| Peach fuzz | Tut |
Let's dive in!
75 Bald Cat Names for FeMales
Xanthe: an Old Greek origin name that means light color.
Nefertiti: if your cats behave like royalty queen.
Bast: a safeguarding title.
Hathor: a queen of sky and love.
Isis: a mystical name for a hairless cat breed as it means brave.
Neith: an angelic mama.
Lucille bald: fair plus clear head equals a good laugh.
Lady Godiva: a present of God it symbolizes.
Fluffy: a funny hairless cat name as your cat has no fur.
Peach fuzz: an amusing name and also cute.
Cabello: it means hair on the head which is humourous.
Anastasia: you can call it reborn, one of the good names for hairless cats.
Nina: for the cat who is romantic and loves to cuddle.
Eva: a Latin name for cats that means existence.
Karina: one who is unblemished and came from Scandinavian roots.
Kira: one who is loved by all
Yelena: a Russian word that translated from light.
Vera: if your cat is trustworthy and won't eat all your food.
Tasha: a Christmas gift.
Sabina: a famous name for your hairless breed.
Lady Schick: an intelligent and wise name.
Moon: a planet is never out of trend.
Whiskers: another hairy name for a sphynx cat.
Wrinkle: if you cannot understand your cat's language.
Truth: a bitter truth but your cat is bald.
Eboni: it stands for a dark-haired cat.
Farida: it means different.
Gamila: an appealing name for your bald cat.
Khepri: this term is defined as the sunrise.
Moswen: a perfect name for a fair-colored cat.
Rania: for the cat who has a lovely nature.
Sanura: a cute name for your little one.
Shani: for your cat who is magnificent in everything
Thema: does your cat behave like Her majesty.
Dalila– roots of Egyptian and stands for sugary.
Hasina: one who loves everyone.
Kamilah: a precise name for an ideal cat.
Aziza: if you love your cat like a jewel then this is perfect.
Balbina: a Latin name and represents strength.
Beatrice: a Her majesty type name and means happy.
Gazelle: an elegant name.
Madonna: a dignified title as it means lady.
Magna: if your cat is huge in shape.
Pearl: an alluring personality just like a precious stone.
Precious: the birthplace of Latin and means something special.
Clyde: a river name that flows in Glasgow.
Leon sphynx: a fancy name for a bald breed of cat
Nunzio: an Italian name that means a sender.
Isis: an Egyptian queen name and stands for head of the state.
Mau: an Egyptian cat name and it stands for something to do with everyone.
Sekhmet: an Egyptian queen name.
Electra: as the name suggests, an electric name.
Frida Kahlo: a popular woman's name.
Matilda: a name that means strength in war.
Sylvia: a magical name and it represents the tree's God.
Astrid: roots of Scandinavian and defined as light-colored.
Gytha: it stands for God is at peace.
Harriet: this term means self-determination.
Raine: a goddess name.
Zahra: a flower name that means to bloom.
Jord: it is defined as a truce of God.
Lagertha: a legendary Viking shieldmaiden.
Paris: a serene place to name your cat.
Katniss: The Hunger of Games inspired the title.
Cersei: another show," Game of Thrones," encouraged the name.
Sangria: a beverage name.
Primrose: a flowery name is always a yes.
Agata: a cat who is humane and not bites you.
Alisa: a happy name for your cat.
Nikita: the planet earth it means in Sanskrit.
Sofia: this term is defined as intelligence.
Tatyana: a spiritual angel.
Vasilia: a queen name.
Irina: an ancient Greek origin and described as calming nature.
Darya: an understanding personality.
Check out this video for other Latin names.3
Sphynx cat names for males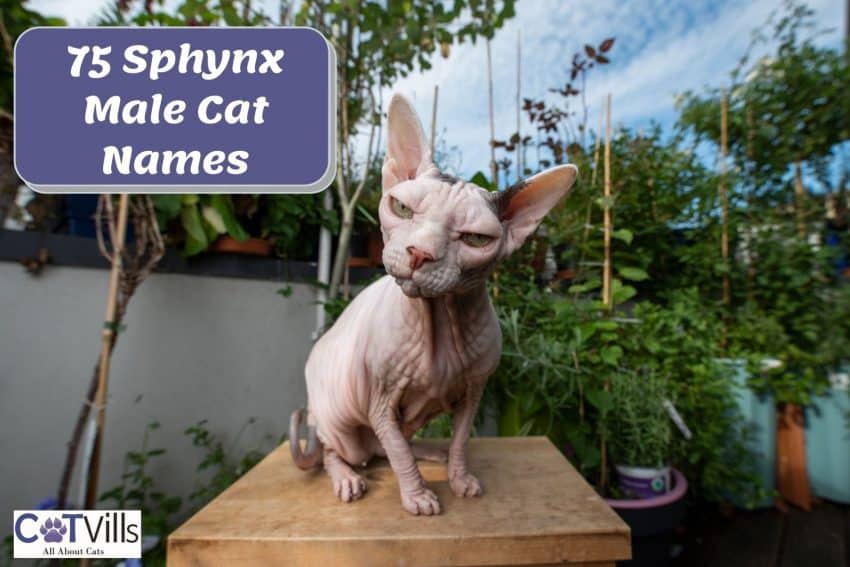 Adel: a patrician name for different cat breeds.
Amon: one who guards you.
Anubis: a bizarre name but it's an almighty name.
Aton: a unique name but the meaning it holds is simple and that is daylight.
Heru: stands for the God of sunlight.
Horus: have you ever heard of the blue sky creator? Well, you have the name now.
Osiris: another Egyptian title after God.
Seth: a God name who loves to create a mess.
Seti: it stands for a laydown.
Tut: it means a picture.
Ramses: an emperor name of Egypt.
Cleopatra: a prominent name since its name of the Egyptian monarch.
Hairy styles: changed the name from Harry styles to this.
Aleksander: one who protects you from everything.
Boris: a warrior cat name.
Czar: does your cat make you feel like he is the king?
Ivan: it stands for an offering of God.
Yuri: a down-to-earth name since it means an earth worker.
Vladimir: a royal name because it means a king.
Viktor: a Harry Potter series encouraged this name.
Mikhail: a famous name which depicts God's.
Axel: If your cat hates noise then he is the one.
Orion: it's the name of a constellation.
Fuzzy: for the one who is always in a strange mood.
Bald McCartney: hairless and added a being name.
Shave Brubeck: an opposite name as it is defined as no hair to shave.
Baldwin: powerful and full of strength.
Caesar: a Latin name that means too much hair and a funny name.
Shaggy: another amusing name because it stands for hairy skin.
Baldy: a literal name, but who said no.
Barber: one who cuts the hair, and that's what is called a great name.
Daddy Warbucks: a comic character name.
Bob: it means to shine.
Buns: shaped like a circle.
Butch: one who is hardworking.
Vin diesel: who knows that hairless head could make your cat renowned too?
Buzz: an astronaut name.
Dwayne Johnson: a celebrity who is famous for his baldness.
Stanley Tucci: a famous actor name who is bald.
Calvin: roots of French, and it stands for bald.
Chrome dome: it means a bald head.
Gollum: if your cat makes a lot of noise, then have this name.
Dobby: a Hogwarts influenced name as that character also didn't have any fur.
Moon: a moony name for your shiny cat.
Whiskers: a cute and funny title
Wrinkle: your cat has wrinkles on his body since there is no hair.
Truth: a bittersweet name.
Pelo: a Spanish name for bald.
Amr: is your cat your best friend forever?
Gamal: an attractive cat to whom no one can say no.
Khnurn: a beautiful meaning it consists of, i.e., invigorated sun.
Kosey: a sarcastic name since it means a big cat.
Latif: kind and generous.
Masuda: for one who is carefree and cheery.
Moise: a dark color body that is great for Black cats.
Nour: one who dazzles like a star.
Tau: another lion name.
Khalid: an amusing name since it stands for the one who cannot die.
Akil: a proficient cat is a must rather than a lazy one.
Abasi: for the one who always gives you pressing eyes.
Bacchus: a nuisance cat is monotonous nowadays.
Balbina: a brave cat is a lucky one.
Archebald: cats' arch is bald.
Frankie G: carefree and trusted one.
Mr. Skinner: a Disney-inspired cat name.
Nohee: an adorable name as it means no hair.
Hudson: a popular name for a cat.
Kingston: one who is the ruler of a kingdom.
Quinn: an Irish name that means guidance.
Abraxas: a mystical name for a monster.
Varys: it stands for short.
Gollum: a dark name for your cat.
Dr. Evil: it's understandable that sphynx cats look a bit dangerous.
Henessy: an alcoholic name, how fruitful would that be?
Jager: does your cat has any hunting qualities?
I'm in love with all of these hairless cat names, but my favorite has to be the last one, "Jager". My favorite childhood cat used to have great hunting skills!
What are your favorite bald cat names? Share with us!
Andreea Juganaru
Andreea is a very passionate content creator and her purpose is to provide you with the most interesting articles, while constantly discovering new facts. She's been freelance writing for the past five years and has created numerous articles and educational materials while managing her own business.
FIND HER ON: FACEBOOK.
Read her latest articles.
Learn more about Andrea here