What are the best cat carriers for long distance travel?
If you're planning a cross-country trek with your kitty, I'm betting you're wondering the same thing.
Below, we'll check out a few great carriers that I'd recommend for the long haul.
Plus, we'll talk about some tips on how to travel with cats in a car long distance.
Let's get going, shall we?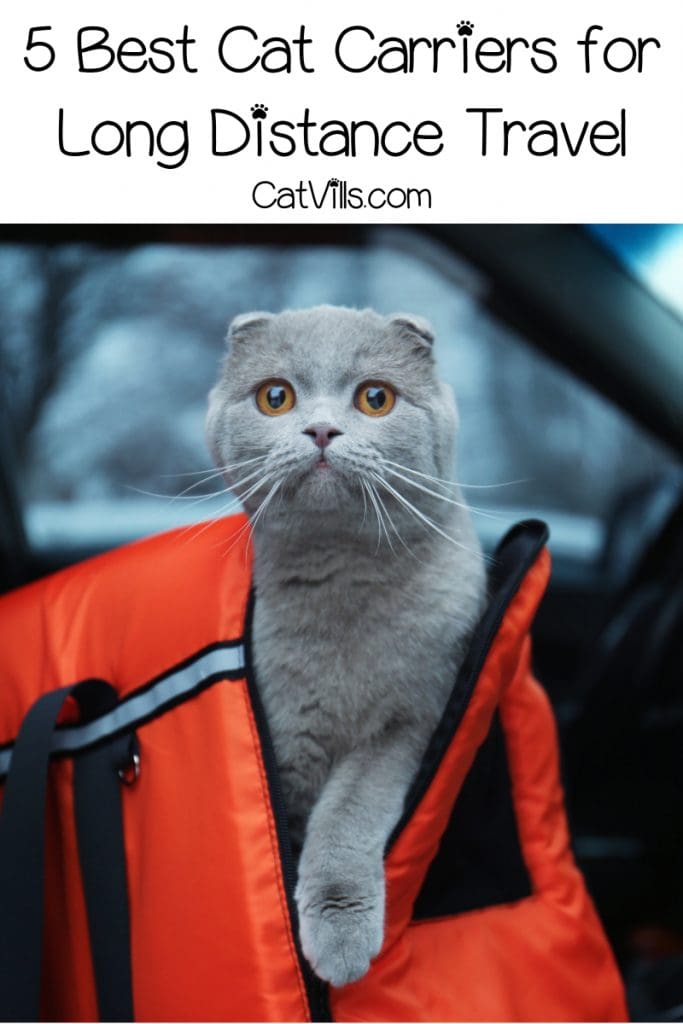 Our Top Pick
Want to just grab our top pick now and skip the rest? Go with the PetLuv "Happy Cat Premium Cat Carrier. Take a look at the basic features below.
FYI, this post contains affiliate links. If you make a purchase through these links, we earn a small commission at no extra charge to you.
Best cat carriers for long distance travel
When it comes to the best cat carriers for long-distance travel, one size does not fit all. Literally.
Let's look at some considerations to help you pick the right one. Then, we'll check out my recommendations.
Make sure it's large enough for kitty to sprawl out, stand up, and turn around
Consider ventilation and view- make sure kitty gets plenty of air and can see around him
Choose something that's easy for YOU to open and close…
…yet not easily opened by your kitty!
Check out the table below for a quick look at my top picks, then read on for full reviews.
Top Benefit
Best cat carrier for large cats
Best hard-sided cat carrier
Best cat car carrier with litter box
1. PetLuv Happy Cat Premium Cat Carrier
The PetLuv Happy Cat is my #1 pick for many reasons. It's an all-around fantastic carrier for the long haul. Let's see why.
Features & Pros
It's super roomy for cats of all sizes.
The large holds up to 40 lbs, so it will accommodate even the largest Maine Coon.
All-around windows for optimum ventilation and visibility.
Tear-resistant heavy duty rubber mesh and closable flaps for added durability.
Adjustable seat belt loops, locking zippers and reinforced seams for added safety
Four access panels let you reach your kitty from all angles.
Includes an adjustable shoulder strap and a removable plush bed.
Folds flat for easy storage.
Cons
Not tear-proof, so if it snags on something, it'll rip.
A few complaints about the zipper not being durable.
Determined (or freaked out) kitties CAN tear through the mesh.
Recommendation
This is definitely my pick for the best cat carrier for large cats, but it's perfect for smaller and average kitties, too.
However, keep in mind that soft carriers with mesh windows are NOT going to hold up to a cat that desperately wants to escape. For those kitties, you may want the next one on our list.
2. Petmate Two Door Top Load
Although I prefer softer carriers for long car rides, if you need a hard-sided one, you can't go wrong with Petmate.
Out of their massive selection of carriers, I like their two-door top load model as the best cat carrier for difficult cats.
Features & Pros
19″ up to 10 lbs, 24″ holds up to 20.
Both a front and top entry so you can easily reach your cat.
Air travel approved by most airlines, in case part of your trip includes a flight.
Ergonomic comfort-grip handle for easy carrying.
Ventilation on all sides.
Easy-squeeze door latches make opening it a breeze for you (not so much for your cat).
Cons
You cat can only really see out the front.
Squeeze latches aren't the most secure in my experience.
While the 24″ holds up to 20 lbs, it's really only roomy enough for up to about a 15 lb cat.
Uses air holes rather than mesh screen. You'll need to check carefully for sharp ridges before using.
Recommendation
With 4.5 stars across thousands of reviews, it's easy to see that this one is well-liked among users.
The small model is just right for munchkins and petite breeds, while the 24″ model is better for most average cats. I wouldn't recommend it for larger breeds, though.
Petmate Two-Door Small Dog Kennel & Cat Kennel (Top Loading or Front Loading Pet Carrier, Great for Small Animals, Made with Recycled Materials, 19 inches in Length) For Pets up to 10 Pounds
MULTIPLE DOORS OFFER EASY ACCESS: Easy load options make it easy and less stressful for travel or house-training. Suitable for small dogs, cats, or small animals up to 15 lbs. Multiple ventilation holes on each side allows air to circulate and gives 360 view while traveling to the vet, park or groomer.
AIR TRAVEL APPROVED CARRIER: This small dog crate or cat carrier meets most airline cargo specifications. We provide carriers and travel supplies ranging from a dog carrier to large dog crate, wire training, and exercise kennels, playpens, barn-style dog houses.
EASY TO ASSEMBLE, EASY TO CLEAN: No tools required for assembly. A strong wingnut bolt assembly, a sturdy, foldable handle and spring-loaded latches keep your dog safe during travel. Features "stay dry" moat that surrounds interior floor space in case of wet accidents.
CHANNEL THEIR DENNING INSTINCTS: Crate and kennel training is vital for dogs safety and comfort. Give your dog a space they need to feel secure. Spacious kennel floor can accommodate a pad for added cushion. Whether a small dog kennel or large dog kennel, we have what you need for that security.
MADE WITH RECYCLED MATERIALS: Petmate is not just a friend of furry family members, but the environment too. We produce eco-friendly, sustainable, recyclable products from kennels to litter boxes and many in between. Check out our brands such as Aspen Pet, Arm & Hammer, Booda, Chuckit, and more.
3. Mr. Peanut's Soft Sided Pet Carrier
Mr. Peanut's cat carrier has nothing to do with the Mr. Peanut from Planters. I'm actually surprised they're allowed to use the name! Copyright questions aside, though, this really is a top-notch carrier for small to average kitties.
Features & Pros
Just unzip one zipper and it instantly becomes roomier.
Holds up to 15 lbs.
Airline-approved (for the most part, different lines have different policies).
Strong and waterproof
Breathable mess on all sides.
Comes with a removable fleece bed with a plywood base.
Padded shoulder strap, name tag, and storage for important papers.
Lightweight at only 2.7lbs
Family-owned US-based business.
They donate a portion of the proceeds towards shelter programs.
Cons
Measurements are for exterior. Interior space is a bit smaller.
Shoulder strap isn't the most durable.
Some say it has a strong plastic odor.
Not big enough for large cats.
Recommendation
While there are a few concerning negative reviews, you'll get that with any product. Overall, most people love Mr. Peanut's carrier!
That said, it's only big enough for small to average kitties under 15 lbs. If you have a larger breed, you'll want to go back up to #1.
Mr. Peanut's Expandable Airline Approved Soft Sided Pet Carrier, Low Profile Gold Series Tote, Premium Brand Self Locking Zippers, Plush Faux Fleece Bedding with a Sturdy Plywood Base
PLEASE NOTE INTERIOR SIZING & PET MEASURING GUIDELINES BEFORE PURCHASE - Best Fits Pets up to 16"Lx10"H and up to 15lbs. Airline capable carriers are designed for pets lying down, so your pet may not be able to stand. It is best to measure your pet while comfortably laying down, as that is the typical position during flight
PLEASE KEEP IN MIND that we show the exterior dimensions as well as approximate interior dimensions to best portray the usable interior space for your pet. The interior space will be less than exterior due to the fabric thickness and plush faux fleece padding. The rounded contours of the tote design means interior dimensions are approximate and shown at their maximum measured points
AIRLINE REQUIREMENTS - Always keep in mind each airline sets their own specific requirements, and they can even vary from their domestic, international, and shuttle services so it is always advised to check with your airline of choice. All will require your pet to be comfortable in the carrier, and to remain under the seat in front of you. All prefer a soft sided carrier for its adjustability and we have designed our carrier to comply with major airline configurations
STRONG & WATERPROOF - Weighing in at only 4lbs, Designed with Breathable Mesh on all Sides for Proper Ventilation * Removable Fleece Travel Bed with Plywood Base for Additional Support * Padded Shoulder Strap * Name Tag * Zippered Mesh Storage for Treats, Meds Papers * Seatbelt Attachments * Included Mr. Peanut's Cool Logo Storage Pouch, Folds to 3" for storage
DESIGNED WITH with a Ventilated Top to meet all airline regulations of under forward seat compatibility including Delta, Southwest, United, American, Virgin and others
4. One for Pets Cat Show House
Need a great carrier for two cats? I looked through a bunch and ultimately decided on this one by One for Pets.
Features & Pros
Double front doors, so you can reach just one kitty at a time.
Separate compartments for each cat, or turn it into one big carrier for kitties who love to cuddle.
Spacious interior gives kitties plenty of room t move around (provided they're not large breeds).
The front mesh windows zip all the way up, making the carrier a cozy nap spot in hotels.
Designed for show cats, so it has plenty of nice "extras," like a flat top to hold photos.
Zippered door at each end
Built-in straps to connect to a seat belt.
Cat Travel Carrier: Spacious interior space; Build-in straps allow safe connection to the seat belt
Cons
Mesh front isn't tear-proof.
Hammocks and mats in the photos are sold separately on some models, so read closely.
No bottom support (unless you buy it separately, of course)
Not big or supportive enough for large cats (I'd stick to under 15 lbs).
Recommendation
This one was made for cats who spend a lot of time on the road! Still, I'd only use it for small calm cats who don't mind traveling since mesh isn't tear-proof.
I also don't love the fact that half of the item shown in the pictures don't even come with the carrier.
One for Pets Cat Show House Portable Dog Kennel (Shelter) Red/Cream/Tan
Cat Travel Carrier: Spacious interior space; Build-in straps allow safe connection to the seatbelt
Hammocks and Pads Sold Separately: A flat top to hold photos and show essentials; Easy to set up and fold flat
Double Portable Hammock: Use the double kennel as two separate compartments or one big space by unzipping the interior central divider
Zippered door at each end; Carry bag with large pockets. Size: 24 H x 24 D x 42 L inches (61 cm x 61 cm x 106. 7 cm)
Travel Kennel has double front doors; Extra pockets for treats; extra storage for toys and travel essentials. Convenient and stylish kennel and pet carrier
5. Pet Fit For Life Cat Car Carrier with Litter Box
If you want the best cat car carrier with litter box, go with the Pet Fit for Life model. Again, I looked at a ton of options and feel this is your best choice.
Features & Pros
Made with durable high-grade nylon fabric and a steel frame.
Extra large model is roomy enough for two average full-grown cats.
Fully collapsible for storage.
Comes with a washable soft velvet covered floor pad
Includes a collapsible lined litter box.
2 windows and a zippered front door for plenty of ventilation.
Also includes a bonus toy and bowl.
Backed with a 100% customer satisfaction, money back guarantee.
Cons
Litter box is a bit flimsy BUT you'll find this with all portable litter boxes
While big enough for two average cats, it's NOT big enough for two Maine coons.
Recommendation
Personally, I prefer to keep the litter box separate from the carrier. However, if you want both in one, this one has the best reviews overall.
Some reviews do complain that the litter box isn't the most durable. You'll find that with all collapsible options, though. Overall, this is a fantastic long-distance cat carrier.
Sale
Pet Fit For Life Extra Large (32"x19"x19") Collapsible/Portable Cat Cage/Condo with Portable Litter Box and Bonus Cat Feather Toy and Collapsible Water/Food Bowl Large - 32" x 19" x 19"
Extra large (32"x19"x19") cat cage/condo with portable litter box included (best value for you and your cat!) - Large enough to house two full grown cats comfortably. Fully collapsible, perfect for keeping your cats safe and contained when you have company or during emergencies or disasters. Your cats will love the extra large spacious interior with lots of room to move around and get comfortable.
Quality is job #1. Made from super durable, nylon fabric (selected a grade above the other brands) with a flexible steel frame, this pet condo is built to last.
Spacious and comfortable with a large exterior (32" x 19" x 19") and interior, this cat condo/cat bed will quickly become your kitties "Safe Space". Includes a super soft velvet covered floor pad but there is plenty of room for you to add your cat's favorite bed or even 2 cats. Unlike others sold on Amazon, our condo includes the collapsible litter box for maximum comfort and utility at home or on the road!! (Not suitable for airplane travel).
The Pet Fit For Life cat bed/condo has lots of great features that will fit your cat's needs. These features include 2 windows (side windows do not unzip) and a zippered front door that provide plenty of ventilation and flaps that secure with velcro, a washable, soft velour bed pad, a collapsible, lined litter box, integrated loops for staking and securing outdoors and more. This "Pet Tent" is a superior value and will greatly improve your cat's quality of life!
Bonus cat wand and collapsible bowl. As a bonus we are including our popular cat feather teaser and portable bowl with every purchase. Our wand is great fun and sure to get your kitty up, running around. The bowl is perfect for on the road or at home.
While there are plenty of other options out there, these the best cat carriers for long distance travel in my opinion. Which one you choose depends entirely on your needs.
How to travel with cats in a car long distance
Choosing the best cat carrier for long distance travel helps keep kitty comfortable during your journey, but it's not the only thing to consider.
Let's check out some tips on traveling with cats in a long car ride. We'll break it down into before and during your trip.
Before you go
Follow these tips before you head out the door and you're cat will be a lot safer & happier on the journey.
Visit your vet for a check-up and make sure vaccinations are up to date. Consider micro-chipping kitty as well.
Find out if there are any prevalent cat diseases at your destination and vaccinate accordingly.
Get a certificate of health from your vet (especially if you're flying at any point).
Let your cat get used to the carrier by setting it up and leaving it open so he can explore it.
Consider leash-training your cat so you can walk her during pit stops.
Make a note of pet-friendly rest stops and hotels along your journey.
During your trip
Feed kitty about three hours before you hit the road each day.
Make sure the carrier is secure yet easy for you to reach.
Plan to stop every couple of hours so kitty can stretch her legs and use the litter box.
Never leave your cat in a hot or cold car for more than a few minutes (basically, as long as it takes you to run in and use the bathroom & grab a coffee).
When you do leave kitty in the car for those few minutes, make sure you crack the window.
Of course, it goes without saying that you'll need to be super vigilant any time your cat is out of the carrier, be it during pit stops or in the hotel room.
Make sure everyone is aware of kitty's location at all times.
When you do open the hotel room door, I'd either make sure someone is holding your cat or, if traveling alone, put her in the bathroom.
Maybe I'm over-cautious, but I have an escape artists! I'd be heartbroken beyond belief if I lost him in a strange town because of my own carelessness.
Do you have any other picks for the best cat carriers for long distance travel? How about basic travel tips? Share below!
Nicole Etolen
Nicole is one of the writers here on CatVills. She's been a cat lover most of her life and-at one point- counted five felines as part of her family. Today, she's proud cat mom to two indoor kitties and caregiver for a slew of ferals.
Find her on Linkedin. Read her latest articles.
Learn more about Nicole Here
Last update on 2022-08-09 / Affiliate links / Images from Amazon Product Advertising API