Looking for the best cat trees for Bengals?
Check out our top 5 favorites, plus learn what to look for when choosing the right one for your kitty!
Choosing the best cat trees for Bengals and other big kitties is a bit different than buying one for a petite cat.
Bengals can weigh up to 15 pounds, which may not sound like much, but in the cat world it's actually fairly large!
They're also among the most energetic and playful cat breeds.
They need a tree that can offer them plenty of entertainment, roomy spaces for a nap, and a sturdy base for safety.
Related: Check these space saver cat trees
We'll talk about each of those "musts" a little more in-depth.
Then, I'll give you my top five picks for the best cat trees for bengals!
Let's get started, shall we?
RELATED: Top 5 Best Cat Trees for Older Cats
How to Choose the Best Bengal Cat Climbing Tree
This post contains affiliate links. If you make a purchase through these links, we earn a small commission at no extra charge to you.
Before we get into my top 5, I want to give you an overview of what I looked at while making this list.
These are the things you'll need to consider, too, when choosing the best cat trees for Bengals.
Related: Top 5 Best Modular Cat Trees (with Reviews)
1. Safety first
First and foremost, I'm looking at trees that have a very sturdy base to keep the tree from tipping, and high-quality construction that can stand up to a Bengal's energy.
As far as strong material goes, in an ideal world I'd pick solid wood any day. Unfortunately, that can get pretty expensive and it's not entirely practical.
For the most part, we're stuck with particle board. While I'm not a huge fan, it's come a long way from those $10 bookshelves that feel apart 5 minutes after you assembled them.
The key is to look for high-density particle board. In total "I'm no expert on construction" speak, this means that the "particles" are smushed together tighter.
Think of it as packed brown sugar versus unpacked! If you want a more technical explanation, check out this particle board buying guide.
Don't miss our detailed guide: BEST CAT TREES FOR 2019
2. Roomy "caves" & platforms
Bengals may not be the largest cats in the domestic kitty kingdom (that honor seems tied between the Maine Coon and the Savannah), they are still on the bigger side of the spectrum.
Males average between 10-15 lbs and females 8-12 lbs. By comparison, the average American Domestic Shorthair weighs between 7-12 lbs.
I know it doesn't seem like Bengals are THAT much larger than the average kitty, but again, in the cat world 1-2 pounds makes a major difference.
So, stick with roomier trees just to be on the safe side.

3. Plenty of levels for climbing
Bengals are very active and love to climb, so you'll want a cat tree that gives them the most opportunity to flex their muscles and work out their excess energy!
If you don't really have room for a skyscraper (or ceiling scraper!), just go with the most levels that make sense for your home.
4. Mental stimulation
Since Bengals are as intelligent as they are active, it's a good idea to either get a tree with built-in toys, one that has plenty of space for add-on toys.
If you're curious, the best Bengal cat toys are those that either encourage activity or have an interactive element.
My top picks:
Want a name for your kitty? Try one of these Famous Bengal cat names
Our Top 5 Best Cat Trees for Bengals
Rather than just give you a list of some great Bengal cat trees, I'm breaking this down into "best for" categories.
Use this handy table for a quick look, then read on for more details about each tree.
| | | | |
| --- | --- | --- | --- |
| | Name | Category | Buy It Here |
| | SONGMICS 67″ tree | My #1 Best Overall Bengal Cat Tree Pick | Buy It Here |
| | Go Pet Club 72″ F2040-blue tree | Roomiest Cat Tree for Bengals | Buy It Here |
| | CatsPlay Modern Cat Tree | Most Modern & Stylish Bengal Cat Tree | Buy It Here |
| | Prestige Cat Trees Solid Wood Large Triple Cat Perch | Best Bengal Cat Tree for Small Spaces | Buy it Here |
| | BEWISHOME Corner Cat Tree Condo. | Top Budget-Friendly Pick | Buy It Here |
1. Top Pick for Best Overall Bengal Cat Tree
The SONGMICS 67″ tree isn't just my favorite cat tree for Bengals, it's one of my top picks in general!
This SONGMICS cat tree condo is incredibly roomy (big enough for a Maine Coon, so you know it's good for Bengals) and loaded with features.
Features:
Plenty of scratching surfaces on every level, including a nice big one right in the front.
Two cat caves, including one that would fit even the largest Bengal, and one that is just right for medium-sized cats
5 levels, with three perching areas and large platforms
CARB-certified natural particle boards and added stability features
This is also one of the best cat trees for multiple cats! It's just all around fantastic.
Be sure to check out our SONGMICS cat tree reviews for more info and other great condo/tree combos by them!

FEANDREA 67" Multi-Level Cat Tree for Large Cats, with Cozy Perches, Stable Cat Tower Cat Condo Pet Play House UPCT18W
EXCLUSIVE LUXURY FOR CATS: Your feline friends need a cozy home of their own to play, take a nap or jump around; this cat house is sure to be their dream-come-true
MULTI-LAYERED PLAYHOUSE: 2 roomy condos offer luxurious napping experience; 3 plush perches with raised edge allow your cat rest on its head while watching over the house; sisal-covered slope adds so much more fun for playtime
STABILITY IS ALWAYS PRIORITY: Constructed by CARB-certified natural particle boards and strengthened with battens at the bottom to ensure overall stability; anti-toppling fittings are included for double security
SISAL-COVERED SCRATCHING POSTS: Reinforced posts (dia. 3.38") are wrapped with natural sisal rope to allow nail scratching and promote exercising; this cat tree is the perfect spot for your cats to jump around
NOT SATISFIED YET? FEANDREA provides you with professional customer service both before and after your purchase; don't wait any longer, add this to your home today!
2. Roomiest Bengal Cat Tree
Go Pet Club
makes some great affordable trees for cats of all sizes.
I have one of their smaller trees for my three kitties, but for a Bengal I would recommend the the 72″ F2040-blue tree.
It's a pricier model, but super roomy!
Features:
Overall Size : 50″W x 26″L x 72″H
Three perches on the top level
Total of 10 sisal-wrapped scratching posts
15 levels in all, most of which are plenty big enough for your Bengal.
Two very roomy cat caves
The only downside: it has a very large "footprint," so you'll need plenty of space in your house. On the other hand, that footprint makes it a very stable cat tree.
Like my #1 pick, this is another one of the best cat trees for multiple cats.
Buy it Here
3. Most Modern & Stylish Bengal Cat Tree
Looking for a great alternative to traditional cat trees? Check out this CatsPlay Modern Tree!
It looks more like a piece of trendy furniture than a kitty condo, doesn't it?
Features:
Six levels for climbing and playing, with space for decorations (or fun cat toys)
Sisal scratching surface on the first level
Carpeting on two of the levels for lounging
A roomy cat cave on the second level
Available in either a black or white finish
Easy to assemble with just a Phillip's head screwdriver
Use it exclusively as a cat condo, or turn it into a bookshelf/cat tree combo! It's sturdy enough for displaying your favorite books.
Get it on CatsPlay Cat Furniture

Modern Cat Tree — $289.95
4. Best Bengal Cat Tree for Small Spaces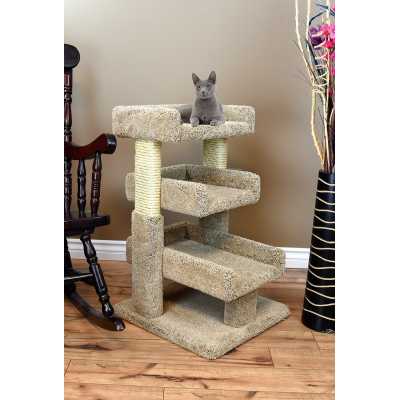 The Prestige Cat Trees Solid Wood Large Triple Cat Perch is my top pick for apartments and other smaller spaces.
While it doesn't have a lot of bells and whistles, it still offers plenty of climbing opportunities with the stair-like levels.
Features
Solid Wood construction that's handcrafted in the US.
No assembly required!
Plush household-grade carpeting on all levels
Unoiled sisal rope scratching surfaces
Thick wood base to prevent tipping.
Top perch is 20 inches wide and 13″ deep, perfect for large cats.
I love the fact that it's made with real wood (which is why it's pricier than some of the other small cat trees out there).
Get it on CatsPlay Cat Furniture

Cat's Choice Solid Wood Large Triple Cat Perch — $164.99
5. Top Budget-Friendly Cat Tree for Bengals
No products found.
Looking for the best Bengal cat tree that costs under $100? I really like the BEWISHOME Corner Cat Tree Condo.
Features
2 large platform beds
2 spacious cat caves
Super sturdy and solid construction with including anchor strap for extra stability
High-quality plush carpeting
5 sisal-wrapped scratching posts.
Easy to assemble
Although it isn't exactly a sky scraper, it's still roomy enough for your Bengal to stretch his legs.

Having a hard time choosing between these best cat trees for Bengals? If you have the space, go with my #1 pick. You really can't go wrong with SONGMICS!
Can you think of any other great Bengal cat trees? Share below!
Last update on 2020-12-26 / Affiliate links / Images from Amazon Product Advertising API