Looking to provide your kitty with the best cat window bed available?
You've made a smart decision by clicking on this article.
I'll walk you through 10 high-quality options to provide a solid starting point.
Let's see if one of these beds could suit your cat's window watching needs.
Let's start with a quick look at our top picks, then keep reading for all the glorious details.
READ MORE: Cool and Luxury Cat Beds
Best Cat Window Bed Top Picks at a Glance
If you see the value in these products and choose to purchase via my referral links, I may earn a small commission at no extra cost to you.
Don't have time? Here is a quick comparison of our favorites!
Top Benefit
Its beautiful treated pine wood construction and available finishes brigh
Attaches to any window in seconds
Eco-friendly and hypoallergenic qualities 
Entirely customizable (size, color, and features)
10 BEST CAT WINDOW BEDs (REVIEWS)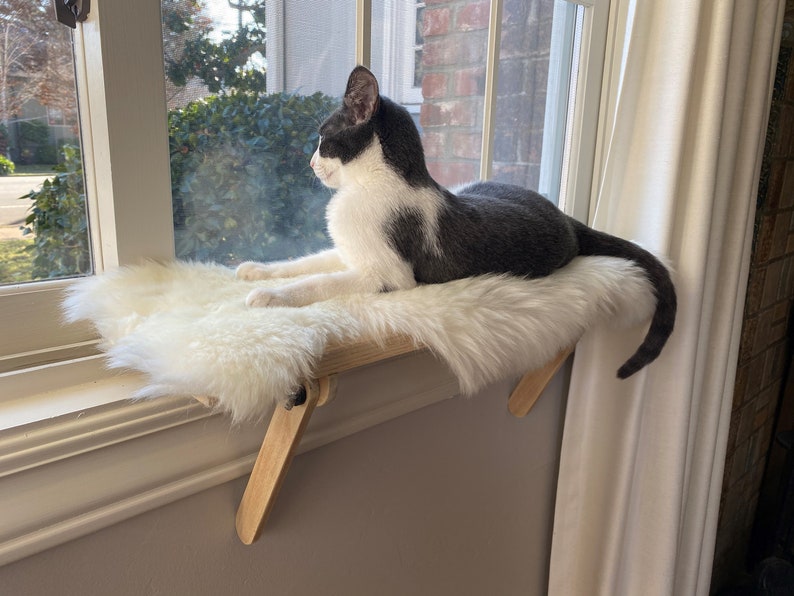 Non-permanent options don't get much more well-crafted than DesignHouseBoutique's Cat Window Perch.
Its beautiful treated pine wood construction and available finishes brighten any room.
You can even move it from room to room, so your kitty can always relax nearby.
Attributes
Handmade
Base constructed with treated pine wood
Four finish options (Pine Wood, Salt Grey Felt, Soft Plush Mat, and Genuine Sheepskin)
Non-scratch padding
Fasten-able wing nuts
Non-permanent installation
Measurements
24 inches wide by 7.5 inches deep
| Benefits | Drawbacks |
| --- | --- |
| No tools are needed for installation | Difficult to fit on non-standard window sills. |
| Beautiful handmade craftsmanship | Some options are a bit pricey |
| Custom color or dimension requests are available | |
| Stable, reliable construction | |
| Doesn't scratch the attached wall | |
Benefits
A no-tool installation is a beautiful sight for any cat owner. No one likes to put a lot of effort into assembling and drilling these cat perches into place.
Once installed, the rich wood design will blend into most decors with ease. It'll provide a unique style and quality to any room.
The customization levels provided by this option are another massive positive trait. It allows each customer to find a suitable variation for their needs.
You won't have to worry about replacing it anytime soon, either. This kitty cot has a durable construction that has shown to last years.
Lastly, it won't have any impact on the attached wall via scratching and offers free shipping. Both are excellent touches offered by DesignHouseBoutique.
Drawbacks
Some customers did bring up that it was difficult to fit on non-standard window sills. However, there's a simple fix for this issue.
You can contact the seller beforehand and send specs for customization. Several buyers have done this action and have had their issues solved.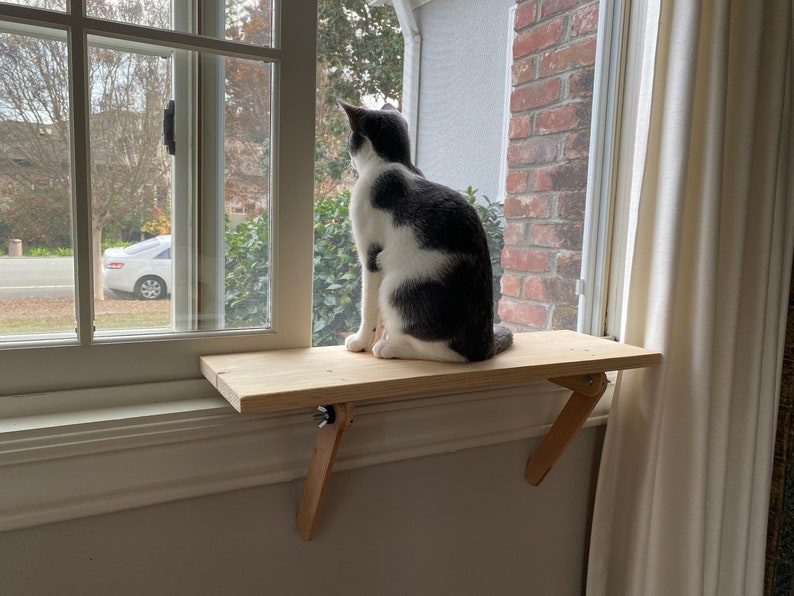 How it Compares to Others and Why
The beautiful wood design and excellent portability offered benefits most window beds can't. It's easily one of the more convenient available options.
Plus, the level of customization of size or color does ensure more product control. So cat owners shouldn't have much issue getting a suitable variation.
Expert Tips
If you're having trouble with the install, watch the video on its ad page.
It's hard not to fall in love with this option's cute kitty-face design.
Everyone will be wondering where on earth you bought this window perch.
Your cat will be in heaven, too, with this product's comfy removable bed.
Their window watching sessions are about to become a lot more enjoyable.
Attributes
Embedded with kitty-face
Half-pod design
Plastic frame
Suction cup mounting system
Removable, machine washable bed
Measurements
| Benefits | Drawbacks |
| --- | --- |
| Cute kitty-face design | Little too narrow for larger breeds |
| Attaches to any window in seconds | Over time, suction cups lose their suction |
| Supports up to 50 pounds | |
| Affordable price | |
| Easy to enter or exit | |
How it Compares to Others and Why
Aside from its design, the quick installation and 50-pound weight limit are impressive traits. Both aspects make this product a lot more adaptable than you might expect.
The affordable price doesn't hurt, either. It's easy to see why certain cat owners view this perch as a bargain buy,
Expert Tips
Clean windows well before installing for optimal results.
Large cat breeds like Maine Coons could benefit from The Extra Large Padded Cat Window Perch.
Its sizable design and comfortable foam covering offer a cozy resting place.
The various color options and customization also make it perfect for its owners.
Attributes
1-thick foam covering
Two sliding wood supports
Customization available
Windows must be at least 38 inches side to side
Six color choices (Dark Speckle, Green, Grey, Natural, Speckled Sand, and Tan)
Measurements
| Benefits | Drawbacks |
| --- | --- |
| Suitable for most double-hung or sliding windows | It doesn't work on casement windows |
| Comfortable, relaxing perch | Costly |
| Made in the USA | |
| Easy assembly, tool-free installation | |
| Resists scratches by not attaching to walls | |
How it Compares to Others and Why
A large kitty cot will often cause frustration during the assembly or installation. But this brand ensured this one kept things simple and didn't require tools.
As a result, owners can provide their large cats with a comfortable bed without much work. It's even strong enough to fit more than one cat in certain situations.
Check Latest Price



Extra Large Padded Cat Window Perch — $91.99

Extra Large Padded Cat Window Perch (Compact – 12 inches to 36 inches): Provide your kitty a comfortable lounging spot where he can enjoy the beautiful outdoors.
Finding a window perch capable of fitting more than one cat isn't easy.
But ZALALOVA's Cat Window Perch is built for these purposes with its spacious design.
Honestly, it should even hold two larger cats with its 60-pound maximum weight limit.
Attributes
High-quality PVC suction cup
Plastic base construction
Machine washable cover and fleece cushion
Three color options (Brown, Grey, and White)
Uses breathable mesh
Measurements
19.69 x 11.81 x 1.57 inches
| Benefits | Drawbacks |
| --- | --- |
| Easy to clean and odorless | Mesh could be more durable |
| Ultra-soft, comfortable bed | Can be tricky to hang just right |
| Reliable, stable construction suited to fit multiple cats | |
| Supports up to 60 pounds | |
| Dissipates heat quickly | |
How it Compare to Others and Why
Pet owners with multiple cats should be tripping over themselves to buy it. It's a comfortable kitty cot that can hold more than one cat with ease.
Likewise, it does a solid job at dissipating heat with its breathable mesh. The only issue is the mesh does have durability concerns as cats can tear it apart.
Expert Tips
Put the suction cup in "hot water for 2 mins" if it fails to work.
ZALALOVA Cat Window Perch, Cat Hammock Window Seat w/Free Fleece Blanket 2021 Latest Screw Suction Cups Extra Large Sturdy Cat Bed Cat Resting Seat Holds Two Large Cats Indoors Outdoors
🐱 INSTALLS in SECONDS: Package include 1 x Window-Mounted Cat Bed, 1 x Free Fleece Blanket, 1 x English Manual, 1 x Exquisite Gift Box, easy to install and no need any tool. Prefect match gives your cats comfortable and fun seat in the house.
🐱 2021 LATEST DURABLE SCREW SUCTION CUPS: Screw suction cups can pat the air more cleanly and better adhere to the wall. Compared to the 25% fall off rate of the old regular suction cups, the improved suction cups has only about 5% fall off rate. Suction cups that can hold up to 60 LBS.
🐱 20% MORE SPACE: Lengthening and widening design, your 15lbs and 29lbs cats can jump and play together without feeling crowded in ZALALOVA cat window seat. Perfect for cats that like to bask in the warm sun or active cats that desire a high vantage point.
🐱 MACHINE WASHABLE COVER: Cat window seat mat is breathable and durable, easy to clean, no chemical smell. Made of food grade mesh cloth, cat's body temperature won't overheat. With underneath its ultra-soft, machine-washable fleece cushion. Your cat will snore in her/his new bed.
🐱 TIPS: The suction cup is made of high-quality PVC material. It is easy to become hard and fails to work properly when room temperature is too low in winter. As above suggested, putting into hot water for 2 mins will be helpful to regain the decent suction force.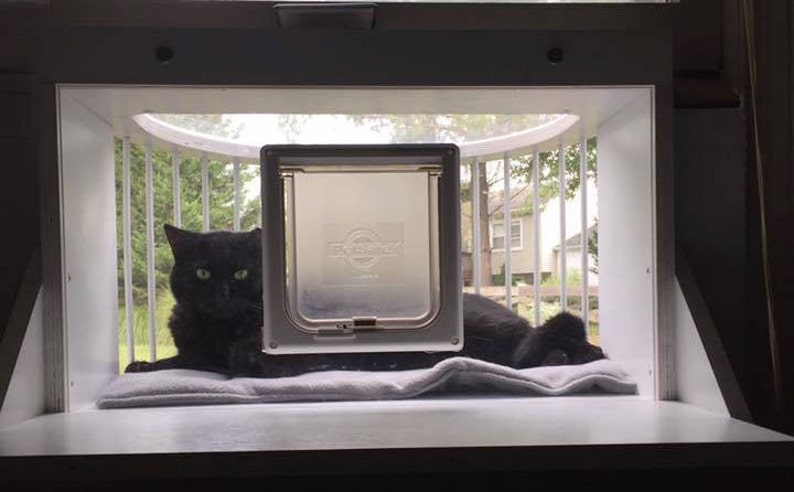 Cat window perches aren't usually the most luxurious item.
But Cat Solarium's Penthouse Package Cat Window Box is a different story.
It'll bring your cat a level of luxury that they've never experience.
After all, it provides them with constant safe outdoor access.
Attributes
Handmade
Open-air solarium perch design
Plexiglas back panel with cat door
Equipped custom pillow
Mesh exterior screen
Measurements
Fits windows at least 24 inches wide and raised 14.5 inches
| Benefits | Drawbacks |
| --- | --- |
| Wide panoramic view | Most expensive option |
| Strong enough to hold 50+ pounds | 20-minute assembly process |
| Long-lasting components | |
| Made in the USA | |
| Safe enclosed access to outdoors | |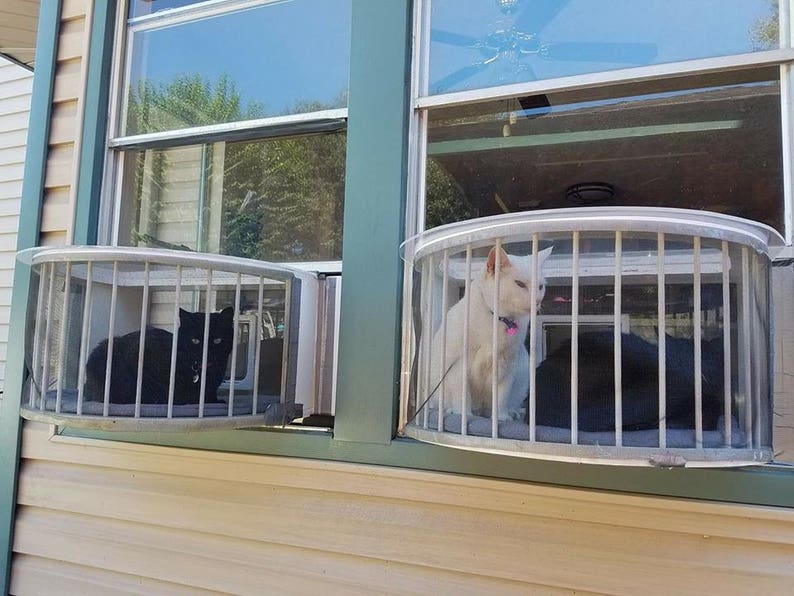 How it Compare to Others and Why
Everything about this option is different, from its outdoor access to the high price. If you're looking to spoil a cat, this perch would be a solid purchase.
Expert Tips
"Use wood or plexiglass with weather stripping or caulk to secure the sides."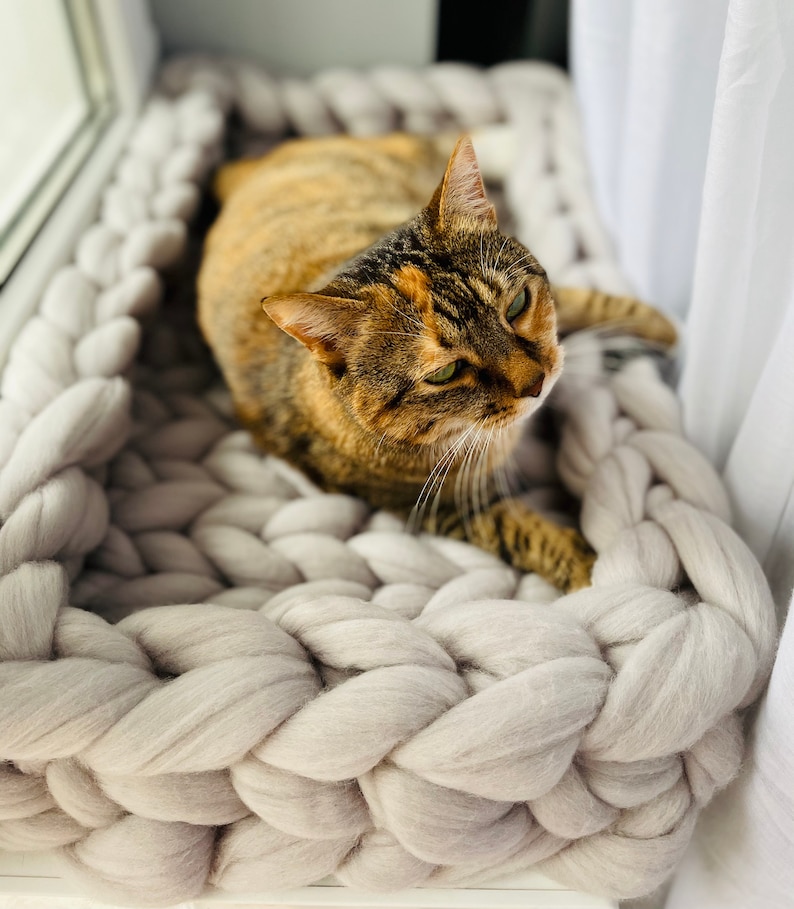 LovePawsPets's Cat Bed for Windows features a rather versatile knitted wool design.
You can place it anywhere without installing it, from a shelf to a window sill.
As a result, its portability is second to none among these choices.
Attributes
Handmade
Made from knitted merino wool
Twenty color options
Dry cleaning only
No installation process
Measurements
43 different size options
| Benefits | Drawbacks |
| --- | --- |
| Aesthetically appealing knitted design | Not ideal for heavy scratchers |
| Maintains an optimal surface temperature | Somewhat pricey compared to others |
| Suitable for windows, cupboards, shelves, drawers, etc. | |
| Eco-friendly and hypoallergenic qualities | |
| Cozy and comfortable resting space | |
How it Compare to Others and Why
The lack of installation process should appeal to everyone. You only have to find a suitable area, set it down, and your cat can rest comfortably.
But people will need to be careful as the wool is delicate.
Very few options are more ideally suited for kittens than Topmart's Cat Window Seat.
Its removable foam seat cushion helps deal with any potential accidents.
The machine washable cover also makes it much easier to clean.
More importantly, the 360-degree views give them a seat to world watch.
Attributes
Removable foam seat cushion
Fold-able design
Two installation methods (Velcro or screw connection)
Machine washable cover
Lower bracket equipped with a soft sponge
Grey color scheme
Measurements
| Benefits | Drawbacks |
| --- | --- |
| 360-degree views | Edges are a bit hard |
| Easy to move and store | Not strong enough for large cats |
| Quick installation with included instructions | |
| Comfortable, relaxing sunbathing space | |
| Supports any window sill over 3 inches deep | |
How it Compare to Others and Why
The 360-degree views and convenience when it comes to cleaning are ideal traits. It should make this kitty cot a hit in a lot of pet owners' homes.
You shouldn't overlook the two installation methods, either. It's always a nice touch when companies provide their customers with control over these processes.
Expert Tips
You can use sandpaper to round out the "sharp edges"
Sale
Topmart Pet Cat Window Seat Wall Mount Perch House Pets Furniture Saving Space All Around 360° Sunbath for Cats,Durable Steady Cat Shelf for Kitten
PORTABLE& QUICK INSTALLATION - You can install the stand in minutes! With very clear instructions included, you'll surely have no trouble to move or remove the mount anytime. The lower bracket has a soft sponge to prevent damage to your wall.
COMFORTABLE - Foam cushion provides a safe comfortable place for your kitty.Give your cat a sunny seat with a great view of nature. When you are not using it, the foldable design can help you better store the cat window sill and save space.
EASY TO REMOVE AND CLEAN - The seat cushion is removable and easy to cleaning and washing, always gives your cats or kitties a clean and tidy relax place. You only need to use 2 screws and 2 Velcro to fix the cat window seat on the window sill.
360°FREE OF DEAD CORNER SUNBATH - basking in this cat window perch, your pet cat avoid moving again and again as long as the sun Didn't go down. Well, it's also space saving cat bed, without taking up valuable space in your home, the position of the bracket can be adjusted to accommodate different window sill depths. Even if your window sill is not deep, our cat window seat can be used. Your cat can also enjoy a front view of nature while basking. Not only on the window sill, similar geometrie
TWO DIFFERENT INSTALLATION METHODS - One is Velcro, you only need to tear the tape to paste it, the operation is very simple, it can bear 20 pounds. The other is a screw connection. You need to screw the screw with a screwdriver. The advantage is that it can bear 35 pounds. You can choose the right method depending on the usage. Foam cushion size: 23.6" X 12" X 1.2" ( L x W x H ).Supports window sills over 3" Deep
K&H Pet Products' Deluxe Cat Window Perch is one of the best when it comes to adapting.
For instance, its two stylish design options can mesh into most home decor easily.
The two different installation methods (non-permanent and permanent) don't hurt, either.
It shouldn't be difficult to find a variation that works best for your cat.
Attributes
Two style options (Kitty Print or Leopard Print)
Removable, orthopedic sleeping surface
Zippered bolster
Plastic frame
Hook and loop adhesive strips
Screws included permanent installation
Measurements
| Benefits | Drawbacks |
| --- | --- |
| Designs blend into any home decor | Not as soft as other options |
| Easy wash care | A bit pricey at full price (but often on sale) |
| Simple assembly | |
| Fits cats up to 40 pounds | |
| Strong, durable construction | |
How it Compare to Others and Why
The product's versatility and sturdiness gave it a place on our list. It should provide excellent performance for whoever chooses it.
Expert Tips
Add a thick towel on top for extra comfort.
One of the more simple choices would be Oster's Sunny Seat Cat Window Perch.
It comes with straightforward suction cup installation and reliable performance.
But what owners love most about this product is the price.
You won't often find a quality kitty cot for cats at this low cost.
Attributes
Machine washable removable cover
Industrial strength suction cups
Faux fleece covering material
Heavy-duty steel frame
Brown color scheme
Measurements
| Benefits | Drawbacks |
| --- | --- |
| Affordable cost | No cushion or pad included |
| Supports up to 50 pounds | Suction cups lose their suction over time |
| Easy to clean | |
| Reliable, sturdy installation with strong suction cups | |
| Space-saving design | |
How it Compare to Others and Why
Of course, the affordable price is what everyone first notes about this product. But the reliable, sturdy construction and space-saving design are almost as important.
Both qualities will make an owner's life much easier when using this bed.
Expert Tips
Might require cutting down to fit smaller type windows.
Our final choice, Tub Sleeper's Cat Window Perch, is a perfect stop for some kitty sleep.
Its solid wood base and residential carpeting offer peak coziness.
But you can make it even more kitty-friendly with the various customization options.
For instance, pet owners can add on catnip or sisal ropes for an extra fee.
Attributes
Solid wood construction
Covered in residential-grade carpeting
Made to order
Optional catnip mice and sisal ropes included for an extra fee
Numerous color options
Measurements
| Benefits | Drawbacks |
| --- | --- |
| Entirely customizable (size, color, and features) | Costly |
| Mounts on windows within seconds | Sticks out quite a bit from the window |
| Safe and secure usage | |
| Minor assembly required with easy instructions | |
| Made in the USA | |
How it Compare to Others and Why
Obviously, the product's customization is the most appealing trait for customers. It's not only adding on cat incentives, as there are various sizes and colors.
Buyers can trick out this cat window bed to perfectly fit what they want.
Expert Tips
Fabric might need some time to air out before usage.
Check Latest Price



Tub Sleeper Cat Window Perch — $96.99

Tub Sleeper Cat Window Perch (Compact – 12 inches to 36 inches): The Tub Sleeper Window Perch is purr-fect for those lazy sunny days.
How To Choose The Best Cat Window Beds
Finding the best cat window beds is a little more complicated than people assume. Several factors will play a role in determining the perfect option for your kitty.
Construction Strength
Cat window beds will utilize suction cups to hang from your home's windows. In most cases, there will be two cups at the top and bottom to support a certain amount of pounds.
Many choices are rated to handle a maximum of about 30 pounds with ease. But some brands reinforce their suction cups to withstand more weight without failing.
Each buyer will need to decide the proper weight limit for their window bed. Honestly, I wouldn't recommend choosing an option that can't at least handle 30 pounds.
Product Durability
Any high-quality cat window bed will contain lightweight, strong materials. It's a pivotal balance to ensure both convenience and safety.
Given this information, it becomes essential to research each option's durability. Checking other customers' reviews would be a solid starting point.
You should also check out the quality of each window bed's hanging cords. Cats love to check and scratch them, so ensure these cords can withstand those situations.
Your Cat's Weight and Size
It doesn't make sense to purchase a window hammock that can't hold your cat's weight. You'll need to account for future weight gains, as well.
For instance, kitten owners should pick a kitty cot capable of handling their cat's expected adult weight. It's a simple way to avoid having to buy a new one as they grow.
Your cat's size will be an important factor, too, considering you want the bed to be comfy. Don't choose an option that's too small, or your feline friend won't use it.
Number of Cats
Multi-cat households should buy window beds that can hold their cats' combined weight. Cats tend to be somewhat territorial over their favorite spot, leading to fights.
Your chosen bed needs to handle these dust-ups without issues. Otherwise, a simple tussle might lead to some scary, dangerous consequences.
Ease of Installation
Pet owners don't want a window or calming cat bed with an overly complex installation. Instead, you'll want something that takes minimal effort or time to set up.
Moreover, buyers will need to consider their intended application space. Do you want a kitty cot with a permanent fixed or one capable of being moved?
Renters may want to avoid the former as your landlord might object to its placement. However, homeowners obviously can answer this question based solely on their preferences.
Cat Window Bed FAQs
Do Cats Like Window Beds?
Yes, cats do like window beds as these products make them feel safe and give them some privacy.
Why do Cats Love Looking Out The Window?
Several reasons exist for a cat's love of window watching. Some include enjoying the "warmth of the sun shining through or seeing other animals roam.
Conclusion
I hope these discussions answered all your questions about cat window beds. If you have some additional ones, feel free to leave a post in our comment section. Thanks for reading!
Final Recommendation
I love this DesignHouseBoutique Cat Window Perch from Etsy!
References
"Aggression in Cats." 2015. ASPCA. 2015. https://www.aspca.org/pet-care/cat-care/common-cat-behavior-issues/aggression-cats#:~:text=Both%20male%20and%20female%20cats,defend%20larger%20territories%20than%20females.&text=A%20cat%20can%20show%20territorial,chin%20rubbing%20and%20urine%20spraying..
Editorial. 2021. "Why Do Cats like Window Perches and Other Elevated Spots? – Pet Care Advisors." Petcareadvisors.com. 2021. https://petcareadvisors.com/cats/why-do-cats-like-window-perches-elevated-spots/.
"Maine Coon." 2018. Petfinder. 2018. https://www.petfinder.com/cat-breeds/maine-coon/.
"Why Do Cats Look out the Windows so Much? – Cats, Dogs, and Pets Day Care Services." 2020. Cats, Dogs, and Pets Day Care Services. May 7, 2020. https://www.preciouspetcaresd.com/news/why-do-cats-look-out-the-windows-so-much/#:~:text=Cats%20love%20to%20watch%20outside,the%20life%20going%20on%20outside..
What is your favorite best cat window bed? Please share with us below!
Ben Robers
My name is Ben Roberts, and I absolutely love animals. So, naturally, I love writing about them too! As far as my animals, I have a Pit-bull, a Beagle-lab mix, a Chihuahua, and one old cat. Each one of them provides me with a new adventure every day. And the best part is they're all best friends. Well, except the cat when he gets a little annoyed.
FIND HIM ON: FACEBOOK
Last update on 2021-10-20 / Affiliate links / Images from Amazon Product Advertising API