Are you looking for the best eco-friendly cat trees for your feline companion?
It's natural to be overwhelmed by all the variety of cat furniture on the market and struggle to find the right match for your kitty. 
Fortunately, I'm here with 7 stunning eco-friendly modern cat trees that will narrow down your options.
Just keep reading. 
This post contains affiliate links, and I will be compensated if you make a purchase after clicking on my links.
Let's start with a quick look at our top picks, then keep reading for all the glorious details.
Top sustainable Cat Trees at a Glance
Don't have time? Here is a quick comparison of our favorites!
7 Recommended Eco-Friendly Cat Trees For You
Cats love to run around the house like crazy, shred the sofa, and climb the drapes. And if you don't want to replace furniture every couple of months, you need a suitable cat tree for your feline friend. 
Moreover, cats like high places according to Killeen Vet Clinic.
They state that "most cats prefer to sleep and hang out in places with good vantage points. It comes from their instinct to protect themselves, and a high position for sleeping or resting gives them an aerial advantage for spotting any potential dangers around them."
But not all cat tree brands are equal. And since you want the best for your kitty, you should go for eco-friendly cat scratchers/trees.
Such trees are made with quality materials to last more than a couple of months, are better for the environment, and contain no toxic substances. 
But what are the best eco-friendly cat trees? Let's see my 7 cat tree overviews. 
Cats need plenty of suitable places to scratch their claws and a high place to nap where no one will bother them. That's why Mau Life's luxurious cat condo is one of the best eco-friendly cat trees you can find. 
This modern cat tree measures 24″ x 18″ x 46″. It features two baskets, two scratching posts, and a cozy cave.
Benefits & Drawbacks of Mau Life Modern Cat Tree Tower
| Benefits | Drawbacks |
| --- | --- |
| A sustainable cat tree made from real branches | Not the most affordable of options |
| High-quality sisal rope to satisfy your cat's natural scratching urges, one of the best scratching materials for cats according to the Animal Medical Center of Chicago | Cats can chew through the baskets  |
| Two hanging balls to entice your cats to play | You may need to anchor it to the floor or wall to keep it stable if you have a heavier cat |
| Every part of the tree is replaceable, so you won't have to throw it away if something breaks | |
| Multiple sleeping areas – two hand-woven baskets for perching and a luxurious private cave  | |
| Relatively easy to assemble  | |
| Easy to maintain since the cushions are machine washable | |
| Available in three stunning colors – white, brown, gray | |
| The manufacturer plants one tree for every cat condo sold and gives 5% of the proceeds to environmental and animal welfare organizations.  | |
| | |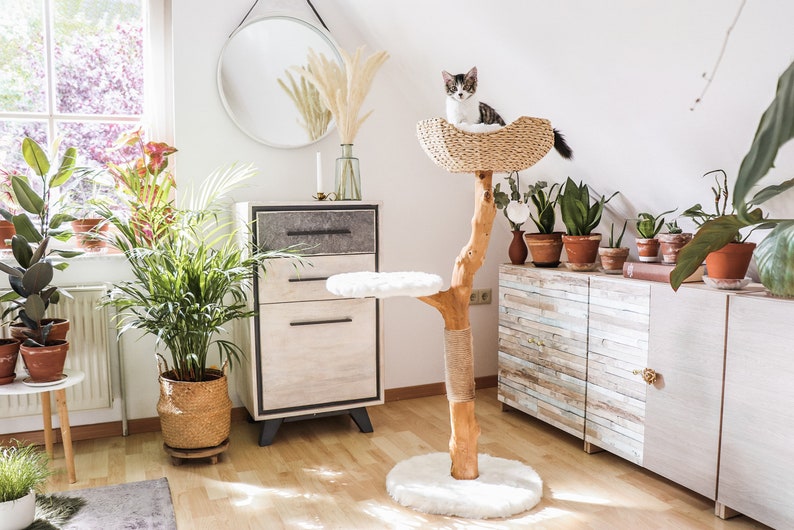 Check this video to see how to assemble Mau Life Modern Cat Tree Tower.
Recommendation
I like Mau Life's products because they're made with quality materials and are built to last for years with minimum maintenance. 
Moreover, as this reviewer says, Mau Lifestyle's cat tower is the perfect height and is an excellent choice for multiple felines. 
Modern Cat Tree Tower for Large Cats, Real Branch Luxury Cat Condo, Wood Cat Tower, Cat Scratching Tree, Cat Condo, Cat Lover Gift, Luxury Cat, Cat Gifts by Mau Lifestyle
FOR LARGE CATS WEIGHING UP TO 23 POUNDS: This beautiful piece of modern cat furniture is meant to hold cats weighing up to 23 pounds or even multiple cats! Its quality materials are extremely sturdy and meant to last for years to come. You can rest assured knowing this tree can fit some of the largest cats out there with no issues whatsoever.
EASY TO CLEAN: These trees are extremely easy to clean! The cushions are MACHINE WASHABLE (and replaceable with a variety of different colors) and the rest of the tree can easily be vacuumed or cleaned with a dry foam cleaner.
BEAUTIFUL & UNIQUE DESIGN: Unlike most cat furniture, this wood and wicker cat tree tower will enhance the look of your home. It includes two beautifully crafted, one of a kind trunks that hold two hand woven wicker baskets containing extremely comfortable cushions (removable and machine washable). It is perfect for your kitty to have a glorious time napping while you can enjoy looking at a beautiful piece of art that adds to your homes aesthetics.
MADE TO LAST & ENDLESS SUPPORT: These trees are extremely high quality and made to last for years to come. You'll always be able to keep your cat tree looking new because replacement parts can be purchased for ANY part on the tree. If you ever have any sort of issues with your tree, our team of cat lovers are ready to assist you. Your satisfaction is extremely important and we are here to make sure that you and your kitty have the best experience possible with Mau!
1-YEAR WARRANTY & 45-DAY RISK-FREE TRIAL :  If you are not satisfied with your purchase, you may return it within 45 days for a full refund. Contact us and we'll be more than happy to assist in the return process. WARRANTY: If you encounter any functional defects within one year of receiving the product, please let us know and we will work with you to resolve the issue. Proof of defect in form photos and/or videos may be required. Warranty does not cover standard wear and tear. 
ALSO CHECK: Anti Dander Cat Shampoo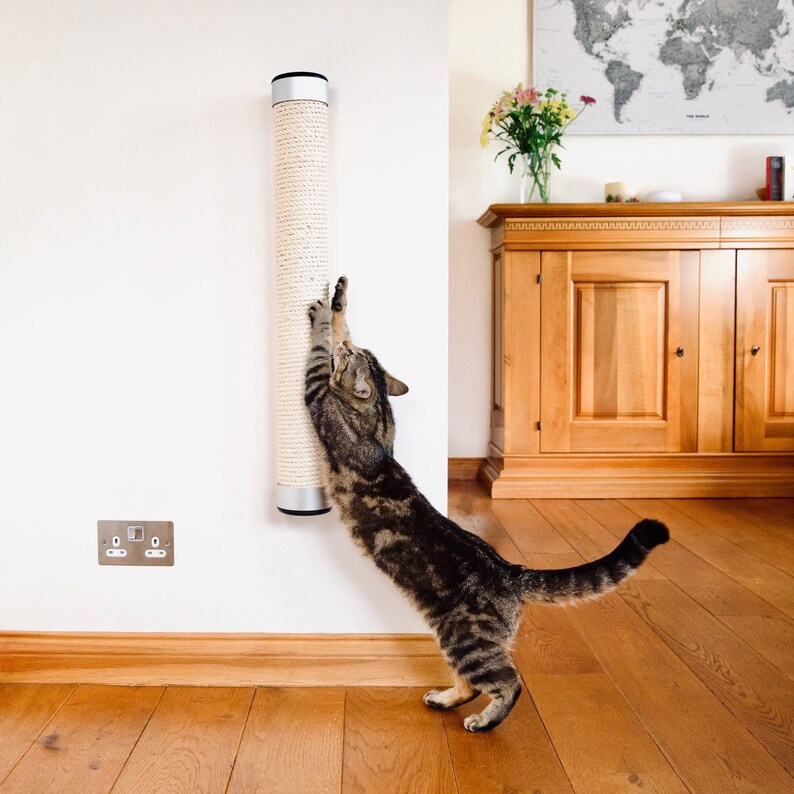 If you don't have the space to put a luxurious cat tree, don't panic. As a study points out, "Cats tend to scratch on prominent vertical objects," so the Catipilla cat scratcher will do an excellent job. (3)
This eco-friendly scratcher is available in several sizes to suit different cat breeds and comes in three colors to match any home interior. 
 Benefits & drawbacks of Catipilla Cat Scratcher
| Benefits | Drawbacks |
| --- | --- |
| You can choose between natural sisal rope, cotton, or Softline rope to match your cat's texture preferences. | Ships from the UK, so shipping costs are high for international customers  |
| Suitable for indoor/outdoor installation | Additional wall fixers cost extra  |
| You can rotate or replace the rope when it wears down | Requires wall installation  |
| Made from natural, non-toxic products | |
| Replaceable cylinder  | |
| Great for kittens, small cats, or large felines | |
Recommendation
Catipilla eco-friendly scratcher is an excellent option when you have multiple cats and want to keep their claws off your furniture. Etsy reviewers are very positive and praise its design and functionality. 
The eco-conscious mom of Dougal the cat, who is fond of scratching, wanted a durable, but small scratcher for him. She found this a great option – "he uses his new scratcher every day, forgets my armchairs for a while."
And as you can see from this video, the scratcher is easy to replace. 
TRY READING: Are Cat Trees Dangerous?
PetPals have an excellent non-toxic cat tree for cat owners who wish for something modern, versatile, and suitable for multiple cats.
This 3-level cat tree measures 23″ x 19″ x 50″ and has a comfy basket for napping, two perches, and a luxurious condo at the base. 
Benefits & drawbacks of PetPals Royal 3 Level Cat Tree
| Benefits | Drawbacks |
| --- | --- |
| Made from a recycled paper rope for durability | Cats can chew through the paper rope baskets  |
| Multiple levels, sleeping areas, scratching posts for scratching, and platforms  | A little bit shaky |
| A toy rubber massager, great for cats that love to rub against things | |
| A hanging toy to entice your cat's hunting instincts | |
| Easy to assemble and clean | |
| Stylish black/white color and a modern design, suitable for various interiors | |
| Suitable for cats of all ages    | |
| | |
Recommendation
PetPals Royal 3-Level cat tree has everything a cat wants – a comfortable cat perch, scratching pads, a plush observation platform, and a cozy cave for privacy. 
It's also relatively affordable compared to models with similar features, and it's easy to assemble. And as you can see from this video, kittens love it. The video also, shows you how easy this tree is to assemble.
Sale
PetPals Cat Tree Royal 3 Level Jet Black and Porcelain White Cat Tree with Toy (with Cat Self Groomer)
FEATURES: Teasing toy rubber massager, condo and perch
Lovely Design: Handcrafted into a unique design features paper rope baskets.
MATERIALS: All perches and condo constructed with soft plush fabric, plush toys, and Sisal scratching posts.
INSTALLATION: Simple and easy to install; all instructions, materials, and tools included.
PREMIUM QUALITY CONTROL - With more than 20 years of manufacturing experience in the pet supply industry, Petpals has kept challenging to break any limitations of the best quality products. 100% guaranteed return with your satisfaction, you have our words.
ALSO READ: Biodegradable Litter Box Guide
If you're looking for a non-toxic cat tree that resembles the real deal, you won't be disappointed by On2 Pets' modern cat furniture.
This realistic tree measures 26″ x 26″ x 60″ and has three cat perches to accommodate cats up to 32 pounds. 
Benefits & drawbacks of On2 Pets Cat Tree with Leaves
| Benefits | Drawbacks |
| --- | --- |
| Made from pressed wood, carpet, and non-toxic pet materials | Not all parts are made from recycled materials  |
| Engages cat's natural urges to climb, jump, scratch, and pounce | Cats might chew the artificial leaves  |
| Easy to assemble without any tools  | No comfy perches  |
| Unique design to provide your furry friend with a genuine outdoor experience | |
| One of the best cat trees for large cats, since it can withstand up to 32 pounds  | |
| Available in different colors  | |
| Made in the USA | |
| | |
Check this video to see how to assemble On2 Pets products.
Recommendation
On2 Pets Cat Tree with Leaves is a great tall tree for cats, providing hours of fun for your feline companion.
And as this reviewer says, the natural tree design looks great, and the construction is very stable compared to other models with a square base. 
Sale
On2Pets Cat Tree with Leaves Made in USA, Cat House & Cat Activity Tree, Multi-Level Cat Condo for Indoor Cats
Made with love and care in the USA. We utilize a combination of state-of-the-art CNC machines and the skilled hand of local artisans to manufacture all of our products.
Cat condo designed for cats up to 32 pounds in weight. Easy to assemble cat furniture in less than 15 minutes, no tools required.
Our trees offer different areas of exploration and different materials to engage all of your cat's senses. Our Cat Activity tree is perfect for jumping, scratching, climbing, and relaxing.
An indoor cat climbing tree featuring sturdy construction and high-quality materials, all components used are pet-safe and non-toxic.
Every detail makes this contemporary piece fit into the aesthetic of your home while giving your cat their own space to embrace their wild side. Designed to look like a tree so your cat has that 'outdoor experience' without leaving the safety and security of their indoor environment.
Not everyone has the available place to put larger cat trees. Fortunately, I've got the perfect solution for you – this raised sleeper cat perch is great for small cats and kittens and doesn't take much space.
This modern cat perch measures 20″ x 20″ x 25," and it features a comfortable sleeping area with raised edges and a scratching post. 
Benefits & drawbacks of Raised Sleeper Cat Tub Perch
| Benefits | Drawbacks |
| --- | --- |
| Handmade in the USA from natural materials –  solid wood, household grade carpet, and sisal rope  | Gray, blue, and green perches cost extra  |
| It arrives fully assembled, so you don't have to wonder how to put it together | Not the best choice for large cats or multiple pets  |
| Available in five colors to match different interiors  | You have to pay extra to cover all posts in sisal for scratching  |
| Comfy sleeping area with edges to prevent cats from falling off the tree when asleep | |
| A hanging toy to physically stimulate your cat and a scratch post to satisfy your cat's scratching instincts | |
| A  heavy base to ensure the tree's stability and safety | |
| Free shipping | |
Recommendation
This raised sleeping perch is a great option since it's made from eco-friendly materials and doesn't require any assembly at all.
It's a bit pricey compared to a traditional cat tree, but it's worth the price when you consider its stable construction and unique design. 
Kitty mom, Bella, loves it – "The quality is great, has thick carpet and very sturdy."
Check Latest Price



Raised Sleeper Cat Tub Perch – CatsPlay Superstore


Related: The Best Wooden Cat Tree
Are you tired of wondering how to clean cat trees from cat hair? Then you'll fall in love with Beonebreed's natural cat tower. 
This natural cat tree measures 30.00″ x 16.75″ x 14.75," and it features two perches to satisfy your cat's desire to climb and scratch. 
And as you can see from this video, Beonebreed's cat trees and houses look stunning in person, and cats quickly take a liking to them. 
Benefits & drawbacks of Beonebreed Cat Katt3 Evo Natural Cat Tree
| Benefits | Drawbacks |
| --- | --- |
| Made from high-quality laminated wood for durability and stability | Not the best choice for large cats since the distance between the two platform levels is small  |
| Natural scratching materials  | Not the best sustainable option for multiple cats  |
| One memory foam cushion and a padded platform to provide comfortable resting areas for your fur friend  | |
| One hanging toy to stimulate your kitty physically and mentally  | |
| Easy to clean and maintain | |
| | |
Recommendation
Beonebreed's product impresses cat owners with its clean design, easy-to-maintain surface, and durability. It's a great eco-friendly option for single cats and kittens.  
Assembly takes a bit of time but is pretty easy. See how to assemble it in this video.
Kittens spend their time running around the house, pouncing on toys, and sleeping in cute positions.
And FurHave is among the best eco-friendly cat trees for kittens because it has everything your little one can desire.
FurHaven's product measures 16″ x 16″ x 22.5″ and has a padded platform for sleeping, a post for creating, and toys to entertain your kitty.
Benefits & drawbacks of FurHaven Tiger Tough Scratcher 
| Benefits | Drawbacks |
| --- | --- |
| Compact design, so it doesn't take much space around the house | Not the best choice for heavy or large cats  |
| Very affordable for pet owners on a tight budget | |
| Sisal scratching post to satisfy your cat's natural instinct to sharpen its claws | |
| The base features two jingle balls, perfect for curious kittens to bat objects | |
| Easy to assemble | |
| | |
Recommendation
FurHaven's kitten tree is a great choice when you want something of good quality and price due to its eco-friendly design, plush materials, and stable construction.
And as you can see from this video, assembling this eco-friendly cat tree takes no more than a couple of minutes. 
Check Latest Price



Scratching Post with Cat-IQ Busy Box


How To Choose The Right Eco-Friendly Cat Tree?
Let's talk about what you should consider when shopping for the best eco-friendly cat trees.
#1 Materials 
Look for cat trees made from natural or eco-friendly materials, such as sisal rope, natural wood, faux fur, cardboard, etc. Avoid synthetic fibers and plastic surfaces.
#2 Scratch Texture
Usually, sisal rope is a safe option since many felines enjoy its texture and the ability to dig their claws into the rope. But some cats may prefer carpeted surfaces or cardboard scratchers.
#3 Size
The right eco-friendly cat tree shouldn't be too short or tall for your cat to climb. Depending on how much space you have, you need the scratching posts to be around 30″ in height. 
READ MORE: How to Keep Cat Off Bookshelf?
Should You Throw Away Your Old Cat Trees?
If the cat tree is damaged and isn't as stable as before, you shouldn't let your cat use it since your kitty may have a bad fall. But it doesn't mean you have to throw the old tree away:
Repurpose the old tree as long as the damage isn't severe
Donate the tree to shelters if it is still safe enough or they can repair it
Sell the cat tree online if it's in relatively good condition
Take the tree to a recycling center  
FAQs
Conclusion
It's not hard to find the best eco-friendly cat trees for your curious feline friend. Just look for a sustainable material, such as wood or carpet, and consider your cat's scratching preferences.  
And don't forget to check the overall dimension of the cat tree to ensure you've got enough room to place it. 
What do you think about these best eco-friendly cat trees? Which are your favorite picks? Share your opinion with us in the comment section. 
Resources:
1. "Why Cats like to Relax and Sleep up High | Killeen Vet Clinic." Www.killeenvetclinic.com, www.killeenvetclinic.com/articles/why-cats-like-to-relax-and-sleep-up-high.html#:~:text=According%20to%20animal%20behaviour%20experts. Accessed 7 Apr. 2022.
2. "Caring for Your Healthy Cat – Animal Medical Center of Chicago." Https://Www.animalmedicalcenterofchicago.com/, www.animalmedicalcenterofchicago.com/caring-for-your-healthy-cat/. Accessed 7 Apr. 2022.
3. Herron, Meghan E., and C. A. Tony Buffington. "Environmental Enrichment for Indoor Cats." Compendium (Yardley, PA), vol. 32, no. 12, 1 Dec. 2010, p. E4, www.ncbi.nlm.nih.gov/pmc/articles/PMC3922041/.
4. Ribeiro, Simone. "Review | Wall-Mounted Cat Scratcher by Catipilla -." Midlandstraveller.com, 24 May 2020, midlandstraveller.com/2020/05/24/review-wall-mounted-cat-scratcher-by-catipilla/. Accessed 7 Apr. 2022.
5.  "Raised Sleeper Cat Tub Perch – CatsPlay Superstore." Cat Furniture by CatsPlay, www.catsplay.com/raised-sleeper-cat-tub-perch. Accessed 7 Apr. 2022.
Grigorina S
I've grown up surrounded by animals – dogs, cats, cows, goats, sheep, and horses and that has shaped me into what I am today – a crazy cat lady who always has a place for one more cat (or a dog). I've got two female cats – Kitty and Roni, and two tomcats – Blacky and Shaggy, but I also feed my neighbors' cats when they come for a visit. I just can't say no to them.
I discovered that writing is my vocation early in my school years. Since then I've taken part in several literature contests – writing horror and fantasy short stories and novellas.
For the past three years, I've been an ELS teacher, pouring my heart into showing children and teenagers how important English is for their future and trying to educate them how to treat their pets with care.
Find her on Instagram. Read her latest articles..
Learn more about Grigorina here
Last update on 2022-11-15 / Affiliate links / Images from Amazon Product Advertising API