If you're looking for the best cat litter for kittens training to use the box (or wondering if they even need special litter), we've got your back!
Today, we're going to talk about what to look for when you're shopping for kitten litter.
We'll cover both clumping and non-clumping, as well as a couple of rather unique solutions!
10 Best Kitten Litter Comparisons
1. Purina Yesterday's News Paper Cat Litter
Purina's cat litter is one of the best on the market. It's almost dust-free, doesn't track, and is gentle on your cat's paws.
This particular formula is designed to be even softer and gentler for kittens. Let's take a look.
Features And Pros
Price per pound: about $0.66
It's 99.9% dust-free, so it's gentle on delicate young kitten lungs.
Recommended by veterinarians.
Unscented, so it checks that "no harsh fragrance" box.
Absorbs even better than the average clay litter.
The pellets are soft and gentle on kitten paws.
Chemical-free and non-toxic
Cons
Since it doesn't clump, you really have to stay on top of the box.
Too large for most litter scoops, which makes scooping and sifting a challenge.
Some kittens just don't like pellet-style litter.
Recommendation
Yesterday's news gets my vote for the best cat litter for kittens training to use the box for so many reasons.
I love that it's gentle, eco-friendly, and budget-friendly. It's hard to find a litter that checks all of those boxes.
2. ökocat Non-Clumping Cat Litter
As I mentioned when we were talking about non-tracking cat litter, Okocat doesn't have the best reviews on Amazon, which I really don't get.
I've used it and liked it quite a bit. I mean, it's not my #1 favorite or anything, but I liked it enough to spend a lot of time searching for it in stores near me.
Also, while it may not be in my top 10 picks for the best overall litter ever, it's definitely in the top 10 for the best kitten litter.
Features And Pros
Price per pound: about $1.
Made from soft, gentle paper pellets
Very close to being dust-free.
The pellets absorb 200% of their weight, so a box lasts a long time.
Flushable and biodegradable.
Cons
Not the best odor control if you don't clean it out daily.
The litter itself isn't the best-smelling of the bunch.
Kind of pricey at $1 per pound (although it lasts longer than typical litter).
3. Feline Pine Non-Clumping Cat Litter
Feline Pine is another popular brand that always gets high marks.
I love it because it's not only non-tracking and almost dust-free, but also because it's made with natural ingredients.
Features And Pros
Price per pound: about $0.69
No Harsh Chemicals
Highly absorbent
Low-dust (not dust-free, though)
It's pretty lightweight.
Cons
Doesn't do a great job of controlling odors.
Some cats don't like the way it feels (it's not hard on their feet, but they may not like the texture).
Recommendation
Most of the kitten owners that I talked to had great things to say about Feline Pine.
It's fairly inexpensive, which is always a plus in my book, and it's all natural, so you don't have to worry about nasty chemicals touching your kitty's toes.
4. SmartCat All Natural Clumping Cat Litter
SmartCat is made from grass, making it one of the best options for kittens who are still in that "eat everything" stage.
I love it because it's almost totally dust-free, so your kitten won't breathe in nasty residue. Plus, it's natural and chemical-free.
Features And Pros
Price per pound: about $2.85
99% dust-free
It's clumping litter.
Lightweight
Chemical-free, clay-free, and biodegradable
It's also fragrance-free.
Cons
It feels a little strange to cats who aren't used to it.
Obviously, if you're allergic to grass, it's not a good choice.
Pretty pricey
Recommendation
I only really have two issues with SmartCat. First, the price Wow, right? I think it's the most expensive litter on this list!
Second, I have pretty bad seasonal allergies, and grass plays a major role in keeping me miserable for months on end.
So, obviously, I wouldn't want to bring it into my house if I didn't have to. If you don't have allergies, though, it's a great option, even with the high price.
5. Purina Tidy Cats Natural Clumping Cat Litter
If you want to stick to a national brand that you already know and trust but still want something a bit more natural, this is what you want.
I had no idea that it even existed until recently, and I haven't seen it in stores.
Features And Pros
Price per pound: about $0.79
Made from cedar, pine, and corn
Naturally clumping
Pound for pound, it lasts as long as clay litter.
Cons
It's not fragrance-free.
Not a low-dust option
Tends to track
Recommendation
While I prefer the other options that we've discussed so far over this one, I wanted to make sure you had at least one well-known brand to choose from.
I know that some people are very loyal to certain pet product companies. If you're one of them, this is really the best Tidy Cats litter for kittens.
6. Dr. Elsey's Kitten Attract Clumping Clay Cat Litter
I've talked about Dr. Elsey's other formulas before, but did you know they make one just for kittens?
It's a great all-natural kitten training litter with granules that are just right for tiny paws.
Features And Pros
Price per pound: about $0.80
Made with a kitten-specific natural herbal attractant
99% dust-free
Clumps
Multi-cat formula
Works with automatic cat cleaner boxes
Cons
Tends to stick to paws and tracks a bit
Although the fragrance is all-natural, it's a bit strong for some kittens.
Recommendation
I love that Dr. Elsey's makes a litter especially for kittens. Not many brands do!
However, I wish they would just skip the herbal "attractant." It seems like an unnecessary ingredient.
That said, I still recommend it since it has such fantastic overall ratings!
2. Next Gen Pet Products Green Tea Fresh Cat Litter
Want something totally different than the usual cat litter and are willing to take a chance on a relatively little-known brand?
You definitely have to give Next Gen litter a try! They have a few different formulas, but I like the Green Tea Fresh one the best.
Features and Pros
Price per pound: about $2.93
Made from natural wood and green tea leaves
The tea leaves naturally fight bacteria and control odor.
One bag lasts about a month
No chemicals or artificial fragrances
Flushable and compostable
Cons
Very pricey
A bit dusty
Clumps don't always hold together very well
Recommendation
I love the idea of using green tea to combat odors and bacteria! So smart!
Yes, this is super duper expensive, but one bag lasts between a month and 6 weeks, so it's really not much more in the long run.
3. Naturally Fresh Unscented Clumping Walnut Cat Litter
Another super popular brand that totally fascinates me is this one, which is made with walnuts!
I love it because it's natural and gentle for kittens yet still clumps, so it's easy to clean.
Features and Pros
Price per pound: about $0.84
One bag is the same as three bags of clay litter.
Super absorbent and long-lasting
Doesn't track or stick to kitten toes.
Made with renewable sources
Non-toxic and chemical-free
Cons
Not compostable, even though it's made from walnut shells
Smells a little odd, according to some
Cats may not like it
Recommendation
As with the other natural litters on this list, you'll definitely need to get your kitten used to this one if you're switching from another brand.
On the other hand, if you're looking for the best litter for kittens training to use the box, they won't have anything to compare it to.
4. sWheat Scoop Multi-Cat Unscented Clumping Wheat Cat Litter
As the name implies, sWheat is made with wheat.
Features and Pros
Price per pound: about $0.85
Recommended by vets for kittens
Clumps fast
No added fragrances, and non-toxic
Biodegradable
Fantastic odor control
Cons
Not good for families with wheat allergies
Cats may not like the way it feels
Tends to track quite a bit
Recommendation
This is a great budget-friendly option that's actually vet-recommended for kittens, so you can't go wrong there!
5. World's Best Multi-Cat Unscented Clumping Corn Cat Litter
Features and Pros
Price per pound: about $1.07
99% dust-free
A concentrated formula traps odors
Flushable formula is safe for septic tanks and sewers (so it's a good choice for the CatGenie litter box)
Forms small clumps that are easy to remove.
Cons
Pound for pound, it's one of the pricier options.
Although it has good overall odor control, it can get stinky in multi-cat households if you don't scoop daily.
Since it's made of corn rather than clay, some cats may not want to use it.
What to Look for in the Best Kitten Litter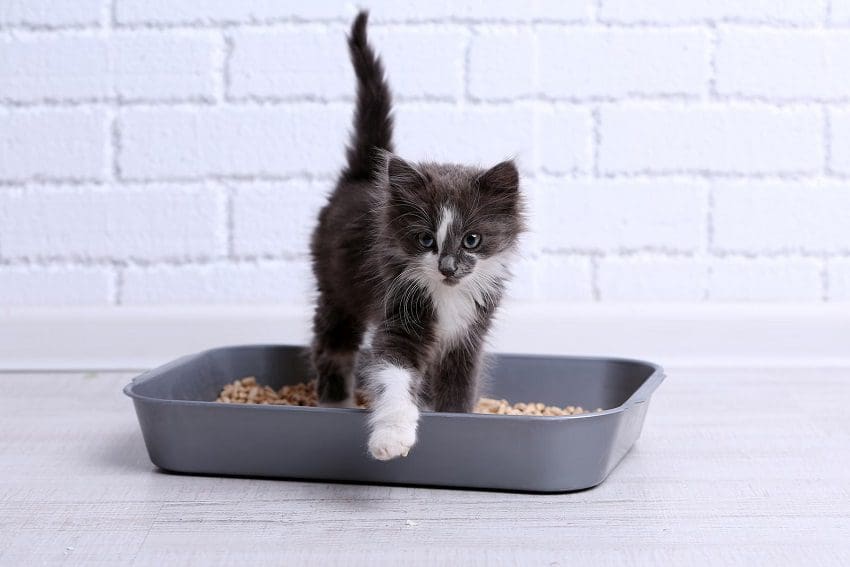 Let's address the question that's probably on everyone's mind: do kittens really need special litter?
Yes, they do, and no, they don't.
Let me explain. If you're already using a good, natural, non-clumping litter, then you probably don't need to run out and buy something special for a new kitten.
On the other hand, if you're using the average clumping litter, then you'll want to keep reading (although I'd love for you to keep reading either way).
What's The Problem With Clumping Litter For Kittens?
The debate over whether kittens can safely use clumping litter is a pretty heated one among cat owners.
It really all comes down to the age of your kitten. If she's under 4 months old, skip the clumping litter.
If she's over 4 months, go for it if that's what you prefer to use. Why 4 months?
While all kittens are different, that's about the age that they stop looking at the litter box as a fun sandbox in which to play and start looking at it as a toilet.
It's also about the age when they stop eating everything in sight, including litter, and when they're big enough to not get seriously sick if they do ingest some.
It's important to note that not all clumping litter is out the window, just the types made from clay or silica.
Unfortunately, that's pretty much every type you'll find on your grocery store shelves.
Don't worry, though; I'll give you some clumping solutions when we get to my top 10 picks for the best cat litter for kittens.
What is The Best Type of Kitten Litter?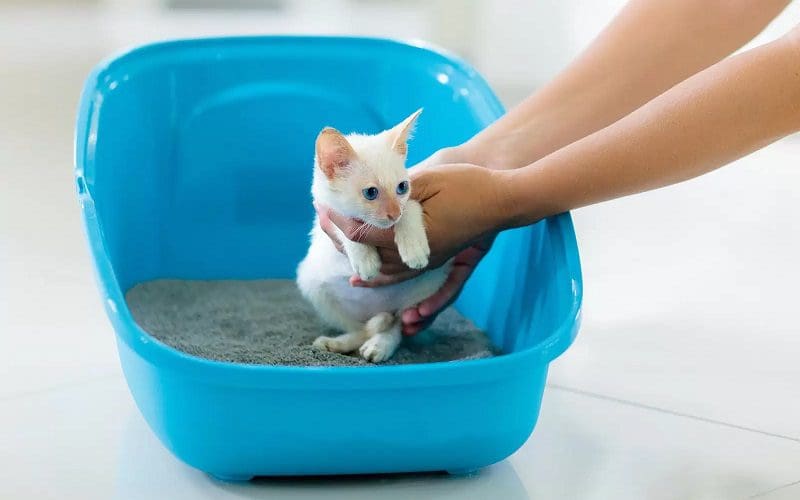 If good old-fashioned clumping clay litter is out (at least for now), then what type of litter should you use?
We'll talk about that in more detail as we go through the kitten litter reviews, but look for things like:
Soft litters made from things like recycled newspapers
Gentle pellet-style litter
Brands made using corn and other digestible ingredients
Fragrance-free litter
Basically, you want something that's gentle on their delicate little paws and safe in the event that they accidentally ingest some.
Avoid litter with heavy fragrances, as they can be overwhelming for sensitive kitten noses.
Final Word
Since it's vet-recommended for all cats, I'd have to say that Yesterday's News is my top overall pick.
However, all of these should be just fine for your kitten! It really depends on your budget and personal preferences.
Tell me below: What are your picks for the best cat litter for kittens?
Last update on 2023-09-27 / Affiliate links / Images from Amazon Product Advertising API