When a regular old cat condo just won't do it for your queen or king, it's time to start looking at kitty mansion cat trees!
Whether you're searching for reviews for the actual brand "Kitty Mansions" or just want to find extraordinary play lands for your cat, I've got you covered!
Below, we'll check out the top Kitty Mansions brand trees as well as a few other options that definitely deserve to be called mansions!
Fair warning, most of these are NOT space-saver trees, although I did include some that aren't incredibly overwhelming!
FYI, this post contains affiliate links. If you make a purchase through these links, we earn a small commission at no extra charge to you.
Top Benefit
Space-saver mansion-like cat tree
Deluxe model with thicker poles
Adorable cat-shaped entry ways
Thick poles and beautiful design
Best Kitty Mansion Cat Trees
Right about now, I'd tell you why you'd want to buy such a thing, but honestly, there's really only one answer: because you want to treat your cat to the best of the best!
Seriously, you don't actually need a cat mansion, but it's definitely a fun way to treat kitty like the royalty that she is!
So, without further ado (although I do love ado), I present the top 10 best kitty mansion cat trees that I'm absolutely drooling over (and I'm not even a cat!).
Some of them are actually "Kitty Mansions" brand cat trees, while others just fit my idea of what a royal kitty palace should look like.
I decided to include a mix because I know a lot of cat parents who are looking specifically for that brand while others interpret "kitty mansion" as "really awesomely huge cat tree."
So, the first section covers the brand and the second the idea. Got it? Good!
We'll head to Amazon, Chewy, and Cats Play Furniture (which makes some pretty awesome stuff, in case you haven't checked them out yet) for our selections.
Kitty Mansions Brand Cat Trees Reviews
Let's start with one that's not incredibly overwhelming, that you can fit in just about any home (except maybe an apartment).
Features & benefits
73″ size is large enough to be called a kitty mansion yet not so big that it needs its own room.
Four-tier tree features multiple platforms and hiding spaces.
Comes with scratching posts to keep kitty from clawing your furniture.
Three plush perches let him keep watch over his kingdom.
Cons
Not Prime eligible, although it does ship free.
No customer reviews, so it's hard to say "everyone loves this one!"
The condos are a bit on the smaller side, so not really ideal for ginormous kitties.
Recommendation
While this one doesn't really have any reviews (so I can't call it "highly rated"), I do know quite a few cat parents who love the Beverly Hill cat tree.
I like that it's small enough to fit in my home yet still full of features my kitty loves.
If it's not your idea of a mansion, though, keep reading. They're only going to get bigger from here on out!
The Kitty Mansions Big Horn Cat Tree is definitely my idea of a fantabulous kitty play land!
I have this dream of building an actual tree house (like, a house to live in, but in a tree), and it would look a little like this!
Features & benefits
From Kitty Mansions' "Deluxe" line, so it has thicker posts and sturdier bases than the average cat tree.
4.7″ thick posts for even more durability.
Realistic-looking leaves make it look a bit like a real tree.
Four "bedroom" areas for cats to snooze or hide out in.
Four high-level beds for a scenic view of their kingdom.
Sisal scratching posts throughout every level.
Fantastic for multiple cats!
At 47x24x81 inches, it's big yet not incredibly overpowering.
Cons
It's very heavy (170lbs)
Doesn't ship free
No customer reviews
Aside from the one on the 2nd level, most of the "rooms" are too small for big kitties.
Recommendation
If you have relatively petite cats and someone to help you put this together, the Kitty Mansions Big Horn cat tree is a fantastic option.
I would definitely buy it for my cats if I had the space! I love that it has a real-tree look, although I don't really adore the grey-on-brown colors.
Still, colors aside, it's definitely a qualifier for the best kitty mansion.
If you want something a little simpler yet still large-and-in-charge, the Kitty Mansions Rome Cat Tree is a great pick!
I like it because it's elegant in its simplicity yet still offers plenty of fun (and I do mean plenty) for your fancy feline.
Features & Pros
Includes 12 platforms total so your kitty can see his world from every angle.
2 bedrooms with adorable cat-shaped entry ways.
2 tunnels to hang out in.
Nearly all of the posts are wrapped in sisal rope
Easy to assemble and free shipping
Replacement parts available (that goes for most Kitty Mansion cat trees)
Cons
The tunnels and the condos are on the smaller side (seems to be a trend, but don't worry, we'll see options for Maine Coons and the like)
Not as stable as the deluxe models
The faux fur isn't the highest quality material
Recommendation
I love that it's a large tree yet doesn't feel overpowering, since it has a very open design.
The levels are spaced very well, so even older kitties should have no problem ascending all the way to the top.
The only thing I really don't love is the size of the caves and tunnels. While they're fine for one of my cats, my other two are a bit on the bigger side (not fat, just big).
For some inexplicable reason, if you look at this on Amazon it's totally mislabeled as a bra. Yep, a bra. Weird, right?
So, ignore that when you open up the listing. I promise, it's not actually a stick-on bra. What is it, then? Let's take a look!
Features & benefits
Stands at 80″ tall yet only takes up a little over 2 feet of floor space (28″)
2 large 14″ round beds with thick removable cushions
A total of 10 scratching posts spread throughout the levels.
Extra-thick hanging rope for cats to bat, claw and climb on.
5″ thick posts for added stability
Larger baskets than most of their other models, so it's great for bigger kitties.
Cons
Costs $50+ to ship
While the baskets are big enough for large cats, the condo is still on the smaller side.
No customer reviews
Recommendation
While the condo still isn't quite big enough for Maine Coons, the rest of this tree has features that make it ideal for large kitties.
I adore the color combination, too. It's very modern and would look great in just about any home.
The Denver model of the Kitty Mansions brand of cat trees is a beautiful neutral-colored cat gym designed for multiple kitties.
Features & benefits
5 platforms across multiple levels
3 top perches, so the King, Queen and Royal Prince can all look out over their kingdom at the same time.
Two houses, one of which is roomy enough for larger cats
Side basket for smaller kitties
Scratching posts on every level
Cons
Only one of the houses is big enough for large cats, so if you have two big kitties you basically have one useless cave.
The faux fur material doesn't look as plush as some of their other models.
Because of the material and the color, it will look "worn" a lot faster than other models.
Recommendation
I'm not a huge fan of the color of this one, to be honest. I feel like it will look stained and worn way too quickly.
That said, I like that it at least has a condo big enough for large breeds, even if the other condo is a bit too small. It would work for me because my cats are a mix of sizes.
Kitty Mansions Denver Cat Tree, Beige
Easy to assemble
Replacement posts available
Great for multiple cats or one lucky cat
High quality construction gives kitty mansions a longer lifespan
25-inch l x 25-inch w x 73-inch h
Beautiful Cat Mansions from Other Brands
For the next group, we'll look at cat trees that fit my idea of what a "kitty mansion" should look like!
Now, here's a condo worthy of the name "kitty mansion," don't you think? It has to be one of the coolest cat trees I've ever seen, and I look at a lot of them!
Features & benefits
A unique option for unique cats (& cat parents!).
4 separate cat condos, each large enough for just about any size cat breed.
Two of the condos are large enough for multiple cats at once
Extra large upper beds are big enough for two cats at once, so great for snugglers!
Low center of gravity ensures a wobble-free home for kitties.
Comes in 8 beautiful color combinations
Ships free.
Made in the USA
Cons
Pricey, although well worth it in my opinion
Very heavy (about 150 lbs)
Not great for senior cats who can't jump, as the higher platforms are pretty far from the next level down.
Recommendation
If you have the budget for it, this is definitely my top pick for the best deluxe cat mansion!
It's so unique and roomy! I love that nearly every feature is big enough for larger cats, too.
Over on Chewy, we find a gorgeously elegant super-tall option from GoPetClub, one of my favorite cat tree brands.
It may not be as elaborate as some of the other options on this list, but what it lacks in over-the-topness it makes up for in quality and features.
Features & benefits
A grand total of 25 different levels for your cat to play on.
2 ladders to climb
Two small cubbies for hiding out in
15 posts to scratch and claw
An adjustable top pole that can be attached to the ceiling for added stability.
Plenty of perches for multiple cats
Free shipping
Cons
The top post doesn't extend far enough for really tall ceilings.
Cubbies are on the small side, so once again, not great for large kitties. I feel like a broken record!
Distance between some of the levels is a bit far for senior cats (even with the ladder).
Recommendation
If you have smaller cats and need a relatively budget-friendly option (at least compared to other deluxe kitty mansions), you can't go wrong with GoPetClub.
Again, though, I worry that the color would get dingy looking pretty fast. That's really my only major complaint, though!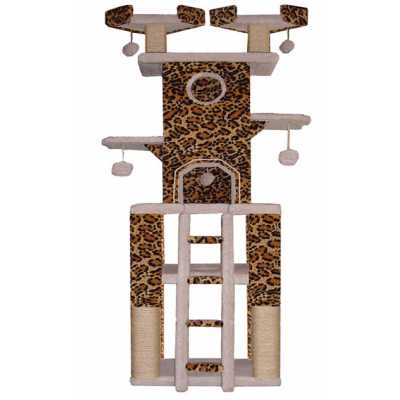 Another unique option from Cats Play Furniture, this one has a leopard print for your own personal king of the jungle.
Yes, I know the lion is technically king, but just play along with my puns, okay?
Features & benefits
Stands at 86″ tall
Supports over 200lbs
Six openings into the house
Large top perches give kitty a fantastically comfy view
Condos are 16×16, so large enough for most kitties.
Lots of sisal rope scratching surfaces
Made from solid wood and real carpeting
You can choose between one large bed or two smaller ones for the top level
Comes in multiple other color combos if the animal print just isn't your thing.
Free shipping
Cons
Pricey (again, worth it, especially since it's real wood)
If your cat won't use the ladder, it requires a pretty big leap to get to the first level
Somewhat heavy at 130lbs
Recommendation
One of the best features of this kitty mansion is the fact that you can choose from two sizes for the top bed.
If you have a Maine Coon, he'll have no problem getting comfy! Although the Boardwalk is still my favorite, this is a very close second.
9. CHUHUI Solid Wood Cat Tree
No products found.
Think of this one as a unique micro-mansion (a McMansion, if you prefer) rather than a mega-complex.
I love the original style, so even if it isn't quite as deluxe as other options, I still feel like it fits the criteria!
It's larger than it looks in the picture (check out the extra pics on the listing to see what I mean).
Features & benefits
Made with high-end E12 grade bamboo fiber board, so it's built to last.
A spacious castle that big enough for multiple cats.
Multiple cozy sleeping surfaces with soft, plush beds
Includes anti-topping fittings.
Bottom is strengthened with battens for added stability.
Cons
Not Prime Eligible
No customer reviews
Although it says "solid wood" in the title, it's still actually made with fiberboard. Technically "real" wood but what I call "solid."
Picture is a bit misleading, it doesn't come with the cute bowls on the base.
Recommendation
While the picture and the name is a bit misleading, I still think this is a pretty neat mansion-like cat tree.
You really do need to look at the additional images, as it's bigger than you think it will be!
No products found.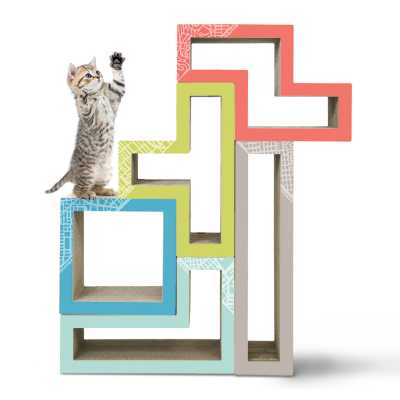 Our last option isn't really a kitty mansion on its own, but you can very easily create your own ultimate cat playland by combining multiple sets.
Features & benefits
Entirely module, so you can configure it any way you want.
Each set comes with 5 blocks that work together.
Scratching surfaces line the insides of the blocks
Very artistic looking, so it's a great conversation piece too.
Comes in the color options above or neutral colors like black, brown, and natural wood.
Easy to assemble with included clips.
Holds up to 300 lbs.
Cons
While not terribly pricey for a single set, if you want to build a huge castle it'll get expensive.
Only comes with 5 clips
Not made in the USA
Recommendation
Since I don't have the space for my true dream tree (the Boardwalk), this is my "realistic dream" option.
I truly do adore it and think it would look brilliant in just about any home! Although, like I said, if you want to build out an entire mega-mansion, it'll get pricey.
Final Recommendation
If you came here because you want to know which of the Kitty Mansion cat trees is the best, then I'd have to say the Big Horn or the Paris.
I personally love the style of the Paris the most, but the Big Horn's features are what I really need.
On the other hand, if you landed here without a specific brand in mind and just wanted to check out some really cool XL cat trees, my money would go to the Boardwalk!
Your turn! What's your favorite Kitty Mansion cat tree? Share below!
Nicole Etolen
Nicole is the Editor-in-Chief and one of the writers here on CatVills. She's been a cat lover most of her life and-at one point- counted five felines as part of her family. Today, she's proud cat mom to two indoor kitties and caregiver for a slew of ferals.
Last update on 2021-07-28 / Affiliate links / Images from Amazon Product Advertising API