When you're looking for the best litter boxes for Maine Coon cats, size definitely matters!
You can't really get away with those space-saving, teeny-tiny litter pans like you can with smaller breeds.
Today, we'll take a look at which factors to consider when shopping for your large cat's litter needs.
Then, we'll check out my top five picks for the best XL litter boxes!
Let's get started!
FYI, this post contains affiliate links. We earn a commission if you make a purchase at no extra cost to you.
5 Best Litter Boxes for Maine Coon Cats
Check this comparison table for a quick guide. Read the review for further details.
Main Feature
Clear Hood, Multiple Colors
Hides the litter box, eco-friendly
Check Latest Price on Amazon
Choosing the Best Litter Boxes for Maine Coon Cats
Some factors to consider when choosing the best litter box for your Maine Coon cat include size and type of box as well as where you'll be placing it.
Let's go over some basics.
We'll discuss each one a bit more as we talk about my top 5 picks, but I want to give you a general overview to start with.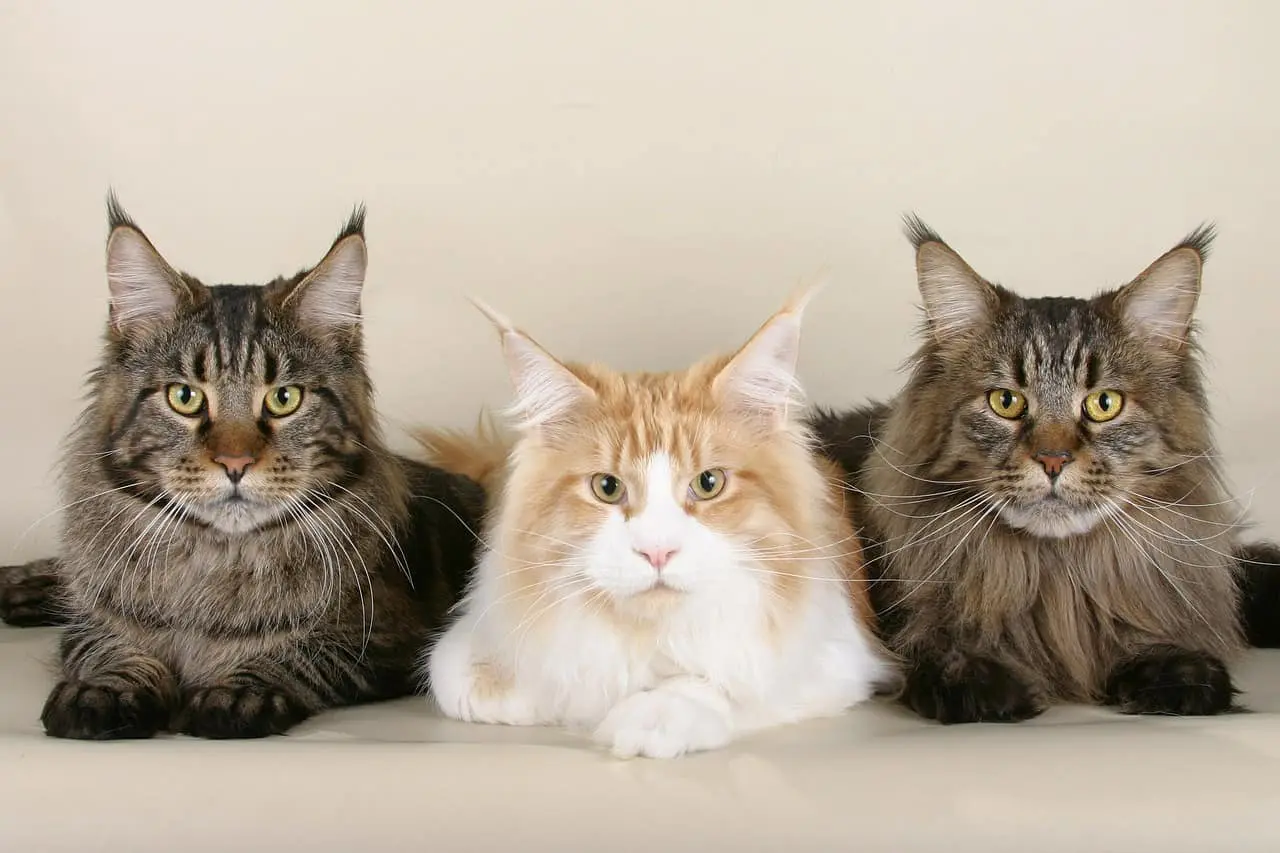 This post contains affiliate links. If you make a purchase through these links, we earn a small commission at no extra charge to you.
1. Size
While even the largest cat will somehow manage to do their business in a teeny litter pan if they're determined enough, it's definitely not ideal.
A tiny box can lead to great big Maine Coon litter box problems!
See, even if your Maine Coon does manage to squeeze his giant kitty behind into a tiny box, he'll make a huge mess when he tries to cover said "business."
Do you really want to clean cat pee and poop off the floor every time he goes?
No, I didn't think so! See, size does matter!
Male Maine Coons can weigh up to 25 pounds and grow between 18-26 inches, and females up to about 20 lbs and 16-24 inches long.
That's larger than many small-breed dogs! Seriously, the Maine Coon is larger than my brother's Westie mix and dachshund combined!
So, what is a good rule of thumb for choosing the perfect sized litter box?
According to cat behaviorist Pam Johnson-Bennett, "In general, the litter box should be one-and-a-half times the length of your cat from tip of the nose to base of the tail."
Note the words "base of tail." I read it as "tip of tail" and went nuts trying to find a 3-foot-long litter box! I need more coffee, apparently.
2. Type of Box
Forget "to be or not to be," when it comes to litter boxes, the burning question is "to cover or not to cover?"
I've been a cat mom for about 24 years, and for at least 23 of those I've had a covered litter box of some sort.
I'm not yet a Maine Coon mom (it's the dream, though, and I have a mix that I am convinced is part MC), but I've had my share of big kitties.
So yes, you can have a covered box for a Maine Coon. However, you can also go with uncovered boxes if you prefer, as long as it's big enough.
3. Placement
Where you plan to put the litter box matters quite a bit when choosing the right one. That goes for all cats, but even more so with XL litter boxes.
If you plan to stick it in a well-traveled area (even if that's just your bathroom), then you'll want an XL box with a lid.
On the other hand, if you're tucking it under a cabinet or someplace totally out of the way, you can go with an uncovered XL box.
Now that we have a general idea of what to look for, let's check out some of the best XL litter boxes for Maine Coon cats
Related: Best Litter Box For Handicapped Cats
Top 5 Litter Boxes for Maine Coon Cats
Each of these top five litter boxes for Maine Coon cats is big enough to accommodate the highest end of the MC spectrum.
They're all a good value for the money, too!

If you want the best XL covered litter box, the Petphabet Jumbo Hooded Kitty Litter Pan
is a good option.
The description boasts that it can hold two cats at once, which means it can comfortably hold one large Maine Coon!
Features and Benefits
Big enough for two average-sized cats to use at the same time means it's large enough for your single giant kitty
High back and lid to reduce spillover
Clear cover helps kitty feel less trapped and closed-in

Easy to clean with its durable antimicrobial non-stick plastic

Dimensions when assembled: 24.8″L x 20″W x 16.5″H. Door opening size 8.2 X 7.8 inches

Comes in 7 different colors (although I only saw 5 on Amazon)! Your cat may not care about having a pink box, but it's nice to have the option!
Cons
The tray and the seal between top and bottom may not be strong enough for high-peeing cats.
While your cat may love the clear top, you might want something that conceals litter a bit more.
Overall, I think the pros definitely outweigh the cons. Plus, I just love the fun colors!
Petphabet Jumbo Hooded Cat Litter Box, Extra Large, Teal
Petphabet Cat Litter Box ideal for Multiple Cat Households Even in A Studio Apartment .Two average sized cats could all sit in kitty litter boxes at the same time and have a synchronized poop fest in jumbo litter box
Removable & Clear Top Cover. high back and lid reduces spillover.Your cats won't feel closed in or like they could be blindly ambushed with litter box for cats
No Exploding Cat.Safe for cats to move around in cat litter boxes and for you to scoop or clean litter by having the color strip that fits over the opening
Roomy & Rounded. Dimension when assembled tall cat litter box is 24.8"L x 20"W x 16.5"H. Door opening size 8.2 X 7.8 inches
Easy to Clean.Durable non-stick plastic covered litter box for easy clean-up

If you're okay with an open box, Nature's Miracle High-Sided Litter Box
is a great litter box large enough for a Maine Coon.
It's made for high-peeing cats, so it should be perfect for your Maine Coon.
It's made by the same brand that makes the pet-safe cleaners that we've all used at some point to get rid of stinky odors!
Features and Benefits
The high sides to prevent litter from scattering all over. 

Easy to spot clean with a non-stick surface. 

Simple black design is easy to hide under a cabinet.

23 inches Length x 18.5 inches Width x 11 inches Height
Cons
While the design is simple, it is a little blah for those looking for something with a bit more style. Although, to be honest, how much style can you expect from a litter box?
The high sides help with high-peeing sprayers, but the low front still lets cats throw litter out the front of the box.
Sale

If you want to go with a stainless steel cat litter box, you really can't go wrong with iPrimio
.
They're pretty much the #1 stainless steel brand.
Of course, there are only like 3 other brands on that short list, but still, they have an excellent reputation.
Features & Benefits
Rounded edges with no sharp angles makes it safe for kitty.

Totally odor-free (the box itself, at least) since steel doesn't absorb odors like plastic.

XL size is 

 23.5″ x 15.5″ x 6″, making it big enough for even large cats like the Maine Coon.

The roominess of it also appeals to cats who are apprehensive about using it. 

Easy to clean thanks to the stainless steel and the nonstick coating. 

Rubber feet on the bottom to keep it from sliding all over the place.
Cons
It only comes in one size. Fortunately, that size is XL, so it's not such a major issue.
iPrimio Cat Litter Box Non-Stick Plated Stainless Steel XL Litter Pan – Odor and Rust Free – Easy to Clean & Designed by Cat Owners – No Residue Build up
FIRST OF ITS KIND; PATENT PENDING NON-STICK COATED XL LITTER BOX – Same Super Safe Non Stick Coating Used in Frying Pans. Litter boxes are the huge part of your cat's daily routine. It is very important that you should choose right litter box and this pan comes with non-stick coating which means no residue will resist and its made up of stainless steel. NOTE: Scratches will appear, however, efficiency of non stick surface will not be impaired
NEVER ABSORBS ANY ODOR, STAIN AND RUST FREE – Plastic litter boxes unpleasantly odor in your home and gets stained after few uses which may be harmful for your cat. Our Stainless-Steel Litter box never collect any residue, odor and its completely rust free.
EXTRA LARGE SIZE & ERGONOMIC DESIGN – Rubber Feet on the Bottom to prevent slipping. 23.5 Inches Long by 15.5 Inches Wide by 6 Inches Deep. Many cats prefer on open litter box since its easy for them to access but they will love it when they see there's more space, super-sized that has 6" depth and 15" wide with rounded edges and no sharp sides
EASY TO CLEAN UP - Sometimes it is painful to clean and wash litter boxes but this nonstick coated litter box doesn't resist and build any residue which can go away in one wash only.
PRODUCT DESIGNED BY PET OWNERS - IPRIMIO is a registered brand on Amazon; We are the hardworking and customer-oriented that always considers customer satisfaction as its top priority. If you are not satisfied with the product for any reason, just let us know, and we will help.
If you want something that looks nothing like a litter box, go with the New Age Pet ecoFlex Litter Loo
. It looks more like a stylish end table!
Okay, so it's not technically a litter box, but it does fit all size pans.
I'm including it because you can just toss in one of those disposable litter boxes
and call it a day.
Features and Benefits
Fits just about all litter boxes, but it's perfect for disposable boxes. 

Easy assembly with no tools required!

Doesn't retain moisture or odors.
Sealed floor design means no leaks, and it's easy to clean by just wiping it down.

Dimensions: 

Exterior (in) : 30.0 (L) x 24.0 (W) x 28.9 (H); Interior (in) : 28.4 (L) x 22.4 (W) x 25.2 (H); Door (in) : 7.9 (W) x 7.9 (H)

10 Year Manufacturer's Warranty
Cons
You still need to put some sort of litter pan inside of it, since it's not technically a litter box.
Not exactly a space-saving litter box, but I think that's kind of the point. It lets you put the box out in the open without being in the open.
New Age Pet ecoFLEX Habitat N' Home Litter Loo, espresso, standard
Made from ecoFLEX, the Litter Loo will never absorb any moisture! If you cat "misses", it will never soak into the product! Simply wipe away
Doubles as a functional end table and enclosed pet house, Resistant to moisture, warping, cracking, splitting
Easy-to-clean, pet urine simply rinses off and doesn't soak in, No Tools Required
Available in Espresso and Russet
Exterior (in) : 23.6 (L) x 18.5 (W) x 22.0 (H); Interior (in): 21.1 (L) x 17.1 (W) x 20.5 (H); Door (in): 7.9 (W) x 7.9 (H)
If you want something super roomy that you can use indoors and outside (we have ferals that could use it), the Horizon Poly Kat Kave Litter Box
is a great pick. 
It's the largest litter box on this list, making it perfect for your Maine Coon.
Features and Benefits
Cons
It's kind of pricey
Doesn't ship free with Prime, so you have a pretty large added expense.
Despite the cons (and they are big ones), I still highly recommend this box, especially since it's designed to last for many, many years.
If you factor that into the cost, it's worth it.
Related: Best Leak Proof Cat Litter Box
My Recommendation
Depending on your budget, I'd either recommend the Kattails Kat Kave
or the Petphabet litter box.
The first if you have a high budget and want something that lasts forever.
The second if you have a low budget but still want something good.
One more word of advice: if you have a really large Maine Coon or a cat that pees super high, I've seen MC parents recommend just using a plastic bin.
It's not the most attractive option, but sometimes you need to sacrifice style for functionality.
How about you? Do you have any recommendations for the best litter boxes for Maine Coon Cats? Share below!
Nicole Etolen
Nicole is the Editor-in-Chief and one of the writers here on CatVills. She's been a cat lover most of her life and-at one point- counted five felines as part of her family. Today, she's proud cat mom to two indoor kitties and caregiver for a slew of ferals.
Last update on 2021-09-24 / Affiliate links / Images from Amazon Product Advertising API