Looking for the best quiet water fountains for cats?
We've got you covered!
Read on to discover our top five picks!
Plus, find out why you'd want a cat water fountain in the first place!
Let's get started!
READ MORE: Best Water Fountain Alternative to Persian Cat Bowls
Best Quiet Water Fountains for Cats
Hydration is a very important aspect of raising a healthy and beautiful kitty.
Do you have cats that love water? Having water accessible to them 24/7 takes less pressure off you as well. Running water appeals to your cats and encourages them to drink.
Cats have a very low thirst drive, so a cat fountain can help with regulating your cat's drinking habits.
Let's take a look at quiet water fountains made especially for felines.
After all, you don't want the sound of running water audible and have it affect your bladder!
Check out the table for a quick peek, then keep reading for complete reviews!
Top Benefit
Large capacity, attractive design
Quadruple purification process
Top Benefit
Large capacity, attractive design
Top Benefit
Quadruple purification process
1. IPETTIE Tritone Ceramic Pet Drinking Fountain
When I shop for a permanent addition to my house, the first thing I think about is aesthetics.
Now I know that's not the most important thing, but as luck would have it, this quiet feline water fountain from IPETTIE happens to match any interior!
It comes in a few different colors too!
Pros:
Made of high-quality natural ceramic
Non-toxic and eco-friendly material
Dual filtration
Quiet operation
Easy to clean
Large Capacity
Cons:
Pump delay when turned off and on
Expensive replacement filters
Too strong water stream
Recommendation
While the water stream may be a bit too strong from some kitties, for the most part this is a highly rated option.
The pretty clam shell style looks great in any home, too!
Sale
iPettie Tritone Ceramic Pet Drinking Fountain丨Ultra Quiet, Way Better Than Plastic丨Water Fountains for Cats and Dogs 2.1 Liters Pet Water Dispenser with Replacement Filters and Foam, White
Healthy Material and Easy to Clean - Tritone Cat Water Fountain is made of high-quality natural ceramic, eco-friendly, easy to clean and way better than plastic fountain.
Dual Filtration System: Mechanical filtration with a foam filter surrounding the pump prevents pets' hair and other debris from the pump and the tank. Chemical filtration with carbon and charcoal helps to remove bad odors and tastes.
Whisper-quiet Operation: The CE certificated IP68 pump runs with 2W low consumption. The only sound you may hear is the water dripping through the strainer into the bowl. Keep the water level above the 'MIN' mark on the cone to avoid the pump running dry and burnt out.
Large Capacity: With 71oz / 2.1L capacity, this water fountain can provide enough water for a pet to drink 2 weeks or above, great for short trip lovers, as you will be free from frequent water replenishment and no need to worry about water shortage of your furry babies!
Reply within 24-hour Customer Care - Let our pet product experts help. The water pump enjoys 3 year warranty.
Also Check: Best Motion Sensor Cat Water Fountain
2. Happypapa Automatic Cat Water Fountain
I love how Happypapa is thoughtful enough to include a waterproof mat to place under the fountain.
This protects your floors from any splash damage and looks extra cute too!
The low powered pump will disperse the water in different directions in thin streams to also minimize the chances of getting your poor kitty up the nose.
The three adjustable levels of water flow are perfect for kitties that love variety.
Pros:
Large capacity
BPA-free, non-toxic and odorless material
Ultra silent pump
3 water flow settings
Easy to clean
Carbon filter filters and softens water
Cons:
Somewhat weak motor
Doesn't last long
Recommendation
Although this one doesn't seem to be built to last, the price is right for a starter cat water fountain.
It's a great way to test the waters (so to speak) and make sure your cat will even drink out of a fountain, as some won't!
3. MOSPRO Pet Fountain Cat Water Dispenser
No products found.
One thing I know that weighs on my mind is my cat's safety. Especially for something she will use to ingest food/water, it must be proven to be safe.
Mospro has attained a food-grade certificate for this product. This means the quiet cat water dispenser is 100% safe for your precious feline.
What's even better (or at least a close second) is the reusable filters!
Air-dry the filters to use again because as you know, replaceable parts can really run up the bill.
Pros:
Large capacity
Certified environmentally friendly and safe material
Silent pump
30-day full refund
12-month warranty
All-day everyday tech support
Easy to clean
Cons:
Leaking
The pump doesn't last long
Recommendation
Although some customers complain about leaking and the pump failing, for the most part this is one of the most highly-rated options on the list.
It's definitely worth a try, especially since far more people have good experiences with it than bad.
No products found.
4. PETKIT Cat Water Fountain
The next option is a very modern design if you ask me. It blends in quite well with your tech devices you could have lying around.
No one would ever guess it's a pet fountain! The smart model has reminders when its time to change the filter or when it's low on water.
What really drew me to this design is the fact that you can fill it with warm water!
This is great for those of you who live in colder climates, because we all know cats don't like to be cold.
Pros:
Quadruple purification
Super quiet fountain
Automatic alerts and safety shut-off
Low power consumption
Works with warm water
Cons:
Some customers complain of a dysfunctional motor
Recommendation
If you want something sleek and simple, this is a good choice.
While complaints about the motor dying are definitely a red flag, if you keep up with maintenance you shouldn't have an issue.
Sale
PETKIT Dog Cat Water Fountain,Automatic Pet Water Fountain with Anti-Dry Burning Pump, Smart/Normal Modes, Water Level Window, Ultra-Quiet, Quadruple Filtration Dog Water Dispenser -2L
【Reliable EVERSWEET 2S Drinking Fountain】2L/68oz water fountain for cats and small dogs. The circulation system helps provide maximum oxygenation for fresher, better tasting water and entice dogs and cats to drink more water. The pump will shut off automatically, when it senses the lack of water in the fountain bowl
【Monitor Your Pet's Water Intake】EVERSWEET 2S includes a water level window and it offers a better view to monitor the overall water consumption of your pet. The LED Light will notice you to add water in time. It is a safe and efficient way to manage pet's water consumption without constantly watching your pet
【Smart LED Indicator Light】Embedded Intelligent LED lights can easily remind you the water dispenser working status. It will indicate water shortage and remind when you need to replace the filter. SMART mode and NORMAL mode are available
【Quadruple Filtration System】PETKIT pet fountain is equipped with high performance purifying filter which is composed of a cotton layer, a coconut shell activated carbon and ion exchange resin. The filtration system provides healthy, fresh and oxygen-enriched water for your cats, dogs and small animals
【Ultra-Quiet and Auto Power off Pump】The pump is ultra-quiet (measured below 30dB) and has low energy consumption, which gives you and your pets 100% sweet sleep. You can hardly hear the noises.【Note】Eversweet 2S is powered with USB cable(adapter not included), please follow the instruction to use 5V adapter so that the machine can work normally.
Related: Benefits of Cat Water Fountain
5. Enjoy Pet Cat Water Fountain
No products found.
With a more innovative style and lower power consumption, I really like this one as well.
The filter lasts anywhere from 20-30 days, which is almost three times as long as the regular options.
You are able to detach and wash the pumps as well and they last for over two years!
So if you are looking for a durable model, which I'm sure you are, this is a great option!
Pros:
1-year guarantee
Safe and non-toxic materials
Extremely quiet
Large capacity
4 water flow settings
Cons:
Can be a bit confusing to assemble
Too lightweight
Recommendation
Like I said above, if you want something durable yet still budget-friendly, this is a great option.
The long warranty gives me a lot of confidence in the product!
No products found.
What to Look for When Buying Quiet Cat Water Fountains
Capacity
The larger the capacity, the less time you need to refill and monitor the water levels.
I think this is especially important for those of us who lead busy lives.
Having to worry if my cat has water to drink when I'm out of the house is definitely the last thing I want to think about.
Find a cat fountain with a large capacity and save yourself the trouble!
Depth
The deeper the bowls are the less of a mess your kitty will make and the more water it can hold.
Bending over too far can be uncomfortable for your older arthritic cats as well, so you want to ease up on their joints with a higher bowl.
Water Stream Settings
As I have heard from some other cat parents and experienced myself, if the fountain has a strong stream, it gets my cat right in the face.
This can put him or her off of the fountain altogether. Having a few settings will help you determine which one your cat likes best.
Material
As a water fountain is hopefully something your cat will come to rely on every day, you definitely want to look for one made from safe, BPA-free, non-toxic and hopefully certified material.
This ensures your cat will be safe drinking from the fountain. You also want the material to be hefty so it doesn't move around easily.
Preferably look for one with a non-skid bottom or one that comes with a non-slip pad.
Last but not least, find one made of durable materials so the fountain lasts for more than a few months.
Filtration System
A proper and effective filtration system is imperative to a good cat fountain.
Not only does it filter through all the debris and any sort of "impurity", but it also eliminates odors and improves the taste of the water.
Look for at least dual-stage filtration, but go up to quadruple for extra peace of mind.
The filter should be easily replaceable or cleaned, although I prefer reusable ones. They are eco-friendly and save you a few bucks!
Easy to Clean
This is a personal preference, but I feel it's still a very important factor to consider.
We can all get a bit lazy from time to time (whether we like to admit it or not), and an easy to clean fountain will give us more inclination to clean it more frequently.
Be aware that mold MAY develop if the filter and fountain aren't cleaned regularly. So for the sake of your feline, remember to clean it at least once a week!
Why a Cat Fountain?
As we mentioned before, cats don't have a very active thirst drive, and this could be detrimental to their health.
Coming up with creative ways to attract them to the water is a way to solve this natural defect.
The movement of the water activates their prey drive and entices them to drink more.
Research has found that moving water is fresher tasting than a stagnant bowl.
You can even feel free to add flavors to your cat's water and put multiple drinking stations throughout the house.
Final Recommendation
If I could only choose one out of five of these amazing quiet water fountains for cats, it would have to be PETKIT Pet Water Fountain.
This is because it's a smart and automated design that takes more stress off of you.
It reminds you to change the water and filters, maintaining a high quality of life for your pet!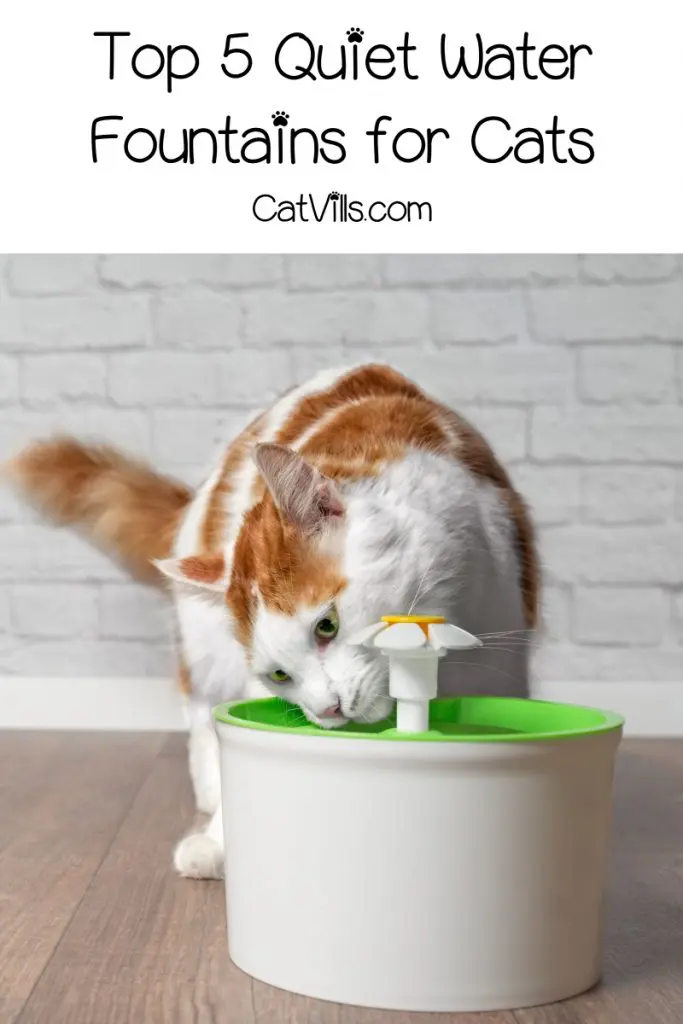 Your turn! Which of these quiet water fountains for cats would you try first? Share below!
Nicole Etolen
Nicole is one of the writers here on CatVills. She's been a cat lover most of her life and-at one point- counted five felines as part of her family. Today, she's proud cat mom to two indoor kitties and caregiver for a slew of ferals.
Last update on 2023-03-31 / Affiliate links / Images from Amazon Product Advertising API