Ah, cat litter boxes- they really are the bane of every kitty lover's existence, aren't they?
If we have an indoor cat, we can't live without them…even if we wish we could!
However, we can make dealing with them a lot easier, and that's where this guide comes in!
Below, we'll go over literally everything you need to know about cat litter boxes.
Everything You Need to Know About Cat Litter Boxes
From choosing the right type of box to filling it up with a quality stuff, we've talked about cat litter boxes from every angle here on CatVills.
Today, we're pulling all of those tips together into one super handy guide that you can bookmark.
Let's dive right in, starting at the beginning: choosing a good litter box.
FYI, this post contains affiliate links. If you make a purchase through these links, we earn a small commission at no extra charge to you.
Choosing the best litter box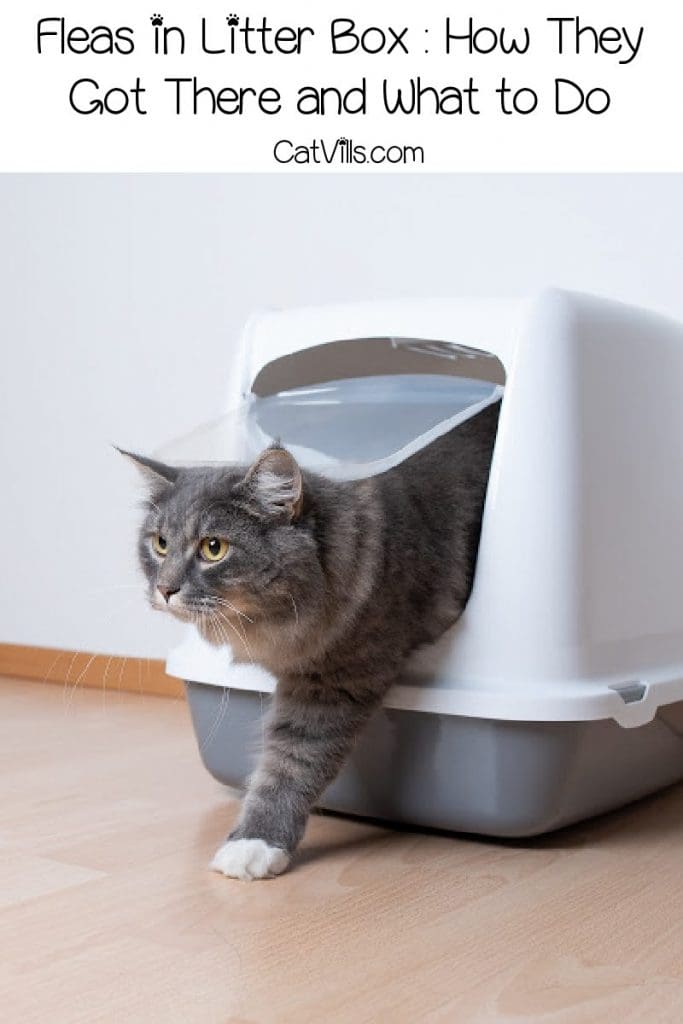 When it comes to choosing the best litter box, one size doesn't really fit all.
I mean that literally and figuratively!
For example, a small low-entry litter box made for a kitten (or a senior) will definitely NOT fit an XL adult cat!
Likewise, a large Maine Coon box – or even one for a Ragdoll- is too bulky and overwhelming for a tiny munchkin cat.
My personal favorite options are these litter boxes with high sides, especially since I have a high-peeing male cat.
Even though they have high sides, some of them have a low enough entry for a small kitty.
I've also used the Omega Paw self-cleaning litter box in the past and really liked it.
It's one of my favorite round options overall, even though "self-cleaning" is kind of a misnomer.
You still have to do some of the work to get the dirty litter over into the waste compartment, as it doesn't automatically push it over for you.
If you'd rather have something that does like 99.9% of the work for you, go with one of the best automatic litter boxes, like the Littermaid.
Litter boxes for apartment living
Got a tiny apartment? These litter boxes for small spaces won't take up much room, yet still, work beautifully.
Another option is these corner cat litter boxes. I've used a few of them back when I lived in an apartment.
If you really hate the idea of having a box at all, one of these cat litter box alternatives will work well.
It includes DIY ideas for crafty people as well as some alternatives that you can buy and use right away.
Eco-friendly options
If you want an earth-friendly option, check out my favorite eco-friendly cat litter boxes.
Or, even easier, just go with stainless steel litter box! Bonus points- it'll last virtually forever.
Once you've chosen the right litter box, it's time to fill it up!
What is the best type of litter?
If you thought picking out a box was tricky, wait until you start shopping for the litter.
You want to find something that's safe for your cat, that kitty actually likes AND that doesn't cost a fortune.
Oh, and you probably want something that doesn't stink or track all over the house, right?
I won't lie, it's not easy choosing the perfect brand!
Just when we find the perfect option for us, we realize that our cats positively hate it.
My advice? Start with these best non-tracking cat litter brands or these dust-free cat litter ideas.
If you can find one your cat uses on those two lists, you won't have to deal with kitty litter everywhere in your home.
I personally prefer the dust-free litters because I feel like they're just safer for me and my cats.
No one needs to be breathing in litter particles! We usually use Fresh Step:
However, both of my cats are adults now. When they were little, I opted for cat litter made for kittens.
Another idea for those on a budget- or those who want to avoid major brands- try one of these natural and cheap cat litter alternatives.
I really like this video tutorial:
Okay, so we have a box and just the right litter. Now what? Keep reading for tips on how to make cleaning them easier.
Litter box tips & tricks to make life easier
Every kitty owner should definitely read these 7 litter box hacks your cat wishes you knew about.
We've already discussed some of the tips here- like picking out a good box and litter.
My favorite tip, though, is #4- using a non-stick scoop.
You wouldn't believe how much of a difference it makes! This is the one I have:
Next, grab yourself a cat litter mat to keep your house mess-free.
It's another small step that makes a huge difference, especially if your cat is like mine and scatters litter everywhere as he goes.
I really like the PetFusion SmartGrip!
For those in small spaces, you may want to consider these tips on cleaning a litter box in an apartment.
They'll help keep things from getting unbearably stinky.
If you can't keep the box in a bathroom or laundry room, try one of these useful solutions for hiding a cat litter box.
Last, but so far from least, don't miss these ways to eliminate litter box odors. I bet at least one of them will surprise you!
By now, you should have everything you need to manage your cat's litter box without going crazy
Of course, the moment you finish scooping, your kitty will hop in and mess it up again.
Why, oh why do cats insist on using the litter box right after we clean it?
Keeping them clean is a dirty job, but someone has to do it, right? Good thing cats are so darn cute!
Do you have any other tips for picking the best cat litter boxes? What do you fill yours with? Share below!
Last update on 2023-06-08 / Affiliate links / Images from Amazon Product Advertising API