If you're looking for a cat shelf, clicking on this article was a smart move.
Below, I'm sharing my top 5 favorite cat shelves with in-depth reviews!
Let's not waste any more time and dive right into these outstanding pieces of cat furniture.
Best Cat Shelves At a Glance
FYI, this post contains affiliate links. We earn a commission if you make a purchase at no extra cost to you.
5 Best Cat Shelves detailed review
These are without a doubt the very best of the bunch. You can't go wrong with any of them.
That said, if you don't see one that you're mad about, don't worry, I'll share some others later on.
The Tuft and Paw Freddo Cat Shelf allows your cat to relax with a bit of style.
Its beautiful crafted maple or walnut construction isn't only stylish, either.
You'll benefit significantly from its long-lasting durability, which should make a long-term investment.
This cat shelf will be your cat's favorite sleep spot for many years.
Physical Attributes
Two color choices: walnut or maple
Cotton blend cushion
Wall-mounted, curved design
Measurements
| Benefits | Drawbacks |
| --- | --- |
| Easy to install | Expensive |
| Machine washable | Stock issues (it's often sold out) |
| Durable construction | Fits most cats, but may be too narrow for giant breeds |
| Comfortable cushion | |
| Suitable for most cats | |
| Beautiful design quality | |
How it Compares to Others and Why
The durable construction and easy installation are what separates this product. You shouldn't have a single issue getting this shelf mounted onto your wall.
TuftandPaw's ingenious move to utilize only high-quality materials certainly helps matters.
Its wood-based construction and cotton cushion pillow was designed to withstand "daily wear and tear."
Expert Tips
Check Latest Price



freddo-cat-shelf — $179


Elegance is the name of the game with Eleganza's Large Cat Wall Shelf.
Its well-crated, innovative design will bring a new shine into any room where you install it.
Your kitty will then have a 61-inch cat perch to explore and watch their surroundings.
It'll end up being their little slice of luxury that'll keep them from bothering you.
Physical Attributes
Two color choices: Espresso and Mahogany
Made from solid wood and bent ply
Wall-mounted design
Berber carpet lines the shelf
Installation hardware and screwdriver included
Measurements
| Benefits | Drawbacks |
| --- | --- |
| Well-crafted, durable design | Heavy construction |
| Meshes well into any decor | Somewhat pricey for a shelf |
| Beautiful aesthetic | Only two colors and both are dark woods. |
| Excellent for keeps scratching at bay | |
| Wide enough for superior comfort | |
| Free shipping | |
How it Compares to Others and Why
You won't find many cat wall shelves with more length than this one. It provides enough room for a cat to stretch their legs and explore, which most don't offer.
Its elegant design also won't make it an eyesore within your home. This cat wall perch will mesh right into most home decors without a single issue.
Expert Tips
Check Latest Price



Eleganza Branch Cat Wall Shelf — $159.99

Eleganza Branch Cat Wall Shelf -Perch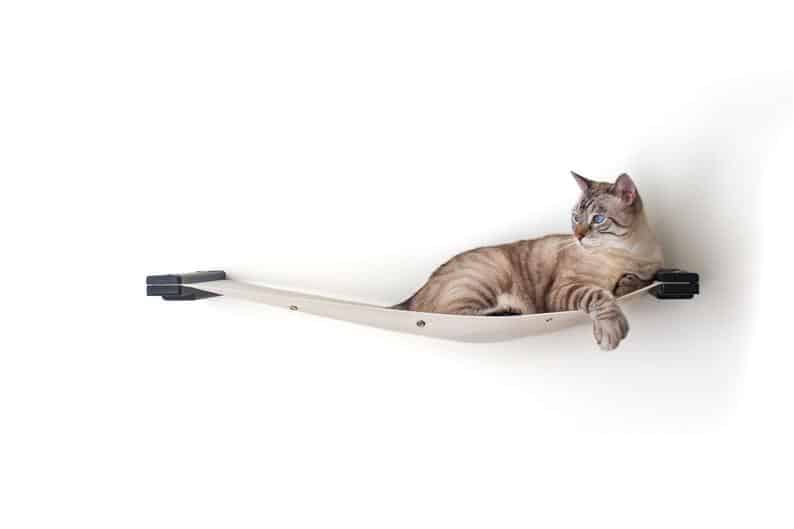 Affordable cat wall shelves aren't the easiest to find in this marketplace.
But CatastrophiCreations's Cat Shelf Hammock is one of the few worthwhile bargains available.
After all, you'll be getting a comfortable hammock made from top-end bamboo.
It'll be like your cat was transported to its beach paradise.
Physical Attributes
Three finish options
Two fabric choices
Hidden brackets to provide floating design
Made from cotton, steel, and bamboo
Hidden brackets
Wall-mounted design
Measurements
| Benefits | Drawbacks |
| --- | --- |
| Easy to clean | A few customers experienced shipping issues |
| Thin, innovative design | Only two canvas color choices |
| Strong bamboo material to resist wear/tear | MUST mount on studs |
| Affordable price | |
| Simple to install | |
| Relaxing, comfortable hammock | |
How it Compares to Others and Why
You don't often find high-quality, durable products for affordable prices. This product is one of the few out there on today's market.
It also separates itself with its usage of bamboo and the hammock's construction.
Both of these qualities will help ensure this shelf remains a favorite of your cat's for years.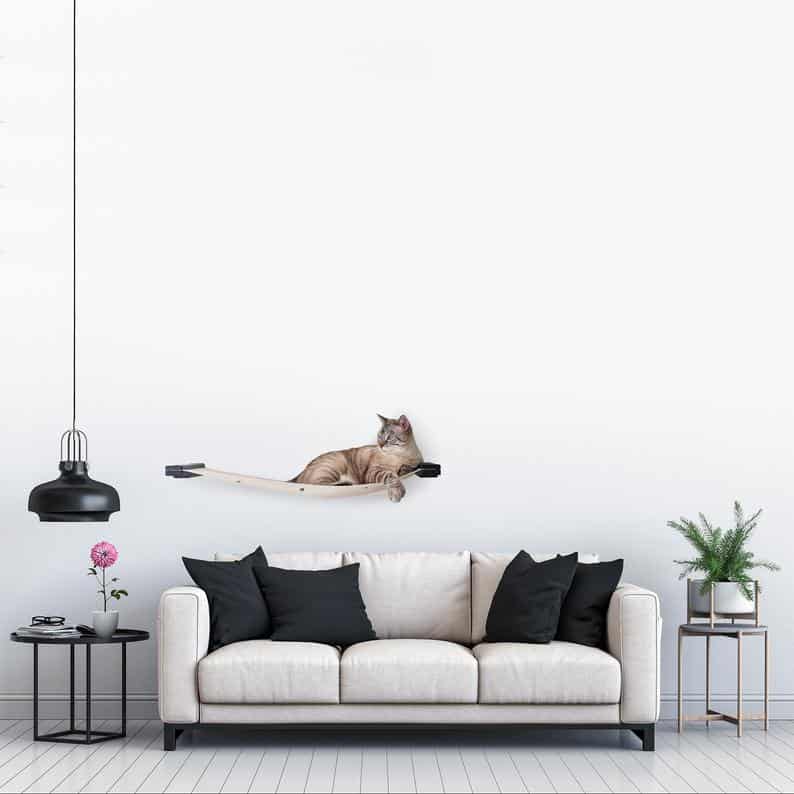 How the Product Evolved
CatastrophiCreations decided to upgrade its collection of pet furniture in 2019.
In their efforts, they focused on ensuring the outcome was "the strongest and most versatile collection [they've] produced to date."
The primary difference was using durable bamboo over pine, which offers a much "thinner and sleeker design."
It made their products more convenient and long-lasting than what they produced in earlier years.
Expert Tips

Cat owners looking to go all out need to consider RshPets's Complete Cat Wall Furniture Set.
It'll provide you with two hexagon shelves, a bed, and three steps to complete an entire wall furniture set.
Your cat has never seen a perch or cat tower with this level of versatility.
They'll never find themselves bored or discouraged by its placement in your home.
Physical Attributes
Two color options
Features two hexagons shelves
One bed
Three flat steps
Made with high-quality plywood and eco-friendly oil
Measurements
Hexagon shelfs: 16.5″ H 13.7" W x 8.6″ D
Bed: 15″ L X 9.5″ W
Steps: 9.8″ L X 4.7″ W
| Benefits | Drawbacks |
| --- | --- |
| Entire set of wall cat furniture | Expensive |
| Stylish design | Non-US manufacturer |
| Customizable personalized sign | Takes up a lot of space |
| Easy to follow instructions | |
| Stable, reliable wall anchors | |
| Top-tier customer service | |
RshPets compile an entire set of wall furniture to make your life easier as a cat owner. Plus, they did within a stylish design that would fit any decor.
You also have to love the customizable sign offered by this manufacturer. It's a simple way to ensure everyone knows what cat owns this wall furniture.
You won't have to worry about the installation as it's simple to set up.
It comes with easy-to-follow instructions that'll allow almost anyone to install it without help.
If these benefits weren't enough, RshPets is known for excellent customer service.
Anyone who finds themselves having trouble with it or has shipping issues shouldn't hesitate to call them.
But if you want to tap into a cat's natural behavior (more on this later) with this furniture set, it'll cost a significant amount of money.
It's easily the most expensive option on our entire list.
RshPets is also a non-US manufacturer, which means slower shipping speeds. But this high-quality set will be more than worth the wait.
How it Compares to Others and Why
None of these options can compete with how much this product offers a cat. It's everything a cat owner could want in a shelf-related product.
Expert Tips

Our final option, 7 Ruby Road Store Wall Mounted Cat Hammock, excels in keeping cats active.
Its two scratching posts steps keep cats from taking their pent-up energy on your furniture.
They'll also have a nice place to rest when their scratching sessions are done.
Your home's decor won't suffer from its place, either, as its cream coloring blends seamlessly.
Physical Attributes
Cream hammock color
Two jute sisal rope scratching posts
Hammock frame
Top-tier cushion
Installation hardware included
Measurements
| Benefits | Drawbacks |
| --- | --- |
| Suitable for most cats (even multiple) | Hammock isn't machine washable |
| Adjustable height for added versatility | Maybe too narrow for XXL breeds |
| Easy installation | Cat may need to be enticed to use it |
| No odor | |
| Promotes exercise | |
How it Compares to Others and Why
This option's scratching post steps is what drives most cat owners to buy it.
You'll be shocked by how much difference these posts make in keeping your furniture intact.
After all, there's very little doubt that "the steps are great for scratching."
Expert Tips
Related: 5 ADORABLE WINDOW CAT TREES
5 More Stellar Shelves to Round Out Your Cat Climbing Wall
If you're just looking for a single cat shelf, then any of the five options above would be perfect. What if you want to create a whole climbing wall, though?
In that case, you'll need some extra shelves to round out the whole look. You probably don't want to spend a fortune, though, right?
So, with that in mind, below are five additional options that are fairly affordable to use as add-ons to your main shelf.
The Skywin Cat Steps are neat options if you want to create a climbing wall for your feline friend. They're covered with jute and made with durable rubberwood.
Grab just one to add to a small space on your wall or get a few sets and create a longer staircase, perhaps along your own staircase in your home.
The REFINED FELINE Lotus Leaf Cat Shelf is a sleek, modern shelf that fits in great with any decor. It comes in several neutral colors, including black, grey, and white.
I personally love the white option because it comes with a fluffy faux fur pad that's just perfect for naptime.
Sale
If you're looking for a cat shelf that doubles as a wall-mounted window seat, this is a great choice. While it's a bit too small for larger cats, it's a good size for petite felines.
It also comes in an adorable powdery pink color, too!
If you love the CatastrophicCreations shelf above but don't really have the budget for it, this set by PetFusion is a great alternative. It's not quite as fancy, and there aren't any different color options, but it also won't bust your budget.
Another elegant option, the bqw Cat Bed Wall Mounted Shelves look like they're floating on your wall. The 3-piece set is surprisingly easy to assemble and mount. Before you know it, your cat will have a bird's eye view of her territory!
Sale
CAT Shelves FAQs
Why does your cat need a wall shelf?
Cats need to be above their environment. It's a natural animal behavior that'll protect them from potential predators as it keeps them out of reach. Cat wall shelves or a cat wall perch fulfills this need and makes your cat feel safe when they're up high.
Are cat shelves safe?
If properly installed, some cat wall shelves can hold up to 60 pounds. It should have no problem keeping your cat safe when they're using it. Plus, the comfort provided by them is second-to-none among cat furniture products.
Why Cats Love High Places?
As mentioned earlier, cats love high places because it aligns with "their instinct to protect themselves." In simpler terms, higher sleep locations make them feel safe by providing an advantage for spotting any potential dangers.
Conclusion
I hope our discussions made choosing the best cat shelf more effortless.
If you have any more questions, please let me know in our comment section. Thanks for reading!
Our Top Pick/Recommendation
RshPets's Cat Wall Furniture Set is the obvious choice for anyone who can afford it. It's the perfect gift for someone looking to spoil their favorite cat.

References
"Why Cats like to Relax and Sleep up High | Allbrick Veterinarian." n.d. Www.allbrickvetclinic.com. Accessed May 21, 2021. https://www.allbrickvetclinic.com/articles/why-cats-like-to-relax-and-sleep-up-high.html.
"Why Do Cats like Heights?" n.d. Www.petmd.com. Accessed May 21, 2021. https://www.petmd.com/cat/behavior/why-do-cats-heights.
Which are your favorite cat shelves? Share with us!
Last update on 2023-09-29 / Affiliate links / Images from Amazon Product Advertising API