If you're trying to find the perfect cat tree with a ramp for your feline friend, we've got you covered. 
Below, we're sharing our top five favorites among the countless brands, complete with in-depth reviews.
Then, we'll talk a bit about why you'd even want a ramp  and what to look for in one.
We have much to discuss, so let's just jump right in!
Our Top Picks
In a rush and need something right away? Check out our top picks on the table below!
FYI, this post contains affiliate links. If you make a purchase through these links, we earn a small commission at no extra charge to you.
Rating
Poorly written instructions
As for our #1 pick, I'd suggest choosing the FEANDREA Multi-Level Cat Tree. You aren't going to find a more stable or effective cat tree featuring a ramp available today.
The 5 Best Cat Trees With Ramps
Let's check out some in-depth reviews for our top 5 favorites first.
Then later on, we'll discuss what to look for in general and why you'd even want a cat tree with a ramp.
If you're looking to get a cat tree for a kitten, Tangkula Multi-Level Kitty Tower Condo would be a perfect fit. 
The two-level construction would provide plenty of room for their mischievous activities. 
Its durable, stable base and easy-to-use ramp will help make sure no accidents occur.  
Pros:
Durable, stable structure with top-flight wooden material

Super stylish!

Easy-to-access ramp

Simple assembly process

Two-level construction
Cons:
Not a good choice for bigger adult cats

Kind of pricey for a fairly compact tree
Final Verdict:
I can't say enough about the stable environment that this cat tower would offer a kitten or smaller adult cat.
You wouldn't have to worry about them falling off or causing any tipping issue. It's a perfect fit. 
But its relatively small size could be an issue for more giant adult cats. Anyone with a cat over 9 pounds would be smart to start looking at another product.
Sale
Tangkula Igloo Cat Tree, Pet Tower Kitty Condo, Lovely Pet Furniture with Scratching Posts and Ladder, Pet Play Toy House, Activity Centre Cat Tree - for Kittens, Cats and Pets (36'')
🐈【A Perfect Pet Activity Tower】This Tangkula 36" cat tree is a perfect pet activity tower. The cat tree is a magic castle, park and room for your beloved cat. It is suitable for kittens. Your beloved kitten can play or rest on it freely.
🐈【Durable & Stable Structure】The Tangkula 36" cat tree is made of E1 grade 0.6 inch particleboard with faux fleece covering. It has a strong bearing capacity and high stability. The heavy duty construction and wooden material make it durable enough for your cat.
🐈【Perfect Look for All Types of Homes】The unique and beautiful design of our Tangkula 36 "cat tree fits all types of housing space. Whether you are in a dorm room, apartment, condo or house, this cat tree will seamlessly match the surrounds of your room, furniture and style.
🐈【Unique Style & Beautiful Design】The Tangkula 36" cat tree is a perfect cat condo for your homes. Its styling is unique like a beautiful castle. the overall design of the gray and white fur to show a soft feeling. And it features two levels, and one big room for your cat or kitten to rest and relax.
🐈【Easy to Assemble】The Tangkula 36" cat tree is easy to assemble and the all required accessories and tools are included,. You can quickly assemble the item and use it in a clear and easy-to-understand manual.
The Go Pet Club Cat Tree With Ramp comes with everything a cat owner could want in these products. 
It features several platforms, perches, hanging toys, and sisal-posts for scratching within its 72-inch construction. 
Each of these features is also super accessible as a ramp runs from top to bottom. 
It's easy to see how much my cat would love everything about it with his highly-active personality. 
Pros:
72-inches tall 

Made from durable compressed wood

It comes with toy mice and sisal-posts

Perfect fit for large cats 

Seven different color options

Easy-to-use ramp through the entire structure
Cons:
Assembly can be time-consuming

String toy doesn't break away, so it could be dangerous
Final Verdict:
Finding a more well-equipped cat tree would be a challenge in this marketplace.
It even offers seven different color options to ensure it can easily mesh into any home's interior. 
But the assembly process has gained a reputation for being overly time-consuming.
That said, it's totally worth the effort, as this is a fantastic tree once assembled.
Just consider snipping off the string toy, as it can be a hazard if your kitty gets caught up in it.
Sale
Go Pet Club 72" Premium Cat Tree Kitty Tower Kitten Condo for Indoor Cats with Scratching Posts, Condos, Ladders, Soft Perches, and Hanging Toy Cat Activity Center Furniture, Black
ULTRA-DURABLE: All scratching poles and boards are completely hand-glued with thick natural sisal ropes and skin friendly plushy faux-fur fabrics, strong enough to hold up against even the most aggressive scratchers, condo walls build with MDF board holds the shape of the cat tree, this cat furniture investment will last a long time.
SAFETY FIRST: Crafted with heavy weight, durable and environmentally friendly 0.6-inch MDF boards for overall balance. Scratching posts made with extra strong plastics for stability and longevity, and the minimal use of well-hidden staples will keep your loved one's paws well protected.
RELAXATION AND FUN: Tall cat perches that give your cat the best view, dual condos provide fun spaces for hiding out and as cozy beds for napping, ladders that allow even the smallest kitten to climb up and down with ease, and two hanging mouse toys encourage your kitty to play, lounge and perch on this all-in-one activity structure.
SAVE YOUR FURNITURE: This kitty tower will entertain the restless claws to prevent them from ruining your furniture. The simple design fits perfectly at the corner of any indoor space that will easily blend in with the aesthetics of your home. Available in beige, beige/black, black, black/brown, brown, paw print, or slate grey.
EASY ASSEMBLY: The 22"L x 33"W x 72"H cat tree is suitable for small, medium, and large cats. All hardware and tools are included with step-by-step instructions.
Spoiling a cat has never been easier than with FEANDREA's Multi-Level Cat Tree.
Your cat will have a vast number of sleeping spots to choose from with its two condos and three perches.  
The included sisal covered posts, and easy-to-access entrance ramp won't hurt its case, either.
Pros:
67-inch structure

Feature sisal-covered posts for scratching purposes

Two cozy cat condos and three perches

Equipped with anti-toppling fittings

Three color options

Reinforced base for stability 
Cons:
Expensive

Fabric isn't the most durable, it's prone to "shedding" and "pilling."
Final Verdict:
Aside from its high-quality comfort features, the stability offered by this model is endlessly impressive.
Its reinforced base and anti-toppling fittings make it one of the safest choices available. 
All those pros come with one major con, though: it's the most expensive cat tree on this list.
Still, it's totally worth it, especially if you have more than one cat.
If you're curious about other options, check out our in-depth reviews of all the best Feandrea cat trees.
FEANDREA 67-Inch Multi-Level Cat Tree for Large Cats, with Cozy Perches, Stable, Smoky Gray UPCT18G
Exclusive Luxury for Cats: Your feline friends need a cozy home of their own to play, take a nap or jump around; this cat house is sure to be their dream-come-true
All-in-One Playground: 2 roomy condos offer luxurious napping experience; 3 plush perches with raised edges allow your cat to rest on its head while watching over the house; sisal-covered slope adds so much more fun for playtime
Stability Is Always Priority: Constructed by particleboard and strengthened with battens at the bottom to ensure overall stability; anti-toppling fittings are included for double security
Sisal-Covered Scratching Posts: Reinforced posts (dia. 3.4") are wrapped with natural sisal rope to allow nail scratching and promote exercising; this cat tree is the perfect spot for your cats to jump around
What You Get: A large cat tower with 3 top perches, 2 caves, 1 scratching board, thick scratching posts, and a multi-level design for both small kittens and cat seniors to have fun
Cat owners looking for a massive option should consider BestPet's Multi-Level Cat Playpen.
Its 72-inch construction only takes a short time to install correctly, some customers reporting as little as 30 minutes. 
Once it's set up, your cat will find its incredible list of features extremely enjoyable.
It offers various sleeping spots, two easy-to-use ramps, and excellent cozy surface material.
Pros:
72-inches

tall, so it's roomy enough for multiple cats

Very soft and cozy fabric

Lightweight, yet also super stable

Easy to put together

Comes in three colors

Includes TWO ramps
Cons:
The fabric could be thicker 

Not the most durable, according to some complaints.
Final Verdict:
With plenty of room for multiple cats and three color options- including a gorgeous sky blue- this is definitely a fantastic buy.
The included ramps, platforms, and condos can make a cat's life much more joyful. 
However, some customers did mention the fabric was a bit thinner than expected.
This issue made scratching for their cats a little more challenging than with other available cat trees. 
One customer did complain that the whole tree fell apart within months.
However, as most reviews are fairly glowing, I imagine that was the result of a manufacturer defect rather than a norm.
BestPet Cat Tree 52 inch Tall Cat Tower for Indoor Cats with Cat Scratching Post,Multi-Level Playpen House Kitty Activity Tree Center,Brown
😽【Ultimate Cat Climbing Tower】Your feline friends need a cozy home of their own to take a rest, play around and just be as active as they want, is sure to be their dream-come-true! No need to go out, your cat can also enjoy the same happiness as in the tree!from lounging to leaping to perfecting their expert hunting skills. This cat tree will keep your furry friend entertained, satisfy their natural instincts while keeping up their fitness. Your cats will love their new castle!
😽【Stability is Always Priority】Your cat gets quite frisky on our cat tree. The cat condo stays put with no sign of tipping. Despite it's solid construction, our kitty tree is still light weight enough to move around easily.cat tree cat condo kitty tree
😽【Feline-Friendly Softness】Ultra-soft plush of our cat condo gives optimal smooth touch that your kitten can never get enough of. Top perch of our cat tree at the bottom and rim makes a perfect napping lounge. Our kitty tree will bring a more restful sleep! cat tree with scratching post cat tower kitty tree
😽【Cats Will Love It】Great cat tree for scratching, climbing, sleeping, and exercising; The cat tower design recommend to place near the window or in the corner, cats love looking out the windows. Your feline friends need a cozy home of their own to play, take a nap or jump around; this cat condo is sure to be their dream-come-true.cat tower cat condo cat tree with scratching post
😽【Easy to Install】Our cat tree can be installed easily in 30 minutes! Don't worry about assembly of our cat condo! If you have any questions for our cat tower, please feel free to contact us! cat tree cat condo cat tower
5. PAWZ Road Cat Tree
Our final option, PAWZ Road Cat Tree, would be a perfect choice for a single cat household. 
Its entrance ramp, reinforced bottom base, and 33-inch tall construction makes for a stable cat tree. 
Putting these aspects together with its soft plush surface material ensures a cozy, secure environment for your cat.
Pros:
Three-level construction

Dual condos

Soft plush material 

Extra roomy top floor

A convenient, accessible entrance ramp

Excellent stability with its reinforced bottom base
Cons:
Hard to assemble thanks to poorly written directions.

Fabric isn't the most durable.
Final Verdict:
Buyers seem to have a hard time finding things to complain about with this cat tree.
Everything about it, from its three-level construction to reinforced bottom base, screams high-quality. 
However, a few customers did complain about the confusing instructions as well as cheap fabric "shedding" all over the place.
PAWZ Road 34 Inches Cat Tree Multilevel Cat Tower with Double Condos, Spacious Perch, Fully Wrapped Scratching Sisal Post and Replaceable Dangling Balls Gray
STURDY AND SAFE: This elegant Cat tree stands 34 Inches Tall comes with reinforced bottom base ensure its stability. It has the detachable ball and removable cover for easy replacement and easy care.
WIDEN AND SPACIOUS: The extra large top perch with raised cushion rim offer maximum comfort for feline friend while they are lounging and looking out window They will definitely enjoy it
COZY AND PRIVACY: The dual condos is covered with ultra soft plush or felt, and the enclosed design creating a sense of security provide them a quiet place to curl up for snoozing
HEALTY AND FUN: Full wrapped with natural sisal, the scratching post satisfy will completely satisfy their instinct of scratching and help them maintaining a healthy habits of clawing
Buy with Confidence: Step by step graphic assembly instruction are included. Also you could search the video assembly instruction on YouTube. The estimated installation time is about 20-30 minutes. ONE YEAR GURANTEE for all the parts(except for the dangling ball).
Curious to know what we looked for when choosing our top picks? Wondering why cats even need trees to begin with? Keep reading!
Why Cats Need Cat Trees
Cat trees can help improve your cat's life in several different ways. Let's look at a few to provide a better idea about what you can expect from these products: 
Exercise
Cat trees are an excellent source of exercise for every cat. It allows them to climb, rub, jump, and do other physically stimulating activities all over. 
In fact, their multi-level constructions will encourage a cat to jump up and down while using these trees. This level of exercise should help keep their muscles in pristine shape.
Cat trees are also usually filled in toys, covered in caverns/holes to give off a maze-like design. As a result, it should keep your cat's curiosity and interest for a long time.
It gives Them a Massive Scratching Post
As every cat owner knows, these animals love scratching furniture and other items around their homes.
It's a behavior that's impossible to control because it's part of their instincts.
Many cat owners attempt to save their furniture by redirecting this behavior to acceptable areas.
Cat trees represent an easy way to limit the damage placed upon your couches, chairs, and other furniture pieces. 
These products hold up well against excessive scratching because they're built for it.
Most of them are covered in carpet material that can withstand damage brought on by cat claws.
You'll also notice many cat trees will feature special areas containing a rope or sisal within their designs.
These additions are beneficial when trying to redirect a cat's claws away from your living room furniture. 
Excellent Sleeping Spot
Cats are known for liking heights a lot more than other pets because it offers a better vantage point for hunting.
Higher locations are also seen as safe places for a cat's sleeping sessions. 
After all, these higher places ensure that cats don't have to sleep near the ground where more giant predators often roam.
Cat trees usually have comfortable top levels that offer them these safe, elevated sleeping spots.
Some owners find it useful to add bedding on these top levels, as well. It makes the spot a little more enticing for a cat to explore and sleep.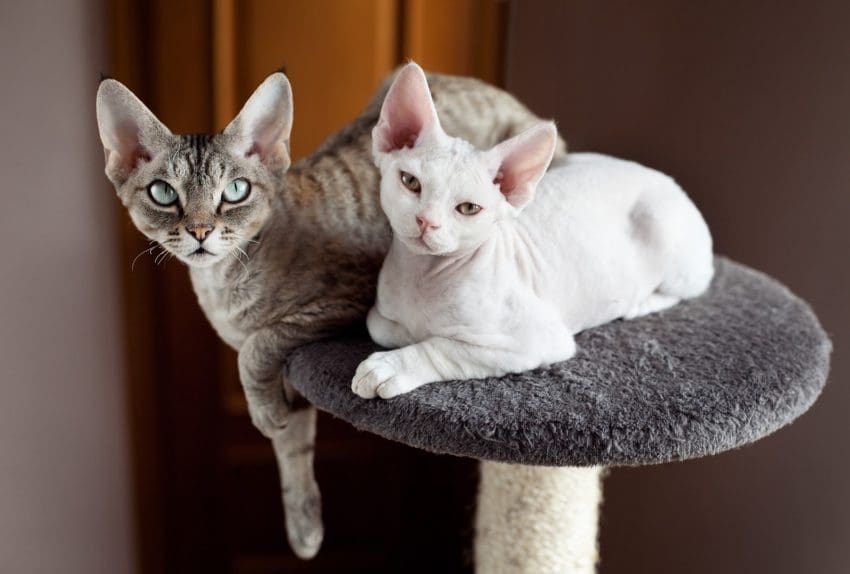 How Does a Ramp Make a Cat Tree Better?
So, now you know why we so strongly recommend getting your cat a tree.
But what makes the ones with ramps special and more suitable choices than options without them?
Ramps are a key, common cat tree feature for a simple reason: your cat will get older and won't have the athletic ability to reach those higher perches without them.  
Buying a tree with a ramp now helps ensure your cat can still enjoy it as they age.
Given that cat trees aren't the cheapest things in the world, it just makes sense to think ahead when buying one.
These ramps are useful for owners with a cat who has a physical disability, as well. 
Now that we've covered that, let's go over some of the things we looked for when we were picking out the best cat trees with ramps.
That way, should you decide to continue searching on your own, you'll have a guide.
What to Consider Before Buying a Cat Tree With a Ramp
Choosing the perfect cat tree with a ramp feature will come down to several factors.
Product Safety
Your first, most important consideration is product safety.
Cat owners will need to make sure their chosen tree isn't a danger to their cats, themselves, or anyone else. 
Buyers should tackle this issue by looking for a cat tree with a stable and secure reputation.
Relying on customer reviews to help determine this aspect wouldn't be a bad idea.
In most cases, the best cat trees with ramps will feature wood or other durable frames and heavy-duty equipment.
These elements allow them to withstand whatever presents itself as a potential problem.
Cat owners should make sure the tree's parts are secured with many bolts or other stabilizing equipment.
It'll help prevent them from coming loose over time. 
Stability
High-quality cat trees will excel when it comes to stability.
In other words, these products will be stable enough that even the most rambunctious cat can't tip it over. 
Look for options with a broader base to help counter any tipping issues.
This aspect should do wonders in stopping any nightmarish or dangerous situation from occurring. 
Size
Choosing the right size cat tree with ramps is a significant factor during this process.
You need to make sure there's enough room for the selected cat tree before bringing it into your home. 
Otherwise, this entire buying process will soon become a massive waste of time.
Buyers also should factor in their cats' personality and traits when choosing the ideal size. 
If you have a younger, energetic cat, I don't see any reason why a tall option wouldn't be a good fit.
But owners with declawed or elderly cats that suffer from balancing issues would do better with a shorter option. 
Weight
Many pet owners tend to have a bad habit of assuming their cat's weight when choosing a cat tree.
But you'd be much better off weighing your cat before starting your search. 
You can then use this information to find a cat tree more than capable of holding its weight.
I'm always going to recommend choosing options with a load capacity above your cat's actual weight. 
It'll allow a little wiggle room for a growing cat.
If you don't provide this extra buffer zone, your cat could be hanging out on the tree a couple of months later, and it tips right over. 
Easy to Access Ramps
Some cat trees feature challenging ramps, which defeats their entire purpose.
For instance, you might see a cat tree with an entrance ramp featuring a steep incline that could be problematic for a senior cat. 
Do yourself a favor and stick with more accessible options. It'll help the cats who need assistance using these trees more than you might initially imagine. 
Recommendation
My recommendation would have to be buying FEANDREA's Multi-Level Cat Tree.
The comfort and stability offered by this cat isn't easily matched, which makes it well worth its expensive asking price.
But if you have any questions about cat trees with ramp features, let me know in our comment section.
What is your pick for the best cat tree with a ramp? Share below!
Ben Robers
My name is Ben Roberts, and I absolutely love animals. So, naturally, I love writing about them too! As far as my animals, I have a Pit-bull, a Beagle-lab mix, a Chihuahua, and one old cat. Each one of them provides me with a new adventure every day. And the best part is they're all best friends. Well, except the cat when he gets a little annoyed. Learn more about Benhere
FIND HIM ON: FACEBOOK AND TWITTER.
Read his latest ARTICLES
Last update on 2023-02-02 / Affiliate links / Images from Amazon Product Advertising API