With a seemingly infinite number of cat trees on the market, choosing just the right one for your pet's needs can feel incredibly overwhelming.
Our team of experts (with a combined total of over 100 years of cat ownership experience) did the hard part for you by reviewing hundreds of options across every category imaginable.
Take a look at our overall winners below, then keep reading for our complete guide to cat trees for every breed and need.
FYI, this post contains affiliate links. If you make a purchase through these links, we earn a small commission at no extra charge to you.
Top 10 Best Trees of 2023 at a Glance
If we had to pick just five, though, it would be these amazing trees on the table below:
Top Cat Trees for Every Breed & Need
We'll dive right into our cat tree guides since that's why you're here, right? Stick around for the "after-party" though!
We'll clue you in on our favorite places to shop for cat furniture, give you an inside look at how we choose our winners, and more.
From Maine Coons to munchkins, from kittens to senior cats, we've looked at cat trees from every angle imaginable.
We have SO much ground to cover, so let's just pick a spot and dive right in!
Not only does it offer roomy condos, but it has wonderfully large platforms and plenty of space for multiple felines.
Find the complete review, along with other options, in our guides to the Best Cat Trees for Bengals and the Top 7 Best Scratching Posts for Large Cats
RECOMMENDED ARTICLE: Best Cat Tree for Ragdolls
Too often, the hammock is an afterthought, something slapped on post-production without a single care as to whether it's even usable.
Don't worry, though, your dreams of finding a real working hammock aren't over.
Our cat experts found a handful of what we're proud to call the best cat trees with hammocks.
CatastrophiCreations- pictured above- took first place with their wall-mounted garden cat tree. The entire structure is actually one ginormous hammock!
Learn more about it in our complete guide to all of the top CatastrophiCreations Cat Trees.
If you want something with a cozy cave, though, don't worry, there are plenty of cat condos with hammocks in our guides.
You'll also find some of the very few cat tree with two hammocks.
Best Cat Condo Trees
Your best bet, in that case, is to think about your other main need.
For example, do you want a cat tree with a condo that's good for a rescued kitty who lost his claws?
Then you want to check out The 5 Best Cat Trees for Declawed Cats. There are also great options in the Feandrea cat tree
Aside from the one pictured here, they're a great place to start if you know you want a condo but beyond that have no real major requirements.
Chewy also has excellent customer service overall. I've never had an issue with returning something that didn't quite work out for me.

Most of our cat tree guides (except those that specifically say otherwise) include plenty of Amazon selections.
It's definitely one of our top 3 favorite places to buy cat trees, especially for Prime members.
That said, I think my favorite of all are these super stylish PetPals Cat Trees!
They're not Amazon exclusives, but I tend to find a better selection of the brand's trees on the retailer.
By the way, if you love those, I recommend checking out these other Wicker Cat Trees & Swinging Beds.
RECOMMENDED ARTICLE: Where to Get Carpet for Cat Tree?
Best Climbing Cat Trees
So, if you want something that your cats can scale like miniature K2 mountaineers, go with one of a climbing wall. I love this one:
If you don't want something that you can mount on the wall, just look for something made with material that's easy to grab onto (there's a reason so many cat trees are covered in carpet).
Another alternative is go to with a cat tree that looks like a real tree, or something cute & quirky like these Kitty Hollow trees on Cats Play Furniture.

Take the tree above by Go Pet Club, for example. It's perfect for a pint-sized felines (especially with short legs), yet not really what I'd call exactly apartment-friendly.
In fact, it's pretty humungous (it even has the word "huge" in its name)!
The same goes for these Cat Trees for Kittens. They're all designed for smaller cats, versus smaller spaces.
However, if you're looking for the other meaning of small cat trees, I suggest starting with these Space Saver Cat Trees or these Cat Trees for Apartments
Another great option is to go with one of these Modular Cat Houses since you can arrange them to fit your space.
I like this one by Kitty City because it's super affordable and flexible, even if it isn't the prettiest tree in the world.
If you're short on space but still want to give your cats something amazing, consider a floor-to-ceiling tall cat tower.
In other words, build "up" instead of "out." One of my all-time favorites is this one on Etsy (pictured above).
While pricey, it's handmade with real wood and looks absolutely gorgeous.
If that's too pricey for you, though, you'll find plenty of affordable options throughout our guides.
Another alternative is to try buying (or making) one of these PVC Cat Trees.
Even with store-bought options, you can easily add onto them with some extra PVC piping.
We've basically covered all the major cat tree categories above. Between all those topics, you're all but guaranteed to find the perfect option.
For the rest of this guide, we'll switch gears a bit and just look at some laser-focused options (as in, you have SUPER specific request beyond "large" and "small").

Aside from a 9-month period after I adopted my first kitty, Gypsy, I've ALWAYS had more than one cat. Always.
Right now, I only have what I call the dynamic duo, so I've been re-reading our guides with trees for multiple cats.
I have to admit, I'm pretty in love with every last one of these Kitty Mansion Cat Trees.
Since I'm on a tight budget, though, I'm spending more time looking at some of these most affordable cat trees. I'm currently leaning towards the Go Pet Club 62".
If you're shopping for something for your senior feline friend, these Scratching Posts for Older Cats are a good place to start.
All of them are designed with levels that aren't too far apart (for easier jumping) and comfortable napping spots.
I'm absolutely crazy about the ScratchLadder™ Ultimate Cat Scratcher pictured above. It's highly customizable to fit your cat's personality.
You may also like these Cat Trees with Beds, since they're absolutely made for napping.
Our pick for the winner is definitely the Go Pet Club 72″ Cat Tree (as you can tell, Go Pet Club takes top prize quite often). It ticks off all of the must-have boxes.
Cat trees with ramps are a good option for kittens, seniors, or any kitty that needs a little extra help getting from the floor to the first perch.
Here's our favorite below!
If you're short on floor space but still want something neat for your kitties, I recommend looking wall-mounted options.
Can't nail stuff to your walls? Try these Cat Trees That Hang on a Door! My favorite is below.
Etsy is hands-down the best place to find the most gorgeous cat trees ever.
The Wooden Cat Condo pictured above by the Mau Store is amazing, and it's actually very fair price-wise.

Top Cat Tree That Looks Like Furniture
You'll be happy to know that there are actually quite a few cat trees that look like furniture you'd find in a cat-free home.
Start with these 9 Best Cat Trees Made of Wood.
If you don't find one you love, consider one of these Gorgeous Rustic Cat Trees. They'll look right at home with farmhouse décor.
What if you're just not feeling the love for carpeted kitty gyms? No worries, we thought of you, too!
Our experts scoured the planet to find those that are worthy of your attention. Start with our picks for the modern corner cat trees.
If those are a bit too modern for you, consider one of these Carpet-Free Cat Trees
Best Alternative Cat Trees
What if you really just can't stand the idea of anything resembling a traditional cat tree at all?
If that's the case, check out our list of the 10 Coolest Alternative Cat Trees.
Once again, CatastropiCreations took home the grand prize as our "winner."
If you're a renter and can't really mount trees on your wall, though, you can find some other neat options on that list.
Last, but far from least, go with one of these Bookshelf Cat Trees to Buy or DIY.
Hey, your cat is going to climb and sleep on your bookcase anyway, may as well make it something that's comfortable for him!
I like this one from Amazon (below). It's easy enough to adapt into a cat tree. Just add some padding (you can attach it with Velcro) and maybe some sisal.
Finding a cat tree that looks like a cactus or a real tree isn't easy, but we rounded up a few options (including a pattern to make your own.
Etsy is hands-down the best place to shop for such trees. That's where you'll find the one pictured above. Isn't it so neat?

More Cat Tree Guides to Consider
We've literally covered every type of cat tree imaginable here on CatVills. Some of them didn't really fit into categories above.
So, if you still haven't found just what you need, check out these guides:
By the way, if you love the one pictured above as much as I do, check it out on Tuft and Paw.

How we Picked the Winners
As promised earlier, we're giving you a behind-the-scenes look at how we picked our winners for each category.
We use a complex proprietary scoring system to…no, I'm kidding. Our system is neither complex nor proprietary. It's actually pretty straight-forward.
Basically, we weigh each and every option against 5 main factors. The tree that checks off the most boxes wins!
So, what are those five factors? Let's break it down. You can also use this as a guide to choosing your own winners as you shop our cat tree guides.
1. essential FEATURES
Before anything else, we look at whether our potential winners meet the basic essential requirements for our specific need or category.
We begin with a list of "must-haves" and only select trees that hit all of those boxes.
For example, if we're talking about extra large cat trees & condos, size definitely matters!
Likewise, the best cat climbing tree actually needs things for cats to climb on. That's a no-brainer, right?
Pro Tip: Use our method to narrow down your own options by making a shortlist of your top 3 "must-have" features.
Example: I'm looking for the best cat condo for multiple cats. It MUST have two hideaway caves, two tall cat perches, and plenty of scratching posts.
2. Material Durability & Safety
Once we've narrowed down the countless options out there to just those that fit our needs, we look at the overall durability and safety of each one.
Does it meet basic safety requirements, including the use of non-toxic materials?
Will it hold up against a "chunky monkey" kitty or rough kitten play?
Does it include any extra safety features?
Will the materials- including the wood, sisal, and carpeting- last as long as I feel they should for the price (see more on this under cost vs. value)?
Pro Tip: Look for key phrases like "anti-toppling fittings" and "reinforced base," especially if you're shopping for large cat furniture.
3.COST VS. VALUE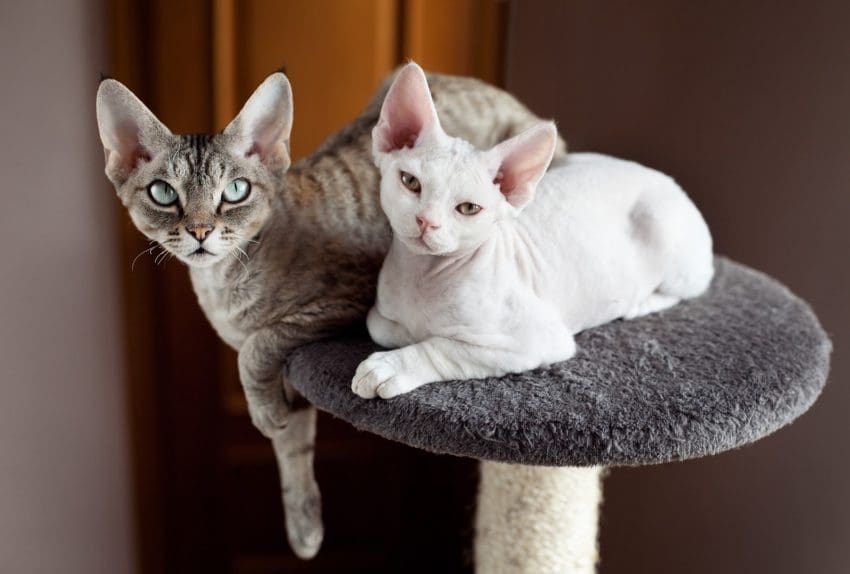 Rather than simply looking at the price tag on a cat tree, we look at whether that cost comes with its expected value.
For example, a $500 tree darn well better be the last one we buy for a very long time.
On the other hand, a $50 tree that breaks after two years still offers good value for the money.
So we don't look at "cheap" vs. "expensive," but rather "bang for the buck."
Pro Tip: Ask yourself, "How much am I willing to pay per year on a cat tree?" Choose something that fits your answer.
If you're only willing to dedicate $50 per year to it, a $300 option that lasts 5 years is better than a $75 option that lasts one."
4. Bells & Whistles
Every cat tree at least needs to include the basic features that we're looking for, meet our rigid safety standards, and be a good value for the money.
So, narrowing down our WINNER often comes down to the "bells and whistles."
Sweet little extras- like built-in bowls, premium plush carpeting, or extended warranties- help tip the scales from "one of the best" to "hands-down THE best."
Pro Tip: Beneath your list of the top 3 "must-haves", jot down a few "nice-to-haves."
Example: Along with my must-haves, I'd like it to be a blue cat tree with premium plush carpeting, hemp rope instead of sisal, and a ramp.
5. Customer Reviews
These last two factors aren't heavily considered, especially on sites like Amazon where people often leave "revenge reviews" or disguise sales pitches for competing products as negative ratings.
Still, we do look at them to get an idea of what other cat lovers like about each product (and what they don't like).
Pro Tip: Focus on the 3-star reviews. You're more likely to find accurate pros AND cons than if you just look at the 5-star and 1-star ratings.
6. Brand Reputation
Brand reputation seems like something that would be super important to consider, but it's actually last on our list.
First, there are really only a handful of very well-known cat tree brands. I can only name maybe four off the top of my head.
If you stick with just those, you're missing out on a whole world of Etsy cat trees and up-and-coming new brands that haven't had years to build a rep.
Pro Tip: If you come across a new brand on Amazon and want to know if they're legit, search for their name plus "complaints" or "Better Business Bureau"
Where to Buy Cat Trees
We've mentioned most of these places above, but let me recap for those of you who are just skimming along.
My first choice for where to buy cat trees is almost always Amazon or Chewy.
I like that they both offer some free shipping option (or, in Amazon's case, prepaid, since you pay ahead of time with your Prime membership).
However, if you prefer something a bit more unique, the best place to buy a cat tree is actually Cats Play Furniture.
Tuft and Paw is another good option if you want something more modern. They only sell a few trees, but they're incredibly durable and beautiful options.
I also love Etsy for unique finds, especially for super high-quality handcrafted trees that will last a lifetime (and then some).
Cat Tree FAQs
Last update on 2023-06-08 / Affiliate links / Images from Amazon Product Advertising API