If you're looking for the best cat trees that attach to the wall, you'll want to stick around.
While I've discussed wall-mounted trees here and there in the past, today, we're diving into the topic.
First, let's check out my favorite options to see what's available.
Then, look over the things to consider to ensure you can select a perfect one for your pets!
This post contains affiliate links, and I will be compensated if you make a purchase after clicking on my links.
Cat Wall Tree Top Picks at a Glance
Don't have time? Here is a quick comparison of our favorites!
10 Best Wall-Mounted Cat Trees
Once upon a time (like two weeks ago), Amazon had a ton of really great wall-mounted cat trees. Sadly, a lot of them are either unavailable or took a rating nose-dive.
Since I promised you the BEST cat trees that attach to the wall, I turned to my other go-to sources: Etsy and Chewy.
That said, there are a few on Amazon that I like (including one that's not even technically a cat tree).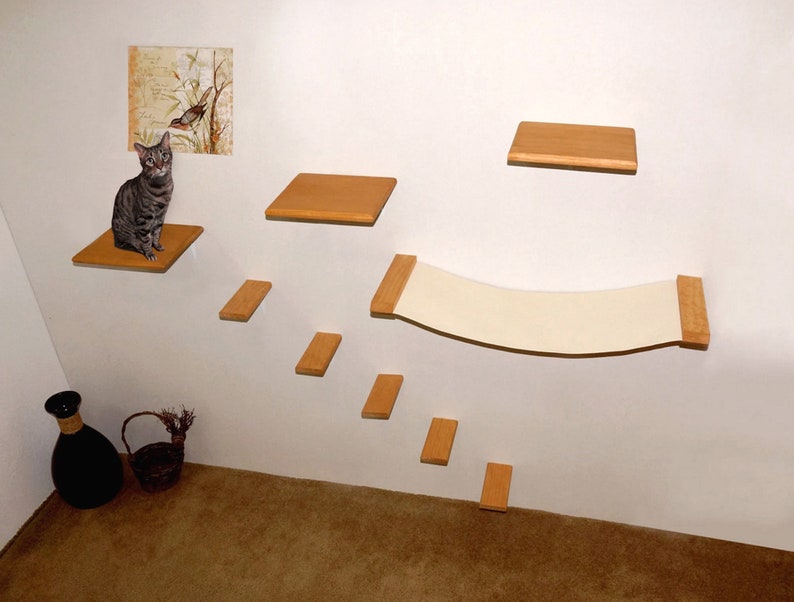 My journey through Etsy started with this simple yet elegant option.
The Cat Wall Furniture stands out by offering an extensive design.
It comes with a hammock bed, three perches, and five smaller steps.
I haven't found it easy to find other wall-mounted cat towers that can match its design quality.
Features
Handmade
Made with pine wood and canvas materials
Five steps
Three perches
One cat hammock bed
Seven canvas color options
Choose from unfinished or add a finish (nine options)
Measurements
Hammock: 32″ x 12″
Shelves/Perches: 12″ x 9″ x ¾' thick
Steps: 8″ x 3.5″ x ¾' thick
Benefits & Drawbacks of CATWALLFURNITURE CLIMBING SET
| Benefits | Drawbacks |
| --- | --- |
| Modular, set it up however you want. | Not "floating" shelves, they come with white or gray brackets. |
| Affordable, especially for a handmade item. | |
| Holds up to 60 lbs | |
| Extra steps and perches available for a reasonable price | |
| Made in the US, free shipping | |
I always prefer when cat trees allow users to set them up in various ways. It certainly meets those qualifications with its impressive modular design.
Finding affordable handmade items on Etsy is a real challenge. But this model ends up being relatively cost-effective with its impressive nine-piece set.
More importantly, it's sturdy enough to handle the largest and multiple kitties. One Etsy reviewer, Fallon Star, even went on to say this product was "amazing quality."
I could add on extra perches or steps for a reasonable rate, as well. If I ever got another cat or two, this option would undoubtedly come in handy.
Lastly, I'm never going to complain about US-made products or free shipping.
My only complaint is the shelves aren't "floating" ones. Unfortunately, they come with these noticeable white or gray brackets that are hard to match decor-wise.
How it Compares to Others and Why
It has to be one of the most extensive wall-mounted cat furniture pieces available. I don't often come across these products with this number of perches and resting areas.
As a result, I wouldn't have issues finding room for any number of cats. Everyone can have a comfortable, elevated sleeping spot for their snoozing.
Single cat owners should love PetFusion's 76.8-in Wall-Mounted Cat Tree.
It keeps things simple while still providing more than enough entertainment for one cat.
Your apartment or home won't be taken over by its presence like with other options.
Features
Two-level design with perches
Zinc drywall anchors
Two scratching posts
Cushioned pads on the platforms
Wrapped with sisal rope
Measurements
Benefits & Drawbacks of PetFusion's 76.8-in Wall-Mounted Cat Tree
Benefits
Drawbacks
Promotes better claw health with scratching posts
Directions are an issue with one Chewy

reviewer, Andrew, saying they deserved "1 star."

It easily holds up to 60 pounds
Slightly costly for a two-level option
Free shipping
Space-saving design
Multiple, comfortable resting areas
How it Compares to Others and Why
If you have one or two cats, this model is a solid fit. Its two-level design provides more than enough room to keep them busy and entertained.
I also love how its design saves as much room as possible. It's not like these other models that'll take up half a wall.
PetFusion Ultimate Cat Climbing Tower & Activity Tree. (24 x 20.8 x 76.8 inches (lwh) Tall Sisal Scratching Posts, Modern Wall Mounted cat Furniture, Espresso Finish). 1 Year Manufacturer Warranty
INTERACTIVE DESIGN TO IMPROVE YOUR CAT'S WELLNESS: (I) For cats who love to climb & perch up high. (II) Great stimulation for young kittens & older cats. No age discrimination. (III) Stretch, scratch, jump, climb, perch, lounge & play
MODERN CAT FURNITURE: (I) Compared to the over-engineered cat trees which clutter your living space and actually limit your cat from climbing. That's what some cats believe curtains are now for : )
SAFETY FIRST EASY WALL MOUNTED ASSEMBLY: (I) Securely attaches to the wall providing a safe environment for your children and cat(s). (II) Includes zinc drywall anchors that can be attached to your wall with a hammer & screwdriver and also easily removed with just a screwdriver. No drilling required unless you prefer to anchor into studs or have plaster walls. (III) Estimate 15-20-minute total assembly time
PEACE OF MIND: (I) Premium E0 grade MDF passes formaldehyde safety regulations. (II) Product also passes stricter European REACH standards
YOU SHOULD NOW: (I) 24 x 20. 8 x 76. 8 inches (lwh). (II) Replacement posts available
If the prices on these other choices are enough to make you want to cry, take a look at this option.
This one by Big Nose costs less than $50 yet still offers kitty tons of fun.
Features
Three levels
Natural pinewood steps
Solid wood support bottom board
Fitted with a soft carpet hammock
Stainless steel screws
Measurements
Benefits & Drawbacks of BIG NOSE WALL-MOUNTED CAT SCRATCHING POST/TREE
| Benefits | Drawbacks |
| --- | --- |
| Easy to install and extend to different heights. | While the description says it's suitable for cats up to 15 lbs, most reviewers say it's best for petite cats. |
| Fits well anywhere, including in corners. | Mats in the picture are NOT included. |
| Combines with other sets to make it stretch from floor to ceiling. | |
| Made with safe and natural materials. | |
| Super sturdy | |
| A more affordable option | |
How it Compares to Others and Why
The Big Nose is a good option for those who prefer carpet-free cat trees but don't have the budget for something super-pricey.
The price point is fantastic, and most reviewers love it. Many say that it outlasts their pricier wall-mounted structures.
BIG NOSE - Mutivels Cat Climber Tree with Solid Wood Steps and Sunny Seat Hammock
High Quality and Sturdy. The diameter of the post is 3.5'' and each of them are connected by 2.75'' stainless steel screws. Totally three barkets will be applied to mount all posts nicely on wall. Two 0.7'' thickness solidwood rest board which can hold up to 15 LBS . For all the size of components , pls head to description.
Easy to install and fully extendable. MultiLes can be adapted to any wall in different angel: Besides the window, behind the door or even in the coner, as long as going with the right screws. The total height for one set is 43''. If piping up two sets together, it will reach to a "floor to ceiling" size and with 6 levels.
Right propotion for M size cat (below 15LBS ). The modle cat in picture gallery is 15 lbs, adult male.
Every component is replacable and available from Sunpet. Revising, renewing and restructuring is easy.
Natural and Safe for home. Seagrass rolling, natural solid pinewood steps and soft carpet hammock are all safe and tested to human and animal.
Remember how I said one of the options wasn't a cat tree at all?
Well, here you go! Industrial pipe shelving is all the rage lately, and it makes for a brilliant cat tree alternative.
I chose this set because it comes with three different types of shelves.
Features
3-tier shelves
Made with solid wood and sturdy iron pipes
Comes with installation instructions
Installed on a horizontal plane or at a corner
Rustic design
Measurements
Benefits & Drawbacks of GWH INDUSTRIAL PIPE SHELVING AS A CAT TREE
| Benefits | Drawbacks |
| --- | --- |
| Each tier holds 180 lbs, so it'll hold your kitty. | The depth can be an issue for large cats; shelves are less than 8″ deep |
| Alternating shelves to construct a tree for both young and old kitties. | Screws that come with it aren't all that great |
| Easy to assemble | |
| Even easier to clean | |
| Available for expert assembly | |
How it Compares to Others and Why
Uniqueness is what makes this option stand out from the pack. Plus, I'm never going to pass up a piece of furniture with a nice rustic look.
It'll blend perfectly into my home and many others. Honestly, this choice ends up being rather versatile.
Industrial Pipe Shelving Wall Mounted,Steampunk Real Reclaimed Wood Book Shelves,Rustic Metal Floating Shelves,Wall Shelf Unit Bookshelf Hanging Wall Shelves,Farmhouse Kitchen Bar Shelving(3 Tier)
【Distressed Decor】:Plumbing iron pipe, reclaimed real wood and baking varnish.
【Size】:Length 42 x Height 32 x Depth 7.8 in.The thickness of the board:0.78 in.
【Easy to Assemble】:With the instructions, but the product is heavy, the assembly requires two people to collaborate.
【Novel Design】:Installed in a horizontal plane or at a corner.
【Decorative】:Suitable for offices, bedrooms, living rooms, practical and decorative.
Adaptability is what separates FUKUMARU's Wall-Mounted Cat Activity Tree.
It's known for being compatible with various other scratching posts.
As a result, it wouldn't take me much time to double or triple its wall coverage.
It makes this option ideal for people who seem only to keep adding cats into their homes.
Features
Handmade
Made with natural pine wood
Scratching posts consist of Jute rope
Two perches
Four fixed points
Measurements
Benefits & Drawbacks of FUKUMARU's Wall-Mounted Cat Activity Tree
| Benefits | Drawbacks |
| --- | --- |
| Suitable for all ages | One Amazon reviewer noted there's arrived missing a part |
| Applies onto various surfaces 1-month warranty | Doesn't come with drywall anchors |
| Easy installation | |
| Compatible with other scratching posts | |
| Robust and durable design quality | |
How it Compares to Others and Why
Of course, its adaptability provides it with a massive benefit. But I also need to mention its robust, durable design and easy installation.
Honestly, it doesn't get much more user-friendly than this wall-mounted cat tree.
Sale
FUKUMARU Cat Activity Tree with Scratching Posts, Wall Mounted Jute Scratcher Pine Hammock (Cat Activity Tree-Updated)
LARGE SIZE - 36.6 inches. Tall enough to enable the cat to get a full stretch. And the hammock design makes the scratching post suitable for cats of all ages. Kittens, Prime, mature, and senior cats can scratch, play and take naps on it
MODERN CAT FURNITURE - Compared to other ordinary cat trees which clutter your living space, it's stronger and safer for your cats
STURDY& SAFE - Made by pine and Jute, which is Natural and environmental protection. Easy to install and multi-purpose. It can be adapted to any wall or cage as long as going with the right screws
DIY Assembly - The Jute Scratching Posts renewing and restructuring is easy. Set up a beautiful cat wall include Cat Bridge Lounge Platform, according to your idea
QUALITY ASSURANCE - Trying for 1 month and if there is any quality problem, send it back and you'll be fully refunded for your purchase
If your cats are anything like mine, they love to scratch everything.
The PawHut Wall-Mounted Cat Tree Activity Tower was built to service those needs.
No longer will your cats dig their nails into your couch and other furniture.
This tower's three scratching posts have them covered.
Features
Four level design
Constructed from natural, eco-friendly pine wood
Top floor cat condo
Built-in cloth strip ladder
Three scratching posts made with natural sisal rope
Measurements
61.5 x 61.5 x 61.5 inches
Benefits & Drawbacks of PawHut Wall-Mounted Cat Tree Activity Tower
| Benefits | Drawbacks |
| --- | --- |
| Excellent for meeting the scratching needs of various cats | Time-consuming install |
| Simple to wipe down with only a damp cloth | Platforms could use "some traction," according to one Amazon reviewer, Yvonne B. |
| Top-level durability and stability | |
| Comfortable resting spots, including top floor condo | |
| Easy to carry | |
How it Compares to Others and Why
Aside from meeting the scratching needs of multiple cats, it's hard to overlook its durability. One customer even stated it withstands "kitten "hard core parkour" play time!"
Not many cat trees can handle a rambunctious kitty at full parkour levels.
PawHut Wall-Mounted Multi-Level Cat Tree Activity Tower with Sisal-Covered Scratching Posts & an Interior Condo Area
ACTIVITY CENTER: this wall-mounted cat tree contains many different cat activities while also saving space! The various structures provide fun for the cats to hang out and allows for several cats to jump and rest at the same time.
SAVING YOUR FURNITURE: Cat wall shelves with scratching posts wrapped with durable natural sisal ropes, this cat condo is perfect for your cats to sharpen their claws, and save your furniture from scratching and digging.
STURDY & SAFE: because this modern cat tree is made of natural and environmentally friendly pine wood, the whole cat tree is super durable and perfect for long-last use.
EASY TO CLEAN: this cat activity tower is super easy to clean because of the cloth between all the different elements! Simply wipe it with a damp cloth and you are good to go.
CAT TREE DIMENSIONS: Ladder: 24.75" L, Long Hanging Wall Post: 61.5" L, Short Hanging Wall Post: 24.75" L
MUST CHECK: Cat Towers for Fat Cats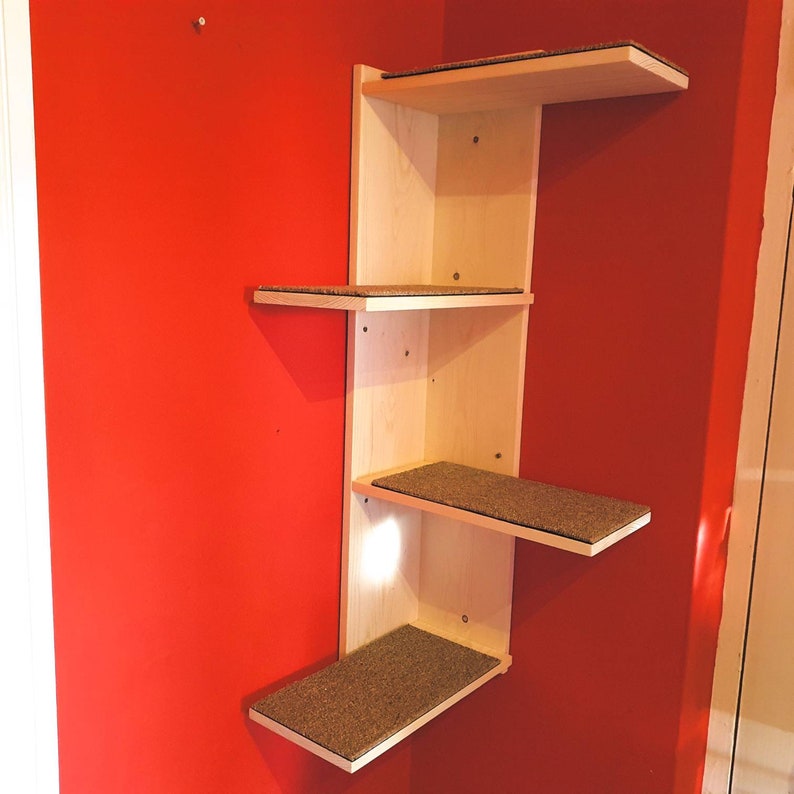 This next option makes its presence known with a gorgeous wood design.
It'll blend right into most home decors while providing a bit of class.
Classy isn't an adjective that I ever thought I'd use to describe cat towers.
But here we are with TaoPetFurniture's Corner Wall-Mounted Cat Climbing Tree.
Features
Handmade
Four level design
Constructed from Scandinavian Redwood
Six finish options
Protective varnish coat for every stain
Each step fitted with a grip pad (6 colors)
Cats can take a while to get used to them
35 inches tall and 15 inches wide
Benefits & Drawbacks of TaoPetFurniture's Corner Wall-Mounted Cat Climbing Tree
| Benefits | Drawbacks |
| --- | --- |
| Gorgeous wood design | Some assembly required |
| Blends right into most corner walls | |
| Solid traction to prevent slippage | |
| Multiple selected variations to make any customer happy | |
| Excellent customer service | |
How it Compares to Others and Why
The gorgeous Scandinavian Redwood design is a sight to behold. But the grip pad is what makes this cat tree so valuable.
It allows cats to climb up and down without worrying about falling. They just need to stop being picky about using it first.
Wall-mounted cat trees don't come sturdier than this CatastrophicCreations option.
It has no issues holding up even the heaviest cats with its bamboo construction.
Maine Coons [1] and other large breeds no longer have to worry about falling off.
Features
Hand-crafted design consisting of bamboo
Uses removable, washable fabric
Four color choices
Mounting hardware from nickel
Four perches
Hammocks made with thick canvas
Measurements
Benefits & Drawbacks of CatastrophicCreations option
| Benefits | Drawbacks |
| --- | --- |
| Sleek design | A higher price option |
| Reasonable setup process | One Amazon reviewer, Patricia S., noted a lack of "alternate arraignments" in the kit. |
| Sturdy, reliable bamboo construction | |
| Shelves can hold 85 pounds, and hammocks can hold 62 pounds | |
| Easy to clean fabric | |
How it Compares to Others and Why
The bamboo construction gives it a solid edge over most other choices. Plus, it has a reasonable setup and cleaning process.
But I'd be foolish not to mention its expensive price tag. You'll need to spend quite a portion of your savings to get this well-designed, reliable cat tree.
Related: Top 5 Best CatastrophiCreations Cat Trees (& Why They're Worth the Money)
Kittens are notorious for being overly aggressive with cat trees.
You'll need a strong, stable one to stop them from tipping it over.
This option from HAPYKITS fits the bill with its heavy-duty wood construction.
Once it's attached to the wall, I doubt even a charging Maine Coon could tip it.
Features
Four levels with perches on each
Built from solid, heavy-duty wood
Removable posts made with oil-free sisal rope
Paint-free construction
Installation video and instruction included
Measurements
Benefits & Drawbacks of HAPYKITS Wall-Mounted Tall Scratching Post
| Benefits | Drawbacks |
| --- | --- |
| Sleek design fits nicely into corner areas | "Platforms are too small for medium to large cats," as one Amazon reviewer pointed out. |
| Promotes better claw health and exercise | Drilling required during install |
| It doesn't collect grime or dust | |
| Stable enough to handle energetic kittens | |
| Adjustable height with removable posts | |
How it Compares to Others and Why
Its stability and sleek design are what make this one an attractive choice. If you're a kitten owner with a small apartment, I don't see how this cat tree wouldn't be a perfect fit.
Sale
Cat Tree Wall Mounted Tall Scratching Post for Indoor Cats Climbing Tower Activity Wood Cat Wall Furniture 73 inch
1. Your Kitty Needs a Cat Tree----Cats live in a vertical one and they depend on elevated areas for safety and exercise. The high cat activity trees is 72 inch,satisfying for climbing and scratching needs of indoor cats. Not only to take care of their claws and exercise the surrounding muscles, but also to get exercise and is the closest thing to climbing a real tree.
2.Sturdy and Stable Wood Cat Tower----Made of solid wood,without paint and chemical smell, eco-friendly and natural. The cat gym tree with multilevel is strong enough for large cats or multiple cats families. The cat scratching post's sisal rope is durable,oil and chemical free,kept their claws off of your furniture.Easy clean and never get matted with cat fur.
3.Perfect Solution for Small Space----Compared to typical cat furniture, this cat vertical climber is slender and out of the way. The simple and elegant design blends well into your house decor, does not detract from your furnishings and take up less visual space in the room. This tall cat tower has a small footprint, without compromising on the cats' experience,creating a home playground for cats.
4. Safety Cat Tree Wall Mount-----Providing a safe environment for your families and cats by mounting into wall securely.The heavy duty cat climbing tower allows the cat to remain in the same room as the children or dog but be high enough to avoid prodding from excitable little hands.Fits nicely in a corner where he can perch and watch the squirrels and birds.
5.Size & Assembly Tips: (Ⅰ)The size of cat post is 16*72 inches, and the height is adjustable by taking off post suit from kittens to adult cats, enjoy climbing and perch on it with ease. (Ⅱ).Must mounting into STUD for stable, we have prepared video and detail instrucion, please contact us if you have any problem.(Ⅲ).Replacement posts is available.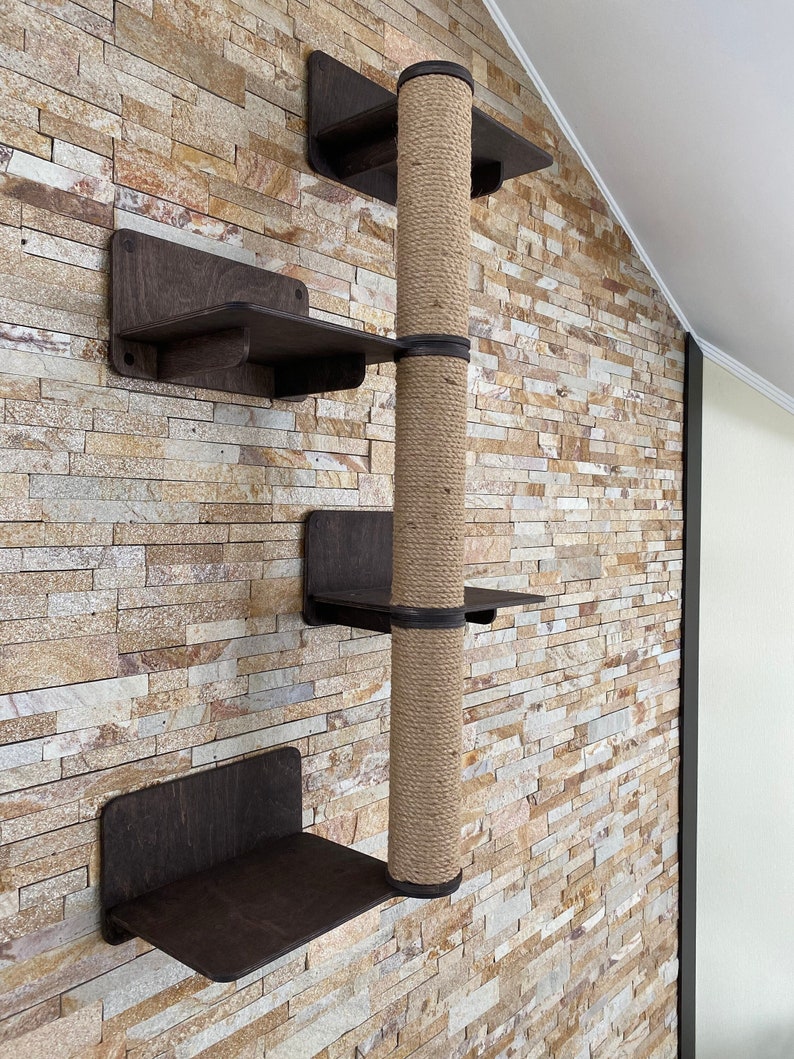 Don't ever say wall-mounted cat trees aren't supposed to be easy to install.
CatsMoodcom Modern Wall-Mounted Cat Furniture breaks the mold.
After all, each one of its platforms has dowels to ensure the process goes smoothly.
The beautiful design of these perches won't have anyone complaining, either.
Features
Handmade
Four levels with perches on each one
Birch plywood base construction
Scratching posts made from natural Jute cord
Fitted with dowels for install purposes
Two color options
Measurements
Benefits & Drawbacks of CatsMoodcom Modern Wall-Mounted
| Benefits | Drawbacks |
| --- | --- |
| Beautiful wood perches and overall design | Slow shipping from outside the US |
| Easy climbing for all cats | |
| Simple wall attachment and removal with the included dowels | |
| Durable, long-lasting scratching posts | |
| Terrific customer service | |
How it Compares to Others and Why
What's not to love about this option? It's easy to install, durable and contains one of the best-looking designs.
I only wish it shipped a little faster as buyers will have to wait about a month for their cat tree.
What to look for in cat trees that attach to wall
Wall-mounted cat trees are fantastic for those of us who lack floor space in our homes, but you do have to put a little more thought into buying one.
A few things to ask yourself:
Do you know your walls? You'll need to locate and use the studs [2] for most (if not all) cat trees that attach to the wall. Here's a helpful video tutorial if you've never done this process before and don't have a stud finder.
Can you get someone to help you mount them? Most of the wall-mounted cat trees are hard to install alone.
Are you even allowed to put holes in your wall? If you rent, you'll want to check with your landlord first!
Is it safe for your cat? Yes, that goes for ALL cat trees, but wall-mounted models can cause a lot more damage to your kitty if they fall.
Where will you put it? If the only good, unused wall in your house is in a room that the kitty never visits, a wall-mounted tree is kind of pointless!
FAQs
Why are cat trees so expensive?
Cat trees are so expensive because of the high-quality materials used in making them. But, it's the only way to ensure they're sturdy enough to hold up our favorite felines. 
What size should cat shelves be? 
The size of a cat shelf should be at least 12 inches long. It'll provide them with the stable landing area they require. 
Conclusion
Hopefully, one of these wall-mounted cat trees is the perfect fit for your feline friend. Don't be afraid to let me know what you think about this topic in the comment section.
Final Recommendation
My final recommendation is to buy CATWALLFURNITURE CLIMBING SET It checks off every box without sacrificing any design quality.
Resources
1. Maine Coon [Internet]. Petfinder. 2018. Available from: https://www.petfinder.com/cat-breeds/maine-coon/
2. M M. How to Find Wall Studs [Internet]. 2020. Available from: https://www.lowes.com/n/how-to/how-to-find-studs-in-walls
Your turn! What are your favorite cat trees that attach to the wall? Share below!
Nicole Etolen
Nicole is one of the writers here on CatVills. She's been a cat lover most of her life and-at one point- counted five felines as part of her family. Today, she's proud cat mom to two indoor kitties and caregiver for a slew of ferals.
Find her on Linkedin. Read her latest articles.
Learn more about Nicole Here
Last update on 2022-10-01 / Affiliate links / Images from Amazon Product Advertising API