Thinking about investing in some cat water fountains to really spoil your kitty?
Then you'll want to check out our complete guide below.
We've talked a lot about the different types, how to use them safely, and more over the years.
Today, we're pulling it all together for you in one bookmarkable guide!
Everything You Need to Know About Cat Water Fountains
Cat water fountains are one of those things you don't technically need to raise a happy & healthy kitty, but they sure are a nice touch!
While all creatures great and small (including us people) prefer clean water, cats are especially finicky about their drinking sources.
Take my Zoe, for example. She will stand in front of a totally full and relatively fresh (hours old) bowl of water and howl like she's dying of thirst.
I either have to refill it OR turn on the water faucet. She really prefers the latter!
Of course, I can't stand next to my sink all day waiting for her to decide she's thirsty.
I mean, yeah, I'm an indentured servant in my cat's eyes, but in reality I do have a life!
Well, "life" may be pushing it (I'm a homebody), but still!
When I first start shopping for one, I was a both overwhelmed and underwhelmed by the options.
On the one hand, there were a lot of different types to choose from!
On the other, though, there were practically NO options for what I specifically wanted (more on that soon).
I finally picked one that I liked, though, even if it wasn't perfect in every way.
The guide below is the result of all of my research, as well as some expert tips from other CatVills writers (and cat lovers).
We'll start with some of your options, then go from there.
FYI, this post contains affiliate links. If you make a purchase through these links, we earn a small commission at no extra charge to you.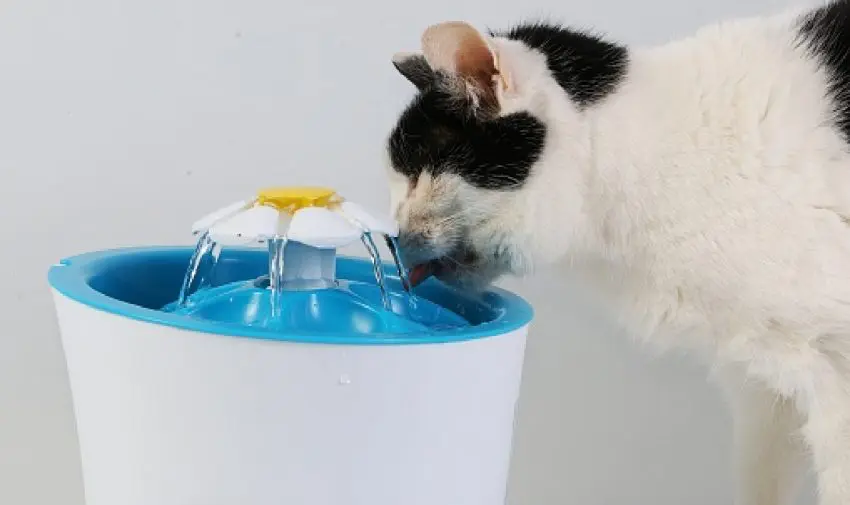 Cat Water Fountains Shopping Guide: Know Your Options
Knowing your options for the different types of cat water fountains will go a long way towards helping you narrow down your final choice.
By "types," I mean a few different things. I know, that's confusing. Let me just keep going and you'll see what I mean.
For a quick and easy guide, check out: The Best Cat Water Fountains and Why You Need One
Gravity vs. Automatic
First things first- do you want a fountain that runs on gravity or electricity?
Gravity water fountains aren't really "fountains" any more than our water tank in our home is a faucet.
Let me explain. Gravity fountains are those that have a bowl on the bottom and a "tank" of water on top.
Here, let me show you a picture, that's probably easier than me trying to describe things the way I see them in my head!
Basically, as your cat drinks, water comes down from the tank and replenishes the supply in the bowl.
They rarely contain a filter, so technically your cat isn't getting "fresh" water.
On the other hand, fountains that run on electricity (or batteries), are a lot different.
Some attach to a water supply in your home, while others use multiple filters to constantly clean the water within its chambers.
There are multiple types, but essentially they all work like this: cat triggers fountain, filtered water bubbles or flows, cat drinks the fresh water and walks away.
Water goes back into filtering chamber until next time and the process repeats.
When I talk about cat water fountains, I'm thinking more along the lines of the second option: fountains that are powered in some way.
Let's explore the different types.
Corded vs. Cordless Battery Operated Cat Water Fountains
No products found.
So, let me be brutally honest here: there are NO really stellar battery-operated cat water fountains.
I did offer up a few feasible options in the post linked above.
However, there's really only one that I kind of like and even then, I'd only use it for traveling.
If you're curious, it's this one (pictured above and in the little box below). It's technically made for dogs, but will work fine for cats, too.
No products found.
If you're crafty, that post also has some DIY tips, but I am too scared to try them (playing with wires and electrical currents freaks me out).
However, if you're willing to stick with a corded option, you have a whole world of possibilities.
Cat-Powered vs. Automatic Motion Sensor Fountains
As you start looking into corded cat water fountains, you'll find that they fall into two major categories: cat-powered and automatic.
I honestly have no preference here. Both have their pros and cons.
Cat-powered fountains are great for a busy household where someone or something is always on the move.
On the other hand, motion sensor fountains may be easier to actually get your cat to use.
Plus, it just feels more natural to me. Like, in the wild, our cats don't have to trigger a bubbling stream. It's just there.
If you prefer the second option, check out our top picks for the best automatic and motion sensor cat water fountains.
My #1 favorite is pictured above and below. The only problem? It needs to be attached to your water supply.
Fountains That Are Ideal for Short-Nosed Cats
Your cat's face shape is another major factor to consider in choosing the right fountain.
Persians and other cats with flat faces have different needs than kitties with longer "snouts."
While a regular fountain isn't necessarily dangerous (unless your cat has breathing problems) for short-nosed kitties, it's also not exactly ideal.
Think about how you'd feel if your whole face was basically submerged every time you took a drink!
We shared our picks for the best water fountains for Persian cats (and other flat-faced breeds), so check that out.
Again, my #1 pick is show here.
PetSafe Cat and Dog Water Fountain - Automatic Water Dispenser - Drinkwell Pagoda Ceramic Fountain for Pets - Filter Included - 70 oz
Water Capacity: 70 Oz. Water Capacity Is Great For Cats And Small To Medium Sized Dogs
Encourages Drinking: Dual Free Falling Streams Add Oxygen For Freshness And Encourage Pets To Drink More Water
Filtered Water: Includes Replaceable Carbon Water Filter That Removes Bad Tastes And Odors, Keeping Water Fresh
Two Bowl Levels: Upper And Lower Dish Provides Two Drinking Areas For Pets; Elevated Dish Is Great For Senior Or Arthritic Pets
Hygienic Construction: Ceramic Design Is More Hygienic And Looks Great In The Home
Easy To Clean: Fountain Is Top-Shelf Dishwasher Safe; Low-Voltage 12V System With Submersible Pump For Safe And Quiet Operation
Product Support: Petsafe Brand'S U.S Based Customer Care Experts Will Be Glad To Help, Call Monday Through Saturday
Stainless steel vs. Plastic Fountains
When it comes to the actual drinking fountain, you have even more options to consider.
Do you want something made from ceramic materials? Stainless steel?
Are you okay with just a good BPA-free plastic fountain?
I can't tell you which to choose, as it depends on your preferences and budget.
Personally, I like stainless steel because it's easy to keep clean. My favorite is pictured above.
I also love the idea of ceramic, but I'm a klutz, so I worry that I'll break it.
Still, it beats plastic in my opinion because- again- it's easier to maintain.
That said, plastic isn't an awful choice, per se. Just make sure it's BPA-free and what not.
Also, understand that you'll need to replace them more often (see safety tips below).
Check out our post on stainless steel vs plastic pet fountains for more info.
PetSafe Drinkwell Stainless Multi-Pet Dog and Cat Water Fountain, 128 Oz.
128-ounce capacity: Perfect size for cats, dogs and multi-pet households
Encourage pets to drink: Filtered, free-falling water streams entice pets to drink more and help to prevent urinary and kidney diseases through increased hydration; Constant water circulation and stainless-steel construction help to inhibit bacteria growth
Customizable water flow: The versatility of this fountain allows you to choose from 1 to 5 free-falling streams, and you can also twist the top to adjust stream flow
No thirsty pets: This fountain incorporates an open bowl design so if your home loses power, your cat or dog will still have access to water from any side
High-grade stainless material: This stainless-steel pet fountain is made with high-quality materials that are hygienic, durable, and rust and scratch resistant; Simply disassemble the pump to hand wash, and place all other parts on the top rack of your dishwasher
Compatible filters and pump: Fountain uses PetSafe Drinkwell Carbon Filter #3 (PAC00-13712), PetSafe Drinkwell Foam Filter #5 (PAC00-13711) and Drinkwell Replacement Pump (PAC00-13206)
U. S. -based customer care: Let our pet product experts help
Noisy vs. Quiet Water Fountains for Cats
The noise factor is the very last thing I consider when shopping for cat water fountains.
Honestly, I don't need the quietest fountain in the world.
My cat's water fountain is far enough from the bedrooms- and even the living room- that the sound doesn't really bother me.
However, if you live in a small apartment or plan to keep the fountain in your room, try one of these best quiet water fountains for cats.
Sale
Pet Fountain Cat Water Dispenser - Healthy and Hygienic Drinking Fountain Super Quiet Flower Automatic Electric Water Bowl with 2 Replacement Filters for Dogs, Cats, Birds and Small Animals Blue
【FUN & 2L LARGE CAPACITY】 No need to replenish water frequently and it can not only meet the drinking needs of cats, dogs, birds and other pets of various sizes, but also a natural bird bath and a funny pet toy. The stored water can be used for one month.
【ENVIRONMENT-FRIENDLY MATERIAL】 Obtains food-grade certification. Simple quick-release structure is designed for easy removal and cleaning.
【SUPER SILENT & LOW CONSUMPTION】 With the super silent pump, you can hardly hear the sound of water. With 2W low power consumption, and run dry for up to one week.
【ERGONOMIC DESIGN】 3 water flow settings: flower waterfall, flower bubble and gentle fountain mode. The recessed sink and water circulation system are designed to increase the contact area of water and air, and provide more oxygen to the water, bringing health and vitality to pets. Stylish appearance design with blue color - the cats and dogs' favorite color.
【WHAT YOU GET】 Equipped with two pieces of replaceable filters, which can be used repeatedly after drying in the sun, (please rinse the filter cotton thoroughly before use). 24-hour professional service center, full refund within 30 days, 12 months warranty and 24/7/365 technical support.
Once you've finally settled on the perfect fountain, there are a few more things to consider before setting it up and letting your cat go to town.
Safety & Other Considerations for Cat Water Fountains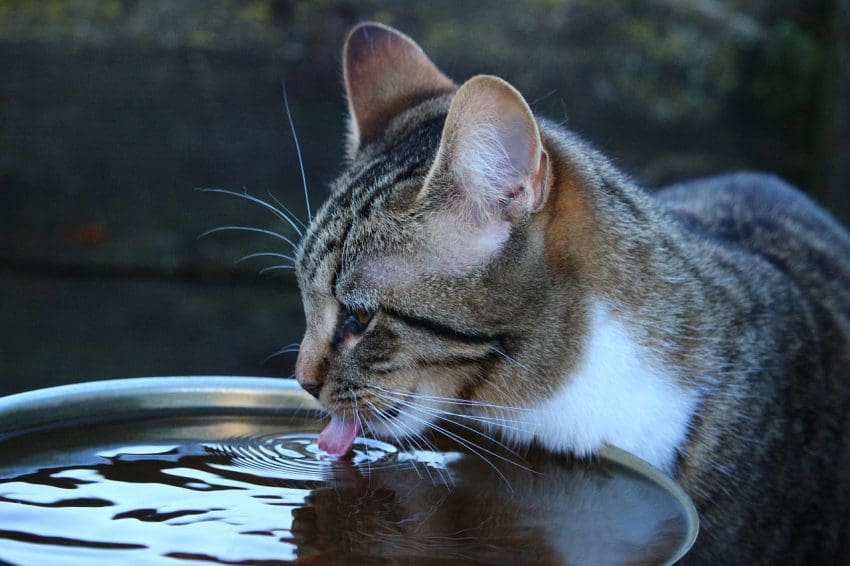 First, start with our article with the truth about cat fountains to find out if they're really safe.
Short answer is yes, obviously. Otherwise, we wouldn't spend so much time finding good ones for you!
We don't recommend anything that could put your cat in harms way here, after all.
Let's just quickly go over some of the highlights of that piece here and briefly discuss some safety tips.
Set it up in the right place
Choosing the right location is absolutely key to giving your cat a safe and satisfying fountain experience.
Obviously, you'll want to keep it where your cat usually goes for a drink. For us, that's the kitchen.
Beyond that, though, you need to consider where you'll be plugging it in.
Choose a spot close enough to an outlet that you avoid running dangerous cords all over the place.
At the same time, you want it far enough away so that water doesn't splash back into the outlet!
Keep up with the cleaning
Regardless of what type of fountain you get, you absolutely MUST follow the manufacturer directions for keeping it clean.
For unfiltered fountains, that means changing the water daily- or at most every other day.
If you go with a filtered option, read the manual to find out how often you need to replace it.
For gravity and filtered fountains, do a complete cleaning once every other week for single-cat households.
If you have multiple cats, go with a weekly cleaning routine.
Even fountains that attach right to your sink need cleaning, so don't think you can skip this step if you invest in one.
During your weekly (or every other weekly) cleaning, pay attention to the parts to check for damage and look for any frayed wiring.
Replace plastic fountains regularly
One of the reasons I prefer stainless steel over plastic is that the former can last a lifetime.
Plastic, however, breaks down a lot faster. It's also hard to keep clean.
So, even if you're meticulous about following cleaning directions, chances are you'll need to replace it at least once a year (and that's me being generous).
As I said, these are the highlights regarding cat water fountain safety.
Check out that post I shared with you above for more in-depth info. It was written by a former vet tech.
That about covers everything you need to know about cat water fountains!
Like I said, they're not a vital purchase, but they definitely make life a little easier.
Do you have any other tips about using cat water fountains? Share below!
Nicole Etolen
Nicole is the Editor-in-Chief and one of the writers here on CatVills. She's been a cat lover most of her life and-at one point- counted five felines as part of her family. Today, she's proud cat mom to two indoor kitties and caregiver for a slew of ferals.
Last update on 2021-04-10 / Affiliate links / Images from Amazon Product Advertising API