When my cat refused to drink water and started suffering from recurrent urinary infections, our vet suggested the Catit Flower Cat Water Fountain.
I have had the fountain for two years now and Jerry hasn't suffered from a UTI ever since!
Wondering whether you should invest in Catit Flower Cat Water fountain but still unable to decide?
Then this review is for you!
FYI, this post contains affiliate links. We earn a commission if you make a purchase at no extra cost to you.
Read More: Best Cat Water Fountains & Why You Need One
What is Catit Flower Cat Water Fountain? How Does it Work?
Most cat parents leave bowls or dishes of water for their cats to drink from. But anyone who has owned cats knows just how fussy they can be.
Many cats simply refuse to drink from bowls. Most cats hate slimy bowls and dishes and we all know that slime can also cause infections in cats.
Naturally, it is a hassle remembering to clean the bowl and fill it with fresh water every day. If you have multiple cats, then you'd also need multiple bowls which can take a lot of time and energy to clean and refill on a day-to-day basis.
Enter the Catit Flower cat water fountain. I think the pet water fountain is the best invention since cat litter!
How it works
Explained simply, Catit pet water fountain consists of a water fountain reservoir fitted with a lid having a plastic flower on top.
Water is pushed up by the motor through a multi-level filter system and a pump assembly. This pushes clean water out through and over the flower's petals.
This leads to a slow and steady stream of water as long as the unit is plugged in.
Catit fountains' "flower" assembly can be twisted and lifted or pushed down to adjust the stream and speeds of water flow.
It provides three different water flow settings and speed of water flow for picky cats. Many skittish cats tend to be afraid of loud or gushing water streams.
Accordingly, you can adjust the setting to reduce the noise and the speed to a gentler flow.
You can also remove the flower completely and simply let your cat drink from the collected water on top.
Depending on the size you choose, Catit Flower Water Cat Fountains can hold up to 100 fl. oz or 3 liters of water. (There is also a Catit Mini triple-action fountain in 50.7 fl. ounces of water size).
The double filtration layers of activated carbon and cotton mesh remove dissolved salts like calcium that are responsible for urinary issues in cats.
The fountain is powered by either electricity or a USB plug.
So, I have owned the fountain for a couple of years now. As with any product, there are pluses and minuses.
However, since my Jerry never suffered from a UTI I am going to rate it a 5-star!
Hundreds of thousands of users on popular retail sites have also given Catit Flower Fountain a 5-star rating.
RECOMMENDED: Homerun Pet Cat Water Fountain Review
Features
3 water flow settings
2- Filtration levels- your cat gets healthy, tasty, impurity-free water.
Quiet operation
Well-designed – easy for cats and kittens to access.
Wobble free and heavy so it is tipping-proof
Compact – ideal for small rooms/apartments
The box of the fountain can be converted into a cat toy!
BPA-free & easy to clean
Handy water level window
ALSO CHECK: BEST Sensor Cat Water Fountain
Assembly
I love the fact that the fountain is easy to assemble.
I dislike products where you have to spend hours reading instructions and following diagrams and using tools.
Catit has none of that: within minutes you can set up the pump, reservoir, and the flower. Fill in the water to the level indicated. The fountain comes with a 4 ½ ft cord to plug into an outlet.
The user manual isn't too helpful – it has a tiny font and too many languages. But you won't need it much. I had no issues during assembly.
Cleaning
Cleaning the Catit fountain is fairly easy. The parts all come off (except the propeller – I always need something to pry it out).
I simply soak everything in vinegar and distilled water. This takes care of the mold.
I brush the parts with an old toothbrush but you could use a soft sponge.
My friend who also owns Catit recommends using hydrogen peroxide for the job and says that it eases the pump cleaning process.
Operation
Jerry is a nervous rescued cat so we do not like toys or machines that are noisy. I loved the fact Catit has a silent operation.
The only time it gets a bit noisy is when the water level goes low.
That is a boon to cat parents since you'd know when to refill the pet water fountain. A replacement pump is fairly easy to get.
| Benefits | Drawbacks |
| --- | --- |
| Great for encouraging drinking water in picky cats | Very short power cord |
| Adjustable flow of water | Power failure leads to thirsty cats |
| Easy to assemble | Gets moldy – needs cleaning twice a week at least |
| Fairly easy to clean | Curious cats can pull out the floral part |
| Low-noise operation, gentle flow | |
| BPA-free plastic | |
| Double-filtration with cotton mesh and activated carbon layers. | |
How it compares to others
There are stainless steel water fountains available which tend to get very moldy and are difficult to clean.
The Catit flower water fountain overcomes this drawback. (Catit also makes a stainless steel version).
The dual filtration ensures the removal of many harmful minerals like calcium from tap water – a bonus over other fountains.
The adjustable flow of water is a benefit over other pet water fountain brands.
Catit Flower Fountain Stainless Steel
Cat drinking fountain with high-grade stainless steel top is hygienic and dishwasher safe
Features handy water level indicator window with LED nightlight
Allows 3 water flow settings for picky drinkers: a gentle water flow, bubbling top, or calm, extra-long streams
Includes Triple Action Filter and small energy-efficient pump
All components are BPA-free (excluding adapter)
Check: Ceramic Water Fountain
How has it evolved
There are many versions of the Catit flower water fountain available today. You can get a cheaper variant on Chewy.
The Catit 2.0 Senses is pricier by a few bucks but comes with an LED nightlight as well as an indicator for low water level window – so no thirsty cats ever!
Catit Senses also features double filtration with cotton and activated carbon to filter out chemical and physical impurities.
The replacement filters are readily available and you can replace them every 2-3 months.
Related: How Often to Change Water in Cat Fountain?
What to Consider Before Buying
Cats are picky creatures
Some of my friends' cats refused to drink from fountains and they stick to their bowls.
If you have a finicky cat, a very young scared kitten, or an older cat that is used to only drinking from bowls or needs an abundant stream of water, then it might not take to the fountain.
Ease of access
The power cord is short so make sure you have an outlet accessible easily.
Time and effort in cleaning
The fountain needs regular cleaning – at least twice a week. So make sure you set time aside for the job. This is important for your cat's health and well-being.
READ MORE: Why Do Cats Touch the Water Before Drinking?
FAQs
HOW LONG DO CATIT WATER FOUNTAIN FILTERS LAST?
You need to change the filter once it starts appearing saturated. Most users change it once every 2-3 months. It depends on how many cats you own as well as how hot it is in your area.
IS CATIT DRINKING FOUNTAIN SAFE?
Yes, Catit uses high-quality, BPA-free materials. The fountain is heavy so there is no chance your cat can tip it over.
HOW OFTEN SHOULD I CHANGE THE WATER IN MY CAT'S WATER FOUNTAIN?
The indicator will tell you when it is time to refill the reservoir. You can also hear a gurgling sound as the reservoir empties.
Conclusion & Final Recommendation
I have personally used Catit Flower Cat Fountain and it is the best investment I have made for my cat's urinary health.
While I can't guarantee that it'll benefit your cat's health, I know I've saved a lot on vet bills.
The fountain is well-designed, easy to assemble, fairly easy to clean, and attractive. It is compact for small spaces.
The fountain's height is suitable for kittens and older cats to drink comfortably from.
As long as the water level is optimum, the motor also runes noiselessly.
The filter removes impurities as well as harmful salts – important for your pet's health.
All in all, I definitely recommend Catit to every cat owner concerned about their cat's water intake.
Sale
Catit LED Flower Fountain, Cat Water Fountain, Blue, 43747
Cat fountain features 3 different water flow settings for picky drinkers and offers maximum oxygenation for fresher, better tasting cat water; the unique design filters water so that it always stays fresh
Can hold up to 3L in the cat water bowl and takes up little floor space; dimensions are 9.0 x 8.3 x 7.7 inches
The petal top enables your cat to drink even when the fountain is turned off
Features handy water level indicator window and LED nightlight
Includes triple action, softening cat water filter and small energy-efficient pump with power cord (if an extension cord is necessary, the connection must be watertight and dust proof); made of BPA-free materials
If the cat water fountain pump is making excessive noise, be sure to check the water level as it is most likely low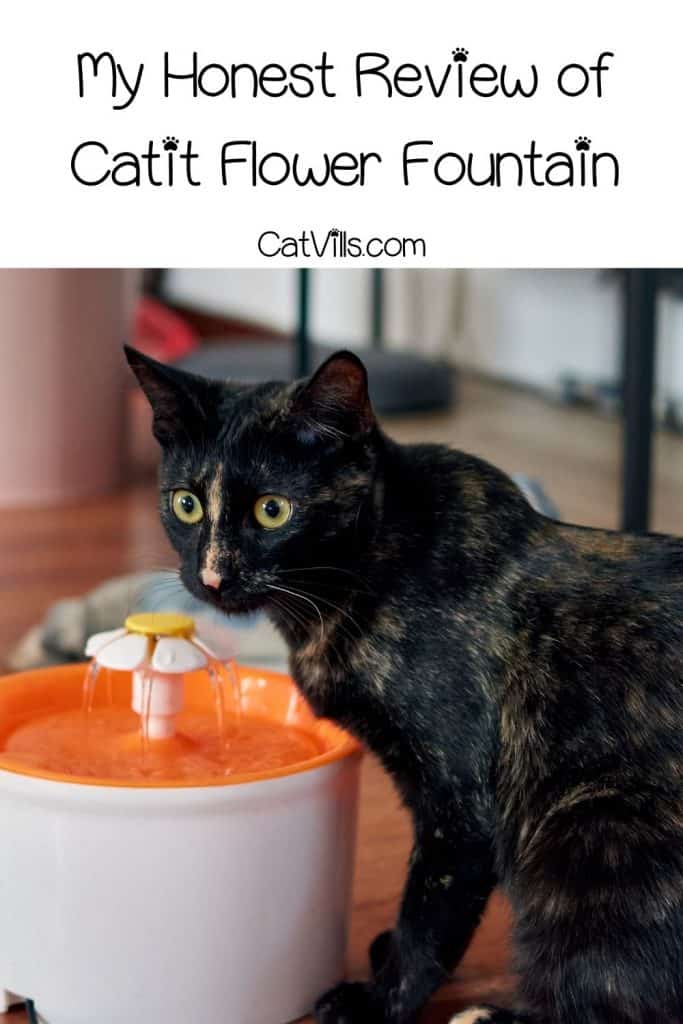 Have you tried using the Catit flower fountain? We'd love to hear your experiences below!
Last update on 2022-05-25 / Affiliate links / Images from Amazon Product Advertising API