Looking for some creative ideas for cat beds that add a splash of style to your kitty's nap space?
We've got you covered with these top 5 cat bed alternatives!
If you own a cat, you know that cats can fall asleep almost anywhere.
It's nice to give your cat a nice soft place to take an afternoon nap, but, cat beds can be pricey!
Thankfully, you can reuse and re-purpose items you already own and make them into a unique cat bed!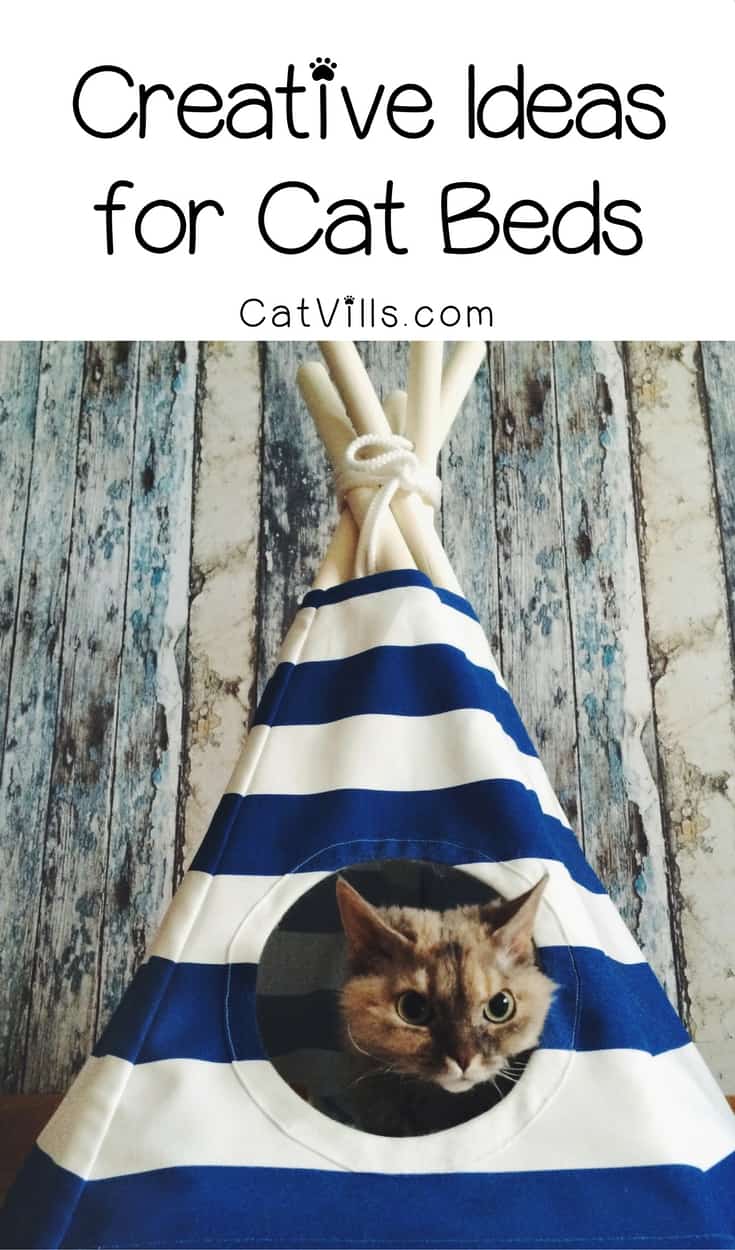 Here are five creative ideas for cat beds that are sure to keep your furry friend happy and well-rested!
RELATED: 42 Cool, Modern, Fancy, and Fab Cat Beds Your Feline (and Decor), Will Love
Creative Ideas for Cat Beds
Affiliate links included below. We earn a commission if you make a purchase, at no extra cost to you.
1. An old suitcase.
Do you have a suitcase that you don't use anymore? Suitcases are the perfect place for cats to sleep!
They provide just enough space for your cat to snuggle up or stretch out!
Clean the suitcase to remove any dirt or dust.
Then put soft sheets inside of it for comfort!
2. A cat teepee.
If your home has a nature theme throughout, a cat teepee
is the perfect cat bed alternative.
Cat teepees give your cat a safe place to sleep without disruption. This cat bed is sure to look awesome in your living room!
A teepee could also be used outdoors for the same purpose.
3. Hanging cat bed.
A hanging cat bed not only gives your pet a place to rest but also fulfills your cats need to climb!
Hanging cat beds are ideal for small homes that don't have much space. A hanging cat bed can be made of a sheet and put anywhere.
Related: Cute up-cycled dog cat beds
4. A shoe box.
This may sound silly, but if you have a small cat, a shoe box can double as a kitty bed!
Cats love climbing into boxes and making themselves at home. All you'll have to add is a thin blanket to make sure your cat is comfortable as possible!
Plus, they're small enough to "pretty up" without going nuts with craft supplies.
5. Shelves.
Shelving can double as a piece of furniture for you and a place for your cat to take a nap.
Shelves
take up very little space and remain functional, even if your cat decides to take a snooze there!
Curved shelves
work best as they are a bit more comfortable for cats to sleep in.
Cat bed alternatives are a fun way to give your cat a safe place to sleep while also enhancing your home.
These alternatives keep money in your bank account! Who could complain about that?
Where does your cat like sleeping the most? Do you have any favorite creative cat beds? Would you consider any of the ideas on this list? Tell us all about it!