Looking to spice up your cat's life with a flippity fish cat toy?
I've got you covered.
I'll show you nine high-quality options and a detailed buying guide.
You'll have everything needed to choose a perfect one for your favorite furry friend.
Let's start with a quick look at our top picks, then keep reading for all the glorious details.
CHECK: Best Cat Food Dispenser Toy
Flippy Fish Cat Toy Top Picks at a Glance
If you see the value in these products and choose to purchase via my referral links, I may earn a small commission at no extra cost to you.
Don't have time? Here is a quick comparison of our favorites!
Top Benefit
Perfect for kicking, chewing, and biting
Various fun toys and colors
Suitable for play with dogs or cats
Strong and durable to withstand extensive biting or playing
9 Best Floppy Fish Cat Toys Reviews
The best floppy fish for cats would have to be Konbodo's Cat Electric Flopping Moving Fish.
It provides buyers with two fish made with high-quality, eco-friendly materials.
Your cats will have a ball playing with them as they flop around whenever they're touched.
If these features weren't enough, Konbodo provides two catnip mice with each purchase.
Attributes
2-in-1 (one red fish and one grey)
Realistic fish design made with 3D printing
Made with quality plush material
Filled with organic catnip
Two catnip mice
Detachable motor and a built-in sensor
Chargeable via USB
Two lithium batteries
Measurements
| Benefits | Drawbacks |
| --- | --- |
| Soft, comfortable design | Flops slower than other flippity fish |
| Automatically activates on a cat's touch | One reviewer said that its XL size scared her cat |
| Produces a cat-enticing solid smell | |
| Perfect for kicking, chewing, and biting | |
| Eco-friendly | |
The quality plush material creates a comfortable design for your cat's paws. Due to this, you won't have to worry about them hurting themselves while playing with it.
You also have to love that these fish are eco-friendly. It never hurts to buy products, which don't damage our earth when they're made.
Cats will love playing with these fish as they can handle any of their attacks, as well. It has proven to be an effective choice as one of the best chew toys for cats.
Moreover, they will be very enticed to play with it. The inside of these fish is filled with catnip that overpowers them into interacting with the toy.
Lastly, these fish are convenient for owners as you don't have to turn them on. They'll automatically activate with its built-in sensor when a cat touches it.
A few customers did mention these options flopped slower than expected within their flippity fish cat toy reviews. It's a minor nuisance, but it could be an issue for the more picky or lazy cats.
How it Compares to Others and Why
It's our favorite because there isn't a single thing about it worth changing. Its eco-friendly, durable material and catnip-filled insides are any cat's dream. [1]
Plus, the included two catnip mice only further provide your cat with exercise. Lazy cats are even going to have a hard time ignoring the fish or mice.
Tips
If you have dogs, keep them away from this toy. One reviewer noted, that her cat loved the fish…but alas, so did her golden retriever puppy, adding, "Unfortunately it isn't puppy durable 🙂 Both Kitty and puppy are disappointed. It was fun while it lasted!" [2]
ATOPCARE's Flopping Fish Cat Toy earned its way onto our list with highly durable construction.
Its made with cotton plush fabric that has proven to last a long time.
You should have no reason to believe even the most rambunctious cat will destroy it.
Attributes
Made with soft cotton plush
Safe and non-toxic materials
USB rechargeable, detached motor
Built-in motion sensor
Lithium battery
USB cable
Washable cover
Measurements
10.67 x 5.67 x 1.26 inches
| Benefits | Drawbacks |
| --- | --- |
| Moves like a real fish | 3-hour charging time |
| Alleviates boredom and loneliness | Only comes in one color |
| Easy to clean | |
| Rechargeable | |
| Durable construction | |
How it Compares to Others and Why
Aside from the durability, it's a cat fish toy that moves very similarly to an actual fish. It's almost uncanny and should have no issues enticing your kitty.
You also have to love its easy cleaning process. It's a simple matter of removing the detachable motor and running it under the sink.
Tips
Remember to "take out the inside motor" when cleaning it.
The Peteast Interactive Fish Kicker Toy has a design most people will enjoy.
It looks precisely like Nemo from Finding Nemo for an extra layer of fun.
Of course, it helps that this model has a robust construction and rechargeable motor.
The flippity fish ends up being a very convenient option for everyone involved.
Attributes
Looks like Nemo
Made with cotton
Non-toxic and safe
Filled with 100% organic catnip
Built-in touch sensor
Detachable, rechargeable motor
Washable
Measurements
11.18 x 10.59 x 1.61 inches
| Benefits | Drawbacks |
| --- | --- |
| Realistic movements | Motor is a bit loud. |
| Great design (who doesn't like Finding Nemo?) | Plush design is very tempting to dogs |
| Improves cat digestion (catnip) | |
| Rechargeable | |
| Easy to clean | |
| Strong and durable to withstand extensive biting or playing | |
How it Compares to Others and Why
The design does stick out as its defining characteristic. But you have to look at it being filled with catnip as a massive win.
After all, catnip has been shown to help cats with digestion issues. So if your cat has a vomiting problem or a sensitive stomach, this fish cat toy could help.
Tips
While you want to keep all of these toys away from dogs so that Fido doesn't ruin Kitty's fun, you especially want to do so with this one. The plush design is VERY tempting for your pooch!
Don't believe me? Check out these bulldogs reacting to a very similar floppy fish:
No products found.
Multi-cat owners or bulk buyers should take a long look at this option.
It's an affordable 3-in-1 deal that provides three catnip flopping toys for your cats.
As a result, there won't be any fights over what the cat gets to play with the fish.
Attributes
3-in-1 option (3 different types of fish)
Made with soft plush fabric
Non-toxic
Filled with catnip
USB rechargeable cable
Realistic fish shape
Three detachable motors
Built-in motion sensor
Measurements
| Benefits | Drawbacks |
| --- | --- |
| Durable against bitting, crawling, or batting | Some cats hate the squeaking sound |
| Soft, comfortable feel | It's popular, so it goes out of stock often |
| Relieves stress and boredom | Some customers say it's hard to charge |
| Hassle-free cleaning process | |
| Affordable 3-in-1 deal | |
| Ideal for multi-cat households | |
How it Compares to Others and Why
You aren't going to find many better deals than this one for flopping fish. It's not like the quality is subpar, either, as it has a durable construction and a soft, comfortable feel.
Expert Tips
Be careful as dogs love to play with them too.
No products found.
Pet Craft Shark Flipper Flopper is different than these other choices for a simple reason.
It uses a shark design rather than standard fish.
But it's so noticeable and useful that it needed to make our list.
After all, it has proven to entice even the laziest cats with its impressive attributes.
Attributes
Shark design with bright colors
Built-in motion sensor
Filled with 100% natural catnip and silvervine
Soft plush material
Rechargeable motor via USB
Bonus bag of catnip and silvervine
Measurements
| Benefits | Drawbacks |
| --- | --- |
| Realistic movement | Uses velcro instead of a zipper |
| Highly noticeable, colorful shark design | Another one that's SUPER tempting to dogs! |
| Comfortable to use | |
| Enticing to almost every cat | |
| Suitable for all life stages | |
How it Compares to Others and Why
The brightness and colorful qualities of this fish catnip toy is its highlight trait. But you shouldn't overlook its use of 100% natural catnip and silvervine.
It's a potent combination that ends up being very effective. However, buyers need to be careful of the velcro opening as it's less secure than a traditional zipper.
Tips
Skittish cat owners might want to look elsewhere with this noisy motor. [3]
This option doesn't only stand out because of its high-quality flopping fish.
It offers a top-tier flopping fish, but it's part of a complete set of cat toys.
Each buyer gets a fishing pole, a bouncy toy, and various other items with purchase.
As a result, it becomes a rather versatile and valuable option for cat owners.
Attributes
Five color options
One flopping fish with a built-in touch sensor
Made with high-quality plush fabric
One fishing rod
Six replaceable feathers
One catnip pack
One bouncy toy
Measurements
| Benefits | Drawbacks |
| --- | --- |
| Complete cat fish toy set | Fishing pole isn't too durable. |
| Various fun toys and colors | Battery dies pretty fast |
| Affordable price | |
| Usable with all life stages | |
| High-quality constructions | |
How it Compares to Others and Why
This option's variation is hard to beat with its multiple colors and fish cat toy options. It's a complete set ready to cure your feline friend's boredom with ease.
Buyers can get this 9-piece set for an affordable price, as well. You can't ask for much more when searching for a flopping fish cat toy.
Cats and dogs rarely see eye-to-eye on things inside a multi-pet household.
But the AmazinglyCat Dancing Fish Cat Toy has been known to pique both their interests.
After all, it's made from a durable enough material to handle dog or cat roughhousing.
Attributes
Durable fabric with a soft feel
Two catnip pouches
Detachable power box
Uses odorless materials
One USB cable
Power saving motion sensor
One user manual
Measurements
| Benefits | Drawbacks |
| --- | --- |
| Suitable for play with dogs or cats | Most expensive option |
| Refillable catnip pouch | Velcro pouch doesn't last long |
| Low-noise level | |
| Tail flapping has three modes | |
| Convenient charging and battery lifespan | |
How it Compares to Others and Why
The ability to handle both a cat's and a dog's playing needs is a huge advantage. You also have to look at its ability to be refilled with the extra refillable catnip pouch.
Furthermore, the three modes for its cat toy moving fish speeds was another intriguing aspect. It allows you to control it, so the flopping doesn't get too fast and scare your cat.
Check it out in action in the video below.
Sale
No products found.
BEANDI's Wireless Moving Fish Cat Toy manages to solve an issue most other options provide.
It contains an ultra-quiet motor to ensure this fish doesn't scare a cat.
Skittish cat owners should be banging down the door to buy this one.
Plus, this option allows you to get in on the fun with an included remote control.
Attributes
Made with plush fabric stuffed with PP cotton
Built-in touch sensor
Eco-friendly
Filled with catnip bag
USB rechargeable battery
Wireless controller included
Measurements
| Benefits | Drawbacks |
| --- | --- |
| Ultra-quiet motor Automatically shuts off after 15 minutes | Doesn't come with extra catnip pouches |
| Bite-resistant | Tends to go out of stock |
| Strong catnip fragrance | |
| Convenient control vial wireless controller | |
| Suitable for all cats | |
How it Compares to Others and Why
The low noise and remote control make this fish a hard one to beat. It's nice not to have to worry about whether the fish will scare the fur off your skittish cat.
Honestly, the remote control is almost as valuable. It creates a bonding session between the owner and their cat because you get to control the playing experience.
Check out this video review:
No products found.
Our final option, HZONE's Electric Flopping Fish Catnip Toy, is one of the best cat toys for kittens.
For instance, it comes with three mice and a catnip pack to make a kitten go wild.
The flopping fish having a striking design will undoubtedly pique their interest, as well.
Adult cats are also allowed in on the fun, as it's suitable for all life stages.
Attributes
Vivid and realistic fish design
Made from cotton plush material
Washable cover
USB cable
One catnip pack
Three mouse toys
Measurements
| Benefits | Drawbacks |
| --- | --- |
| Ideal for kitten use with mice included | Zipper quality isn't great. |
| Color, eye-popping design | Very short charging cord |
| Easy to clean | |
| Soft fabric protects a cat's claws and teeth | |
| Convenient refillable pouch | |
How it Compares to Others and Why
The eye-popping design and refillable belly pouch are outstanding attributes. Both these components made the product a lot more convenient and enticing.
It's no wonder why kitten owners seem to gravitate towards this option. The included mice certainly don't hurt its case, either.
Things You Should Know Before Buying Floppy Fish Cat Toys
It can be a little challenging to find high-quality floppy fish cat toys. Honestly, the market has become oversaturated with options for cat owners.
But there are a few things to know that can make the entire process easier. This section will discuss them in extensive detail to ensure you find a perfect flopping fish toy for cats.
Catnip Scented
If it's possible, I'm always going to recommend choosing a catnip-scented fish kicker toy. It's a simple way of encouraging your cat to play with the catnip toy.
As a result, you'll start to see the various benefits occur quicker than with other options. The catnip toy will make sure they get some exercise and keep them from ripping apart your furniture.
Catnip scented toys also help enhance your cat's mood and relieve their stress. Due to this, your cat will be a lot better when alone in the house and have fewer bad behavior issues. [4]
Of course, there are toys with other cat-attracting scents. But a catnip toy is the safest and a natural component, so it's preferable over those alternatives.
Realistic Movement & Style
Your cat will have a lot more incentive to play with a realistic toy. If it mimics an actual fish, cats are much more likely to engage with the toy.
Cats react well to realistic toys because it stimulates their natural hunting instincts. So the more realistic the toy's movement and look, the better for their enjoyment. [5]
Rechargeable Batteries
Battery-operated cat toys are a massive nuisance when they feature standard batteries. In most cases, it leads to the owner changing the batteries regularly.
You should avoid this issue by choosing a floppy fish toy with rechargeable batteries. It's an easy way to save money and remove a potential nuisance from your life.
Lastly, it's a much better deal for your cat. They won't have to wait before their favorite toy is working again, as most flopping fish toys only take 30 minutes to recharge.
Thirty minutes is a lot less time than making a trip to the store. So it ends up just being a lot more convenient for everyone involved.
Detachable Motor
One of the common problems with electric toys is they often get dirty. But you can't clean them because of the electronics.
You can account for this issue by purchasing toys with a detachable/removable battery and motor. These aspects will help ensure you can wash the toy easily without breaking its mechanics.
More importantly, this ease of cleaning will allow the toy to last longer. So you won't have to replace it for a long time, either, saving you money.
Instead, owners can ensure their cats are playing with a safe, clean toy—one free of potential dangers like harmful bacteria or germs on its surface.
Construction Material
One of the more overlooked aspects is the fish toy's construction material. High-quality options will be made from a durable material that your cat can't destroy quickly.
But there needs to be a balance within this construction material. In other words, the toy needs to be durable and soft so your cat won't hurt themselves when playing with it.
If the toy's too harsh, they could hurt their paws or damage their teeth. Don't forget to check for any unsafe chemicals used in its construction, as well.
Another problematic issue is the small parts of these toys. I'd recommend sticking with zipper closes rather than hook ones as hooks can detach and choke your cat.
Other small parts to avoid are sewn on eyes or feathers. Both of these add-ons don't offer anything to your cat and cause various damaging issues. It's just a lot simpler to avoid toys with them altogether.
Motion Activation
I'm always going to suggest buying cat kicker toys with motion activation. It's an excellent addition for two specific reasons:
Your cat can play with it whenever they're alone. They don't have to wait until you're around for their fun.
Owners don't have to remember to turn it off. Due to this, the battery power and electricity don't drain because of your forgetfulness.
Additionally, it's helpful to choose a toy that offers manual on/off capabilities. It's a godsend for owners with shy cats who might get spooked by the motion activation.
The manual activation allows your shy cat to get used to it before turning on motion activation. It becomes a convenient feature that helps ensure your cat feels comfortable.
How to Use Your Flippity Fish Cat Toys
Most flippity fish cat toys follow a similar procedure for their usage. It's usually a step-by-step process that contains these three steps:
Step 1: Place on Floor
First, you'll need to place the flippity fish cat toy on the floor near your favorite cat. The placement should pique their interest in your new toy.
After seeing the new toy, your cat might come right over to check it out. This action is more likely when the fish cat toy closely resembles a real fish.
But if they don't come over, try carrying your cat over and placing them beside the toy.
Step 2: Watch Your Cat Play
If the toy's motion-activated, it'll sense your cat is moving nearby. The fish cat toy will then start flopping around like a real fish would in nature.
Some flippity fish toys will move their tails at alternating slow and fast speeds. Once your cat picks up on the toy's flopping activity, its hunting instincts will activate.
They should then start batting around the toy. If this doesn't occur, you can bat the fish cat toy a few times to entice them to get into the activity.
Step 3: Store or Leave in Place
After your cat's done playing with it or walks away, the toy will automatically detect them leaving and turning off. You can then either leave the toy in place or store it with your other cat toys. It's entirely up to you and your preferences.
FAQs
Is floppy fish safe for cats?
It depends on what floppy fish you buy for your cat. But in most cases, these brands will be made from "durable materials that are safe and non-toxic."
Do cats like Flippity fish?
Most cats have a lot of fun playing with flippity fish toys. But some skittish or shy kitties might get scared by their motion-activated sensors. So it's wise to take your time and get them used to the idea before springing the fish cat toy onto them.
How long do I charge Flippity fish?
It's another area that'll depend on your particular flippity fish cat toy. However, it usually takes 30 to 45 minutes based on what I've seen with these products.
Conclusion
Hopefully, these discussions gave you an idea of what floppy fish cat toy to choose. But if you still need a little help, feel free to use the comment section. Thanks for reading!
Final Recommendation
My final recommendation would have to be buying Konbodo Cat Electric Flopping Moving Fish. It covers all the bases a person could possibly want in a flopping fish cat toy.
References
1. Macpherson F. Why do cats love catnip? [Internet]. BBC Science Focus Magazine. BBC Science Focus Magazine; 2021 [cited 2021 Dec 1]. Available from: https://www.sciencefocus.com/nature/why-do-cats-love-catnip/
2. Kitty approved … golden retriver approved … but .. [Internet]. Amazon.com. 2021 [cited 2021 Dec 1]. Available from: https://www.amazon.com/gp/customer-reviews/R31WOJ0YMJP4SL/ref=cm_cr_arp_d_rvw_ttl?ie=UTF8&ASIN=B091PQP8Y1
3. GREAT for rescue/ fat cats!!! [Internet]. Amazon.com. 2021 [cited 2021 Dec 1]. Available from: https://www.amazon.com/gp/customer-reviews/R16ORMBADKQ351/
4. Fries WC. Truth About Catnip [Internet]. WebMD. WebMD; 2011 [cited 2021 Dec 1]. Available from: https://pets.webmd.com/cats/catnip-effects-on-cats#1
5. How to Satisfy Your Cat's Natural Instincts – Michelson Found Animals Foundation | Pet Adoption, Microchipping, Spay & Neuter [Internet]. Michelson Found Animals Foundation. 2019 [cited 2021 Dec 1]. Available from: https://www.foundanimals.org/how-to-satisfy-your-cats-natural-instincts/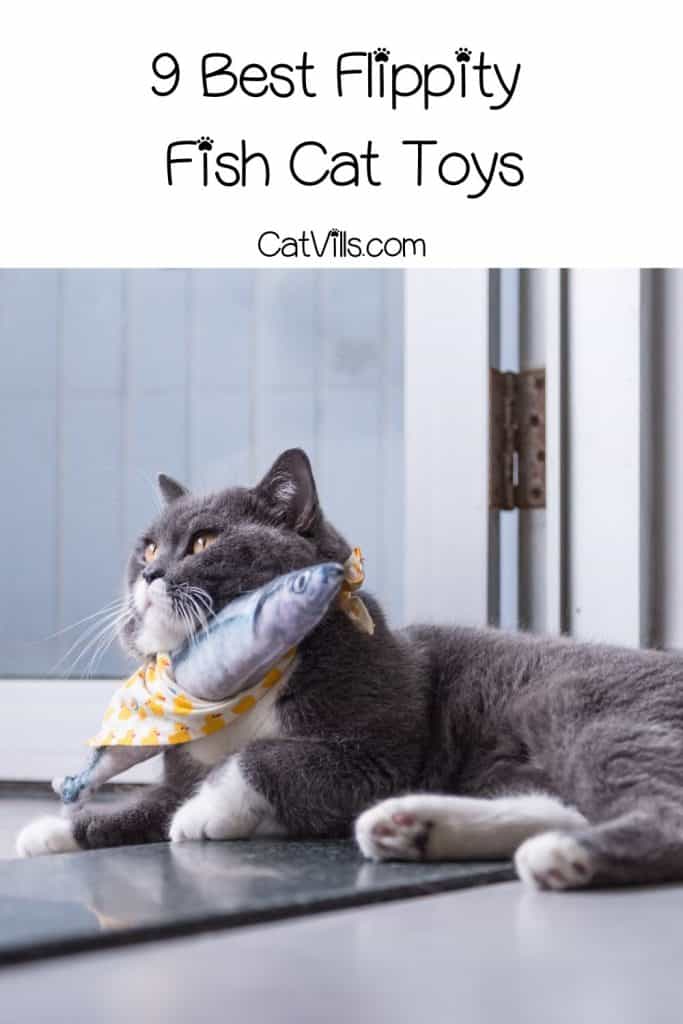 What is your favorite flippity fish cat toy? Let us know in the comments below!
Last update on 2023-09-21 / Affiliate links / Images from Amazon Product Advertising API