Whether you're adopting a kitty in October or just love the spooky holiday, you're going to love our Halloween-inspired cat names!
From spooky monikers for male & female kitties to names inspired by fall colors, we've got over 100 perfect ideas to inspire you. 
The hardest part, of course, is choosing just one name!
Hey, why not adopt two kitties, that'll solve the problem!
Related: 100 Fall Cat Names (Male & Female)
Best Halloween Inspired Cat Names
When we think of Halloween, we associate this children's favorite holiday with candy, and spooky things.
Cats, especially black ones, also have a tie to Halloween. 
While I don't believe black cats bring bad luck, the silhouette of a black feline has become iconic among Halloween motifs.
Whether you get your inspiration from classic movies or cartoons such as Dracula and Sailormoon, or from any famous children's book with a cat, many of the names we choose for cats come from nostalgia.
Let's take a look at some Halloween inspired cat names just in time for the fall!
Related: Brown cat names
Halloween Male Cat Names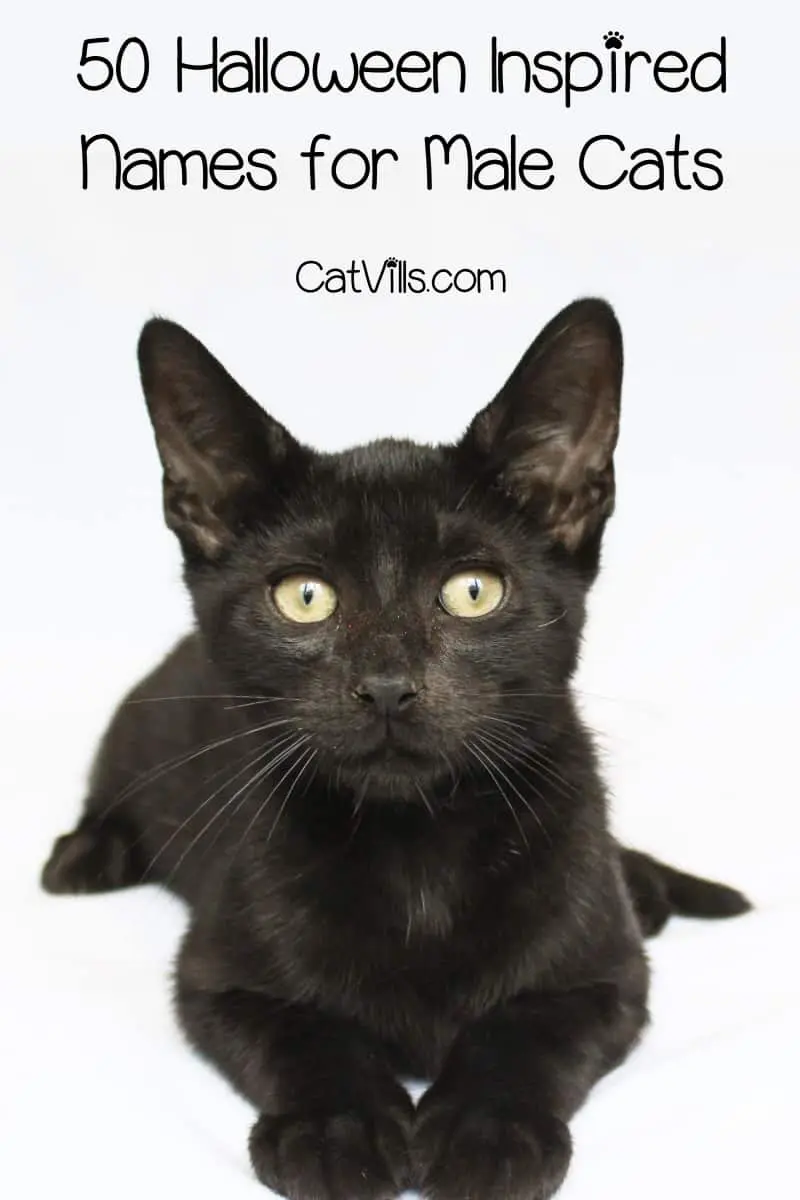 If your cat has a touch of mystery or you like to buy into superstition when naming your pet, these male cat names will go well with a cat of any color.
1. Spirit
2. Shadow – Perfect for black cats
3. Ghost
4. Salem – Since we know cats are linked to witches and the Salem witch trials are an infamous event in history.
5. Magic
6. Lucifer – King of the Underworld.
7. Dusk
8. Noir – French for "black".
9. Fangs – Cats have sharp fangs.
10. Pumpkin
11. Spell
12. Raven – Perfect for black coats.
13. Moon
14. Midnight
15. Boo – What better name for Halloween?
16. Beast
17. Bones
18. Hex
19. Orion
20. Licorice – Halloween means candy, and licorice is perhaps the most renowned black-colored candy.
21. Loki
22. Wizard
23. Spider
24. Spook
25. Demon
26. Spirit
27. Alucard – Dracula spelled backwards, and is his son in Castlevania.
28. Frankenstein
29. Merlin
30. Thunder
31. Hades – King of the Underworld.
32. Gandalf
33. Odin
34. Blackheart
35. Batman
36. Soot
37. Sin
38. Inferno
39. Doom
40. Venom
41. Mephisto
42. Sabretooth – A tough big cat.
43. Bullseye
44. Sinister
45. Baron
46. Damien – A name often used for evil children in movies and shows.
47. Fester – Uncle Fester, everyone's favorite character from the Addams Family.
48. Ichabod – The strange protagonist from Sleepy Hollow.
49. Draco – It means dragon, but your first thought might be Draco Malfoy, Harry Potter's nemesis.
50. October – Because it's the month of Halloween!
CHECK: Bookish Cat Names
Names such as Wizard, Spook and Demon obviously speak to the more naughty and devilish cats.
But if your feline isn't so much the embodiment of evil as it is a sweet and loving yet mysterious furball, then Pumpkin, Orion and Magic are more suitable.
If you have a more whimsical cat, Boo, Hex and Merlin are great choices.
For our fur baby, however, we went along the lines of more mysterious choices for our enigmatic cat.
Names such as Spirit, Shadow and Ghost are among our favorites.
Now some if not all of the names above can be unisex, but we have also compiled a list of names just for little girls.
Halloween Female Cat Names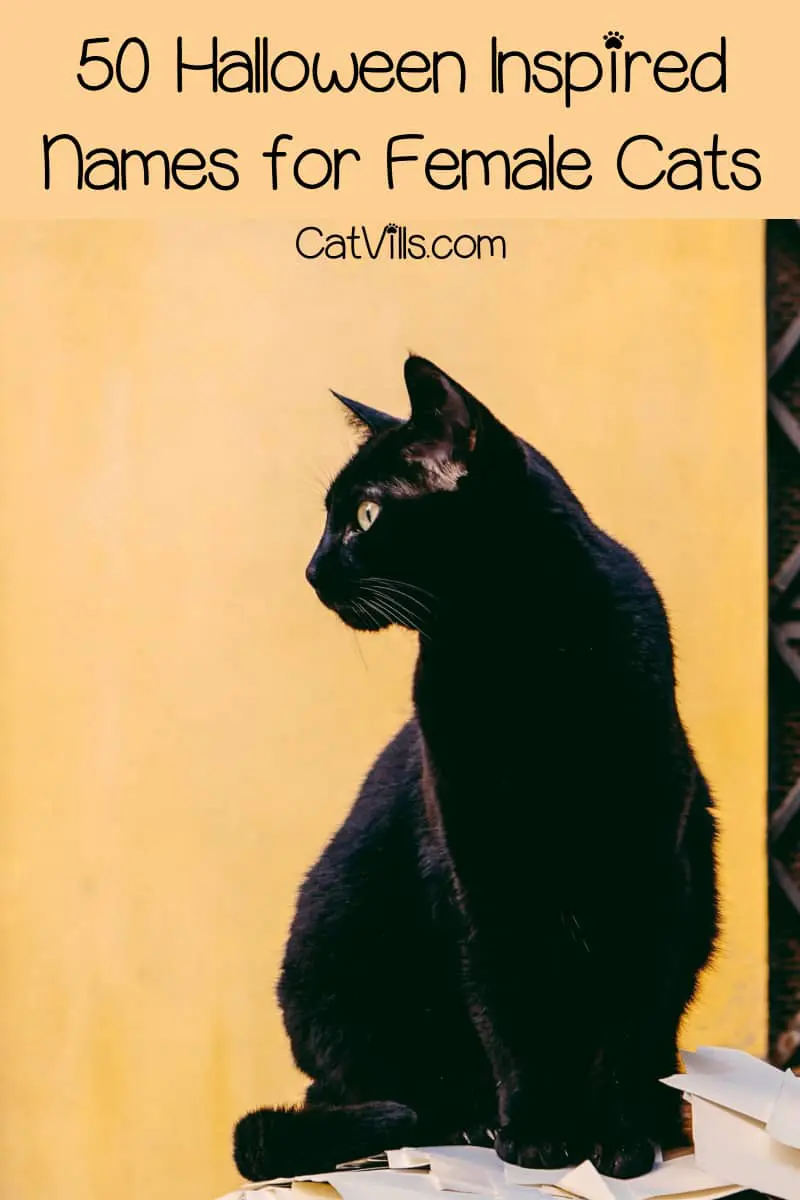 1. Luna – A very popular cat's name, the latin word for "moon."
2. Sorceress
3. Maleficent – The well-known Disney villainess from Sleeping Beauty.
4. Ursula – The female antagonist from Disney's the Little Mermaid.
5. Vampira
6. Elvira – Famous female TV hostess. Mistress of the dark.
7. Tootsie – Yummy Halloween candy.
8. Black Rose
9. Princess- if you think it's not a fitting name, consider how many Princess costumes you see on Halloween!
10. Mystique
11. Selena – The real name of the female anti-hero Catwoman from DC comics.
12. Moonlight
13. Rosemary
14. Persephone – Wife of Hades, mistress of the Underworld.
15. Wednesday – Have you watched the Addams Family? The quirky and eccentric family with a daughter named after the third day of the week.
16. Medusa
17. Wilhelmina – Beloved wife of Dracula.
18. Harvest – Witches and the harvest are often associated.
19. Andromeda
20. Ariande
21. Bellatrix – Lestrange to be exact. Female villain in Harry Potter.
22. Glinda – The good witch.
23. Guinevere
24. Jasmine
25. Minerva
26. Willow
27. Sabrina – The teenage witch of course!
28. Zelda – Sabrina's aunt.
29. Hilda – Sabrina's other aunt.
30. Phoenix
31. Psylocke
32. Raven (great for females too)
33. Enchantress – Female super villain often seen in Marvel comics.
34. Seraphina
35. Ember
36. Frost
37. Viper
38. Nebula
39. Banshee
40. Hela
41. Bella Donna
42. Lorelei
43. Copycat – Isn't that cute?
44. Dragoness
45. Mercy
46. Bella – For Twilight, the short form of Isabella.
47. Morticia – The mother from the Addams Family, portrayed by the iconic Anjelica Huston.
48. October – The month of Halloween, of course!
49. Alice
50. Rosalie
To us, a female cat is enchanting, mysterious and clever. We hope the names we chose above represent your cat's personality.
We have even included female characters, or rather, super villain names from the oh-so-popular Marvel universe and other movies and cartoons.
But what if you want to name your cat according to his or her appearance?
We have put together a smaller, yet just as useful list for Halloween names that suit certain coats that are great for both sexes.
Halloween Cat Names by Color
Orange Cat Halloween Names:
1. Amber – Dark orange color
2. Auburn – Reddish orange color
3. Autumn – For the beautiful fallen leaves during Halloween
4. Blaze
5. Crimson – Red
6. Ginger
7. Flame
Brown Cat Ideas:
1. Caramel – Perfect for Halloween trick-or-treat candy.
2. Chocolate
3. Cocoa
4. Hazel – Short for Witch-hazel.
5. Milo
6. Syrup
7. Twix
Black Cat Halloween Names:
1. Ash
2. Smoke
3. Charcoal
4. Crow – Crows usually symbolize bad luck, but it is also the title of the horror movie ''The Crow'' starring Bruce Lee's son, Brandon Lee.
5. Ebony – Another word for black.
6. Ink
7. Jet
Halloween Names for White Cats
1. Casper – The friendly ghost!
2. Soul
3. Lune – French for "moon".
Grey Halloween Cat Names
1. Ash
2. Smoke
3. Cinder
4. Cobweb
5. Fog – The grayish color of fog matches the fur perfectly.
6. Eerie
7. Haze
Halloween Names for Calico Cats
1. Taffy- think taffy apples!
2. Autumn
3. Fall
4. Amber
5. Cinnamon
Tabby Cat Halloween Names
1. Panther
2. Thunderbolt – For the markings on his fur.
3. Thor – The God of Thunder, well suited to the tabby's markings.
And that just about wraps up our list of Halloween inspired spooky cat names! I gave you a lot to think about, so I hope you found just the right name for your new kitty! 
 What other spooky Halloween-inspired cat names can you think of? Which one on our list is your favorite? Leave a comment below and tell us what you think!