If you want to try your hand at making your own kitty treats, our salmon cat treats recipe is a great place to start!
With only four ingredients, they're simple enough for even the most novice cook to pull off!
Plus, they're better for your cat than most store-bought goodies that are loaded with preservatives!
We'll see how to make them in a moment, but first, let's talk about WHY you'd want to go through the trouble.
If you want to try your hand at making your own kitty treats, our salmon cat treats recipe is a great place to start!
READ MORE: Are Alstroemeria Poisonous to Cats?
Why make your own cat treats?
Let's be honest: making cat treats is a whole lot more challenging than whipping up goodies for Fido.
It's a lot easier to just spend $1.50 on a bag of treats from the store versus spending $10 on ingredients for DIY goodies, right? Yes, it is.
However, keep two things in mind: that $10 on ingredients will last you A LOT longer than that $1.50 bag of treats; and homemade cat treats are just plain better for your kitty.
Let's look at some of the ingredients in my cats' favorite salmon treats (I'm not naming names because I'm not here to shame any brand and my cats do love their stuff as occasional treats).
At the top of the list, we have chicken by-product meal, grown corn, the oh-so-mysterious "animal fat," dried meat by-product, brewers rice…and about 22 other ingredients before we even see the word "salmon" mentioned.
When it does finally appear, it's a "natural salmon flavor." In a salmon cat treat, you'd expect to see it a little further up the list and show up as more than just some flavoring.
To be fair, the brand does call it "salmon flavor," so they're not being sneaky here.
When you see that word on a treat (or any food), it basically means that they've found a way to recreate the flavor that may or may not actually involve the actual food.
Long story short: if you want to give your cats more wholesome and simple treats, you'll either have to make them yourself or buy upscale treats that will cost a whole lot more than $1.50 a bag!
Now that you know WHY you'd want to make homemade cat food recipes, let's find out HOW to do it!
Homemade Salmon Cat Treats Recipe
All of the ingredients in our homemade salmon cat treats are easily found at your favorite grocery store.
If your cat doesn't love any of them, though, stay tuned after the recipe for tips on swapping out any or all ingredients.
This post contains affiliate links. If you make a purchase through these links, we earn a small commission at no extra charge to you.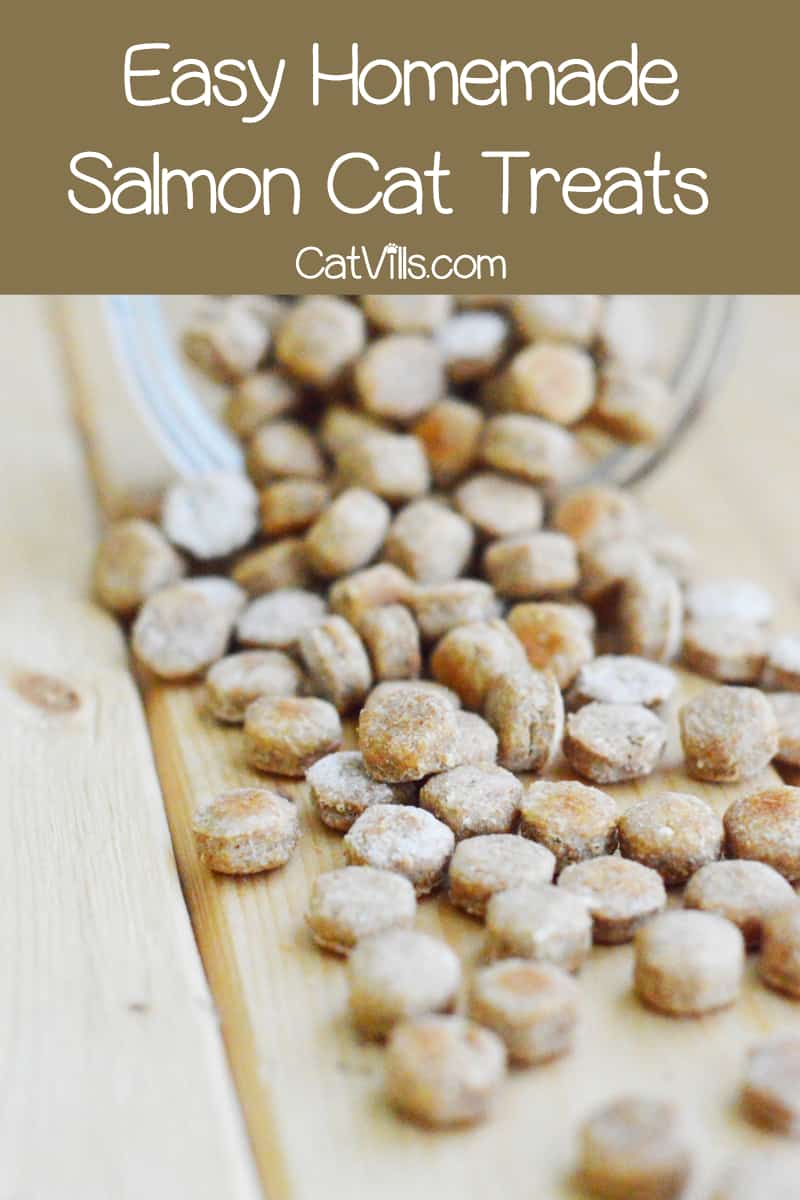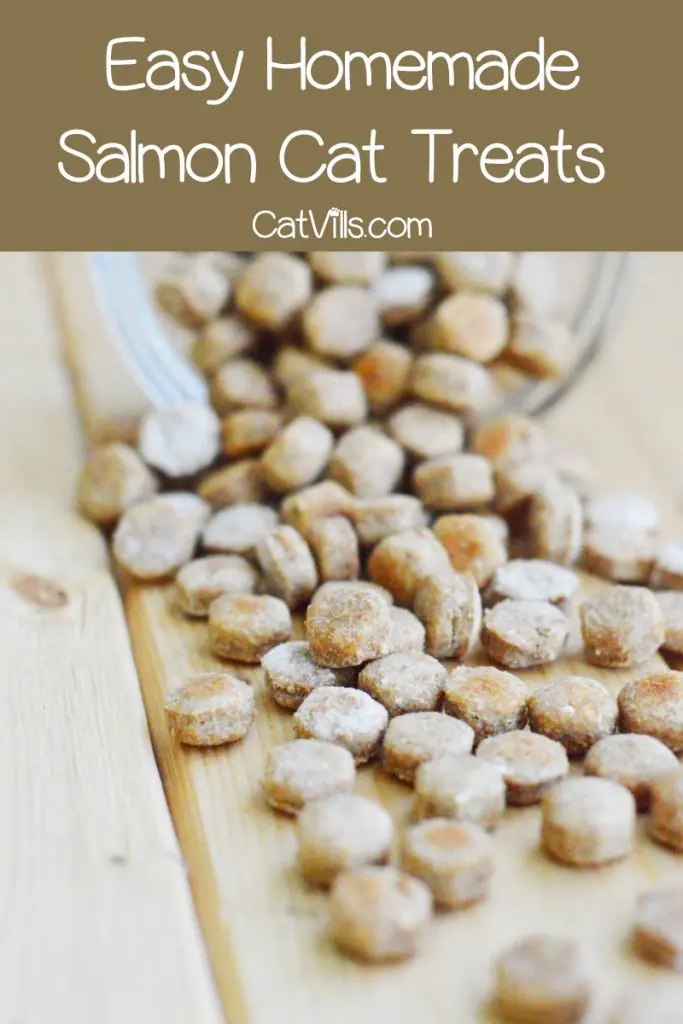 Ingredients:
Directions:
In a food processor, add the egg and salmon. Mix until there are no chunks.
In a large bowl, combine all ingredients and mix well.
Switch to using your hands and knead the dough into a ball.
Place dough on floured surface and use a rolling pin to reach about ¼ inch thickness.
Use an oil based cooking spray to coat a cookie sheet.
Cut out treats using a ¾ inch or ½ inch cookie cutter.
Place on sheet and bake at 350 degrees for 15 minutes or until hard.
Allow to cool before giving to your cat.
Cutting your dough into tiny treats is by far the hardest part of the process. Everything else is proverbial cake.
The best part? You can totally alter this recipe to make other types of cat treats. Let's look at a few alternatives for the main ingredients.
READ MORE: Homemade Cat Treats for Sensitive Stomachs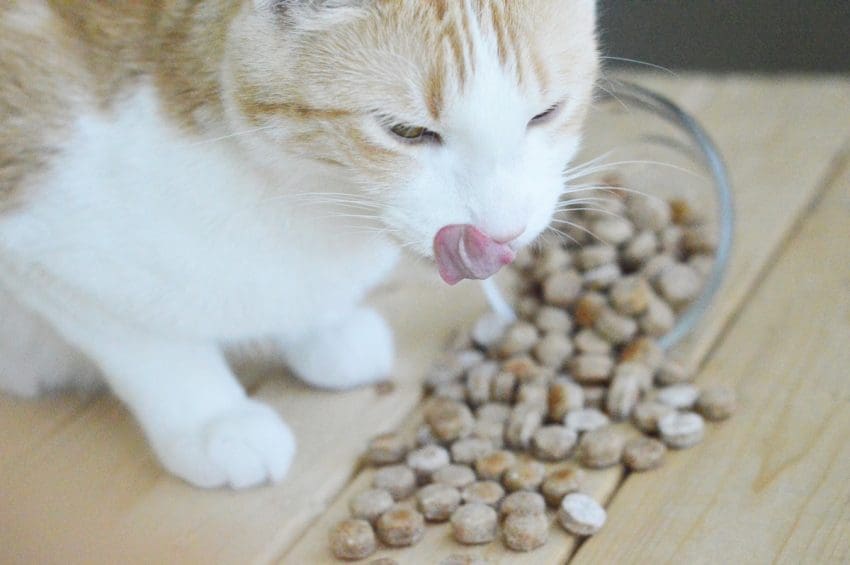 Alternative Ingredients for Your Homemade Cat Treats
Every ingredient in our salmon cat treats recipe can be swapped out for another. Yep, even the water!
Let's break it down by ingredient and check out some other things you can use. All of these alternatives are human foods that are safe for cats.
Salmon Alternatives
If your cat doesn't go nuts for salmon, try using:
Canned chicken (like the kind you use for quickie chicken salad)
Ground turkey
Pumpkin, banana, or even blueberries!
Canned cat food (a great option if you have a cat on a special diet)
Just keep in mind that while the canned tuna, chicken & cat food fairly even swaps, you may need to adjust the water and flour for the other alternatives.
Add a little more of each until you find the perfect ingredient ratio that lets you roll it all up into a ball then flatten it out.
READ MORE: Can Cats Eat Peanuts?
Alternatives for wheat flour
For cats with sensitive stomachs or wheat allergies, you can use oatmeal or coconut flour.
Apparently, there's even such a thing as banana flour (cats can eat bananas). I don't know how easy it is to work with, though.
Egg alternatives
Swapping out the egg is a bit tricky since it's what basically holds the whole shebang together.
Unsweetened apple sauce is pretty much the only real alternative that I can come up with. Honestly, unless the kitty is allergic, you're better off sticking with the egg.
Check: Fancy Feast Advent Calendar Treats for Cats
Alternatives for the water
The water in our recipe really only has one alternative: broth.
If you want to add flavor (or just have cruddy water and/or a lot of leftover broth from your own dinner), go for it. Otherwise, water is easiest.
Really, the only ingredient that I would swap out on occasion is the salmon. That way, I can use the same base recipe to make a bunch of different flavors.
How about you? Would you keep our homemade salmon cat treats recipe as is or swap out some ingredients? Share below!