If your cat keeps destroying your furniture and wreaking havoc, then it may be time to buy them a cat scratching post.
You may have found ways to keep them off the counter in the kitchen, but it doesn't stop them from digging their claws into the couch or the table legs.
Deciding to buy a cat scratching post can help stop this from happening, but before you dive in and buy one, you need to know what to look for.
From experience I know what it is like to buy something expensive and have your cat just walk by it, but that won't be the case anymore.
We're here to help you find the best scratching post for your cat that they definitely won't ignore!
Our Favorite Scratching Posts at a Glance
This post contains affiliate links. If you make a purchase through these links, we earn a small commission at no extra charge to you.
As we go through these tips on finding the best scratching post, you'll notice that we mention some of our top choices.
To make it easier for you, I've gathered them all up here in a handy table! Check it out!

Top Benefit
 Best scratching post tree with heavy base
Best heavy-duty material on a scratching post
 Great multi-level yet space-saving scratching post
Best cradle-style scratching post
When it comes to buying a scratching post for your cat, there is a lot to think about.
Related: The Best large cat scratching post
How to choose the best scratching post
You don't want to buy the most expensive one, only to have your furry feline ignore it and continue to scratch the couch.
Before buying you need to think about the shape, size and material of the scratching post you want to buy.
How will you know which one is best for your cat?
That's why we're here to help with a complete guide that will help you find the perfect match.
Here are the points you need to take into consideration when it comes to choosing a cat scratching post.
Related: Creative Cat Towers
1. Think about the size of the post
Out in the wild, larger cats love to scratch and climb trees, and the taller it is the better.
They love being able to look down at the world, and it also helps them to catch their prey. House cats aren't any different.
When it comes to choosing a scratching post, your cat is going to prefer one that is tall enough to allow them to fully extend.
Check: The Best Tall Cat Scratching Posts
It is important that they stretch their muscles to keep them agile and flexible, just like humans do when we stretch after a workout. If the post is too short, it could be uncomfortable for them.
However, something to also take into account is the stability of the post. The taller it is, the more secure it needs to be.
Cats won't want to climb or scratch on something that is wobbly as it will make them feel unsafe.
What you don't want is the post to fall over when your cat is using it as it could damage them and end in a trip to the vets.
A post with a heavy base will help to keep it in place while your cat is using it, such as the MidWest Feline Nuvo Cat Furniture
scratching post.
MidWest Feline Nuvo Cat Furniture
This sturdy scratching post is extremely durable and has a minimalist style that will suit any household.
Measuring in at a height of 41″ it is great for large cats and is wrapped in hefty sisal rope to out your cats claws to the test.
It has a large base to keep the post from toppling over, which we think is one of its best benefits.
As well as this is is also covered in faux fur to keep your cat comfortable when they lie down.
I don't think there's anything wrong with a little indulgence where our pets are concerned.
Pros
Perfect for multiple cats
Easy assembly
Durable
Easy to clean
Cons
Faux fur base could be ripped easily
Quiet expensive
This extremely tall scratching post is one of the best out there in our opinion and cats seem to love it.
The added height makes it perfect for cats that like to climb, as well as to dig their claws in. I particularly like that the instructions are easy to follow, meaning you can't go wrong!
2. Choose the right material
While soft and plush material is perfect for your cat's bed, the same can't be said for a scratching post.
Cats want something they can dig their claws into, a material that is rough and durable.
After all, their claws are extremely sharp, as we all find out when they're growing up.
Don't choose a scratching post because it looks attractive to you, choose one that will be perfect for your cat.
You want one that is made out of a material that will shred a little and still stand the test of time.
3. Heavy-duty fabric
Sisal rope is a natural material that is perfect for cats to scratch on.
It is heavy-duty, meaning it will last for a while, and shreds just enough that there won't be too much mess to clean up.
However, the one downside to the rope is that it doesn't offer continual scratching.
Their claws have the chance to get caught on the edges of the rope, interrupting the motion of them dragging their claws down the post.
Instead, you can buy a post that has sisal fabric, which lets them have a good grip on the material and still shred it as well.
The Pioneer Pet SmartCat post is a great scratching post made from fibrous, durable sisal that inspires scratching.
Pioneer Pet SmartCat
The Pioneer Pet scratching post is one of the best rated and has a great price attached to it as well.
Your cat will be able to fully stretch on the 32″ tall post that is durable and made from fibrous sisal for them to scratch.
The material has been made to last and also features a sturdy base to eliminate wobbling.
Pros
Assembles easily with 2 screws
Sturdy wooden base
Durable woven sisal
Neutral color to match any decor
Cons
While it has a simple design, it is great for cat's claws due to the fibrous sisal on the post.
With a wooden base there will be less mess to clean up, compared to scratching posts with carpet, which is something that I think many people will enjoy.
SmartCat Ultimate Scratching Post- Beige, Large (32-Inch)
Durable post allows cats to get a full stretch
Made with fibrous, durable sisal that naturally inspires scratching
32 inches high to allow cat to stretch vertically
Assembles easily with 2 included screws.Sturdy base eliminates tipping and wobbling.There is a base with this product it is wrapped with the color box.
Fibrous and durable woven sisal naturally inspires scratching
4. Will carpet be good?
This is often a question people ask themselves as their cats love to knead their claws into soft material, but is it good for scratching posts?
Some cats like a mixture of carpet and rougher material, but sometimes it is too close to the material of furniture you don't want them scratching.
Not only could carpet be confusing for your cat, it also doesn't offer the best surface for digging their claws in.
It also won't shred like rope or sisal fabric, so it isn't very satisfying for them.
5. Different Angles = More Entertainment
Depending on if your cat prefers to scratch vertically or horizontally, there are scratching posts to suit their needs.
Some even feature a mixture of both to add variety for your cat, depending on their movements.
A mixture of posts and pads for scratching with different materials makes it more interesting for your cat, which will encourage them to use it more.
Keep an eye on your cat to see which way they prefer scratching before you make a decision on buying a post.
If they like scratching the sofa, then a vertical post might be best, and if they like shredding the carpet a horizontal one should do the trick.
The worst thing for a cat is boredom because they can get up to all sorts of mischief. The one thing I look for when buying for my cat is something that can entertain them.
You can help to beat boredom by choosing structures that have multiple scratching posts and even some toys thrown into the mix, such as the PetPals Cat Tree
.
PetPals Cat Tree
This cat tree by PetPals not only has three great scratching posts covered in paper rope, it also has a teasing ball for cats to play with and a cradle.
It has a simple design that we love, with felt covering the cradle, perch and large base.
Pros
Perfect for climbing
Stable material with long life
Easy to assemble
Contemporary design
Cons
Only holds cats that weighs less than 12 pounds
Has a height of 25″
This has great entertainment value for one or two cats that they are sure to love.
We think the added benefit of the toy will make a different and don't be surprised if you see them napping in that comfortable cradle.
6. Does it need a perch or a condo?
Why not make the scratching post extra special and choose one that comes with somewhere they can relax as well?
Posts with a comfortable perch allow cats a place to rest, as well as overlooking their domain.
A condo can be even better, allowing for your cat to hide away from the world when they need a bit of peace.
A perch can be a great addition to the structure. It is very similar to how cats in the wild would mark their territory by lounging in a tree to survey the land.
This Molly and Friends Cradle
that has a 27" sisal wrapped scratching post is a great example of how they can relax and dig their claws into it.
Molly and Friends Cradle
This scratching post comes in a range of colors to suit any decor, such as beige, blue, burgundy and green.
Featuring all natural sisal rope that is thick to withstand your cat's claws and high quality carpet, this is a luxurious scratching post.
Pros
Stands tall at 35″
Features a cradle perch
Minimalist design
No assembly required
Made from solid mine
Cons
Only suitable for one cat
Quite Expensive
This is a great scratching post for a family with one cat, with the added height to make them feel like a king or queen.
We love the mixture of materials that are perfect for scratching and relaxing on.
Position the post where it can be seen
There's no point putting the scratching post in a room that your cat doesn't frequent as it won't get used.
Instead, place it near the object or piece of furniture they were shredding before and train them to use the new cat scratching post.
Placing treats or catnip on the new post can entice them to try it out and then once they use it a lot, it can be moved to a better location.
This training technique has worked in the past for my cat, so give it a try next time you want your cat to become interested in a new toy.
If you follow our guide, you will be able to choose the best cat scratching post that is perfect for your beloved pet. If you have any questions, feel free to ask us in the comments!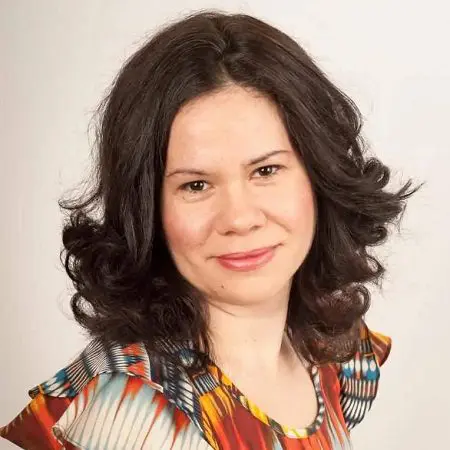 Olfa T
Olfa knows how to get things done and has a keen business sense that others admire. She's always on the go, coming up with new ideas! Her ability to anticipate the needs of her readers and deliver information that they want is what makes CatVills such a success. She loves cuddling her cat Picaciu. He is her inspiration.
Last update on 2023-03-31 / Affiliate links / Images from Amazon Product Advertising API