Are you looking for some hypoallergenic cat wipes to help make your cuddle sessions a little less sneeze-inducing?
You've come to the right place. 
I'm going to discuss everything you need to know about using them for your cat allergies.
We have a lot to go over, so let's dig in!
Our Top Picks
FYI, this post contains affiliate links. If you make a purchase through these links, we earn a small commission at no extra charge to you.
In a rush and need something right away? Check out our top picks on the table below!
Top Benefit
Soothing, gentle surface texture
Guide to Choosing Cat Wipes For Allergies 
Before diving into the best cat wipes for allergies, you'll need a better handle on certain background information.
The following discussions should more than prepare you for what lies ahead during your search.
One quick note, though: everyone is different when it comes to allergies. If yours are moderate to severe, please talk to your doctor about the best way to cope with them.
In other words, this is not medical advice. Got it? Good. Let's get started.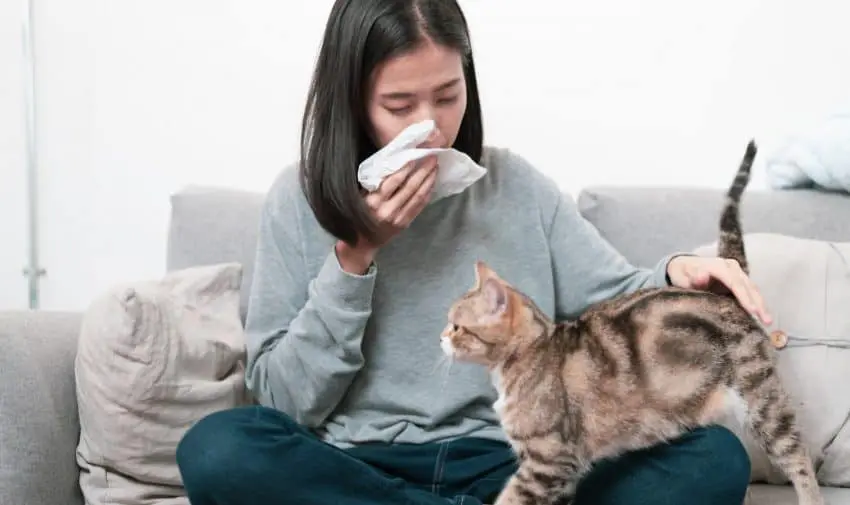 Do cat wipes help with allergies?
High-quality cat wipes can do wonders when it comes to limiting your allergy symptoms.
After all, these products take problematic allergens off the surface of your cat's fur. 
I can't tell you how many cat owners have told me about these wipes' excellent results. 
HOWEVER- and this is a big caveat- wipes alone won't make you "unallergic" to your cat, so to speak.
If you have severe allergic reactions to dander, you'll need far more help than even the best hypoallergenic cat wipes can provide.
So please, don't rush out and get a cat thinking you can just wipe away all of your problems with one.
That said, if you have mild allergies, wipes can help make your cuddle sessions a lot more bearable.
Do dander reducing wipes work?
Dander reducing wipes remove flakey skin and excess hair from your cat.
It allows them to limit a cat's shedding and dander amount by a significant amount. 
As a result, cat owners can expect dander reducing wipes to work well.
These wipes should go a long way towards helping a person who's mildly allergic to pet dander be around the family cat.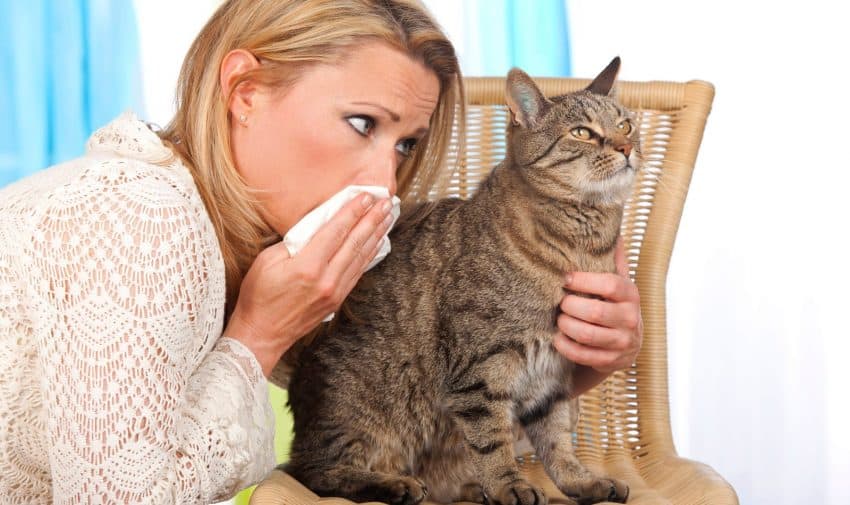 Can I use baby wipes to clean my cat's fur?
A baby wipe's texture won't hurt a cat; neither will the action of wiping them down with it.
But the ingredients inside these products are considered harmful for cats. 
Baby wipes contain harmful chemicals, such as Propylene Glycoland Triclosan.
These chemicals are poisonous to cats, making these products a terrible idea to use when cleaning your pet. 
I also need to note that using a baby wipe on a cat can burn their skin and cause serious health problems when consumed.
For instance, cats will end up ingesting these chemicals during their self-grooming sessions.
It'll then poison them and lead to a dangerous, even life-threatening situation.
You'd be much better off buying an allergy wipe made for pet or cat usage that's free of these hazardous chemicals. 
Let's take a look at my favorite options. Then, keep reading for some more tips on choosing the right allergy wipes for cats.
5 Best Cat Wipes for Allergies
Ready to check out our top picks in more detail? Keep reading!
Pogi's Hypoallergenic Pet Wipes bamboo fiber construction material makes for a soft, comfortable texture. 
Honestly, your cat won't have any complaints about being cleaned by this extraordinary wipe. 
These hypoallergenic cat wipes are more than ready to keep your cat or dog allergen-free and dander-free. 
| Pros | Cons |
| --- | --- |
| Hypoallergenic | Pricey for Wipes |
| Eco-friendly | Flimsy packaging |
| Soft, durable texture | Some complaints about odor |
| Usable on dogs or cats | |
| Effectively reduces dander and allergens s | |
| | |
Final Verdict:
Aside from their hypoallergenic quality and excellent texture, these wipes offer several other incredible features.
You can expect them to provide an easy using process, be eco-friendly, and come in four different quantities. 
But the product's packaging is a bit more flimsy than I'd like for these products. However, you can always find another container for them. 
Sale
Pogi's Dog Grooming Wipes - 100 Dog Wipes for Cleaning and Deodorizing - Plant-Based, Hypoallergenic Pet Wipes for Dogs, Puppy Wipes - Quick Bath Dog Wipes for Paws, Butt, & Body - Fragrance Free
Conditioning Ingredients - Aloe Vera, Vitamin E, and Hawaiian Awapuhi help clean, freshen and condition while giving the coat a healthy shine. Perfect for wiping away odor, dirt, and dander from paws, bodies, and bums in between baths.
Large Pet Wipes (8 x 9 inches) - Our textured dog grooming wipes are made big enough for even the largest dogs, and thick enough for the heaviest coats. Perfectly sized puppy wipes and kitten/cat wipes.
Versatile - When normal baths are not an option, pet parents love using Pogi's dog cleaning wipes for gentle puppy baths, pets under stress, or pets post surgery.
Hypoallergenic Dog Wipes - Completely free of parabens, sulfates, alcohol so they're safe for daily use. They are also gentle enough wipes for use around the eyes, ears, and face.
Super Convenient - Perfect for at home or travel. Use as a quick touch up, as dog wipes for paws and butt after a muddy walk, or when it's too cold for a bath outside.
If you've got an enormous cat like a Maine Coon, Petkin Petwipes could be an absolute godsend. 
Their 7-inch x 11-inch ensure you don't need to use multiple wipes during every cleaning session.
It makes the gentle, soothing product a lot more convenient and long-lasting than a typical cat wipe.
| Pros | Cons |
| --- | --- |
| Extra-large size | Shipping issues |
| Simple to use | Not as thick as expected |
| Vet-approved | |
| Gentle surface texture | |
| Soothes dry or itchy skin | |
| | |
Final Verdict:
Extra-large cat wipes don't get much better than these options from Petkin.
I didn't mention their simple using process, vet-approved design, and usability around your cat's more sensitive areas (eyes, face, and ears).
However, a few customers did mention shipping issues about the package arriving missing some wipes.
One also complained that they weren't as thick as expected.
I don't consider it an overly large concern because most people were completely fine with what they received.
Sale
Petkin Pet Wipes for Dogs and Cats, 200 Wipes - Large Pet Wipes for Dogs and Cats - Cleans Ears, Face, Butt, Body and Eye Area - Convenient, Ideal for Home or Travel - 2 Packs of 100 Wipes
Petkin Pet Wipes For Dogs and Cats - These large grooming wipes are a fast, convenient way to freshen up your pet every day. Easily remove daily dirt and odor with a quick wipe down. Includes 2 packs of 100 wipes (200 wipes total).
Gentle For Your Furry Friend - These refreshing dog wipes are extra gentle and ideal for daily use around your pet's eyes, ears, face, body and butt. Won't remove spot flea treatments. Perfect for your puppy, kitten and even pet pig! Lightly scented, vanilla and coconut.
Use Less Wipes - The 7 x 11 inch wipes are larger than standard wipes, making them the smart choice for large pets and helps reduce how many wipes you need to use. Moistened with a gentle cleaning formula, and enriched with a soothing organic oat extract to keep your pet's coat soft, shiny and smelling great.
Super Convenient, Goodbye Shampoo - Petkins are perfect for quick touch ups between baths. Use as dog paw wipes after a muddy walk, or when it's too cold for a bath outside. A great solution for older pets that are difficult to bathe.
Easy To Use - Open the lid and remove seal. Pull a wet dog wipe out. Close lid tightly. Gently wipe entire pet until clean. No water or rinsing is required. Use daily or as needed.
The Allerpet Cat Dander Remover placement on this list is slightly cheating as it's not a true cat wipe. 
But its application mitt and formula using method were too productive and convenient to overlook.
You'd have a hard time finding a more effective product against dander and allergens available. 
| Pros | Cons |
| --- | --- |
| Free of any toxic materials | Must use every 3-4 days |
| Easy use/included application mitt | Some cats are sensitive to it |
| Vet-approved | NOT for young kittens under 10 weeks |
| Fragrance-free | |
| Works for most types of pet allergy  | |
| | |
Final Verdict:
This non-toxic formula and mitt are a hard combo for other flea wipes for cats to beat. It doesn't hurt that this product has known to be useful with dogs, either.
But it does require users to reapply it every 3 or 4 days. This issue could make the product slightly less appealing to lazy people who hate pet maintenance tasks like me.
Allerpet Cat Dander Remover w/Free Applicator Mitt - Effective Cat Allergy Relief - Anti Allergen Solution Made in USA - (12oz)
Eliminate or Significantly Reduce Cat Allergy Symptoms - Around 10% of the US suffers from a pet allergy, and cats are the most common offender (2x more common than dogs!). While most people blame shedding fur, allergies are really tied to proteins in dander, urine, and saliva. Allerpet effectively binds & removes proteins to significantly reduce or even completely eliminate allergen symptoms. It's easy, 100% safe, and most importantly, it works!
It's Good for Them! 100% Safe & Non-Toxic - Allerpet is not only a fantastic pet dander remover & allergy relief provider, it's also great for your cat! The non-toxic, non-oily, fragrance-free solution is full of powerful, vitamin-rich ingredients that will leave both skin & fur feeling soft and conditioned. Ingredients include Green Tea, Chamomile, and Rosemary. Allerpet cat allergy relief uses no preservatives or harsh chemicals and never expires.
Veterinarian & Allergist Recommended - University studies have shown that cat dander loads in homes were reduced by 50% with weekly use of Allerpet. The solution is widely recognized & recommended by vets and allergists nationwide as an effective formula for greatly reducing or eliminating cat allergies in the home. Experts recommend using Allerpet on your pet once a week. For more severe allergies or high dander-producing breeds, use Allerpet every 3-4 days.
Ever Tried to Bathe Your Cat? Yikes! - While pet bathing is necessary sometimes, washing a cat each week to keep allergy symptoms at bay can be pretty daunting. Thankfully, Allerpet is not a cat shampoo! To apply, simply dab or spray a generous amount of solution on the applicator mitt, and get to work rubbing the formula into your cat's fur. For best results, pay special attention to the areas around the genitals where urine tends to collect and dry on the hair. No rinsing required.
Easy Application with Mitt & Sprayer Options - Customers love how simple it is to apply Allerpet with our pet mitt & sprayer. The mitt allows for a stress-free experience for your cat, with the Allerpet application feeling similar to a good back rub. The sprayer is an additional option you can choose that reduces spills & mess, and allows for one-hand use while holding your cat. *Please do not spray the solution directly on your cat. Spray onto the application mitt first.
If your cat has sensitive skin, TropiClean's OxyMed Soothing Relief Wipes should be on your consideration list. 
These cat wipes are known for their gentle and soothing touch while successfully reducing allergens. 
I have no problem saying that these products are winning ones for both you and your cat. 
| Pros | Cons |
| --- | --- |
| Relieve itching from allergies, hot spots, and dandruff | Expensive for only 50 wipes |
| Secure packaging container | Package says Made in China |
| Provides a shiny coat  | |
| Soothing, gentle surface texture | |
| Effective to recuperate sensitive skin | |
| | |
Final Verdict:
Overall, these wipes would be perfect for my cat with sensitive skin due to their soothing, gentle feel.
I also found myself loving its ability to stop itching in hot spot areas.
The product was a little more costly than expected for only 50 wipes, though.
Also, some customers stated that while the listing says "made in USA," the package actually says "Made in China"
Still, 70% of customers gave it a 5-star rating!
TropiClean Oxymed Soothing Allover Cat & Dog Wipes For Paws And Butt, Anti Itch Relief For Dogs & Cats 50 Count
SOOTHING RELIEF - Our cat & dog cleaning wipes assist in relieving itchy irritated skin, and aid in hot spot treatment for dogs and cats.
DEFEND & RESTOR - Made with nourishing ingredients like chamomile, aloe, and oatmeal to ensure every use of our pet wipes leave your pet clean and moisturized.
MINDFULLY MADE - Made in the USA & vet recommended, our cat & dog anti itch wipes are made with gentle ingredients for results without the harsh chemicals.
RELIEF MADE EASY - Our dog and cat wipes are perfect for on the go, whether you're hiking or on a trip relief is never far.
OXYMED - For max relief use with Oxymed solutions such as our anti itch sprays, gentle ear wash, paw pad lotion, and our medicated shampoo & conditioner.
Furbliss Hygienic Pet Wipes offer almost everything a cat owner could be looking for in a pet wipe. 
These products are hypoallergenic, unscented, contain all-natural ingredients, and don't tear easily. 
I don't see any reason to believe that they won't successfully remove dander or allergens from your cat.
| Pros | Cons |
| --- | --- |
| Hypoallergenic and unscented | Could be a little softer |
| All-natural ingredients | On the dry side |
| Durable design with tear-resistant abilities | |
| Affordable price | |
| Useful against those tougher odors | |
| | |
Final Verdict:
I was a little amazed by their affordable price tag, considering all these appealing features. There's nothing about these wipes that screams subpar quality by any means. 
The only slight issue is some customers felt these wipes could've been a little softer and moister.
It's only a small problem, but it might cause some trouble for cats with extremely sensitive skin. 
Furbliss Hygienic Pet Wipes for Dogs & Cats, Cleansing Grooming & Deodorizing Hypoallergenic Thick Wipes with All Natural Deoplex Deodorizer by Vetnique Labs (Unscented, 100ct Pouch)
ALCOHOL FREE - Hypoallergenic, unscented and free of parabens, alcohol, and harsh chemicals, safe for a dog or cat, great addition to your pet grooming routine
CLEANSING WIPES - With aloe vera, vitamin E, natural deodorizers, and skin conditioners. Great for travel or everyday use
ELIMINATE ODORS - Gentle on sensitive areas yet eliminates tough odors, great for that stinky and dirty dog or cat
DURABLE DOG & CAT WIPES- Thick, soft, & gentle premium cloth wet wipes are better than using baby wipes because Furbliss Pet Wipes are designed with dogs and cats in mind
FURBLISS GROOMING - Multi-purpose use all over body including paws, face, ears, belly, & rear end. Use for daily hygiene as a bathing wipe to keep your clean & smelling their best!
Now that we've talked about my top picks, I want to give you some more tips on what to look for in general.
What to Look for in Cat Wipes for Allergies
As with most products, cat wipes have some features worth considering before making a final decision.
I'll discuss a few of them below to ensure you know what's important when starting your search. 
Construction Material
Cat wipes are made from several different materials, but it'd be wise to find ones consisting of something soft and durable.
I know, it seems somewhat counterproductive as these two qualities often contradict each other.
However, you'll often come across options made from materials like hemp or bamboo fibers.
These materials are known for being offering a rugged toughness while remaining comfortable to the touch. 
I'd also suggest staying alert for wipes specifically advertised as natural cat wipes.
You can expect these options to be made entirely from naturally occurring items rather than unwanted chemicals.  
Cat's Size
In most cases, a regular house cat weighing between 6 and 14 pounds should be fine with most wipes available. There won't be any need to pick up an extra-large option. 
But a cat's size can play a larger role than most owners initially realize.
For instance, Maine Coon owners will need an extra large-sized set of wipes to help keep their cat's dander down to a minimum.
These extra-large sized wipes will help you refrain from having to use multiple during the cleaning process.
It's an effective way to ensure you don't run out of wipes much faster than expected.
Product Durability
Most cat wipe manufacturers will design their products to be relatively durable.
But it's still important to research this factor before putting any money down. 
After all, there's no worse than cleaning your cat with a wipe, and it ends up tearing immediately.
It defeats the entire purpose of buying these products in the first place. 
I'd recommend reading each option's customer reviews to prevent this situation from happening.
These discussions should provide a great deal of insight into every wipe's overall strength. 
Packaging
Cat wipes will come in various containers or packages.
I'd advise finding one with a reliable, secure seal to ensure these wipes don't dry out when not in use. 
Plastic cylindrical containers seem to be the best at keeping cat wipes fresh.
But other packaging types will work effectively, too, as long as they provide a snug seal.
In other words, the main concern is making sure airflow isn't allowed into the packaging.
Cat wipes containers capable of providing this ability will offer more longevity and usefulness with each usage. 
Some packaging features to stay away from would be soft and flexible.
Neither of these two qualities will do any good at keeping your cat wipes from losing their integrity. Containers with these aspects will likely allow the wipes to dry out in a few weeks.
Hypoallergenic 
As cat owners looking for wipes to deal with allergies, you should limit the search to hypoallergenic options.
These choices will consist of unique materials that are least likely to cause an allergic reaction in both you and your cat. 
Finding them won't be overly burdensome, either. Most manufactures will use them being hypoallergenic as a significant selling point in the product's ad. 
Additives
Cat owners must take a close look at the additives put into each cat wipe option, as well.
The main issue is scents or fragrances added to these wipes for a better smelling product. 
Some of these scents can make a cat quite uncomfortable and trigger your allergies.
I'd suggest staying with unscented, hypoallergenic wipes to avoid these scenarios altogether.  
Price
The cost of cat wipes will vary drastically from product to product. I'd advise buyers to build a budget based on what they deem essential in these products. 
For instance, people looking to purchase extra-large cat wipes will spend more than most cat owners.
Their budget should reflect this increase within their budgetary range. 
It's the only way to keep this resource realistic and useful. You can use then it to lessen your number of choices by a significant margin. 
This lessening of choices will end up making the entire process a much simpler task. Finding your perfect cat wipes for allergies will become a walk in the park. 
FINAL RECOMMENDATION
Our of all the hypoallergenic cat wipes above, Allerpet Cat Dander Remover is my favorite.
This vet-approved product does the trick when it comes to allergy problems for both cats and their owners. 
Have you tried hypoallergenic cat wipes? Did they help with your dander allergies? Share below.
Ben Robers
My name is Ben Roberts, and I absolutely love animals. So, naturally, I love writing about them too! As far as my animals, I have a Pit-bull, a Beagle-lab mix, a Chihuahua, and one old cat. Each one of them provides me with a new adventure every day. And the best part is they're all best friends. Well, except the cat when he gets a little annoyed. Learn more about Benhere
FIND HIM ON: FACEBOOK AND TWITTER.
Read his latest ARTICLES
Last update on 2022-11-15 / Affiliate links / Images from Amazon Product Advertising API