If you're wondering, "is cat insurance worth it?" then you're in the right place.
Today, we're going to cover pretty much everything you could want to know about pet health insurance for cats.
Find out how much it costs, what it covers, and whether the benefits outweigh the price.
I'll even give you my quotes from the top three pet insurance companies!
Let's get started, shall we?
CHECK Every Paw Pet Insurance Reviews!
What Exactly is Cat Insurance?
Before we answer the question of "is cat insurance worth it," I think we need to talk a bit about exactly what it is.
The obvious answer is, of course, that it's health insurance for your cat.
However, the obvious answer isn't always the most accurate.
Let's go over what the majority of pet insurance companies cover, then we'll talk about what they don't.
Keep in mind, though, that different companies cover different things depending on which plan you choose.

What does cat insurance cover?
Accidents and acute illnesses (like a kitty cold)
Congenital issues (health problems that your kitty was born with)
Chronic conditions that begin after enrolling
Cancer
Surgery
Some diagnostic testing
Alternative therapy (only a few companies cover this)
Prescription medications
What cat insurance doesn't cover
Wellness exams and routine checkups (there are a couple of exceptions)
Preexisting conditions. Check our guide about cat insurance that covers pre existing conditions.
Cosmetic procedures (having a scar removed simply for aesthetic reasons, for example)
Breeding or pregnancy
DNA testing
Like I said, coverage depends on the company and the plan. Embrace, for example, has a plan that does cover wellness visits.
Now that we have a general idea of what cat insurance does and doesn't cover, let's talk about whether it's really worth it in the long run.
To determine if cat insurance is worth it, we have to look at a few different factors, including your cat's breed, general health issues, and, of course, your budget.
Since money is almost always the deciding factor, let's start there!
Take a look at the table below to learn a bit about the insurance companies that we'll be investigating.
Top Benefit
Covers a wide range of medical conditions as well as wellness visits
Covers alternative therapies
Editor's Choice
Top Benefit
Covers a wide range of medical conditions as well as wellness visits
Top Benefit
Covers alternative therapies
How Much Does it Cost to Insure a Cat?
I wish I could tell you that it will cost exactly X dollars to insure your cat, but it's not that simple.
Like all insurances, how much you'll pay depends on a slew of factors ranging from your cat's health to your credit score.
You'll need to get a quote from each company for an accurate cost, but to give you some examples, I did my own quotes from the top three companies.
For reference sake, I used my cat, Alex. He's a 3-year-old neutered domestic long-haired male cat.
At Embrace, I can expect to pay about $24 a month with a $200 annual deductible and 90% reimbursement rate.
My Embrace plan covers pretty much everything (including alternative therapies) except preexisting conditions.
My Trupanion quote based on the same criteria and deductible comes out to just over $43 a month.
Alternative therapies are not part of the basic Trupanion plan. I would need to pay an additional $4+ to add it on.
However, Trupanion does have one big advantage: they pay directly to the vet.
If you don't have the money to pay upfront and wait for reimbursement, this can be a major plus.
►►Get a FREE quote from Trupanion for more details.
Again, I used the same criteria and cat to get my Healthy Paws quote.
With a $250 deductible (they didn't offer a $200 one) and 80% reimbursement, it comes out to $13.78 per month.
If I change it to a 90% reimbursement rate, it goes up to about $17 a month.
The plan covers just about everything except wellness visits and preexisting conditions.
►►Get a FREE quote from Healthy Paws for more details.
While Healthy Paws is definitely the winner for me, your situation might be entirely different.
The only way to find out how much cat insurance costs is to get your own quote.
Do Pet Insurance Benefits Outweigh the Cost?
The next thing we need to do to determine if cat insurance is worth it is to take a look at how the benefits compare to the cost.
Let's look at the average cost of some of the things that cat insurance covers.
Remember, these are average costs and can vary significantly from vet to vet.
| | |
| --- | --- |
| Reason for Visit | Average Cost |
| Yearly Exam | $50 (not covered) |
| Cancer Diagnostic Tests | $500-800 |
| Radiation Treatment | $1K-4K |
| Sprains and bone injuries | $200 |
| Emergency Visits | $300+ |
For emergency visits, you can expect to pay $150+ just to walk through the door and see a doctor.
Now, I'll be honest here, I've had 9 cats over a 23-year period, and I've never spent more than $500 a year on health issues, and that's with multiple cats.
My cat Willow does have constipation issues. I've spent maybe $300 a year on her before we got it under control.

How to determine if cat insurance is worth it
There's probably some super economic formula for deciding whether cat insurance is worth it, but it really comes down to two things:
How much you can afford to pay each month for insurance
How much you can afford to pay if the worst case scenario happens
Now, I have three cats and a dog. I could easily afford insurance for Alex through Healthy Paws.
However, I can't really afford to quadruple the monthly fee for all four pets.
The problem, of course, is that if I can't afford $60+ a month for insurance, I definitely can't swing thousands of dollars for cancer treatments.
So, it comes down to how much risk I'm willing to take. None of my cats are breeds that are particularly susceptible to cancer, so I'll take the risk.
On the other hand, if I had a cat that was at a higher risk, I wouldn't be so cavalier about it.
Indoor vs. Outdoor Cats
Another common question that comes up is: is pet insurance worth it for an indoor cat.
All of the above information is actually based on indoor cats!
The better question would be: is it worth it for outdoor cats.
To that, I have to say yes, it's actually even more worth it, since your outdoor cat is at a significantly higher risk for injury and illness.
Bottom Line: Is it Worth It or Not?
I can't tell you yes or no on whether cat insurance is worth it. That's something only you can decide!
Personally, it would be worth it to me if I had just one pet. However, to cover four pets, would end up costing more per year than I would actually save.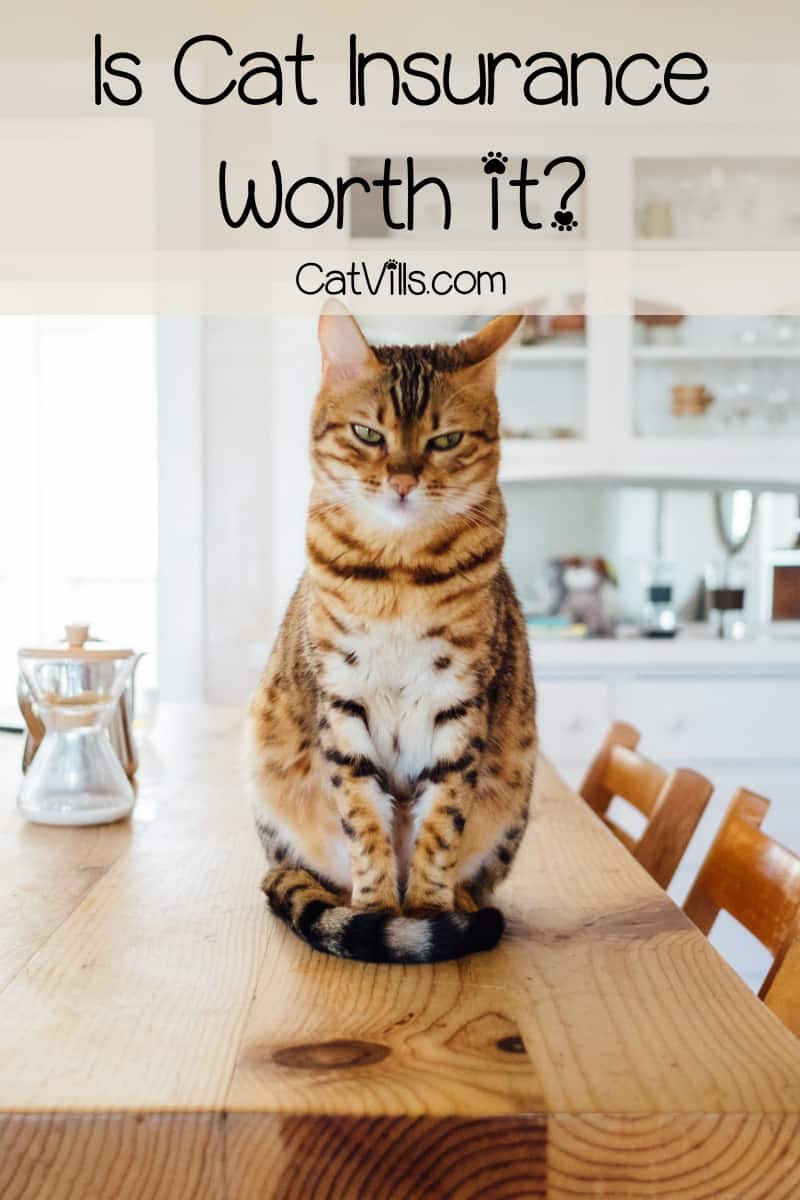 What are your thoughts? Is cat insurance worth it? Tell us below!
Last update on 2023-06-09 / Affiliate links / Images from Amazon Product Advertising API