Looking for a few brilliant literary names for cats?
You're going to love this list with more than 225 ideas!
Whether you want to name your cat after a classic author or plan to borrow one of their character's names, we've got you covered.
Related: 100 nerdy cat names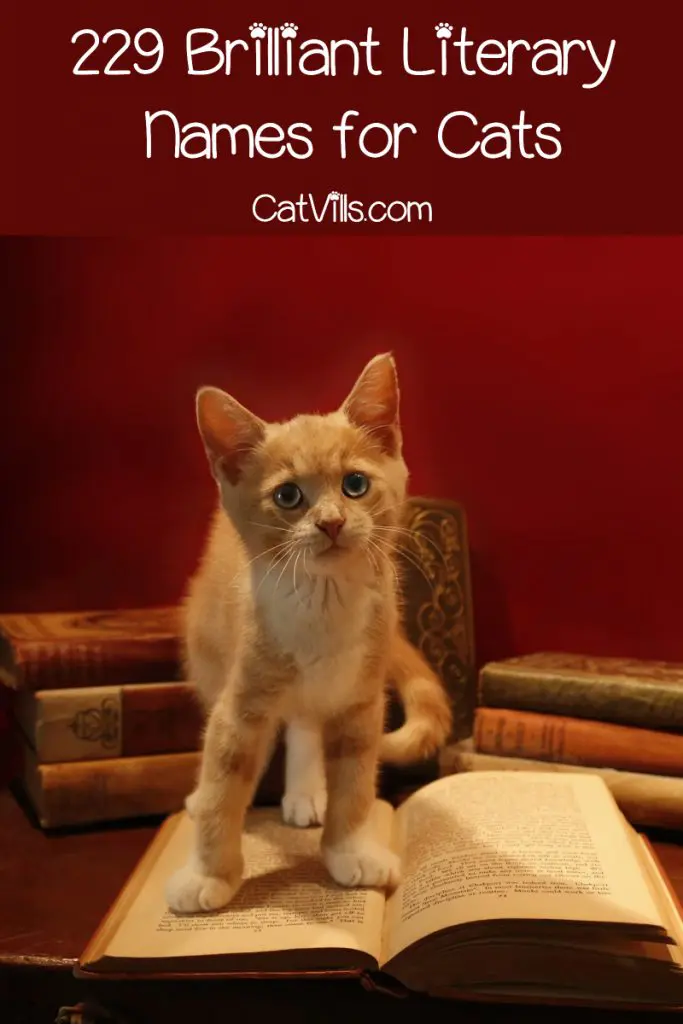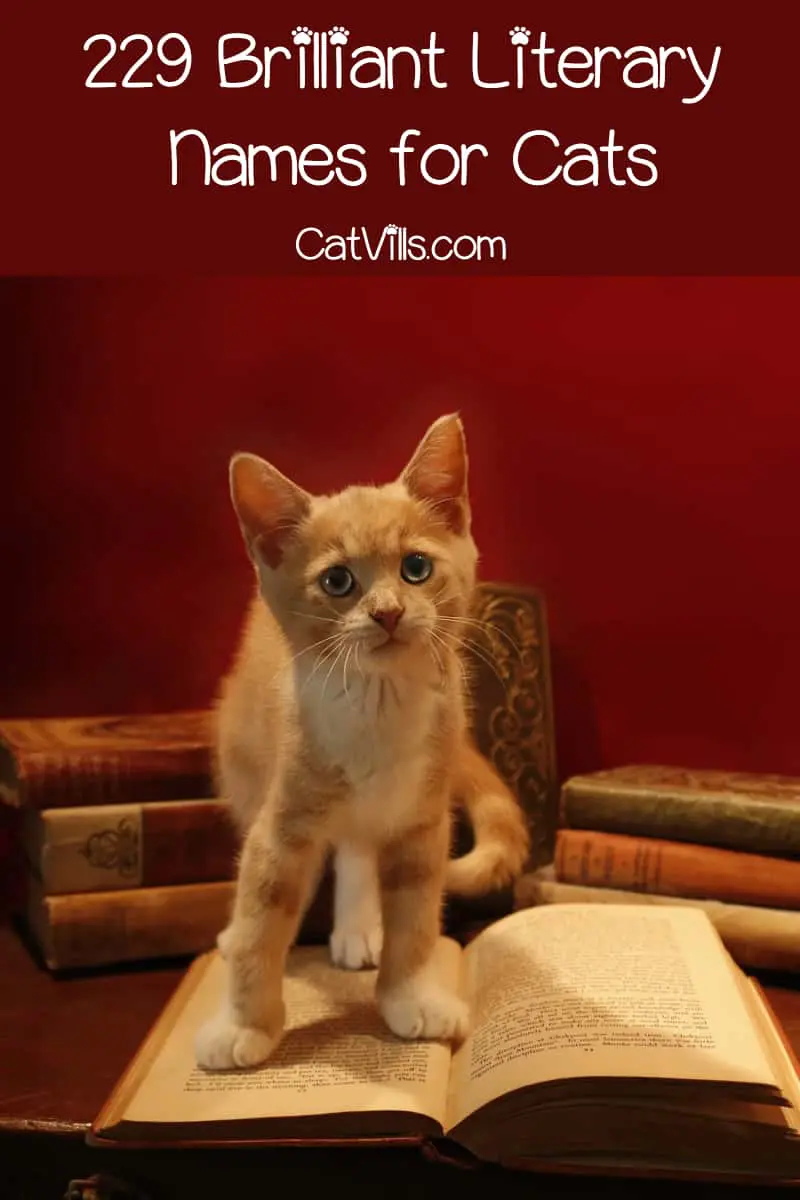 Literary Names for Cats
Literary cat names are usually based on authors, characters, or book titles. We've covered all those bases and more below.
We've even added in some famous mythological cat names! Grab a cup of coffee and let's get started!
You Will like these black cat names based on Disney characters!
Literary Cat Names- Male
Dickens
Doyle
Faulkner
Fitzgerald
Hemingway
Jules
Kerouac
Legend
Lewis
Limerick
Orwell
Poe
R.L. Stine
Roald
Salinger
Seuss
Shakespeare
Steinbeck
Tolkien
Twain
Victor
[embedpost postid="6514″]
Literary Cat Names- Female
Agatha
Alice
Austen
Beatrix
Blume
Charlotte
Cleary
Enid
Harper
Louisa
Lyric
Margaret
Novella
Rowling
Stephenie
Virginia
Related: 175 Clever & Punny Cat Names
Fictional Cat Names- Male
Admetus
Albus
Alonzo
Aragorn
Aslan
Bagheera
Baloo
Bartleby
Behemoth
Carbonel
Carlisle
Cheshire Cat
Clovis
Crookshanks
Dobby
Eeyore
Elrond
Emmett
Frodo
Gandalf
Gimli
Gollum
Hagrid
Jasper
Legolas
Macavity
Mad Hatter
Mogget
Mowgli
Mr. Darcy
Peeta
Peter Pan
Piglet
Rum Tum Tuggers
Rumpus Cat
Skimbleshanks
Snape
Tao
Thumper
Tumnus
Tybalt
You will love these 50 nerdy cat names
Fictional Cat Names- Female
Ariadne
Arwen
Bambi
Beezus
Bella
Bombalurina
Bungle
Buttercup
Catarina
Cordelia
Cressida
Dinah
Elinor
Esme
Estella
Eureka
Galadriel
Ginger
Grizabella
Harriet
Jemima
Josephine
Katniss
Kirjava
Kitsa
Lady May
Lisbeth
Mable
Miss Havisham
Miss Marple
Miss Moppet
Mittens
Mrs. Norris
Ophelia
Pearl
Pippi
Ramona
Ribby
Rosalie
Rue
Sagwa
Tabitha
Tiger Lily
Tinker Bell
Famous Cat Names in History- Male
Aristotle
Atticus
Ebenezer
Finn
Garfield
Gatsby
Gulliver
Hamlet
Heathcliff
Hobbes
Huckleberry
Ichabod
Moby
Othello
Pip
Puck
Robinson
Romeo
Sawyer
Sherlock
Related: Greek God names for cats
Famous Cat Names in History- Female
Alberline
Arya
Dahlia
Daisy
Estrella
Fable
Jane
Juliet
Macbeth
Matilda
Poppins
Raven
Scarlett
Scout
Zelda
Famous Cats in Mythology
Looking for famous cats in mythology?
Well, these characters aren't all specifically of the feline nature but they do make perfect names for your cat!
I've noted the names that are specifically famous cats in mythology.
Famous Mythology Cat Names- Male
Achilles
Adonis
Apollo
Ares
Aries
Asterion
Atlas
Bakeneko (Japanese mythological cat)
Dawon (Hindu mythological tiger)
Hades
Helios
Hercules
Hermes
Hyperion
Jupiter
Kronos
Loki
Mars
Mercury
Morpheus
Neptune
Oedipus
Perseus
Poseidon
Prometheus
Saturn
Thanatos
Theseus
Titan
Vulcan
Zeus
Famous Mythology Cat Names- Female
Aphrodite
Artemis
Athena
Bastet (Egyptian Cat Goddess)
Callisto
Calypso
Ceres
Daphne
Demeter
Flora
Fortunia
Freya
Gaia
Harmonia
Hera
Hestia
Iris
Isadora
Juno
Maia
Nekomata (mythological shape-shifting cat from Japan)
Nyx
Pandora
Rhea
Selene
Siren
Thalia
Theia
Themis
Venus
Vesta
Deanna C
Deanna is a passionate cat lover and freelance writer. She lives with her Chi dog and a ragdoll cat. When she's not writing, Deanna loves listening to country music or watching Dancing With The Stars.
Read her : Latest Articles
FIND HER ON: FACEBOOK and LINKEDIN
Learn more about her ABOUT