Are you struggling to choose a self-cleaning cat litter box and want to compare Litter-Robot vs Petsafe vs CatGenie?
Then I've got you covered with my extensive comparison guide!
So, keep reading to find the difference between Litter-Robot, Petsafe ScoopFree, and CatGenuie.
This post contains affiliate links. We earn a commission if you make a purchase at no extra cost to you.
Litter-Robot vs PetSafe ScoopFree vs CatGenie What's The Difference?
A self-cleaning litter box can be the ideal solution when you're too busy to scoop the toilet box, or you want to reduce tracking around the house.
However, choosing the best self-cleaning cat litter box is a challenge.
As cat behaviorists explain, "It is almost always a process to get a cat used to an automatic litter box." (1) But picking the right automatic toilet box to suit your cat's preferences can make all the difference.
So, what's the best self-cleaning cat toilet box between Litter-Robot, Petsafe ScoopFree, and CatGenie? Let's find out! And don't forget to check our comparison table!
| | | | |
| --- | --- | --- | --- |
| | Litter-Robot | PetSafe ScoopFree | CatGenie |
| Dimension | 29.5″ x 24.25″ x 27 | 27-5/8″ x 19-1/8″ x 6-3/8″ | 19.25″ x 24.5″ x 21″ |
| Type of Litter | Hard-clumping Clay Litter | Crystal Cat Litter | CatGenie's Washable Granule |
| Litter Usage /per single cat/ | 20 pounds per month | 1-2 disposable litter trays per month | One box last 5-6 months for a single cat |
| Mechanism | Rotating globe | Automatic rake | Flushing |
| Cleaning Cycle | 3, 7, or 15 minutes | Standard 20-minute delay timer 5, 10, or 20 minutes (Ultra version) | Automatic, manual, time activated, delayed |
| Features | Adjustable cycle An 8-hour sleep mode Blue night light Control Lock Panel Smart control and monthly analysis | ScoopFree Ultra has a health counter ScoopFree Smart App | CatGenie A.L app for smart control Adjust settings automatically based on toilet box usage |
| Assembly | Easy | Easy | A bit complicated |
| Supplies | No special accessories need | Replacement trays | SaniSolution cartilage |
| Number of Cats | up to 4 | 1-2 | up to 2 |
| Odor Control | Excellent | Good | Excellent |
| Maintenence | Empty waste drawer once a week | Change the disposable tray every couple of weeks | No scooping, self-flushing system |
| Tracking | Low | Average | Average |
| Additional Accessories | A ramp A fence OdorTrap Pod Waste drawer liners | A privacy hood | CatGenie Dome & Sidewalls |
| Warranty | 90-day-in-home-trial 1-year warranty (3-year extended if you pay extra) | 45-day-money-back guarantee 1-year limited warranty | 90-day-money back guarantee 2-year warranty |
| Lowest Price | $499 | $169.99 | $439 |
Now let's get into some important details of each option.
#1 Size and Weight
In terms of size, Litter-Robot III has the largest footprint, measuring 29.5″ x 24.25″ x 27″ with a weight of 24 pounds.
It has a large, globe-like shape with a raised entryway and is suitable for cats at least 5 pounds in weight.
CatGenuie measures 19.25″ x 24.5″ x 21″ and it looks like a miniature cat toilet, while ScoopFree is 27-5/8″ x 19-1/8″ x 6-3/8″ with a rectangular shape, resembling a traditional toilet box.
But the CatGenie is a bit heavier – 25 pounds – and you can't move it around once installed. ScoopFree is relatively light with a weight of 22 pounds, and it resembles a traditional litter box.
Box size can have an effect on some cats' toileting habits.
DVM 360 states that after they did a simple, quick study it found the "trend was that the cats preferred the large boxes to the medium and small boxes based on the number of deposits and total weight of excrement." (3)
#2 Type of Litter and Litter Usage
The first major difference between these three automatic cat litter boxes is the type of litter they use:
Litter-Robot III works with clumping litter as long as it forms hard clumps. It requires around 20 pounds of litter per month for a single cat.
PetSafe ScoopFree uses crystal litter with one disposable tray pre-filled with PetSafe cat litter lasting 20 – 30 days for a single cat.
CatGenie works with washable granules, and you can't use any other types of the litter because you risk clogging your pipes. One box lasts about 3 – 5 months, depending on the cat's bathroom habits.
So, comparing PetSafe ScoopFree vs Litter-Robot vs CatGenie, the Litter-Robot has the upper hand since it doesn't require any special litter.
Moreover, crystals and washable granules are more expensive than clumping clay, so these types of litter cost more per month.
#3 How They Work
These three automatic litter boxes have different cleaning mechanisms to ensure your cat has a fresh litter and doesn't get hurt when using the box:
PetSafe ScoopFree uses automatic rakes that move along the disposable litter bed and push the clumps and waste into a covered waste trap. The metal rake then returns to its original position.
Check this video to see how PetSafe ScoopFree works in action.
Litter-Robot features a rotating mechanism that rotates the globe to sift your cat's solid waste into a discreet waste receptacle with a carbon filter.
Check this video to see how Litter-Robot works.
CatGenie's unique cleaning cycle drains liquid waste and scoops solid waste. Afterward, it liquefies all waste and flushes it down your drain.
So, comparing Litter-Robot vs PetSafe vs CatGenie, the Genie is a clear winner because you never have to touch the dirty litter.
Moreover, it's the only automatic cat litter box that washes after each use, providing a clean litter box for your cat for each bathroom visit.
Check here to see CatGenie in action.
#4 Cleaning Cycle
Let's compare how the cycling cycle works in each of these automatic, self-cleaning litter boxes.
The PetSafe ScoopFree Original activates the rakes 20 minutes after your cat exits the toilet. However, ScoopFree Ultra has an adjustable rake timer that you can set for 5, 10, or 20 minutes.
Litter-Robot III Open Air and Litter-Robot 3 Connect have an adjustable cycle timer you can set at 3, 7, or 15 minutes. You can also start a manual cycle.
CatGenie A.L offers several clean modes – cat activated, manual, time activated, and delayed start. But the cleaning and drying take up to 40 minutes, and it's very loud!
#5 Features
Litter-Robot 3 Connect allows you to remotely control your automatic toilet box through the Litter-Robot Connect App and gives cat owners a monthly analysis of their cat litter box usage.
Moreover, all Litter-Robot models feature an automatic night light, 8-hour sleep mode, control panel lockout, and drawer full indication.
PetSafe ScoopFree's Ultra version also has a health counter track to alert you for any health issues, while PetSafe ScoopFree Smart has an app to remind you when to change the tray or order new ones.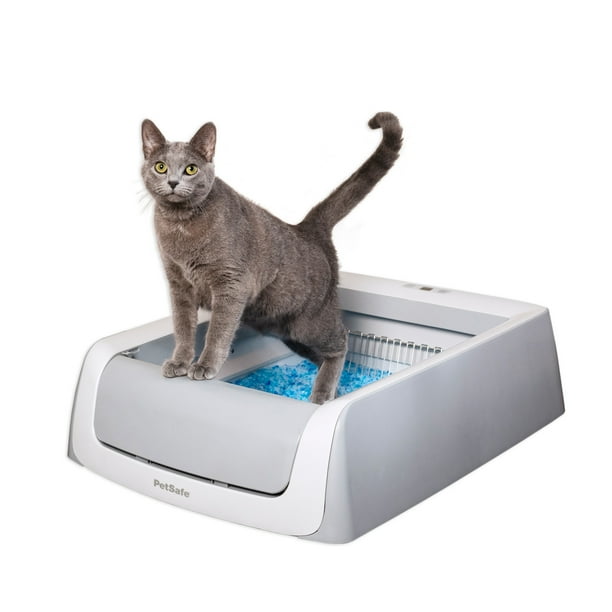 CatGenie lacks a bit in additional features, but CatGenie A.L is Wi-Fi enabled, so you can monitor your furry friend's bathroom behaviors through the CatGenie app.
The application also gives you recommendations based on your cat's bathroom usage and can adjust the setting for maximum performance. And you can order supplies with one click.
So, all three automatic litter boxes offer plenty of benefits for multi-cat households and have excellent smart features.
Don't forget to check our complete automatic litter box reviews.
#6 Installation/Assembly
As you can see from this video, Litter-Robot takes 10 – 15 minutes to assemble, the process is straightforward, and you just need an electric outlet to plug the box.
PetSafe ScoopFree is easy to assemble, and you don't need any special tools to put it together. As you can see from this video, you need less than 5 minutes to set up the box.
However, you need to connect your CatGenie to the cold water from the washing machine, sink, or toilet.
While the manufacturer provides detailed instructions, such as this video, it's difficult compared to the others.
#7 Supplies
Comparing Litter-Robot vs PetSafe, Litter-Robot offers you a better deal because you don't need any branded supplies. Instead, you can use line the waste receptacle with kitchen garbage bags.
However, PetSafe uses disposable litter trays. So, you either need to purchase a litter tray every month or pay extra for the reusable waste tray.
Still, PetSafe supplies cost less than CatGenuie, which requires SaniSolution 120 cartilages and CatGenuie maintenance cartilage to keep bacteria and odor from accumulating.
#8 Number of Cats
CatGenuie works best for one or two cats, each up to 20 lbs in weight. The long clean cycle also makes it better for single-cat households.
As this Reddit cat owner says, "Most of my cats like to use the box one after the other in the morning, and I don't like the idea of them all having to wait."(2)
ScoopFree is also best for one or two cats, but Litter-Robot can handle up to four felines with no issues.
#9 Odor Control
Comparing these three self-cleaning litter boxes, CatGenie seems to have the best odor control since it flushes the dirty litter down the drain and washes the box with an odor-neutralizing solution.
However, as this reviewer explains, the CatGenie scooping mechanism misses chunks of cat waste, allowing them to build up in time and smell.
ScoopFree 's crystals also lock in smells, but they have a saturation threshold, so many owners notice a strong urine odor after a while.
So, Litter-Robot has enhanced odor control, thanks to its waste drawer with a built-in carbon filter and the built-in litter catcher.
The sifting mechanism doesn't allow dirty litter to accumulate inside the globe.
#10 Maintenance
CatGenie has the easiest waste disposal system since it liquefies your cat's waste, flushes it down the drain, and then cleans the surface. So, you don't have to do any scooping or emptying trays.
On the other hand, Litter-Robot sifts the litter clumps inside a waste compartment, which you have to empty weekly or when you see the blue light indicator.
It also needs deep cleaning at least twice a year, especially if your Litter-robot smells.
PetSafe ScoopFree is also easy to maintain because you replace the disposable litter bed when it gets smelly and empty the waste trap every couple of weeks. But the reusable tray is more work.
#11 Tracking
Comparing PetSafe vs. Litter-Robot vs CatGenie, all automatic litter boxes show good results when it comes to tracking.
However, the best one would be Litter-Robot, especially if you pick the best litter for Litter-Robot with a larger granule size. Low-quality clay litter won't show the same results.
ScoopFree's litter crystals also don't track much due to their size.
#12 Additional Accessories
All three brands offer great additional accessories:
The best Litter-Robot accessories are the OdorTrap Pod for additional odor control, the waste drawer liners, the litter mat, the ramp, and the fence. Whisker's also has the best litter for Litter-Robot.
PetSafe ScoopFree has an optional privacy hood.
CatGenuie offers a dome for additional odor control and sidewalls.
#13 Warranty
Comparing Litter-Robot vs PetSafe vs CatGenuie, Litter-Robot has the best warranty policy because you've got a 90-day-in-home-trail and one-year warranty that covers everything.
So, you've got three months to try this self-cleaning litter box and see if your feline friend likes it. And you can purchase an extended 3-year warranty.
On the other hand, PetSafe offers you a 45-day money-back guarantee and a one-year limited guarantee. CatGenie also has a great 2-year warranty policy and a 90-day money-back guarantee.
#14 Price
PetSafe ScoopFree Original is the cheapest automatic self-cleaning litter box with a price of $169.99. ScoopFree Smart is a bit more expensive – $269.99.
Litter-Robot III costs $499, while Litter-Robot III Connect – $549. If you opt for an extended 3-year warranty, you'll have to pay $100 extra.
CatGenie costs $439 for the Standard package and $499 for the premium package (2 extra SaniSolution cartilages, a GenieDome, and Sidewalls).
Litter-Robot vs. Petsafe VS CatGenie: Which One To Choose and Why?
Comparing Litter-Robot vs PetSafe vs CatGenie, each has its strong sides and weaknesses. So, which automatic cat litter box to choose and why?
#1 Best for Multiple Cats: Litter-Robot
If you have more than two cats, you should go for Litter-Robot. It has a short cleaning cycle, so your cats won't have to wait in line to use the litter box.
Moreover, Litter-Robot has excellent odor control, thanks to the discreet waste compartment, quick cleaning cycle, and carbon filter.
And unlike CatGenie and PetSafe, Litter-Robot has a relatively quiet cleaning cycle, not likely to scare shy cats.
And as this video reviewer says, the Litter-Robot is perfect for cats that like confined spaces, and it does an excellent job at containing smelly cat waste.
#2 Best for Busy Cat Owners: CatGenie
CatGenie is the self-cleaning litter box to pick for your feline companion if you are too busy to scoop your cat's toilet or don't want to scrub litter from the bottom of the box.
Moreover, thanks to the smart feature, CatGenie analyzes your cat's bathroom habits to optimize its performance without you lifting a finger.
#3 Best for Tight Budgets: PetSafe ScoopFree
PetSafe ScoopFree is the right choice if you want a cheap self-cleaning cat litter box, especially if you switch to the reusable litter tray.
However, as this Reddit pet owner explains, "The reusable trays required manual labor," so you'll spend more time scooping/cleaning it. (2)
But it's still an excellent choice for a single-cat household.
#4 Best Investment: Litter-Robot
Not thinking about the upfront cost, Litter-Robot is the best investment in the long run. It doesn't need any special supplies or litter, so you have plenty of options to use as bags for Litter-Robot.
While CatGenie is a bit less expensive than Litter-Robot 3 Connect, you have to factor in hidden monthly costs, such as your water bill, sanitizing solution cartilage, and the cost of washable granules.
#5 Best for Kittens: PetSafe ScoopFree
Most specialists recommend non-clumping litter or crystals for kittens under four months. So, since PetSafe ScoopFree is suitable for kittens at least 6-months old, it's your best choice.
On the other hand, to use Litter-Robot III, cats should weigh at least 5 pounds to trigger the sensor, so it's not a good choice. CatGenie is also a bit high for a small kitten to enter.
FAQs
IS THERE ANYTHING BETTER THAN THE LITTER-ROBOT?
Litter-Robot is one of the best automatic cat litter boxes, but CatGenie is also great, thanks to its flushing cycle and smart features.
CAN THE LITTER-ROBOT TELL WHICH CAT IS USING IT?
No, Litter-Robot can't tell you which cat is using the litter box. It can only give you collected information about your cats' litter box usage.  
ARE CATS SCARED OF LITTER-ROBOT?
Most cats aren't scared of Litter-Robot because it's relatively quiet, and the adjustable timer allows you to program the cleaning process to start after your cat has left the room. 
Final Recommendation
Comparing Litter-Robot vs PetSafe vs CatGenie, Litter-Robot scores the most points, thanks to its unique rotating mechanism, cat-friendly design, and extra features.
Get access to premium support, automatic accessories deliveries, free robot upgrades, and more for $29/month at iRobot.com! Sign up now and receive a up to $100 off your Activation Fee!
Most cats also quickly get used to this self-cleaning toilet box, and the smart features allow you to keep track of your cat's bathroom habits, no matter where you are.
To make the transition process easier, no matter which litter box you choose, remember to place a small piece of your cat's waste in the automatic box to encourage them to use it.
What do you think about our comparison guide on Litter Robot vs PetSafe vs CatGenie? Have you ever tried these self-cleaning cat litter boxes? Share your thoughts in the comment section.
Resources
1. "Is a Self-Cleaning Litter Box Really Less Work?" Www.petmd.com, www.petmd.com/cat/care/self-cleaning-litter-box-really-less-work.
2. "R/Litterrobot – Catgenie vs LR." Reddit, 2018, www.reddit.com/r/litterrobot/comments/mp3eb3/catgenie_vs_lr/. Accessed 14 May 2022.
3. "The Latest Scoop on Litter." DVM 360, www.dvm360.com/view/latest-scoop-litter. Accessed 14 May 2022.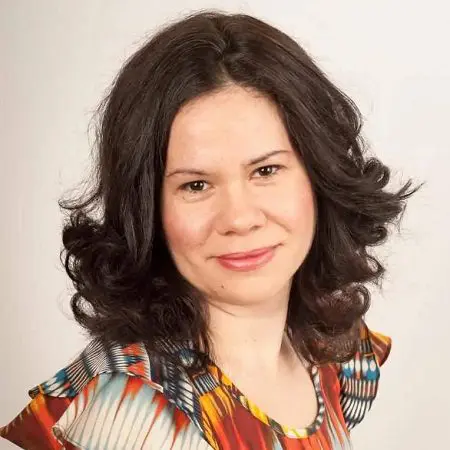 Olfa T
Olfa knows how to get things done and has a keen business sense that others admire. She's always on the go, coming up with new ideas! Her ability to anticipate the needs of her readers and deliver information that they want is what makes CatVills such a success. She loves cuddling her cat Picaciu. He is her inspiration.
Last update on 2023-06-08 / Affiliate links / Images from Amazon Product Advertising API