Are you thinking about using paper cat litter and wondering if it's a suitable type of litter for your feline friend?
Then you've come to the right place to learn all about paper-based cat litter.
Just keep reading!
This post contains affiliate links, and I will be compensated if you make a purchase after clicking on my links.
Is Paper Litter Good for Cats?
Many cat owners don't look at a pile of old newspapers and think, "Oh, that will be an excellent cat litter alternative."
Still, paper granule brands are popular, and many pet parents are satisfied with how well they absorb urine.
So, is paper cat litter good? Yes, paper is one of the best types of cat litter, and it's a healthier option for cat owners because it's made from natural materials.
Paper Cat Litter Pros and Cons
While paper is a suitable substrate for your kitty box, like all types of litter, paper litter has its benefits and drawbacks.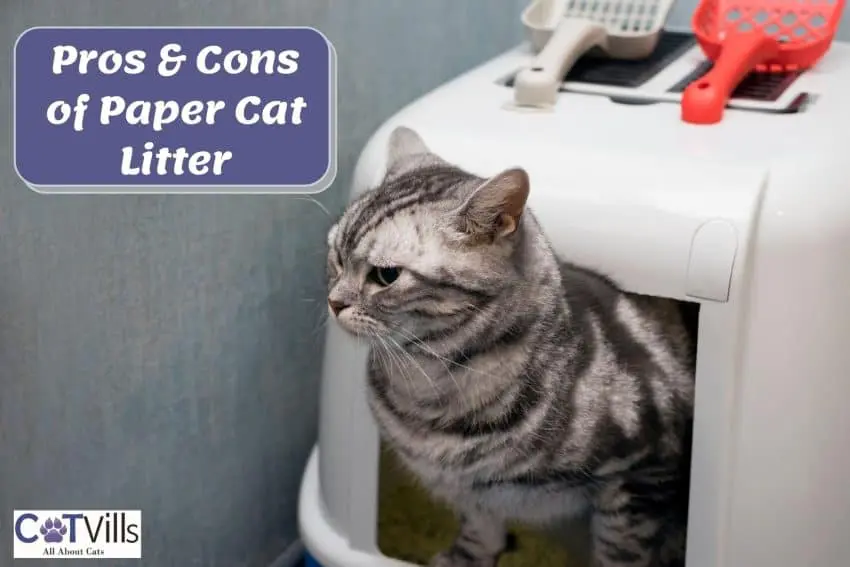 Let's take a look at paper pellet cat litter's pros and cons.
| Pros of Paper Cat Litter | Cons of Paper Cat Litter |
| --- | --- |
| Eco-Friendly | Inferior Odor Control |
| Fewer Health Risks | Not the Cheapest Option |
| Less Dust | Not for Automatic Litter Boxes |
| Variety | Hard to Find |
| Flushable Litter | Cats Don't Like It |
| Natural Scent-Free | |
| Lightweight Formula | |
| Good Absorbency | |
| Doesn't Track Much | |
| | |
ALSO CHECK: Whats the Difference Between Cat Litter vs Pine Litter?
Pros Of Paper Cat Litter
#1 Eco-Friendly
Paper cat litter is made from recycled materials. Its production doesn't harm the environment and reduces your ecological footprint.
On the other hand, clay is produced through a form of strip mining, a process that destroys the environment.
#2 Fewer Health Risks
Jackson Galaxy explains the danger of clay litter quite well, saying, "It forms the same insoluble mass you see in the box, inside your cat, if they groom it off of their paws." (1)
On the other hand, paper pellets break down quickly, so they can't cause an intestinal blockage if your cat eats the granules.
Moreover, paper doesn't contain silica dust, a component of some clay litters, which can irritate your cat's lungs and cause respiratory issues. It's also free of harmful chemicals.
#3 Less Dust
Clay-based litter generates lots of dust when you pour the granules into the box or when your cat digs around to cover its waste.
While paper brands still generate a bit of dust, it's still less dusty than most traditional brands. And you won't have to think about silica dust, a known cancer-causing agent. (2)
#4 Variety
You can find paper clumping litter, which has similar clumping abilities to traditional clay litters and forms tight clumps on contact with urine.
But, in general, paper pellets belong to the non-clumping litter group and absorb moisture without clumping.
#5 Flushable Litter
You shouldn't ever try to flush sodium bentonite clay brands down the toilet because they'll clog your pipes. But all-natural litters are flushable and compostable, so you've got several disposal options.
#6 Natural Scent-Free
Paper doesn't have a natural smell, unlike other non-clumping varieties, such as wheat-based litter, corn cat litter, or walnut litter. So it doesn't trigger allergies.
#7 Lightweight Formula
Paper is very light, so you'll have fewer problems moving the litter bag and pouring the larger pellets into the toilet box.
#8 Good Absorbency
Paper is an absorbent litter, soaking up cat urine on contact and preventing it from sticking to the bottom of the box.
#9 Doesn't Track Much
One of the best paper litter pellet pros is that the larger granule size reduces tracking around the house. And due to its size, it's less likely to stick to your pet's fur.
Cons Of Paper Cat Litter
While paper is a great natural cat litter, it has several cons, which pet owners should consider before switching to it.
#1 Inferior Odor Control
Unlike traditional litter or silica gel crystals, paper isn't so good at controlling ammonia smell.
When comparing paper cat litter vs. pine pellets, pellets are great at litter box odors, thanks to their natural pine scent.
So, they're worth considering if you're looking for a natural alternative to clay. Or, you can add a little bit of baking soda to your paper pellet cat litter to reduce the nasty smell.
#2 Not the Cheapest Option
Clay-based types of cat litter are relatively cheap, but paper pellet litters are a bit more expensive. And the price gets higher because you may need to change your cat's toilet box more often with paper.
#3 Not for Automatic Litter Boxes
Most automatic toilet boxes need clumping cat litters that form hard litter clumps on contact with liquid. Paper doesn't create such solid clumps, so it's not a good choice.
#4 Hard to Find
You can find regular clay litters at every pet store or supermarket. However, paper brands are harder to find, which can be a problem.
#5 Cats Don't Like It
Unfortunately, not all cats like natural pellet litter, especially if the granules are large.
For more information check out cat litter vs pine litter
4 Best Paper Cat Litter Brands
Now that you know all about these natural types of cat litter – pros and cons, let's talk about the best paper cat litter types on the market.
Thanks to its absorbent formula and no harmful additive ingredients, Purina's recycled paper litter is one of the best eco-friendly cat litters.
Benefits of Yesterday's News Cat Litter
Natural absorbent material
Low-tracking formula
Virtually dust-free
Vets recommend it
As this reviewer says, it's soft on the paws.
Drawbacks of Yesterday's News Cat Litter
Cleaning is a bit messy since it's non-clumping pellet litter
Purina Yesterday's News Non Clumping Paper Cat Litter, Unscented Low Tracking Cat Litter - 30 lb. Bag
One (1) 30 lb. Bag - Purina Yesterday's News Non Clumping Paper Cat Litter, Unscented Low Tracking Cat Litter
Absorbs 3x the moisture by volume than traditional clay-based litter. Delivers effective odor control
No added fragrance. number 1 veterinarian-recommended eco-friendly cat litter
Designed for low-tracking with no small particles. Soft paper pellets offer a non-toxic litter option
99.9 percent dust-free formula. Works great for kittens as well as adult cats
Fresh News has excellent paper cat litter products, suitable for an eco-minded cat owner.
Benefits of Fresh News Recycled Paper
Made from sustainable materials
99% Dust-free formula, ideal for cats with allergies
Pleasant texture, soft on the paws, no harsh additives
Fresh New's paper pellets absorb three times better than the standard clay cat litter
Moisture-locking pellets with baking soda for outstanding odor control
Flushable cat litter (don't flush cat poop!)
Drawbacks of Fresh News Recycled Paper
Slightly scented, so some cats might not like it
Fresh News Recycled Paper Crumble Multi-Cat Litter 14 Pounds
Multi Cat Litter: No more lingering pet smell; Fresh News Recycled Paper Litter has super absorbent strength, almost three times more than clay; Our soft and dust free formulations is ideal for multi-cat households
Odor Control: Keep your pet's habitat fresh and smell free! The moisture-locking formulation with baking soda and outstanding odor control work together to help neutralize habitat and litter pan odors
100% Recycled paper: Made with 100% post consumer paper from recycling centers, it is safe for all animals; This litter is also biodegradable when composted, so you can continue to help divert space from landfills
Non Allergenic: Spend more time with your pet without worrying about cleaning its cage; Fresh News products are over 99% dust free and 100% non allergenic, giving you a cleaner litter box and home
Healthy Environment: Fresh News promises to provide a non toxic and hygienic space for you and your pet; Shop our beddings, pellets, and litters for cats, rabbits, hamsters, gerbils, chinchillas, and other small animals
Okocat has a great paper cat litter, suitable for multiple cats and adult cats with respiratory problems or post-surgical cats. Their pine pellet litter is also an excellent clumping alternative.
Benefits of Okokat Dust Free Pellets
Made from clean paper fiber
Absorbent material free of chemicals and harsh additives
Effective odor control with plant-based ingredients
Biodegradable litter
Virtually no dust for improved respiratory health
Drawbacks of Okokat Dust Free Pellets
Small pellet size, so it tracks around the house
Sale
ökocat Dust-Free Natural Paper Non-Clumping Cat Litter Pellets with Odor Control, Large, 12.3 lbs
Paper Pellet Cat Litter: Our next-generation, paper-based cat litter pellets are exceptionally absorbent, odor controlling, and naturally lightweight for added convenience and cleanliness
Long-Lasting Odor Control: Natural paper-fiber litter pellets are fortified with long-lasting, plant-based odor control specially formulated to suppress the smell of ammonia
Non-Clumping Litter: Pellet litter quickly absorbs all liquid keeping your cat's feet dry and making cleaning the litter box quick and easy
Dust-Free: Our Dust-Free cat litter is made from clean paper fiber with no airborne dust, ideal for cats with respiratory ailments, homes with allergies or post-surgical needs
Natural Cat Litter: Our paper cat litter is free of inks or dyes, artificial fragrance, harmful chemicals or GMOs; Unlike clay, our biodegradable cat litter degrades quickly and cleanly
Hartz offers a unique clumping paper litter, suitable for cat owners who want something natural with greater clumping power.
Benefits of Hartz Multi-Cat Clumping Paper Litter
It forms a tight clump on contact with cat urine
Lightweight formula with no chemical additives
Great odor control
It changes color when soiled
Drawbacks of Hartz Multi-Cat Clumping Paper Litter
HARTZ Multi-Cat Lightweight Recycled Clumping Paper Cat Litter, 4.3 lbs, White, Model:3270015558
4.3 lbs of clumping paper litter is equivalent to 16 lbs of traditional clay litter
The first scoopable paper litter!
Forms tight odor-absorbing clumps to instantly trap stinky smells
Clumps turns blue when soiled and won't stick to the litter pan, making cleanup a breeze
Eco-friendly product is made from 80% recycled paper and is 99% dust-free
An astonishing 70% lighter than clumping clay litters, making it easy to lift and pour
How Do You Use Paper-based Cat Litter?
Paper-based cat litter isn't that much different than normal litter. But there's a slight trick to getting your cat used to paper:
Mix one inch of the paper pellets or the shredded paper litter with two inches of your regular brand.
Wait one week and change the proportions – two inches of paper and one incles of clay litter.
Once your cat uses its toilet box without problems, fill the entire litter box with pellets.
Do You Scoop Paper Cat Litter?
When it comes to cleaning paper pellets, the scooping process is a bit different than removing the tight clumps from clay litter:
Remove the solid waste from the toilet box and dispose of them in a trash bag.
Separate the unused pellets from the soiled ones using a sifting litter scoop. Get rid of any darker color pellets.
Return any unsoiled pellets to the tray.
Pour fresh pellets into the litter tray (it should be 2 – 3 inches deep).
And as this pet owner advises, "You're going to have to scoop a little more carefully (i.e., not in huge chunks to sift) and accept some loss of clean litter." (3)
Check this video for a demonstration
How Often Do You Change Paper Cat Litter?
In general, you'll need to change the entire litter box once a week because paper doesn't have good odor control. You may need to change the pellets twice a week for multiple cats.
FAQs
IS PAPER OR CLAY LITTER BETTER?
Paper is eco-friendly and more absorbent than clay, so it's a better option than sodium bentonite. Wooden pellets cat litter is also better than clay. 
IS PAPER LITTER CLUMPING?
Most types of paper litters don't clump, but there are several that form tight clumps when absorbing liquid waste. 
DOES PAPER LITTER ABSORB URINE?
Yes, it does. In fact, some paper brands are more absorbent than traditional clay. But wood pellets absorb better than paper,  as you can see from this video.
Conclusion
As you can see, paper cat litter has numerous benefits for your kitty's health and is an excellent eco-friendly option.
Moreover, paper cat litter has minimal dust production, so it's an excellent choice for allergy-prone cats, even if it tracks a bit more than clay-based brands.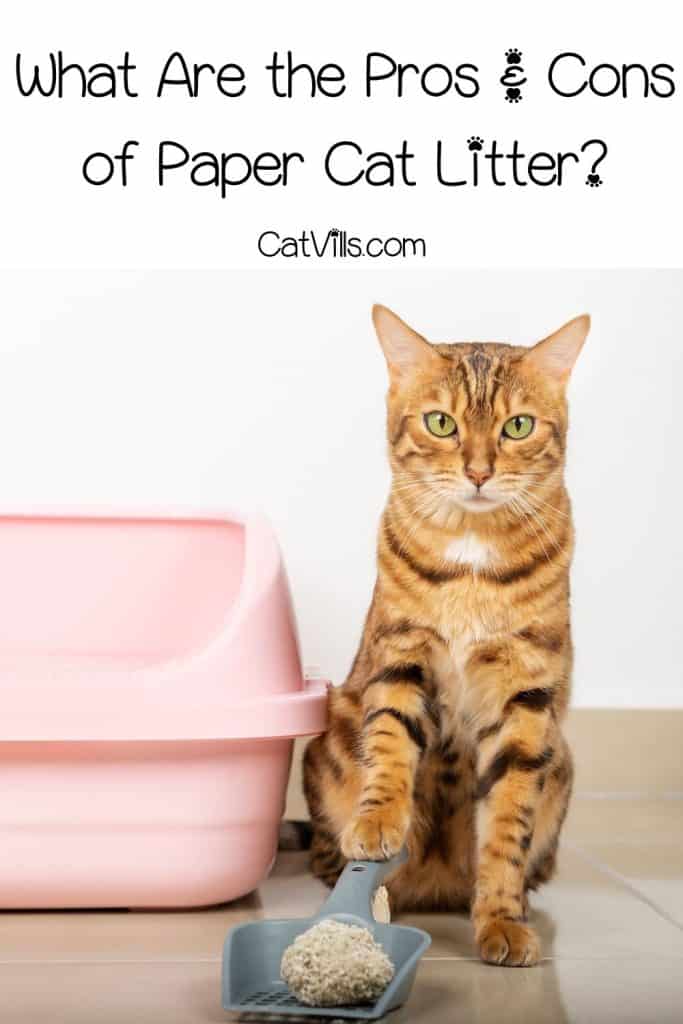 What do you think about paper cat litter – pros and cons? Have you ever used paper pellets? Share what your cat thinks of them in the comment section.
Resources:
1. The Benefits of Natural Litter [Internet]. Jackson Galaxy. 2017. Available from: https://www.jacksongalaxy.com/blog/the-benefits-of-natural-litter/
2. Crystalline Silica – Cancer-Causing Substances [Internet]. National Cancer Institute. Cancer.gov; 2019. Available from: https://www.cancer.gov/about-cancer/causes-prevention/risk/substances/crystalline-silica
3. r/CatAdvice – Help! Cleaning Paper Pellet Litter [Internet]. reddit. 2020. Available from: https://www.reddit.com/r/CatAdvice/comments/g3viah/help_cleaning_paper_pellet_litter/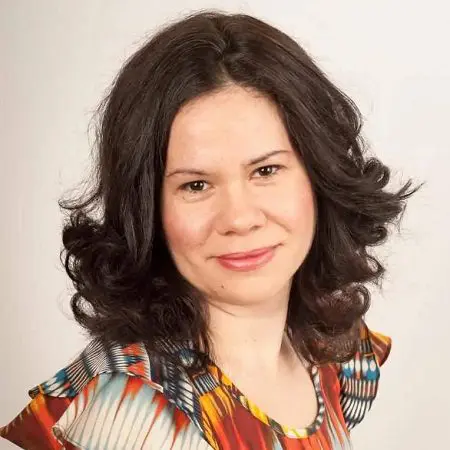 Olfa T
Olfa knows how to get things done and has a keen business sense that others admire. She's always on the go, coming up with new ideas! Her ability to anticipate the needs of her readers and deliver information that they want is what makes CatVills such a success. She loves cuddling her cat Picaciu. He is her inspiration.
Last update on 2023-03-31 / Affiliate links / Images from Amazon Product Advertising API