If you're looking for the best cat teeth cleaning wipes, keep reading!
Below, we'll go over all the benefits of these handy cloths & how to use them.
Then, we'll take a deep dive into the best brands on the market with reviews, pros and cons.
Let's get started!
You may also like:6 Dental Care Tips for Cats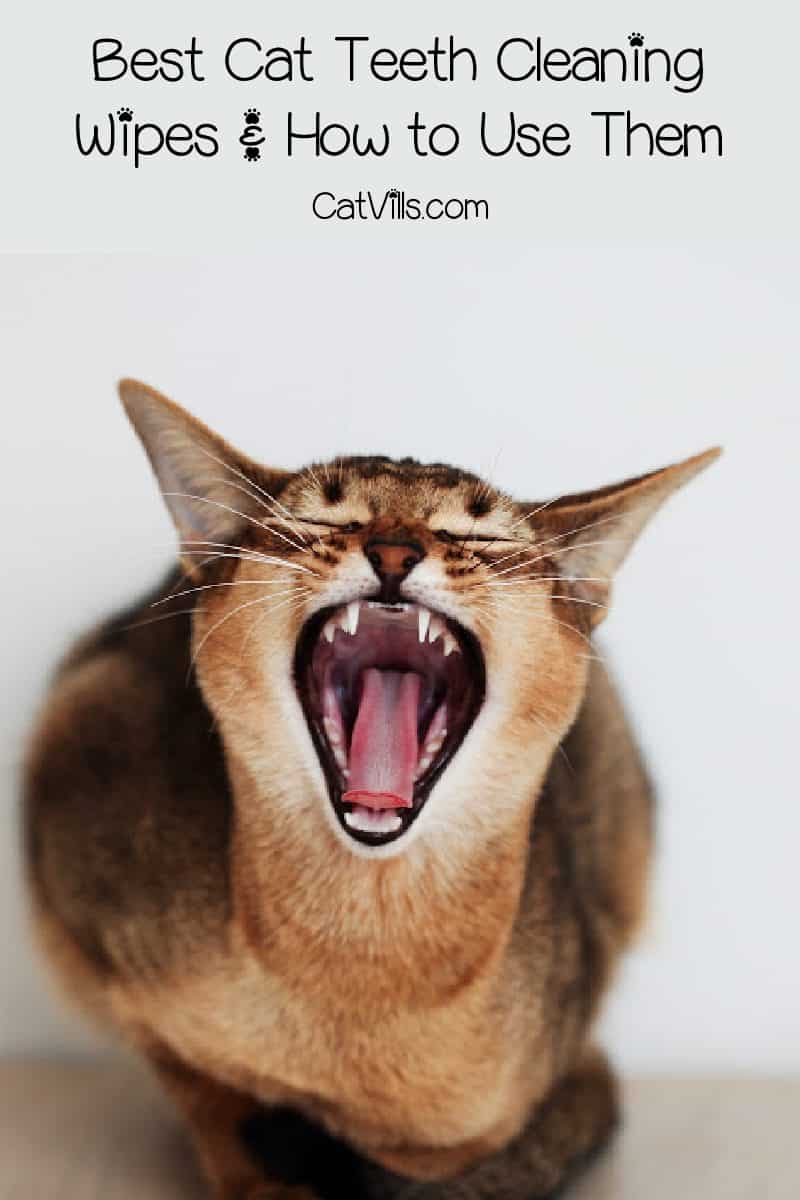 Complete Guide to Cat Teeth Cleaning Wipes
If you're a cat owner who thought that the only teeth you'd have to worry about is your own, you are wrong.
Cats can't take care of their teeth on their own and require the patience and the resilience of their owners to help them out!
If no one helps to look out for their teeth, cats can face an array of dental problems in the future.
Quite like humans, cats are stubborn when it comes to dental hygiene.
The best form of dental care they can receive is someone brushing their teeth manually.
Of course, it isn't always possible for all cats because it's an uncomfortable process–both for pet and owner.
Which leaves owners wondering, how they can give their cats optimal dental care from home without it being such an arduous process?
Luckily, dental wipes for cats have a softer exterior and are a great alternative to toothbrushing.
Before we get into which are worth your time and money, let's explore what teeth cleaning wipes can do for your furry friend.
What are Teeth Cleaning Wipes?
Because manually tooth brushing your cat's teeth can sometimes be a tricky situation, dental wipes were developed to make things easier for you.
They can save you from some bites and scratches during the inevitable tussle that will occur when you try to manually open your cat's mouth and stick a toothbrush in there.
At the same time, they give your cat some comfortability and peace of mind.
You don't need to worry about your cat swallowing any toothpaste or running off halfway through.
Cat teeth cleaning wipes are specially designed and textured to gently cleanse your cats gums.
Dental wipes will also come in different flavors, giving you the option to find something your cat enjoys tasting.
Does My Cat Really Need Teeth Cleaning?
Yes! Your cat absolutely needs teeth cleaning of some shape or form. Plaque buildup over time can really harm your cat as they get older.
Without some form of teeth cleaning they are more susceptible to gum diseases and periodontal disease.
The same mindset you take with your own dental hygiene has to be applied to your pets.
Dental wipes can also help control tooth decay and bad breath!
How Do You Use Dental Wipes?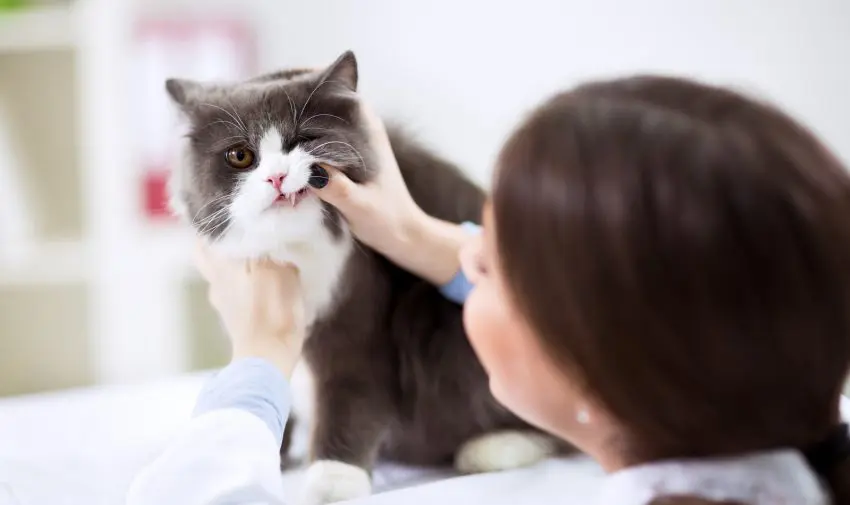 Firstly, you'll need a dental wipe of a small size. Place it around your index finger and begin to gently scrub your cat's teeth.
Don't forget to get the back teeth! After your cat's entire gum line and teeth have been cleansed, then you're done.
Give your kitty a tasty treat as an extra reward for allowing you into their mouth.
With enough care, you can get close to the same results you would get from using a toothbrush without the awkwardness and distrust you can get from the latter.
Check out the video below for a visual guide to cleaning your cat's teeth with wipes:
Tips to make the job easier:
Place your cat on a table to get better leverage.
Getting your cat to lie down can prevent them from immediately reacting and might save you a scratch or two.
Remember to be gentle, and remain calm.
You can hold your kitty's head with one hand while using the other to rub their gum line.
Talking in a soothing voice can also help to calm your cat, and keep them relaxed while you both go through this uncomfortable process.
How Long Does it Take For a Cat to Recover From Teeth Cleaning?
If you're taking your cat home from a teeth cleaning from the vet, then there are a few things to expect.
They'll be drooling for a bit, and may remain drowsy from the anesthetic.
Their mouth will most likely be sore and it will take 24-48 hours for them to fully recover from the effects.
If you're wondering if they need recovery from a home dental wipe cleaning, then there is no need to worry!
Using wipes at home need no recovery and your cat will be just fine after.
That said, they're meant to be used in-between professional cleanings and not as a complete alternative.
How To Clean Plaque Off a Cat's Teeth Between Cleanings
Chewing exercises are the answer here! Using dental treats and food will help stop tartar buildup and effectively remove plaque over time.
There are also special toys that can be bought filled with catnip to encourage chewing from your kitty.
This also helps with removing plaque and effectively discourages the plaque buildup.
A Word about peppermint Oil
You'll notice that many of cat teeth cleaning products use peppermint oil and mint flavoring.
First, real peppermint oil (versus flavoring) can be toxic to cats. Mint is also a strong smell that many cats hate.
It's very hard to find cat teeth cleaning wipes that are 100% peppermint-free.
It seems like every brand thinks that just because we humans find it refreshing, our pets will, too.
We managed to find some without it, as well as one that uses very minimal amounts.
According to that brands, their safety tests show that their wipes are not toxic to cats.
However, if your cat really hates peppermint or you want to err on the side of caution, stick to the ones that don't contain any at all.
Best Dental Wipes For Cats
Now that we know why we'd want to spend our hard-earned money on them, let's take a look at the best dental wipes for cats.
FYI, this post contains affiliate links. If you make a purchase through these links, we earn a small commission at no extra charge to you.
Preview
TOP PIC
Name
MOKAI Dental Wipes for Dogs and Cats | Pads with Chlorhexidine and Sodium Hexametaphosphate Remove Plaque Tartar Buildup Calculus and Bad Breath, Preventing Tooth Decay and Gingivitis (50 Count)
Dental Wipes For Dogs & Cats: Teeth Cleaning Finger Wipes Tooth Cleaner. Treats Mouth Gums Plaque, Tartar & Bad Breath Remover. Easy Cat & Dog Pet Oral Wipe Cleansing Without Toothpaste or Toothbrush
Petkin 40-Count Plaque Toothwipes (1 Pack)
MaxiGuard Oral Cleansing Wipes - 100 Wipes
Preview
Name
MOKAI Dental Wipes for Dogs and Cats | Pads with Chlorhexidine and Sodium Hexametaphosphate Remove Plaque Tartar Buildup Calculus and Bad Breath, Preventing Tooth Decay and Gingivitis (50 Count)
Preview
Name
Dental Wipes For Dogs & Cats: Teeth Cleaning Finger Wipes Tooth Cleaner. Treats Mouth Gums Plaque, Tartar & Bad Breath Remover. Easy Cat & Dog Pet Oral Wipe Cleansing Without Toothpaste or Toothbrush
Preview
Name
Petkin 40-Count Plaque Toothwipes (1 Pack)
1. MOKAI Dental Wipes for Dogs & Cats
MOKAI Dental Wipes for Dogs & Cats uses 100% natural ingredients and comes highly recommended by fellow pet parents.
The main cleaning action comes from their Chlorhexidine Gluconate & Sodium Hexametaphosphate formula.
It does contain peppermint oil.
However, according to the brand's comments on reviews, the amount is very minimal.
They added:
Our team carried out a quality control analysis to guarantee that the dental wipes do not have any toxic reaction in any animal.
Pros
100% natural ingredients
Made in the USA in an FDA-approved facility
Reduces dental calculus, tartar buildup, plaque, and bad breath
Cons
Uses peppermint oil (minimal amounts)
Some say that the minty smell is too strong and their cats hate it
MOKAI Dental Wipes for Dogs and Cats | Pads with Chlorhexidine and Sodium Hexametaphosphate Remove Plaque Tartar Buildup Calculus and Bad Breath, Preventing Tooth Decay and Gingivitis (50 Count)
EASY & EFFECTIVE SOLUTION Our dental wipes are the perfect solution for your pet's daily hygiene routine. There's no hurting of the gums by brushing, simply wrap the wipe around your finger and swipe your pet's teeth!
REMOVE PLAQUE & TARTAR Use MOKAI'S teeth wipes not only to maintain your dog's healthy white teeth but also to get rid of tartar and plaque to prevent tooth decay
ANTIMICROBIAL ACTIVITIES These dental wipes for dogs and cats are the most comfortable way to treat and care for your dog's oral bacteria, our unique solution has antimicrobial activities that reduce plaque, dental calculus and tartar buildup on your pet's teeth over time.
REDUCE BAD BREATH We know your dog's breath can get pretty stinky so we've added a fresh scent to the wipes that along with our antimicrobial solution will significantly reduce your pet's bad breath.
SATISFACTION GUARANTEED Our dental care products are made in USA and are tested by qualified veterinarians to ensure the quality of our product! Our goal is for you to be happy with your purchase and if that's not the case we will issue a full refund.
2. Bluestem Dental Wipes for Dogs and Cats Only
Though it is a pricier pack then cheaper brands, there can be no cost for optimal safety.
Bluestem uses a coactiv+ formula that is scientifically proven to discourage and fight against tartar and plaque buildup.
This means a brighter and healthier purr for longer before you have to take a wipe to your fur child's sharp teeth again.
We are glad to find that no peppermint or mint flavoring is employed with there products.
Pros
Employs a mild vanilla flavor that your pet will enjoy
Helps fight plaque and tartar buildup
Has coactiv+ formula that is scientifically proven to give optimal dental hygiene
Cons
Wipes are square and large
Works on lighter plaque, but will take time to see results
Sale
Dental Wipes For Dogs & Cats: Teeth Cleaning Finger Wipes Tooth Cleaner. Treats Mouth Gums Plaque, Tartar & Bad Breath Remover. Easy Cat & Dog Pet Oral Wipe Cleansing Without Toothpaste or Toothbrush
[ REDUCE PLAQUE & TARTAR IN YOUR PET'S MOUTH ] Brush their teeth without a toothbrush with our new dog and cat dental wipes. Trying to jam a toothbrush in your pet's mouth can be difficult. Not knowing if you are reaching all parts of the tooth or if you are hurting your pet are common obstacles of using a toothbrush. Simply use the wipe to gently rub around their teeth and gums. This will allow our coactiv+ formula do the hard work of breaking down tartar and plaque in your pet's mouth.
[ SCIENTIFICALLY FORMULATED WITH PROVEN RESULTS ] Introducing bluestem coactiv+ technology, scientifically formulated to improve the health of your pet's mouth. coactiv+ is backed by clinical data to disrupt bacterial biofilms to fight plaque and tartar, freshen breath, promote good dental and oral hygiene.
[ ENJOY YOUR PET'S KISSES AGAIN ] Although loving affection from your pet can be one of the joys in life, a pet with bad breath can ruin your day. By using our dental wipe you can easily enjoy their kisses again within a week or so. Kissing aside, stinky breath from your pet can be unbearable and it is also a common indicator of more serious dental problems. Our coactiv+ wipes not only freshen breath, but help fight plaque and tartar as well which will help prevent future dental problems.
[ SAFE FOR DOGS AND CATS ] | MADE IN THE USA. | We've gone the extra mile to ensure that our pet dental wipes are safe for your pet. Our food-grade ingredients are alcohol-free, xylitol-free, and sugar-free. The wipes DO NOT contain any surfactants or detergents. Dogs & Cats will enjoy the taste and will appreciate a more gentle scrub rather than using a toothbrush.
[ A TRUSTED COMPANY ] These oral care dental wipes are good for all breeds and sizes of dogs and cats. They also make a great gift Idea for Dogs and Cats. As fellow pet owner's and lovers we understand the importance of safe quality products for our furry little friends. That is why you can rest easy knowing our dental wipes are MADE IN USA by a top rated licensed manufacturer. Our mission is to make sure we are looking out for your pets' long term health.

3.Petkin Fresh Mint Dog & Cat Plaque Tooth Wipes
It seems that dental wipes wish to treat dogs and cats like, but even though they are both domestic pets this doesn't mean they should be treated as the same animal.
Petkin is a highly popular and used brand, but keep in mind that this particular product uses mint flavoring.
Of course, every cat will be different, so you can always try experi-minting (if you'll excuse the pun) with the smell and seeing if your cat likes it before deciding to purchase these.
But if you'd rather be on the safe side and just get something that will definitely work, then we recommend trying another product.
Pros
Great for dogs and their daily hygiene
Cleans teeth, gums, plaque, and tartar
Cheap and highly reviewed product
Cons
Mint flavoring (but not actual peppermint oil)
Not as textured as they could be

4. MAXIGUARD Dental Cleansing Wipes for Animals
The MaxiGuard wipes feature a zinc formula that helps to maintain teeth and combat against plaque and tartar buildup.
The textured design of the wipes are great for battling that plaque while remaining smooth and comfortable for your cat.
Since they are a bit large, it may take more patience than usual to effectively clean your cat's mouth.
We suggest cutting the wipes to a more manageable size–especially if your cat is on the smaller size.
It'll also make it easier for you to grip as you hold your cat in the other hand.
All in all, these are great wipes that go for a taste-free formula so that your cat's comfortability takes priority in this process.
Pros
Reduces plaque and tartar buildup
Taste-free formula that encourages pet comfortability
Veterinarian-recommended zinc formula
Cons
Older wipes are inconveniently large
Not meant for all ages, only 6 weeks or older
Sale
MaxiGuard Oral Cleansing Wipes - 100 Wipes
Eliminates Halitosis
Large Wipe Allows for Every Application
Taste Free Formulations Appealing to All Pets
Extends Time between Dental Cleanings
Reduces Plaque & Tartar Formulations

Conclusion
As you explore this dental care alternative for your furry friend, there are a few things to keep in mind.
First, most cat hate peppermint, so if a brand over does it with the minty flavoring, you'll have a harder time getting the job done.
Second, too much real peppermint oil is toxic to cats. If you do choose a brand that uses it, stick to their recommendations and don't use them more often than directed.
Last, if you have any concerns about your kitty's teeth, please call you vet!
If any of these products weren't it for you, just be sure to do your research to ensure a safe and healthy option for your cat.
Do you use any of these cat teeth cleaning wipes? Share your opinions below.
Last update on 2021-03-06 / Affiliate links / Images from Amazon Product Advertising API