Updated 2021
If it's a struggle to clip your cat's nails or bathe them, you need one of these top 5 cat grooming harnesses!
And don't forget to read our guide on how to restrain a cat to clip nails
Anyone that has ever struggled with a cat to try and get them to sit still knows it is a time-consuming and often frustrating task (for both human and pet).
Not to mention the scratching and biting that can result from the struggle.
Make all those grooming tasks a lot easier with a tool designed especially for keeping Kitty still.
Check out the top 5 cat grooming harnesses – you'll wonder why you didn't get one sooner.
This post contains affiliate links. If you make a purchase through these links, we earn a small commission at no extra charge to you.
Use the comparison table below for a quick reference and read the detailed reviews below for further details.
Top Benefit
Easier to wrangle your pet into
The Top 5 Cat Grooming Harnesses

You've tried the pant leg trick now use a cat restraint that is designed to work.
The Yarti Cat
restraint is made from breathable double mesh that is durable enough to prevent tearing from biting and scratching.
The wide opening is easy to get your feline in and out of and is suitable for both full restraints (legs tucked inside) or for exposing your cat's front legs for nail trimming (separate openings).
This grooming bag is also suitable for bathing, dental cleanings, injections, ear, and eye treatments, etc.
benefits
Easy to use
Inexpensive
Durable
Multi-purpose function
Provides cat with a sense of safety
Cons
Not suitable for cats over 8.8 pounds
What We Like
The Yarti Cat Grooming Bag is simple to use and made from a sturdy, breathable mesh. The opening is sufficient to get Kitty in and out of with separate front leg openings.
2. Be Good Pet Grooming Restraint
No products found.
The Be Good Pet Grooming bag
comes with a mesh in the middle to keep Kitty cool while being restrained.
The front and back zippers can be opened to expose your cat's legs and feet or used purely as a bag-like carrier.
Two durable carrying handles allow you to move your pet around while keeping her safely tucked inside.
This grooming aid is perfect for trips to the vet or any of your at-home grooming sessions.
Benefits
Convenient
Multi-purpose functions
Mesh "breeze-way"
Durable
Inexpensive
Comes in two sizes
Zippered opens are easy to access
Cons
May not be suitable for very large felines
What We Like
The zippers are very convenient and safer than just exposed openings. The carrying handle makes it easy to transport Kitty from home to the vet.
No products found.
The Healthy Kitty Grooming Harness
is simple to use and an effective way to restrain your feline for grooming or to administer medications.
This vest-style harness slips over the head and covers the top of the shoulders and the front legs – no bag required.
The harness is fully adjustable so it will fit most felines. It provides complete control and does not allow your cat the movement required to bite or scratch.
benefits
Adjustable
Safe and easy to use
Durable
Cons
The cat can still use its back legs
Higher price point
What We Like
The Healthy Kitty Grooming Harness is easier to wrangle your pet into and provides easy access to front feet.
Cat Grooming Harness, Cat Restraint, Cat Grooming Restraint, Cat Bathing Harness, Cat Bathing Restraint, adjustable for Cat Care, Cat Nail Trimming, Cat Bathing, Ear Cleaning, Eye Cleaning,
Superior Scratch & Bite Protection
Adjustable
Provides Complete Control
Safe & Easy To Use
Made from durable materials, the VetMedWear Grooming Bag
is perfect for keeping your cat calm and restrained.
It has a total of six zippers that allows you complete access to all Kitty's "parts."
The two adjustable Velcro straps ensure a secure fit, while the fabric around the neck opening is extra soft to provide maximum comfort.
This company has also added straps for carrying convenience.
benefits
Comes in three sizes
Vet recommended
Allows for complete access to the cat using Velcro and zippers
Wipeable
Cons
What We Like
This grooming bag offers both safety and convenience. We like the soft neck opening, easy-to-carry handles and all the zippered opens that allow for complete access to the animal.
For a no-frills restraining cat grooming bag, the Tech-P
offers a quick-fix to a struggling pet.
Made from high-quality polyester mesh this grooming bag provides a wide opening to get your feline friend in and out of.
The front zipper allows your cat's legs to be exposed when it's time to trim those nails. And since it's made entirely from mesh, you can bath Kitty right inside this bag.
benefits
Inexpensive
Great for bathing, nail trimming, and ear and teeth cleanings
Easy to use
Cons
Neck and back enclosures may not stay secured
Not suitable for very large cats
What We Like
The simple and inexpensive design is great for kittens and very easy to use. The price point is low, making it affordable for all pet parents.
Don't spend another moment struggling with your cat (or putting off those important grooming sessions) when there are cat grooming harnesses that will make your job easier.
Choose the cat grooming harness or bag that will work best for you and your pet, so you can keep Kitty healthy and happy for years to come.
Our Top Pick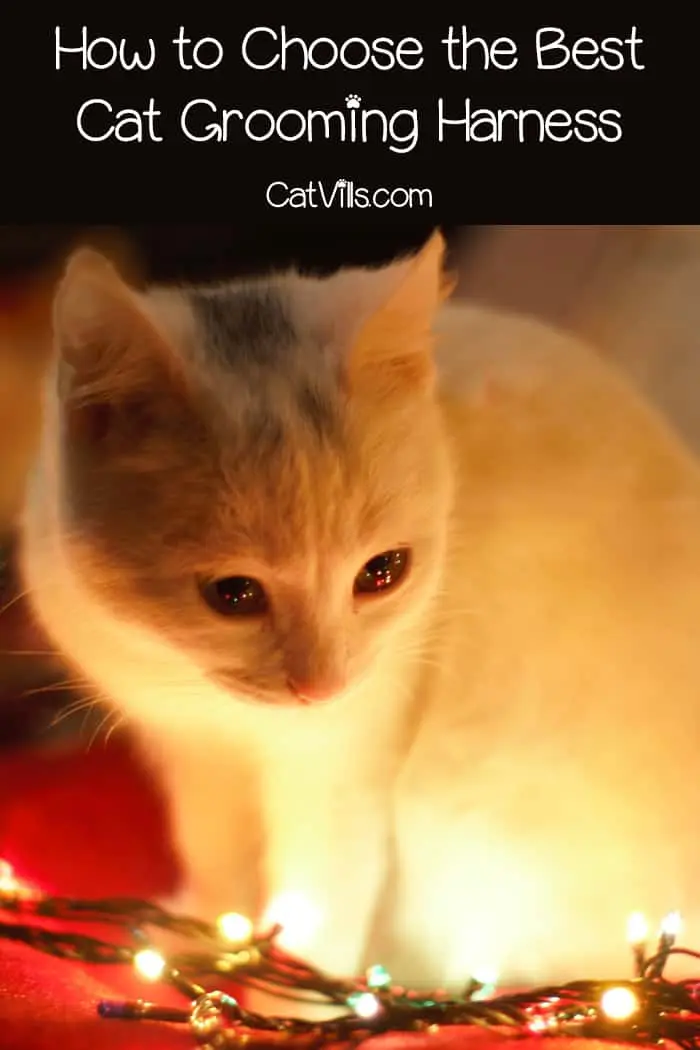 Do you have any of these cat grooming harnesses? Which one do you prefer? Share below!
Last update on 2021-05-17 / Affiliate links / Images from Amazon Product Advertising API