Finding the best cat trees for older cats requires a little more thought than picking out one for your kitten.
Don't worry, though, I'll help you out!
Check out what to look for + my top 5 picks!
Just keep reading!
FYI, this post contains affiliate links. If you make a purchase through these links, we earn a small commission at no extra charge to you. 
In a rush and need something right away? Check out our top Amazon picks on the table below!
Top 5 Best Cat Trees for Older Cats
I adore SONGMICS cat trees, but most of them are a bit too high and huge for my senior cat.
However, the Multi-Level Cat Tree with Feeder Bowl has all the top features of their bigger trees, but with an overall lower profile.
benefits
3 levels if you include the base
2 super comfy cat caves so your senior kitty can get away from it all
1 plush and cozy perch
3 sisal scratching posts
Detachable feeding bowl (so she doesn't have to go too far for some water)
Cons
The second level is a bit higher off the ground than I'd like, although once she's up, the levels alternate nicely
It seems to go out of stock quite often. If it's not in stock when you're ready to buy, this is a good alternative.
ALSO READ: Ragdoll Cat Tree Recommendations
Bottom Line
It's a strong contender for one of the best cat trees for older cats. I love that it's not a hulking mass of tree, so it would fit in my bedroom.

FEANDREA Multi-Level Cat Tree with Feeder Bowl, Sisal-Covered Scratching Posts, Dual Condo, Activity Centre Cat Tower Furniture, Smoky Grey UPCT57G
EXCLUSIVE LUXURY FOR CATS: Your feline friends need a cozy home of their own to play, take a nap or jump around; this cat house is sure to be their dream-come-true FELINE-
FELINE-FRIENDLY SOFTNESS: Top perch with thick padding at the bottom and rim makes a perfect napping lounge; ultra-soft plush gives the smoothest touch that your kitten will never get enough of
REMOVABLE CAT BOWL INCLUDED: Specially added pet bowl allows cats to enjoy their meal while staying at their favorite spot, making this cat furniture a truly sweet home for them
PLAYHOUSE FOR MORE CATS: Compact structure with 2 roomy condos lets your cats coexist peacefully while taking up little space; thickened base board stays stable even when your overactive cats jump around; safety strap is included to prevent toppling hazard
NOT SATISFIED YET? FEANDREA provides you with professional customer service both before and after your purchase; don't wait any longer, add this to your home today!
Another one that I absolutely fell in love with while researching space-saving trees, the  Katris Blocks tree modular cat tree isn't just stylish, it's almost perfect for your older kitty!
BeNEFITS
The Tetris-like blocks can be switched around, so you can configure it based on your cat's needs.
Comes with 5 blocks to get you started, but can be infinitely expanded (of course you'll need to buy extra sets to do that).
Super easy to assemble, just use the included clips to put it together.
It's crazy gorgeous, don't you think? I think it looks more like art than a cat tree!
ConS
It doesn't come with any comfy padding. You could add some to the cube to create a sleeping space, though.
It's made from cardboard, not wood. Still, it's heavy-duty cardboard that can hold up to 300 pounds.
A little pricey considering that it is in fact made of cardboard.
Bottom line
While it doesn't have the comfy padding feature that I'm looking for, I am crazy in love with this "tree." I think it's just such a fun design.
I would get it, and then add some plush bedding to the cube part to make a nap nook.
If you want the mother of all cat trees, the Go Pet Club72″ F2040-blue tree is the way to go! I have one of their smaller trees, but this is one of my "if I had the room" dream trees.
BENEFITS
 Multiple levels that alternate in height, filling that item on my "must list."
10 sisal-wrapped scratching posts
15 levels in all, most of which are roomy enough for less agile kitties to easily maneuver.
Two roomy cat caves
Ramps make it easy for older cats to get on and off different levels.
Perfect for multiple cat families. My younger kitties would still have plenty to do on it.
Cons
It's big! Overall dimensions are 50″W x 26″L x 72″H, which means you need plenty of room.
It's also tall, which was on of the things I didn't want. However, there is a very large "landing" right below the top wall perches for cats, so it's unlikely that my cat will fall all the way down.
Could use a little extra padding in the napping spots.
Bottom Line
I really wish I had space for a tree like this. As I said, I have one of their "smaller" trees (it's still over 5″ tall) and I'm very pleased with the brand.
As with the other options, I think I would add some more padding to the areas where my cat would sleep, though.
Sale
Go Pet Club 72" Premium Cat Tree Kitty Tower Kitten Condo for Indoor Cats with Scratching Posts, Condos, Ladders, Soft Perches, and Hanging Toy Cat Activity Center Furniture, Beige
ULTRA-DURABLE: All scratching poles and boards are completely hand-glued with thick natural sisal ropes and skin friendly plushy faux-fur fabrics, strong enough to hold up against even the most aggressive scratchers, condo walls build with MDF board holds the shape of the cat tree, this cat furniture investment will last a long time.
SAFETY FIRST: Crafted with heavy weight, durable and environmentally friendly 0.6-inch MDF boards for overall balance. Scratching posts made with extra strong plastics for stability and longevity, and the minimal use of well-hidden staples will keep your loved one's paws well protected.
RELAXATION AND FUN: Tall cat perches that give your cat the best view, dual condos provide fun spaces for hiding out and as cozy beds for napping, ladders that allow even the smallest kitten to climb up and down with ease, and two hanging mouse toys encourage your kitty to play, lounge and perch on this all-in-one activity structure.
SAVE YOUR FURNITURE: This kitty tower will entertain the restless claws to prevent them from ruining your furniture. The simple design fits perfectly at the corner of any indoor space that will easily blend in with the aesthetics of your home. Available in beige, beige/black, black, black/brown, brown, paw print, or slate grey.
EASY ASSEMBLY: The 22"L x 33"W x 72"H cat tree is suitable for small, medium, and large cats. All hardware and tools are included with step-by-step instructions.
The New Cat Condos Premier Triple Cat Perch may not look like much, but it has all three of the features that I'm looking for.
BENEFITS
Solid Wood construction that's handcrafted in the US.
Comes fully assembled
Plush carpeting on all levels (it's made of the same grade of carpeting you find in homes)
Two sisal rope scratching surfaces
Thick wood base prevents tipping, and it's low enough to the ground that I don't have to worry
Top perch is 20 inches wide and 13″ deep, making it great even for large older cats.
Cons
It's a bit expensive, costing almost as much as some of the larger trees (the solid wood is what drives up the price).
Not the most stylish looking tree out there.
Bottom Line
Even though it's kind of basic looking, it has everything I'm looking for: good construction, low to the ground, plush nap spots, and "step-like" levels.
This is my top "great straight out of the box" choice, as you don't need to put it together or do anything special to get it ready for your senior cat.
New Cat Condos 110029-Brown-Parent Premier Triple Cat Perch, Gray
Fully Assembled, Handcrafted in the USA and Ready to use right out of the box!
Made from solid wood, plush household grade carpet and natural unoiled sisal rope
Available colors: beige, Brown, Blue, green, Gray
Dimensions: 20"w x 20"d x 32"H
Carpet color shades and textures may vary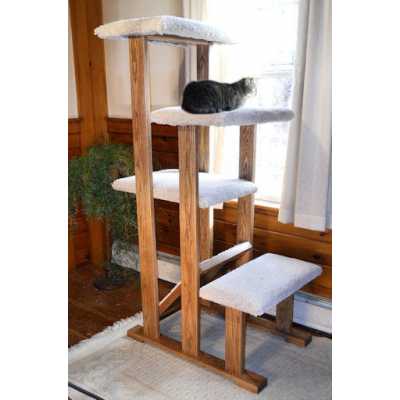 The Solid Wood Quad Perch Cat Tree from CatsPlay Cat Furniture is another all-around great choice.
It's also the perfect alternative for those who like the features of the last one but one something a little more, well, more.
BENEFITS
Made with furniture-grade hardwood.
Multiple levels that are "step-like," making it easier for senior cats to climb.
Super plush carpeting on top of 1″ foam on the 24″ perch makes it the comfiest of all the cat trees on this list.
Comes with an angled carpet scratcher close enough to the floor for older cats to use.
Available in numerous different finishes to make it better fit into your home decor theme.
Cons
The height between levels is 15″, higher than the tree I have now. Even with the alternating levels, it's quite a bit of a leap for arthritic cats.
It's not cheap! In fact, it's the most expensive tree on this list by more than $100.
Bottom Line
I love how this looks kind of like a piece of antique furniture. I also adore the foam padding feature, and the fact that it's made of real wood.
For my 15-year-old cat who can still jump up, the distance between the levels is fine because of the step-like alternation.
My 21-year-old cat, however, never would have been able to use this tree, so it really depends on your cat's mobility levels.
| | |
| --- | --- |
| | I saw it on CatsPlay Cat Furniture   Solid Wood Quad Perch Cat Tree — $414 Solid Wood Quad Perch Cat Tree is a beautiful piece of furniture for your cat. |
RELATED: Best Cat Tree for Maine Coons
How to Choose the Best Cat Trees for Older Cats
This post contains affiliate links. If you make a purchase through these links, we earn a small commission at no extra charge to you.
As I mentioned above, choosing the best cat tree for older cats isn't quite as simple as buying one for your kitten.
It's not even as easy as buying a space saver cat tree or one for extra large kitties!
While you may have a spry senior, in my experience older cats really just aren't into running and jumping as much as their younger counterparts.
I had a cat that lived to be 21. I literally had her had her half of my life when I lost her last year. Please don't do the math to figure out my age!
Right now, I have a 14.5-year-old cat who is just starting to slow down. While my other two cats use our large tree, she only sits on the bottom floor.
Not very fun! I'd like to get her a smaller tree just for her. Here's what I'm looking at when I pick it out.
Related: Best cat trees made of wood
1. Distance between landings
While overall height will play a factor, as you'll see in a moment, the distance between the landings matters more when choosing the best cat trees for older cats.
You want something that lets them do a little jumping if they feel like it, but that also allows them to just kind of hop or climb up the tree.
Either look for something with a short distance between levels, or with alternating "step-like" levels.
My cat tree right now is a vertical climb all the way to the top. It might as well be Mount Everest for my older cat.
2.Overall Height
When I talked about space-saving cat trees, I feel in love with the  Hollywood Floor to Ceiling Cat Tree pictured above.
While it does have the alternating levels that I'm looking for, it's not really a good choice for my old kitty.
It lacks the padding (more on that below), for one thing.
The other issue: it's too high. I'm afraid my senior cat will fall off of it from too high up and get hurt.
She's fallen off the counter in the past, so it's a very real possibility. Her balance just isn't what it used to be!
I prefer something that is a lot shorter, so that the highest level isn't a dangerous drop to the ground.
3. Plush & comfy nap areas on multiple levels
My younger cats sleep in some odd spots that just look incredibly uncomfortable.
Case in point: I found Alex the Fuzz sleeping on a printer with his paws wrapped tightly around my router extension (I have the Linksys Velop
, it looks like a little tower).
My older girl, though, is all about the comfort. She prefers cozy beds and blankets to hard surfaces.
My current cat tree, while perfect for Fuzz and Zoe, is just too hard for her. I'd like something with plusher carpeting in her nap spaces.
final Recommendation
While all five of these best cat trees for older cats fit at least two out of three of my criteria, only one fits all three: the Solid Wood Large Triple Cat Perch.
I don't love the style, but my cat's comfort matters more than my personal taste, so it's my #1 choice.
However, like I said, I'm madly in love with the modular tree. Even though it doesn't have the padding, it's gorgeous and fits my other criteria.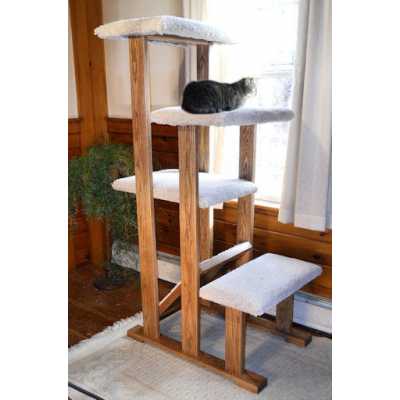 What about you? Do you have any other picks for the best cat trees for older cats? Share below!
Nicole Etolen
Nicole is one of the writers here on CatVills. She's been a cat lover most of her life and-at one point- counted five felines as part of her family. Today, she's proud cat mom to two indoor kitties and caregiver for a slew of ferals.
Find her on Linkedin. Read her latest articles.
Learn more about Nicole Here
Last update on 2023-02-02 / Affiliate links / Images from Amazon Product Advertising API