Is there such a thing as a guard cat? For example, will your cat spring to action and attack an intruder to protect you? It's an interesting question, let's find out the answer!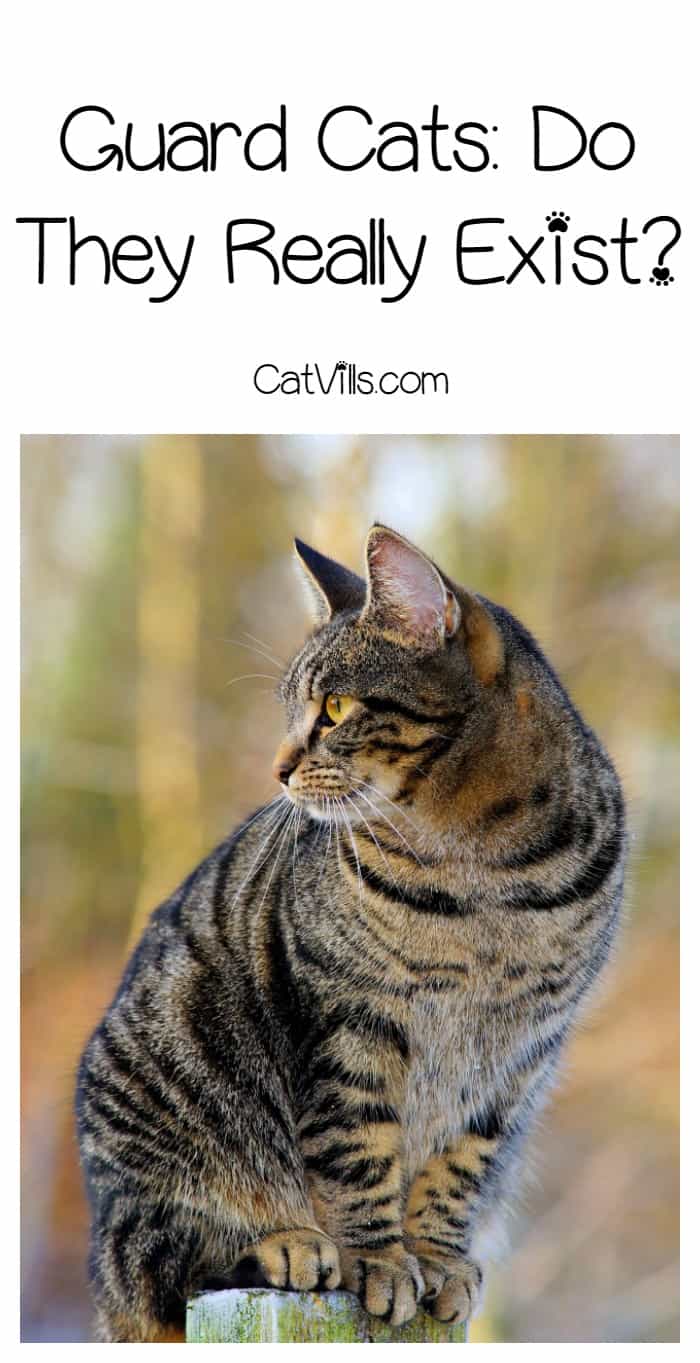 Anyone that has ever had the pleasure of owning a cat knows that a cat is just a small human stuck in a furry body or a highly intelligent life form that thinks humans are here to serve them. Not all cats are alike in this way, but you understand what we're saying. The question remains, will a cat attack an intruder that threatens their family? Guard cat? It seems anything is possible if you search around on the internet, you can certainly find some that have, while others that lean more towards the 'scaredy cat' stereotype. So do guard cats actually exist? Let's see!
Guard Cats: Fact or Fiction?
I'm going to bottom line this for you really quick: guard cats CAN exist, of course, but for the most part, your cat isn't going to ward off intruders the way, say, a guard dog would.
There are plenty of stories out there about cats attacking intruders. They make for great news stories, don't they? Still,  that doesn't mean all cats will do it. Of course, it also doesn't mean that they won't. Even though there is no scientific evidence to prove that a cat can be a guard cat and protect you against an intruder, then again, there's no scientific proof that they will not either. It seems to just depend on the cat and their personality. How's that for a totally vague answer? Seriously though, just like some dogs defy "guard dog" stereotypes by hiding under the bed at the first sign of danger, some cats defy the "I'm in it for myself" stereotype by going above and beyond to protect their families.
Some of the more aggressive breeds of domestic cats might be the ones that could turn into a holy terror against an intruder that enters your home. Like a Siamese, for instance. Even though a cat's natural instinct is to hide, where a dog would bark and raise a fuss, not all cats are the same. Cats are, by nature, even more territorial than dogs! So it isn't out of the question for them to let you know that there's something or someone that has entered their territory by growling, raising their hackles, or meowing.
They also could very well attack the object or person if they feel threatened or feel that their territory is threatened in anyway, that might include their human pet parent. Are they protecting you out of love or because they "own" you? Who knows for sure? A cat might, but they're not going to tell you!
Cats are wonderful companions, cuddly little fur balls if they choose to be, excellent mice catchers, stress relievers, fun, and goofy, and stealthy hunters, but they aren't the first pet we think of when searching for a protector. Unless we're looking for a pet to protect our homes from mice, squirrels, birds, or any other small animals. This is what they are known for, and most cats still hold true to their natural hunting abilities. So when you decide you want to own a cat, be sure you want to own it for other reasons than protection from intruders, because they do make magnificent pets.
Has your cat turned guard cat to protect what is his or hers? Let us know in the comments, we'd love to hear your stories.