When it comes to feeding your cat, you need to feed them food that is going to give them plenty of nutrition and energy for their everyday activities.
No one wants their cat to start pawing at cupboards around their kitchen looking for more food after breakfast or dinner, do they?
It's for this reason that wet cat food pouches and cans are among the most popular foods outside of dried kibble.
However, it can also be difficult to find wet cat food that doesn't cost a small fortune to add to a regular grocery shop or online shopping cart.
Fortunately, we are here to show you some of the best wet cat food that is good for them and won't break the bank to buy for them.
Whether they love chicken, fish, beef, or turkey, your cats will be well catered to here!
Best Wet Cat Food At A Glance
#1 Winner: Nulo Wet Canned Cat Food
Starting us off with a very popular option for feeding your cats, and overall one of the best, we have Nulo and their freestyle wet canned food.
This is a great option that virtually every cat will be interested in, if not wholly enjoying!
While there are some trace amounts of thickening agents used to help bulk out the can of food.
The pure meat content of these cans is more than enough to make up for a little bulking out, with a can of this premium pet food containing as much as 94.5% real meat in there.
Compare that to some of the meat content that you'll find in dried cat food, and there's no competition between them!
Not only that, but the meat is high-quality food for them as well, giving them plenty of protein that cats need in their diet to stay healthy and active.
Plus, this particular canned meat is great for adults and kittens, so you won't have to worry about changing their diet much if they love it as kittens and grow up.
#2 Best Low-Carb: Nulo Turkey & Chicken Wet Canned Cat Food
Next up is another quality Nulo product. Only here, the duck and fish have been replaced with turkey and chicken.
Nulo is known for an extensive line of different cat food products.
All of them contain a very high meat content that cats need in their diet, including some highly nutritious chicken liver meat that has been added to the mix!
With a very low carb and fiber content, this is a food that will not mess with your cat's digestion as they feast away on it.
And with the overall price of these cans equaling out to around $0.22 per pound of wet food, it's also going to be easy on your wallet if it's easy on your cat's belly.
Despite the ingredients in this can, there's certainly nothing fowl about this option for your little kitty overlord!
#3 Best High Protein: Purina Friskies Wet Cat Food
Moving away from Nulo cat food, we have another well-known brand when it comes to popular packs of pet food.
Purina has a wide variety of different types of canned and packaged foods on offer. But for our money, Purina Friskies, as shown here, have to be some of the best.
For one thing, the high protein count of this pet can would put bodybuilders to shame, with a 100% protein-packed meal in every pack.
Plus, the texture of the meat in these cat food containers is very different from Nulos.
While pate food is perfectly fine for cats to eat, the lack of texture can make it comparatively unengaging and boring for your pet to eat.
And if you want to keep them happy, engagement at every corner is essential.
So it is nice to see that the chunky food on offer here has plenty of what the foods we have covered so far do not!
#4 Best For Adult Cats: Wellness Wet Cat Food
Wellness has a very appropriately named brand name, considering how great their cat food is for your pets.
This chicken pate-based can is the perfect kind of meat for your cats and kittens, being full of not just chicken, but all the other vitamins and nutrients that cats need to stay healthy.
Plus, the moist food will help cats stay hydrated when they are away from their water bowls for whatever reason (again, cats will be cats).
This makes it a great food that is perfect for keeping your cat healthy throughout its life, keeping vet visits to a minimum, and keeping your feline friend feeling fine!
No wonder this particular canned food is recommended by both pet owners and veterinarians alike!
#5 Best Natural: Applaws Natural Wet Cat Food
Okay, amazing name aside, there's more to this pet food outside of an incredible pun for the brand!
Applaws has all the things that you have come to expect from good canned cat food.
It has a high protein count, making it both nutritious and tasty for your furred (or maybe furless) feline, without any complex supplementary or other ingredients.
The low fiber content means that it won't upset your cat's stomach as it is digested. And, of course, an interesting texture that will hook your cats in and make them want more.
(We apologize for the constant meowing in advance!)
Plus, this canned cat food is a great way to make even dry kibble for your cat more appealing.
The dry cat pellets will benefit from this juicy and rich extra food topping mixed into a cat bowl for your precious pet.
#6 Best For Budget: Dave's Pet Food Wet Cat Food
Now, if you're looking for wet cat food on a budget, you'll probably want to take a closer look at Dave's Naturally wet canned food.
The first thing that you'll probably notice about the other products so far is their size.
This is comparable to a dog or even human canned tin, meaning that there's even more food in here for your cats (great for feeding more than one feline).
Plus, it still manages to keep the fiber content of the food down, keeping the healthy protein-filled can as the main food source for this item.
While there is a slightly higher fat content here, when given in moderation, you won't find a better budget option for your furry friend!
#7 Best Luxury: Wellness CORE Signature Selects Wet Cat Food
Now, if you're looking to REALLY treat your cat to some luxury cat food, this is the canned meal to go with it.
Along with some beautifully juicy meat for the little cats in your life (of which there are plenty of flavors to choose from).
Alongside all that protein that cats have come to expect from their best food, they are the little kings and queens that they are!
#8 Best FOr Senior Cats: Freshpet Wet Cat Food
For a slightly different kind of wet cat food, we turn to this little stick of protein for your pet.
This stick of chum is packed full of the same meaty protein that your cat needs and loves to eat, this time in fine pate form.
Not only does this have more meat in it than a standard tin of cat food, but it can also be mixed into your cat's dry food.
Or, if your cat hates the dry stuff, this pate on its own has all the nutrients your pet needs!
Dry Cat Food vs. Wet Cat Food: Which Is Better For Your Cat?
If you have been looking at these products and comparing them to more dry options, you may be wondering if they are better for your cat in the end.
Dry Cat Food
Well, dry cat food generally tends to be noticeably cheaper than its wet or canned counterparts, something that many owners often appreciate if they wish to buy in bulk.
Plus, dry cat food or kibble also tends to be able to preserve itself for longer periods of time than wet food, unless properly sealed, as well as having a lower chance of catching or growing harmful bacteria on it.
However, dry cat food also tends to be high in carbs, something that cats shouldn't be eating much of in their diet overall.
Plus, the overall protein quantity in dry food varies quite a lot, so there's no guarantee that your kibble has 50% or 5% protein in it.
Wet Cat Food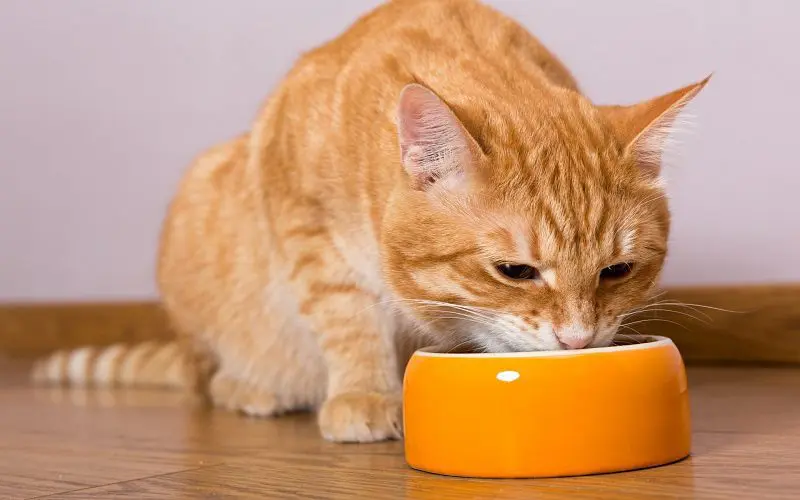 Meanwhile, canned or wet cat food, at least when first sealed, can also last for long periods and pack plenty more water content into its food (cats get a surprising amount of their daily moisture from their food).
Plus, while the amount can still vary slightly, canned or wet food will usually have a higher protein content than kibble and contain more fresh meat that cats love to eat.
However, once opened, cat food tends to spoil very quickly as well, while also usually being more expensive when purchased individually or in bulk.
Final Thoughts
Overall, cats are usually curious creatures that are willing to try many foods at least once, so experiment with different foods to see what your little kitty finds interesting.
So, while they might cost just a little more than their dry counterparts, your cats will thank you for forking out the little bit of extra cash to feed them.
And hopefully, we have shown you pet owners out there that feeding your cat well doesn't mean that it has to be expensive at the same time!
Last update on 2023-09-21 / Affiliate links / Images from Amazon Product Advertising API