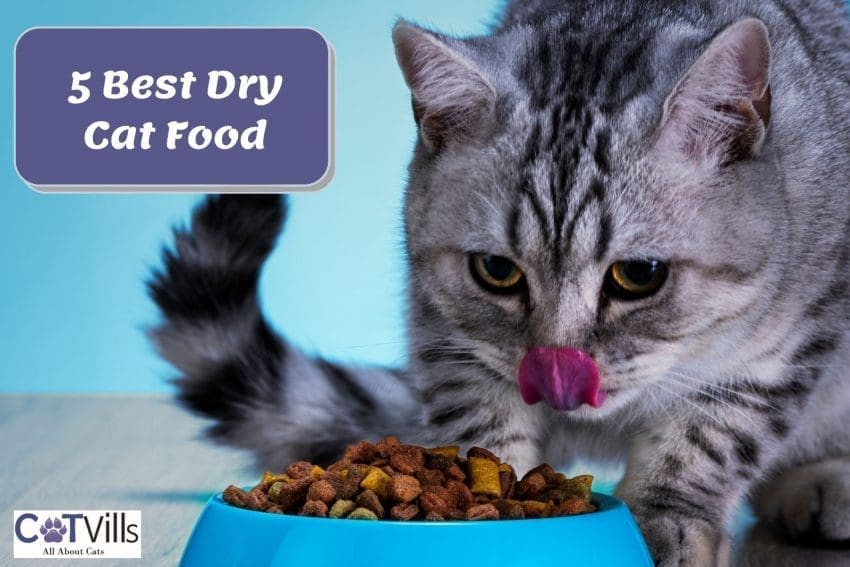 Are you struggling to find the best dry cat food for your capricious kitty?
It's easy to be overwhelmed by all the healthy cat foods available on the market or get mislead by all the cheap ones.
But don't worry, we're here to help you made the best selection with our reviews of the top 5 best options.
Start with a quick glance at our list, then keep reading for all of the details.
READ MORE: Can Cats Eat Almonds?
5 BEST DRY CAT FOOD at a Glance
FYI, this post contains affiliate links. We earn a commission if you make a purchase at no extra cost to you.
Check this comparison table to see them side-by-side.
Top Benefit
High-quality protein percentage comes from real chicken
More than 70% of real animal ingredients
Full of minerals, vitamins, and antioxidants for a strong immune system
Contains all-natural ingredients, no artificial color, and no major allergen
Top 5 Best Dry cat Food in 2021 with Reviews
As specialists explain, "cats are obligate carnivores." In other words, they thrive best on a diet rich in protein, moderate fat content, and little carbohydrates.
Cats also can't make certain amino acids on their own. That's why the best dry cat food should contain a nice variety of minerals, essential acids, and taurine.
Unfortunately, many dry cat foods have very little nutritional value for your kitty, despite what it says on the label.
They're full of carbohydrates, fillers, artificial color, and harmful ingredients.
But we're here with the best dry cat food reviews to help you find the right brand for your feline friend.
As we already said, cats' natural diet consists mainly of protein with little fiber and little carbohydrates (1-2%).
Wysong knows this and has manufactured one of the best high-protein dry cat foods on the market.
It's an excellent choice for cat parents looking for the best natural adult dry cat food with high-quality real ingredients.
Standout Features
Starch-free formula
5 lb bag
Grain-free
Organic chicken recipe
Suitable for all breeds
Now, let's looks at the top benefits and drawbacks at a glance, then we'll go over them in more detail.
Benefits & Drawbacks at a Glance
| Benefits | Drawbacks |
| --- | --- |
| Protein derived from organic chicken | Pricey |
| Resembles cats' ancestral diet | May cause diarrhea at first |
| Grain-free/starch-free, no artificial preservatives | Kibble too hard for seniors |
| Controls hairballs | |
Wysong's Benefits for Cat Owners
Wysong's starch-free product contains over 60% of protein derived from organic chicken, 15% fats, no carbohydrates, and fresh fruit/vegetables.
But what does this mean for your kitty?
The Wysong Epigen 90 is formulated to resemble your cat's ancestral diet closely.
Its high-quality protein percentage comes from real chicken to sate your cat's hunger with a small portion.
Moreover, the first ingredient is organic chicken, and the formula has a great crude fiber percentage for optimal digestive health.
Wysong also impresses with us their grain-free/starch-free formula with no artificial preservatives, artificial flavor, or chemicals.
The recipe uses citric acid/ mixed tocopherol as natural preservatives and coconut oil for hairball control and reduced inflammation.
The low carbohydrate content is also great for maintaining a healthy weight and can also be an excellent choice for diabetic cats.
But wait – there's more.
This best dry cat food brand contains extra probiotics, vitamins, minerals, omega 6-fatty acids, and omega 3-fatty acids.
It also has antioxidants for a shiny coat and healthy skin.
More importantly, one reviewer notes that their cat "cleans the dish every night."
Drawbacks
Some cat owners note that their cats had diarrhea after switching to Epigen 90 or their cats refuse to eat it or were sick for a few days afterward.
Some reviewers also point out that the kibble is too hard for senior pets, so it isn't the best cat food for older cats.
What Makes This Brand Unique?
Most cat food best brands contain around 30-40% of protein. But Wysong Epigen grain-free formula boasts more than 60% of animal-sourced protein with no artificial ingredients.
Wysong's dry kibble doesn't use cheap fillers, such as pea protein, to buff their percentage. They rely on animal protein sources of the highest quality.
This best protein cat food also has no carbohydrates, no grains, and no starch.
Updated Features
Wysong has upgraded their formula to eliminate starches and create a complete cat/dog dry food that provides all the necessary vitamins and minerals for optimum health.
Compared to other Wysong products, the Epigen 90 has organic chicken as the 1st ingredient, not chicken meal, and better protein/animal fat balance.
Considerations and Tips
Wysong Epigen 90 formula provides balanced nutrition both for cats and dogs, so you don't have to buy separate dog food.
The kibble is small in size, which is great for most cat breeds. However, be careful if you have a cat that tends to swallow the granules whole.
Remember to provide enough fresh water and introduce the food slowly to avoid stomach upset.
READ MORE: Baby Food for Cats: Is it Okay to Feed Them?
Most kittens do best on a wet cat food diet. But if you're looking for the best dry cat food for kittens, consider Instinct's Original Grain-Free formula.
Standout Features
Grain-free formula
Cage-free chicken
Freeze-dried raw coating
4.5 lb bag
Suitable for all breed sizes
Benefits & Drawbacks at a Glance
| Benefits | Drawbacks |
| --- | --- |
| 70% real animal ingredients | May cause loose stools |
| Made from cage-free chicken | Kibble is a bit large for a kitten food |
| No artificial ingredients | A bit pricey for multiple cat owners |
| Cat love the freeze-dried raw coating | |
Instinct's Benefits for Cat Owners
Instinct's recipe includes cage-free chicken as the primary ingredient and has more than 70% of real animal ingredients.
The rest 30% percents are fresh vegetables and fruits, all-natural.
As such, Instinct's chicken cat food boasts over 47% estimated protein content, higher than the other popular brands like Blue Buffalo.
It provides a balanced meal for kittens without artificial components, flavoring, or allergens to trigger food sensitivity. And it's made of real cage-free chicken.
Moreover, each kibble is coated in freeze-dried raw to provide the best possible nutritional value. The extra flavor makes it irresistible for kittens.
Best of all, the formula contains essential vitamins, omega fatty acids, and probiotics for better digestion, a strong immune system, and a healthy coat.
The chicken recipe also provides enough calories for growing kittens, who need plenty of energy to grow up big and strong.
Moreover, Instinct is made in the USA, and the ingredient list shows minimal fillers, making it an excellent choice for any pet parent.
And as reviews indicate, kittens "can't wait to eat it."
Drawbacks
Some kittens don't handle the raw coating very well and can have loose/soft stools, as Amazon user reviews indicate.
Several pet owners also noticed a difference in the kibble size and complained that it was more suitable for an adult cat.
Due to the high-quality ingredient, Instinct is also not the most affordable food, especially if you're raising a big litter of kittens.
What Makes This Brand Unique?
This chicken recipe dry cat food boasts higher than average protein content compared to other kitten brands.
It uses high-quality meat – cage-free chicken, along with turkey meal and menhaden fish.
It's one of the few that uses natural ingredients and produces kibbles with raw coating.
And buyer reviews are very favorable, calling it "the best brand money can buy."
Updated Features
Nature's Variety is committed to producing the highest quality product meal, keeping it as close to cats' natural diet as possible.
They have incorporated the raw food element in all their brands and continue to research/develop their formulas.
Considerations and Tips
Consider feeding your kitten a mix of Instinct's dry and wet formula for optimum health and body weight.
The company gives you a 100% guarantee, as per their website's statement. You can return the bag if you're not satisfied with it. Just keep the receipt.
Check Instinct's Limited Ingredient Diet if you have cats with food sensitivity.
Instinct Grain Free Kitten Food, Original Kitten Real Chicken Recipe Natural Dry Cat Food, 4.5 lb. Bag
KITTEN GRAIN FREE CAT FOOD WITH CAGE FREE CHICKEN: Instinct Original is made with 81% real animal ingredients and nutritious oils; 19% vegetables, fruits and other wholesome ingredients. Cage free chicken is the #1 ingredient - for energy to grow & play.
NATURAL KITTEN FOOD: Instinct Original dry cat food for kitten is made with probiotics for digestive & immune health and omegas for healthy skin & soft fur. Made without grain, potato, corn, wheat, soy, by-product meals, artificial colors or preservatives
THE FIRST RAW COATED KIBBLE FOR KITTEN: Our grain free, natural cat food offers complete & balanced nutrition for kittens. Each piece of kibble is coated in freeze dried raw for nutrition & taste. Delicious flavors that even picky kitties will love.
POWER OF RAW INGREDIENTS: Our kitten food is made with the real nutrition of raw. Raw is natural, made from real meat & whole food ingredients, protein packed & minimally processed. Made in the USA with the finest ingredients from around the world.
INSTINCT, THE RAW BRAND: We craft dry & wet cat food from real ingredients. Compare Instinct to Blue Buffalo, Fancy Feast, Hill's Science Diet, Royal Canin, Rachel Ray, Natural Balance, Merrick, Purina One, Friskies, Wellness, Iams, Purina Beyond & Weruva
Senior cats aren't as active as kittens and have a slower metabolism than adults.
They need kibble crafted to suit their special needs.
As you'll discover, Wellness Complete Health is the ideal choice for seniors cats and won't disappoint you with its quality.
Standout Features
Grain-free recipe
Chicken or salmon flavor
Supports joint health
5.5 lb bag
Urinary health
It contains Vitamin A, Vitamin C, and Vitamin E
Benefits & Drawbacks at a Glance
| Benefits | Drawbacks |
| --- | --- |
| Highly digestible | Higher carb count |
| Supports a healthy immune system | Not ideal for weight management |
| Includes glucosamine and chondroitin | |
| Helps improve coat health | |
Wellness Complete Benefits for Cat Owners
Wellness Complete Health is one of the best dry cat foods for older cats because it's full of minerals, vitamins, and antioxidants for a strong immune system.
It's a great source of vitamin A, vitamin E, calcium, phosphorus, omega 3- and 6-fatty acids, and taurine.
There's also no grain, which makes this pet food highly digestible.
Wellness Complete Health also contains glucosamine and chondroitin. These are great for your cat's joint health.
The added cranberries also support your feline friend's urinary health.
Moreover, the first ingredient is a deboned chicken with no artificial flavors/colors that can be hard to digest for senior cats.
Best of all, Wellness Complete Health has over 39% crude protein to ensure your senior cat has enough energy and adequate calorie intake.
Furthermore, the omega 3 fatty acid and the omega 6 fatty acid are great for maintaining coat health and smooth fur.
And it's got plenty of crude fiber for optimal digestion.
As several customers note, the bag has a seal to keep it fresh as long as possible and avoid stinking up the house.
Drawbacks
While Wellness has a great protein/fat ratio, its carbohydrate content is above average, which isn't great for weight management.
But that can be a plus if your pet struggles with weight loss.
A couple of reviewers also state that the food has amazing qualities, but their cats refused to eat Wellness Complete Health at all.
What Makes This Brand Unique?
Unlike other best dry cat food for seniors cats we've reviewed, this brand has a grain-free chicken recipe with real meat and high protein content.
It's full of essential nutrients to support a senior cat's metabolism, joints, and urinary tract.
It doesn't contain chicken liver, which we've seen in other products while searching for the best dry cat foods for senior cats.
Updated Features
Wellness Complete Health is available in natural chicken flavor and fish (salmon) to offer more options for capricious older cats.
It's also a grain-free dry cat food, unlike some of the other recipes for adult pets available from Wellness Natural.
Considerations and Tips
Dry food has too little moisture content, making it hard for cats with teeth problems to chew. Consider mixing the dry food with a bit of wet to give it extra moisture.
If your cat has hairballs, check Wellness Natural dry cat food for hairball control.
Most owners think it's normal for cats to vomit from time to time.
However, according to specialists, "gastrointestinal disturbances are commonly caused by poorly digestible foods."
Cheap dry food fillers such as wheat, grains, and artificial coloring often upset a cat's stomach.
So, switching your cat to a highly digestible food can improve their digestive health.
In these cases, there's no better choice than Dr. Elsey's Cleanprotein dry cat food since they use fresh ingredients with no artificial flavors.
Standout Features
Chicken/salmon flavor

Gluten-free

Grain-free food

Available in 2lb or 6.6 lb bags

Suitable for all breeds
Benefits & Drawbacks at a Glance
| Benefits | Drawbacks |
| --- | --- |
| High protein & no carbs from fillers | Pricey |
| Made for sensitive stomachs | May cause stinky loose stools |
| Add vitamins & amino acids | |
| Helps maintain a healthy weight | |
Dr. Elsey's
Benefits for Cat Owners
Dr. Elsey's formula impresses us with its high content of animal-based protein, a moderate percentage of animal fat, and no carbohydrates from fillers.
It's perfect for any kitties with sensitive stomachs since the recipe contains all-natural ingredients, no artificial color, and no major allergens.
Instead, you get real chicken/fish meat as the first ingredient. Both are excellent sources of protein for an obligate carnivore, such as your cat.
The recipe also includes dried egg product, fish oil, Vitamin B2 supplements, Vitamin D3 supplement, and plenty of other essential amino acids.
As such, Dr. Elsely's formula promotes healthy digestion, provides omega 3-fatty acids for healthy skin and lustrous coat.
It also helps you manage your cat's body weight.
But wait – there's more.
This natural dry cat food is available in small bags of 2 pounds or a large one of 6.6 pounds, and it's suitable for all life cycles!
Customers' reviews are also highly positive, with one Reddit user sharing, "Dr. Elseys is the best extruded dry food."
Drawbacks
The biggest drawback of Dr. Elsey's cat kibble is that it's more expensive than other high-quality brands.
Some owners also complain that the protein content is too high and causes loose stools, diarrhea, and stinky poop.
What Makes This Brand Unique?
Dr. Elsey's special formula contains a minimum of 59% protein above the average percentage of most brands.
T

his best dry cat food is one of the few gluten-free formulas with no questionable or controversial ingredients.
Updated Features
Dr. Elsey's premium cat food is available in two flavors – salmon and chicken, but we'd like to see more variety in the future.
That's because chicken/fish are common food allergies in cats.
Fortunately, the manufacturer has several wet food options with duck, rabbit, ocean white fish, beef, turkey, and chicken.
Considerations and Tips
Introduce the food slowly since it can cause stomach problems in cats not used to high protein content.

Combine Dr. Elsey's dry and wet food for optimum feline health.

Check Dr. Elsey's cat litter if you're looking for a natural, dust-free product.
Sale
When you're feeding many cats, it's not always possible to go for the highly-rated, well-priced product.
If you need something affordable without compromising quality, you can't go wrong with Iams Proactive Health.
Standout Features
Available in several sizes – 3.5 lb, 7 lb, 16 lb, or 22 lb.

Natural fiber

Fresh meat as the first ingredient

Chicken or salmon flavor
Benefits & Drawbacks at a Glance
| Benefits | Drawbacks |
| --- | --- |
| Very affordable | Contains animal by-products |
| Easy to find in supermarket | Not good for weight management |
| Loaded with vitamins & amino acids | |
| Good for sensitive stomachs | |
Iams
Benefits for Cat Owners
While affordable, Iams Proactive Health food for cats still has clearly named protein source as the first ingredient.
It also doesn't have as many cheap fillers as other commercial brands and the label shows very little controversial ingredients.
That's great if you're looking for something inexpensive to sate your cat's hunger without upsetting their sensitive digestive system.
Iams's dry cat food also contains natural fibers, Vitamin B1, Vitamin B6, Vitamin B12, and Riboflavin supplement (Vitamin B2).
It also boasts plenty of essential amino acids and minerals, which are great for your cat's overall health, digestion, and skin.
Moreover, Iams is a cat food company whose products you can find easily, not only online but also at your local supermarket.
And as one Amazon reviewer notes, "cats love it."
Drawbacks
Iams's Proactive Health has several controversial ingredients, such as chicken by-product meal and whole grain corn.
Usually, by-products encompass animal parts not suitable for human consummation, such as beaks, talons, etc.
So, don't expect human-quality ingredients.
Moreover, corn isn't part of your cat's natural diet and is rich in carbohydrates. That's bad for weight management or diabetic cats.
What Makes This Brand Unique?
Unlike most cheap cat food brands, Iams premium adult cat food has a good protein/fat/carbohydrates balance and doesn't use any artificial coloring agents.

The first ingredient is real named meat, which we consider a big advantage.

Other cheap brands, such as Friskies, use yellow corn and cornmeal as first ingredients.
I

t boasts several supplemental ingredients to support your cat's health and provide adequate nutrition.
Updated Features
Iams has a great variety of dry kibble, crafted to support your feline health through all life stages and meet cats' unique dietary needs.
They've upgraded their recipe to provide a higher protein percentage with fewer fillers and eliminate artificial coloring/flavoring.
Considerations and Tips
If your cat has stomach problems, try Iams chicken and turkey dry cat food.

You can call Iams nutritional specialists toll-free.
Best Dry Cat Food FAQs
What Ingredients Should I Look For in Cat Food?
The first ingredient should be real named meat, such as chicken, salmon, beef, turkey, or rabbit. Avoid "by-products." Watch for fillers, like corn or rice. Avoid artificial colorings and flavorings.
Look for a high percentage of fresh ingredients, omega 3-fatty acids, omega 6-fatty acids, folic acid, and antioxidants. Zinc, copper, and manganese are also essential for your cat's skin, organs, and immune system. 
What's the Best Dry Cat Food for Older Cats? 
 The best dry cat food for senior cats should be rich in protein with sufficient carbohydrates, essential vitamins/minerals, and fresh ingredients. Please talk to your vet since senior cats can have specific dietary needs and require a diet for optimal urinary health.
What Cat Food to Avoid?
Avoid any cat food whose first ingredient isn't named meat and any brand with too many carbohydrates among the first five listed ingredients.
Certain human foods are also toxic to cats, including garlic, onion, chocolate, grapes, and raisins. And contrary to popular opinion, cats are lactose-intolerant and can't drink milk. So, avoid spoiling your cat with table scraps. Instead, get them high-quality cat food, homemade tuna treats, or chicken liver. 
How Much Dry Cat Food Should I Feed My Cat?
Follow the recommendation on the package of dry food. In general, if you're feeding high-protein food, most cats will need between 1/3 to 1/2 of cups per day, based on the cat's weight.
However, the daily feeding amount can vary, depending on your cat's activity level and age. Talk to your vet if your cat always seems hungry or has a weight problem.   
Our Pick
These five best dry cat food brands have excellent protein content and provide a balanced diet with advanced nutrition for your kitty.
However, our top pick is Wysong Epigen 90 Starch-Free Recipe.
It's the best protein cat food on the market with over 60% animal-sourced protein, fresh meat, and no artificial ingredients, chemicals, preservatives.
Wysong Epigen 90 is also grain and starch-free to be as close to your cat's ancestral diet as possible.
It also contains plenty of minerals and vitamins to support digestive and skin health.
While this high-protein, grain-free dry cat food is more expensive than other commercial brands, it has excellent customer reviews.
Moreover, cats eat less when their meat is protein-rich. So, getting a high-protein, grain-free dry cat food can be cheaper in the long run.
Conclusion
Feeding cats dry kibble isn't ideal, even when you have the best dry cat food brand.
That's because many cats don't drink enough water and are at risk of kidney problems.
The best dry cat food ensures your cat gets enough animal-sourced protein, necessary amino acids, and plenty of vitamins/minerals.
Just keep in mind that sometimes cats get bored with the same taste or get addicted to certain flavors/brands.
For optimal nutrition, consider adding wet food or homemade cat treats to your cat's diet.
What do you think about these 5 best dry cat foods? Which one is the best-tasting dry cat food according to your kitty? Share below!
Grigorina S
I've grown up surrounded by animals – dogs, cats, cows, goats, sheep, and horses and that has shaped me into what I am today – a crazy cat lady who always has a place for one more cat (or a dog). I've got two female cats – Kitty and Roni, and two tomcats – Blacky and Shaggy, but I also feed my neighbors' cats when they come for a visit. I just can't say no to them.
I discovered that writing is my vocation early in my school years. Since then I've taken part in several literature contests – writing horror and fantasy short stories and novellas.
For the past three years, I've been an ELS teacher, pouring my heart into showing children and teenagers how important English is for their future and trying to educate them how to treat their pets with care.
Last update on 2021-09-24 / Affiliate links / Images from Amazon Product Advertising API