Last updated on September 15th, 2023 at 03:00 pm
Are you struggling to find the best dry cat food for your capricious kitty?
It's easy to be overwhelmed by all the healthy cat foods available on the market or get mislead by all the cheap ones.
But don't worry, we're here to help you made the best selection with our reviews of the top 5 best options.
Start with a quick glance at our list, then keep reading for all of the details.
Best Dry Cat Food at a Glance
As specialists explain, "cats are obligate carnivores." In other words, they thrive best on a diet rich in protein, moderate fat content, and little carbohydrates.
Cats also can't make certain amino acids on their own. That's why the best dry cat food should contain a nice variety of minerals, essential acids, and taurine.
Unfortunately, many dry cat foods have very little nutritional value for your kitty, despite what it says on the label. They're full of carbohydrates, fillers, artificial color, and harmful ingredients.
But we're here with the best dry cat food reviews to help you find the right brand for your feline friend.
#1 Best High Protein: Wysong Epigen 90 Dry Cat Food
Sale
Wysong Epigen 90 Dry Cat Food
The first extruded dry diet/kibble pet food that is Starch Free...
More closely resembles the food your pet is designed to eat. Has the...
Is replete with all the critical food elements Wysong was first to put...
As we already said, cats' natural diet consists mainly of protein with little fiber and little carbohydrates (1-2%).
Wysong knows this and has manufactured one of the best high-protein dry cat foods on the market.
It's an excellent choice for cat parents looking for the best natural adult dry cat food with high-quality real ingredients.
Features
Starch-free formula
5 lb bag
Grain-free
Organic chicken recipe
Suitable for all breeds
Benefits
Protein derived from organic chicken
Resembles cats' ancestral diet
Grain-free/starch-free, no artificial preservatives
Controls hairballs
Wysong's starch-free product contains over 60% of protein derived from organic chicken, 15% fats, no carbohydrates, and fresh fruit/vegetables.
But what does this mean for your kitty?
The Wysong Epigen 90 is formulated to resemble your cat's ancestral diet closely.
Its high-quality protein percentage comes from real chicken to sate your cat's hunger with a small portion.
Moreover, the first ingredient is organic chicken, and the formula has a great crude fiber percentage for optimal digestive health.
Wysong also impresses with us their grain-free/starch-free formula with no artificial preservatives, artificial flavor, or chemicals.
The recipe uses citric acid/ mixed tocopherol as natural preservatives and coconut oil for hairball control and reduced inflammation.
The low carbohydrate content is also great for maintaining a healthy weight and can also be an excellent choice for diabetic cats.
But wait – there's more. This best dry cat food brand contains extra probiotics, vitamins, minerals, omega 6-fatty acids, and omega 3-fatty acids.
It also has antioxidants for a shiny coat and healthy skin. More importantly, one reviewer notes that their cat "cleans the dish every night."
Drawbacks
Pricey
May cause diarrhea at first
Kibble too hard for seniors
Some cat owners note that their cats had diarrhea after switching to Epigen 90 or their cats refuse to eat it or were sick for a few days afterward.
Some reviewers also point out that the kibble is too hard for senior pets, so it isn't the best cat food for older cats.
What Makes This Brand Unique?
Most cat food best brands contain around 30-40% of protein. But Wysong Epigen grain-free formula boasts more than 60% of animal-sourced protein with no artificial ingredients.
Wysong's dry kibble doesn't use cheap fillers, such as pea protein, to buff their percentage. They rely on animal protein sources of the highest quality.
This best protein cat food also has no carbohydrates, no grains, and no starch.
Updated Features
Wysong has upgraded their formula to eliminate starches and create a complete cat/dog dry food that provides all the necessary vitamins and minerals for optimum health.
Compared to other Wysong products, the Epigen 90 has organic chicken as the 1st ingredient, not chicken meal, and better protein/animal fat balance.
Considerations and Tips
Wysong Epigen 90 formula provides balanced nutrition both for cats and dogs, so you don't have to buy separate dog food.
The kibble is small in size, which is great for most cat breeds. However, be careful if you have a cat that tends to swallow the granules whole.
Remember to provide enough fresh water and introduce the food slowly to avoid stomach upset.
#2 Best for Kittens: Instinct Original Dry Cat Food
Sale
Instinct Original Dry Cat Food
KITTEN GRAIN FREE CAT FOOD WITH CAGE FREE CHICKEN: Instinct Original...
NATURAL KITTEN FOOD: Instinct Original dry cat food for kitten is made...
THE FIRST RAW COATED KIBBLE FOR KITTEN: Our grain free, natural cat...
Most kittens do best on a wet cat food diet. But if you're looking for the best dry cat food for kittens, consider Instinct's Original Grain-Free formula.
Features
Grain-free formula
Cage-free chicken
Freeze-dried raw coating
4.5 lb bag
Suitable for all breed sizes
Benefits
70% real animal ingredients
Made from cage-free chicken
No artificial ingredients
Cat love the freeze-dried raw coating
Instinct's recipe includes cage-free chicken as the primary ingredient and has more than 70% of real animal ingredients.
The rest 30% percents are fresh vegetables and fruits, all-natural.
As such, Instinct's chicken cat food boasts over 47% estimated protein content, higher than the other popular brands like Blue Buffalo.
It provides a balanced meal for kittens without artificial components, flavoring, or allergens to trigger food sensitivity. And it's made of real cage-free chicken.
Moreover, each kibble is coated in freeze-dried raw to provide the best possible nutritional value. The extra flavor makes it irresistible for kittens.
Best of all, the formula contains essential vitamins, omega fatty acids, and probiotics for better digestion, a strong immune system, and a healthy coat.
The chicken recipe also provides enough calories for growing kittens, who need plenty of energy to grow up big and strong.
Moreover, Instinct is made in the USA, and the ingredient list shows minimal fillers, making it an excellent choice for any pet parent. And as reviews indicate, kittens "can't wait to eat it."
Drawbacks
May cause loose stools
Kibble is a bit large for a kitten food
A bit pricey for multiple cat owners
Some kittens don't handle the raw coating very well and can have loose/soft stools, as Amazon user reviews indicate.
Several pet owners also noticed a difference in the kibble size and complained that it was more suitable for an adult cat.
Due to the high-quality ingredient, Instinct is also not the most affordable food, especially if you're raising a big litter of kittens.
What Makes This Brand Unique?
This chicken recipe dry cat food boasts higher than average protein content compared to other kitten brands.
It uses high-quality meat – cage-free chicken, along with turkey meal and menhaden fish.
It's one of the few that uses natural ingredients and produces kibbles with raw coating.
And buyer reviews are very favorable, calling it "the best brand money can buy."
Updated Features
Nature's Variety is committed to producing the highest quality product meal, keeping it as close to cats' natural diet as possible.
They have incorporated the raw food element in all their brands and continue to research/develop their formulas.
Considerations and Tips
Consider feeding your kitten a mix of Instinct's dry and wet formula for optimum health and body weight.
The company gives you a 100% guarantee, as per their website's statement. You can return the bag if you're not satisfied with it. Just keep the receipt.
Check Instinct's Limited Ingredient Diet if you have cats with food sensitivity.
#3 Best Older Cats: Wellness Senior Dry Cat Food
Wellness Senior Dry Cat Food
ENJOY A LIFETIME OF WELLBEING TOGETHER: Working with our staff of...
SPECIALLY MADE FOR SENIOR CATS: This Senior dry recipe features the...
CRUNCHY CAT TREATS: Indulge your cat with these natural, grain free...
Senior cats aren't as active as kittens and have a slower metabolism than adults.
They need kibble crafted to suit their special needs.
As you'll discover, Wellness Complete Health is the ideal choice for seniors cats and won't disappoint you with its quality.
Features
Grain-free recipe
Chicken or salmon flavor
Supports joint health
5.5 lb bag
Urinary health
It contains Vitamin A, Vitamin C, and Vitamin E
Benefits & Drawbacks at a Glance
Benefits
Highly digestible
Supports a healthy immune system
Includes glucosamine and chondroitin
Helps improve coat health
Wellness Complete Health is one of the best dry cat foods for older cats because it's full of minerals, vitamins, and antioxidants for a strong immune system.
It's a great source of vitamin A, vitamin E, calcium, phosphorus, omega 3- and 6-fatty acids, and taurine. There's also no grain, which makes this pet food highly digestible.
Wellness Complete Health also contains glucosamine and chondroitin. These are great for your cat's joint health. The added cranberries also support your feline friend's urinary health.
Moreover, the first ingredient is a deboned chicken with no artificial flavors/colors that can be hard to digest for senior cats.
Best of all, Wellness Complete Health has over 39% crude protein to ensure your senior cat has enough energy and adequate calorie intake.
Furthermore, the omega 3 fatty acid and the omega 6 fatty acid are great for maintaining coat health and smooth fur. And it's got plenty of crude fiber for optimal digestion.
As several customers note, the bag has a seal to keep it fresh as long as possible and avoid stinking up the house.
Drawbacks
Higher carb count
Not ideal for weight management
While Wellness has a great protein/fat ratio, its carbohydrate content is above average, which isn't great for weight management.
But that can be a plus if your pet struggles with weight loss.
A couple of reviewers also state that the food has amazing qualities, but their cats refused to eat Wellness Complete Health at all.
What Makes This Brand Unique?
Unlike other best dry cat food for seniors cats we've reviewed, this brand has a grain-free chicken recipe with real meat and high protein content.
It's full of essential nutrients to support a senior cat's metabolism, joints, and urinary tract.
It doesn't contain chicken liver, which we've seen in other products while searching for the best dry cat foods for senior cats.
Updated Features
Wellness Complete Health is available in natural chicken flavor and fish (salmon) to offer more options for capricious older cats.
It's also a grain-free dry cat food, unlike some of the other recipes for adult pets available from Wellness Natural.
Considerations and Tips
Dry food has too little moisture content, making it hard for cats with teeth problems to chew. Consider mixing the dry food with a bit of wet to give it extra moisture.
If your cat has hairballs, check Wellness Natural dry cat food for hairball control.
#4 Best for Sensitive Cats: Dr. Elsey's Cleanprotein DryCat Food
Dr. Elsey's Cleanprotein Dry Cat Food
90+% Of Protein Is Animal Based
High Protein Optimizes Body Condition For All Cats
Primary Ingredients Are Among The Highest Biological Value Proteins...
Most owners think it's normal for cats to vomit from time to time.
However, according to specialists, "gastrointestinal disturbances are commonly caused by poorly digestible foods."
Cheap dry food fillers such as wheat, grains, and artificial coloring often upset a cat's stomach.
So, switching your cat to a highly digestible food can improve their digestive health.
In these cases, there's no better choice than Dr. Elsey's Cleanprotein dry cat food since they use fresh ingredients with no artificial flavors.
Features
Chicken/salmon flavor

Gluten-free

Grain-free food

Available in 2lb or 6.6 lb bags

Suitable for all breeds
Benefits
High protein & no carbs from fillers
Made for sensitive stomachs
Add vitamins & amino acids
Helps maintain a healthy weight
Dr. Elsey's formula impresses us with its high content of animal-based protein, a moderate percentage of animal fat, and no carbohydrates from fillers.
It's perfect for any kitties with sensitive stomachs since the recipe contains all-natural ingredients, no artificial color, and no major allergens.
Instead, you get real chicken/fish meat as the first ingredient. Both are excellent sources of protein for an obligate carnivore, such as your cat.
The recipe also includes dried egg product, fish oil, Vitamin B2 supplements, Vitamin D3 supplement, and plenty of other essential amino acids.
As such, Dr. Elsely's formula promotes healthy digestion, provides omega 3-fatty acids for healthy skin and lustrous coat. It also helps you manage your cat's body weight.
But wait – there's more. This natural dry cat food is available in small bags of 2 pounds or a large one of 6.6 pounds, and it's suitable for all life cycles!
Customers' reviews are also highly positive, with one Reddit user sharing, "Dr. Elseys is the best extruded dry food."
Drawbacks
Pricey
May cause stinky loose stools
The biggest drawback of Dr. Elsey's cat kibble is that it's more expensive than other high-quality brands.
Some owners also complain that the protein content is too high and causes loose stools, diarrhea, and stinky poop.
What Makes This Brand Unique?
Dr. Elsey's special formula contains a minimum of 59% protein above the average percentage of most brands.
T

his best dry cat food is one of the few gluten-free formulas with no questionable or controversial ingredients.
Updated Features
Dr. Elsey's premium cat food is available in two flavors – salmon and chicken, but we'd like to see more variety in the future.
That's because chicken/fish are common food allergies in cats.
Fortunately, the manufacturer has several wet food options with duck, rabbit, ocean white fish, beef, turkey, and chicken.
Considerations and Tips
Introduce the food slowly since it can cause stomach problems in cats not used to high protein content.

Combine Dr. Elsey's dry and wet food for optimum feline health.

Check Dr. Elsey's cat litter if you're looking for a natural, dust-free product.
#5 Best Budget: Iams Proactive Health Dry Cat Food
Iams ProActive Health Dry Cat Food
Contains one (1) 22 lb. bag of IAMS Proactie Healthy Adult Dry Cat...
Chicken is the ingredient in this nutrient-rich cat food designed for...
Support your cat's healthy digestion with natural fiber and...
When you're feeding many cats, it's not always possible to go for the highly-rated, well-priced product.
If you need something affordable without compromising quality, you can't go wrong with Iams Proactive Health.
Features
Available in several sizes – 3.5 lb, 7 lb, 16 lb, or 22 lb.

Natural fiber

Fresh meat as the first ingredient

Chicken or salmon flavor
Benefits
Very affordable
Easy to find in supermarket
Loaded with vitamins & amino acids
Good for sensitive stomachs
While affordable, Iams Proactive Health food for cats still has clearly named protein source as the first ingredient.
It also doesn't have as many cheap fillers as other commercial brands and the label shows very little controversial ingredients.
That's great if you're looking for something inexpensive to sate your cat's hunger without upsetting their sensitive digestive system.
Iams's dry cat food also contains natural fibers, Vitamin B1, Vitamin B6, Vitamin B12, and Riboflavin supplement (Vitamin B2).
It also boasts plenty of essential amino acids and minerals, which are great for your cat's overall health, digestion, and skin.
Moreover, Iams is a cat food company whose products you can find easily, not only online but also at your local supermarket. And as one Amazon reviewer notes, "cats love it."
Drawbacks
Contains animal by-products
Not good for weight management
Iams's Proactive Health has several controversial ingredients, such as chicken by-product meal and whole grain corn.
Usually, by-products encompass animal parts not suitable for human consummation, such as beaks, talons, etc.
So, don't expect human-quality ingredients.
Moreover, corn isn't part of your cat's natural diet and is rich in carbohydrates. That's bad for weight management or diabetic cats.
What Makes This Brand Unique?
Unlike most cheap cat food brands, Iams premium adult cat food has a good protein/fat/carbohydrates balance and doesn't use any artificial coloring agents.

The first ingredient is real named meat, which we consider a big advantage.

Other cheap brands, such as Friskies, use yellow corn and cornmeal as first ingredients.
I

t boasts several supplemental ingredients to support your cat's health and provide adequate nutrition.
Updated Features
Iams has a great variety of dry kibble, crafted to support your feline health through all life stages and meet cats' unique dietary needs.
They've upgraded their recipe to provide a higher protein percentage with fewer fillers and eliminate artificial coloring/flavoring.
Considerations and Tips
If your cat has stomach problems, try Iams chicken and turkey dry cat food.

You can call Iams nutritional specialists toll-free.
#6 Best for Weight Control: Blue Buffalo Tastefuls Dry Cat Food
Sale
Blue Buffalo Tastefuls Dry Cat Food
IT'S HERE: BLUE for Cats is now BLUE Tastefuls, with a new look and...
DELICIOUS REAL CHICKEN FIRST: BLUE Tastefuls is made with tasty real...
FORMULATED FOR WEIGHT CONTROL: This meat-first recipe contains...
Obesity is a massive issue within the cat owner community.
But dry foods like Blue Buffalo Weight Control Dry Cat Food can help get your cat back on track.
Its excellent high-protein formula will develop lean muscles and shed weight.
Plus, it's versatile as this dry food is suitable for all lifestyles.
Features
High-protein from real chicken
Omega 3 & 6 fatty acids
Natural ingredients
No by-products
Blends vet-approved minerals, vitamins, and antioxidants
Whole grains
Garden veggies
Fruit
7-lb bag
Benefits
Excellent for weight management
Promotes a healthy, shiny coat
Supports a robust immune system
Encourages lean muscle development
Approved for all life stages
Drawbacks
Can upset sensitive stomachs
How it Compare to Others and Why
Its excellent balance of calories and protein makes it a perfect fit for weight control. You aren't going to find another dry food that can compete with it.
Meanwhile, it doesn't lack in other areas. Its ability to support a robust immune system and provide a shiny coat are always welcomed attributes.
Expert Tips
"Try adding water to the food if your cat's unresponsive."
Don't expect your cat to shed weight quickly. If it's happening in a healthy way, it should be about 1 pound a month.
7. Best for Preventing Hairballs: Royal Canin Dry Cat Food
Royal Canin Hairball Care Dry Cat Food
CATS PRONE TO HAIRBALLS: Royal Canin Hairball Care Dry Cat Food is...
HAIRBALL MANAGEMENT: Rather than hairballs building up in a cat's...
SPECIAL FIBER BLEND: A specific blend of dietary fibers helps control...
Hairballs are one thing that cats and humans can agree are disgusting nuisances.
Nobody wants to hear their cat hacking up one of these gross hairballs.
But Royal Canin's Hairball Care Dry Food is a simple solution to this issue.
Its unique blend of dietary fibers can stop hair from building up in a cat's stomach.
Features
High-protein with chicken meal (first ingredient)
Blend of dietary fibers
High-fat content
Various vitamins (A, B1, B12, C, etc.)
Contains fish oil, taurine, and rosemary extract
Omega 3 & 6 fatty acids
Available in 3-lb, 6-lb, and 14-lb
Benefits
Controls hairball development
Ideal for sensitive stomachs
Promotes healthy digestion
Reduces plaque build-up
Suitable for cats one year or older
Drawbacks
How it Compare to Others and Why
Cat owners everywhere have been trying to find a way to prevent hairballs. This formula's blend of dietary fibers and other ingredients has proven effective.
Moreover, you can't say enough about its ability to help your cat's teeth. Multiple customers have provided rave reviews about its effect on their cat's teeth.
Expert Tips
You can combine this dry food with their wet food alternative. It'll fight against the dehydration issue that can come from an only dry-food diet.
8. Best Ethically-Sourced Option: Open Farm Dry Cat Food
Open Farm Dry Cat Food
SUSTAINABLY CAUGHT FISH: Our crunchy Pacific salmon recipe is made...
SCIENCE BASED WELLNESS: Open Farm Wild-Caught Salmon Dry Cat Food's...
LOCAL PRODUCE MIX: Feed them a feast using simple, garden fresh...
Open Farm Wild-Caught Salmon Dry Cat Food is a bit unique with its approach.
This brand uses 100% traceable ingredients, starting with humanely caught wild salmon.
They're much more upfront about what's inside their cat food.
It also helps that cats love this food because of its salmon-based taste quality.
Features
Fish-based formula made with wild-caught salmon
Ocean whitefish meal and herring meal (2nd and 3rd ingredients)
Grain-free
High-protein
100% traceable ingredients
Locally sourced veggies and fruits
Natural superfoods (coconut, pumpkin, etc.)
Available in two sizes: 4-lb bag or 8-lb bag
37% protein minimum
Benefits
Uses responsibly-harvested fish
No harmful additives
Cats love the salmon taste
Suitable for all life stages
Promotes urinary tract health
Drawbacks
Higher in carbs than other choices
How it Compare to Others and Why
Every single ingredient of this formula is traceable for buyer comfort. Your cat won't be eating something you aren't aware of, like with other subpar cat foods.
You can also expect this formula to be a favorite among cats. It's a salmon-based food that almost every cat will love.
Don't overlook its ability to promote better urinary tract health, either. It's just another way this food continues to ensure your cat remains in good shape.
How the Product Evolved
Open Farm wasn't a fan of other cat dry food brands not being open about their ingredients.
So everything about their product's formula is disclosed and easily accessed by potential buyers.
9. Best Air-Dried Cat Food: ZIWI Peak Dry Cat Food
ZIWI Peak Dry Cat Food
HIGH PROTEIN, NUTRIENT DENSE: Authentic whole-prey ratios, featuring...
GRAIN-FREE, LOW CARB: Premium cat food with only 2 protein sources and...
10% SUPERFOOD BOOST: Cold-washed Green Tripe, New Zealand Green...
The ZIWI Peak Air-Dried Cat Food is our most expensive choice.
However, there's an excellent reason for its costly price.
Its high-protein formula consists of top-notch mackerel and free-range lamb.
Your cat will be foaming at the mouth to get their teeth on this kibble.
Features
High-protein (96% wild-caught mackerel and free-range lamb)
Air-dried ingredients
Grain-free
Offers a superfood boost (green mussels, organic kelp, and green tripe)
No antibiotics or hormones in the included meat
No cheap fillers
Available in two sizes (14-ounce or 2.2-lb)
Benefits
Suitable for all life stages
Reduces shedding
Promotes heart and brain health
Helps with joint pain
Great for sensitive cats
Drawbacks
How it Compare to Others and Why
Aside from the high-protein diet, it has several added health benefits. Every cat owner will love its proven ability to reduce shedding and usability with sensitive stomachs.
It's also known for promoting better heart and brain health in cats. So you won't find a cat out there who wouldn't benefit immensely from this food.
Expert Tips
Suitable for use as a "topper for a nutrition and flavor boost" on other foods.
10. Best for Cats with Allergies: Instinct Limited Ingredient Diet Dry Cat Food
Instinct Limited Ingredient Diet Dry Cat Food
GRAIN FREE CAT FOOD FOR CATS WITH SENSITIVITIES: Instinct Limited...
NATURAL CAT FOOD WITH FARM RAISED RABBIT: Crafted for cats with food...
THE FIRST RAW COATED KIBBLE: Instinct Limited Ingredient dry cat food...
Instinct's Limited Ingredient Dry Cat Food has become a favorite for cats with allergies.
This option only uses one protein and one vegetable to limit potential flare-ups.
You can't overlook its freeze-dried raw coating, either.
It provides the kibble with a more incentive-filled taste for even the pickiest eaters.
Features
Only uses one protein (rabbit meal) and one vegetable (peas)
Grain-free
No artificial preservatives or flavors
Coated in freeze-dried raw
Made in the USA
Available in four sizes (4.5-lb, 5-lb, 10-lb, and 11-lb)
Benefits
Ideal for cats with allergies
Easily digestible ingredients
Smaller, firmer stools
Increases cat energy
Solid for weight control
Improves coat and skin
Drawbacks
How it Compare to Others and Why
The product's limited formula makes it more straightforward than other options. As a result, it's perfect for cat allergies or sensitive stomachs.
Some owners have even noticed it has improved their cat's energy. So if you have a lazier cat with a weight problem, this limited formula could be a suitable fit.
Expert Tips
Store the food in a separate container to solve the packaging issue. Make sure the container has a trustworthy seal.
11. Best For Picky Eaters: Solid Gold Indigo Moon Dry Cat Food
Solid Gold Indigo Moon Dry Cat Food
Meow at the Moon! - Solid Gold Indigo Moon is a gluten and grain free...
High Protein, Rich Fiber & Low Carb - With 42% crude protein, Indigo...
Natural Chicken & More - Made with natural chicken for lean protein...
Picky cats are a nightmare for paranoid cat owners.
But Solid Gold's Indigo Moon Holistic Dry Cat Food has seemed to beat even most picky eaters.
Its chicken-based formula has a way of making every cat love it.
Thankfully, there are other healthy additives to ensure it's a complete and balanced formula.
Features
Chicken main ingredient
20 nutrient-rich superfoods (carrots, pumpkin, cranberries, etc.)
No by-products
Grain-free
Gluten-free
Living probiotics
Omega 3 and 6 fatty acids
High-protein
Healthy monounsaturated fats (olive oil, canola oil, etc.)
Available in three sizes (3-lb bag, 6-lb bag, 12-lb)
42% protein
20% fat
Benefits
Uses USA-sourced chicken
Every cat seems to love it
Suitable for all breeds and life stages
Great for skin and fur health
Supports the immune system and digestive system
Drawbacks
Potato is a top-five ingredient
Smells worse than other options
How it Compare to Others and Why
The taste provided by this option seems to separate it from other choices. It was rare when I came across a review saying their cat wouldn't eat it.
More importantly, various owners of picky cats praised its ability to entice them. You don't often see so many owners agree about something like this issue.
The product's high-protein percentage (42%) and various superfood additives are another standout trait. It should have no problem providing your cat with the necessary nutrients.
Expert Tips
Might be better for outdoor cats because of the smell.
12. Best Organic Option: Castor & Pollux PRISTINE Dry Cat Food
Our final option is an entirely organic choice made with all-natural ingredients.
It begins with organic free-range chicken as its first ingredient for a solid taste profile.
From there, it adds superfoods and omega 3 fatty acids into the mix.
Your cat's then left with solid dry food capable of keeping them healthy.
Features
Organic
Grain-free
Free-range chicken (1st ingredient)
Blend of superfoods (organic cranberries, organic coconut oil, and organic flaxseed)
Made in the USA
No corn, wheat, or soy
Omega 3 fatty acids
Available in three sizes: 3-lb bag, 6-lb bag, and 10-lb bag
Benefits
Cooked in a USDA organically certified kitchen
No harmful additives
Promotes healthy skin and fur
Prevents diarrhea
100% satisfaction guarantee
Suitable for all life stages and breeds
Drawbacks
Not the best for picky eaters
How it Compare to Others and Why
Its utterly organic formula puts this product in a special category. You don't have to worry about any weird additives or harmful ingredients with this one.
Buyers will benefit from its ability to work all life stages and breeds, as well. This aspect makes it a solid fit for multi-cat households.
Expert Tips
Help your cat transition to the new food by mixing a little into their old food and "topping it with digestive support dry food toppers."
Things to Consider Before Buying the Best Dry Cat Food
Finding the perfect dry cat food can be a little challenging. But this guide will cover everything a person might need to look for when choosing an ideal option.
So let's not waste any more time and dive right into the first consideration. I promise this guide will ensure you choose excellent dry food for your favorite feline.
1. Dietary Needs of Cats
Cats fall into the category of obligate carnivores. In other words, your cat will need to consume a diet based on meat protein.
But their protein level will need to be a bit higher than other mammals like dogs. For instance, cats get crucial nutrients from meat that doesn't come from plant-based foods such as:
Vitamin A
Vitamin B12
Arachidonic acid
Taurine
Heart and liver issues can develop if they don't get a steady supply of these vital nutrients. It could also lead to hearing loss and skin irritation.
Most dry food manufacturers are aware of this issue when developing their formula. They ensure their food ends up being balanced and complete with the proper nutrients.
However, some inferior brands still use plant-based proteins in their formulas. You'll want to avoid these options by choosing a high-protein, meat-rich option.
These dry foods will then ensure your cat gets delicious tasting food and sufficient amounts of meat-based protein. It's a simple way to optimize your cat's health.
2. Is the Formula Complete and Balanced?
As you can imagine, nutrients from meat proteins aren't the only thing a cat's diet requires. They also need a wide range of other nutrients to stay in top-notch health, such as:
Carbohydrates
Fats
Vitamins
Fatty acids
Amino acids
Minerals
The balancing of these nutrients will depend on your cat's age and lifestyle. As a result, choosing the perfect commercial dry food can provide peace of mind for owners. You'll know the food being provided is offering the correct balance of calories and nutrients.
Luckily, today's cat food manufacturers have to meet specific nutritional regulations before selling their products. These rules were established by the AAFCO (Association of American Feed Control Officials).
If a formula is balanced and complete, an assurance provided by this organization will let a buyer know. You can then rest easy knowing the food promotes better cat health.
3. Ingredients to Look For
One of the easiest ways to choose high-quality dry cat food is by reading the ingredients. As with human food, these items are listed in order of their proportional weight.
Any top-tier cat food will have fresh fish or meat listed as its first ingredient. Concentrated meat meals should then come in second and third place.
This positioning will indicate your chosen food probably contains enough animal-source ingredients. As a result, it shouldn't have any issues supplying enough fatty and amino acids.
Other notable ingredients to look out for are chicken fat, rice, cranberries, and salmon oil. Each of these inclusions will only make for better food quality.
4. Ingredients to Avoid
Of course, there are common ingredients within dry food that aren't great for a cat. Here's a quick list of what ingredients to avoid when selecting kibble for your kitty:
Artificial coloring and flavors (caramel coloring, Blue 2, Yellow 5, etc.)
Vitamin 3K
By-products (what are these by-products made of?)
Artificial preservatives like ethoxyquin, BHT, or BHA. These components help preserve a food's freshness, but they can cause adverse reactions for your feline.
Any unidentified or unnamed animal sources that you aren't 100% sure where they came from or what it is.
Sodium nitrate
Rendered fat
If you see any of these ingredients, it's best to move to new dry cat food. Instead, it's a much better idea to choose an option filled with natural ingredients and other high-quality additions.
After all, your cat deserves a well-adjusted and healthy diet. It's a simple way to help them remain in good shape and stay alive for a long time.
5. Added Health Benefits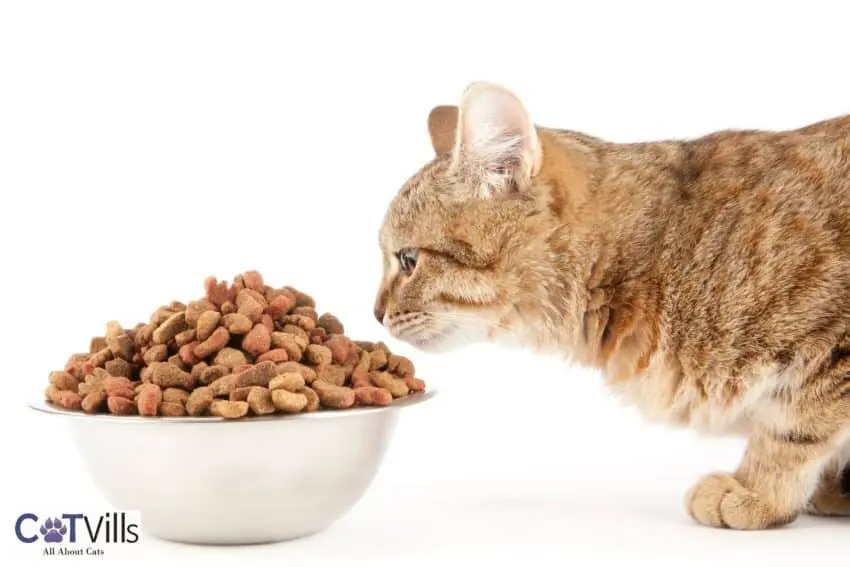 Every cat owner wants their cat to have a shiny coat, better digestion, or their litter box to contain smaller, firmer stools.
High-quality dry cat food products can provide these health benefits within their complete and balanced formula.
These benefits come from certain added ingredients, such as superfoods or extra supplements. It'll help your cat look and feel their best when they're roaming around the house. Some of them include:
Cranberries (helps support better urinary tract health)
Foods rich with omega fatty acids like flaxseed or salmon oil. These additions should help provide a shiny, soft coat and healthy skin.
Prebiotics like chicory root extract will optimize digestion. It allows your cat to get the most out of its meals.
Tomato pomace offers dietary fibers, which promote better intestinal health and firmer smaller stools.
Chondroitin sulfate and Glucosamine ensure better joint health. It'll help maintain a cat's mobility and activity levels.
Vitamin A, Vitamin E, and other added vitamins promote a more robust immune system.
Probiotics to keep the healthy bacteria in your cat's gut balanced.
6. Age
Your cat's age will be another determining factor. Dry cat foods are often explicitly designed and formulated for certain cat life stages and sizes.
As a result, you'll need balanced cat food based on your cat's specific age. It's an essential piece to making sure they get the right amount of nutrients.
7. Cost
Unfortunately, dry cat food isn't the most affordable product available. These formulas are often a lot more expensive than cat owners realize.
It's why each cat owner should build a budget to determine their exact needs. You can then choose a suitable quality brand within your budgetary range.
8. Taste
It might sound a little weird to discuss how cat food tastes, but it remains an important quality. The truth is some cats are a little picky about what foods they will eat.
Moreover, it can be difficult to get suitable dry cat food when switching from wet food. Foods with limited ingredients might not be used for these particular cats. They're better for digestion issues, but they lack the taste other choices provide.
Each cat owner might need to experiment with various ingredients/protein sources before finding a dry food their cat will eat.
9. Activity Level
Your cat's activity level will have an impact on its proper food choice. Owners with extremely active cats will want to give them food high in protein and calories.
These ingredients will provide them with an extra kick to replenish their bodies after strenuous exercise. But those same food formulas won't be a good fit for a lazy cat.
Lazy cats don't need as much caloric intake as an energetic, lively kitty. However, they will still need an adequate amount of fiber so that their digestion operates effectively.
10. Packaging
Your dry cat food's packaging will have a massive impact on its freshness. Owners will need to choose an option that's easily sealable.
Otherwise, you'll end up wasting a lot of cat food and money. I've found other customers' reviews to be an effective way to evaluate a package's performance.
Cat owners tend to get a little mad when their chosen dry food doesn't seal correctly. So use these adverse experiences to your advantage and avoid inconvenient options.
You could also avoid the issue entirely by storing the food elsewhere. A sizable container or box with a sealable lid should be acceptable.
11. Size
How much dry cat food are you looking to purchase? Do you have multiple cats? These are questions worth answering before choosing a suitably sized bag.
For instance, bulk buyers might be looking to purchase a bag that can last months. Of course, it's a common solution for multiple cat owners, as well.
But there's no reason to purchase a massive bag for a single cat. You'd be better off choosing a 4.5-pound bag rather than a 22-pound monster.
Pros and Cons of Dry Cat Food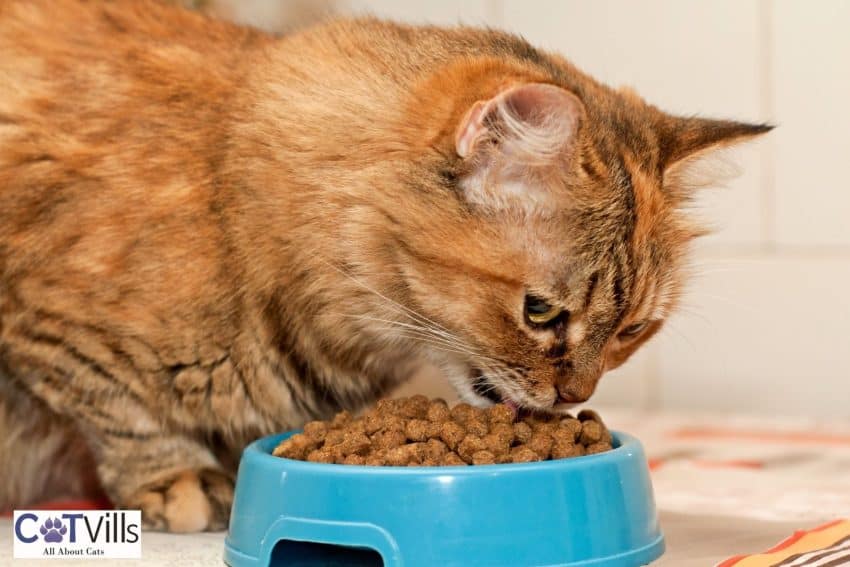 Cat owners have multiple food options to choose from, including wet food, dry food, and homemade food. You'll need to know what dry food does better/worse than these other types when deciding whether it's the best option for your home.
Pros of Dry Cat Foods
A primary reason cat owners opt for dry food is the low cost. The more expensive options are even often less costly than what you can expect from the other types.
Aside from the cost, dry food will have a positive effect on your cat's teeth. Kibble food scrapes away plaque and food residue off their teeth, preventing tartar deposits.
You can also expect dry food to keep your cat full for a more extended period. As a result, many owners find it more effective for weight management.
Lastly, dry food has a longer shelf life as you can stock up on lots of food at once. It can also stay inside a cat's food bowl without losing freshness for a long time. Wet food loses its freshness within only a couple of hours.
Cons of Dry Cat Foods
Most dry foods have a protein level that's lower than wet foods. Due to this, it could be a bad fit for cats who require higher protein amounts for their very active lives.
Another issue is dry food doesn't contain water, which could cause dehydration. This problem only exists if the owner fails to provide sufficient water.
Experts recommend cats with specific health problems such as diabetes, UTIs, or kidney disease avoid dry food.
FAQs
What Ingredients Should I Look For in Cat Food?
The first ingredient should be real named meat, such as chicken, salmon, beef, turkey, or rabbit. Avoid "by-products." Watch for fillers, like corn or rice. Avoid artificial colorings and flavorings.
Look for a high percentage of fresh ingredients, omega 3-fatty acids, omega 6-fatty acids, folic acid, and antioxidants. Zinc, copper, and manganese are also essential for your cat's skin, organs, and immune system. 
What's the Best Dry Cat Food for Older Cats? 
The best dry cat food for senior cats should be rich in protein with sufficient carbohydrates, essential vitamins/minerals, and fresh ingredients. 
Please talk to your vet since senior cats can have specific dietary needs and require a diet for optimal urinary health.
What Cat Food to Avoid?
Avoid any cat food whose first ingredient isn't named meat and any brand with too many carbohydrates among the first five listed ingredients.
Certain human foods are also toxic to cats, including garlic, onion, chocolate, grapes, and raisins. And contrary to popular opinion, cats are lactose-intolerant and can't drink milk. 
So, avoid spoiling your cat with table scraps. Instead, get them high-quality cat food, homemade tuna treats, or chicken liver. 
How Much Dry Cat Food Should I Feed My Cat?
Follow the recommendation on the package of dry food. In general, if you're feeding high-protein food, most cats will need between 1/3 to 1/2 of cups per day, based on the cat's weight.
However, the daily feeding amount can vary, depending on your cat's activity level and age. Talk to your vet if your cat always seems hungry or has a weight problem.   
Final Word
Feeding cats dry kibble isn't ideal, even when you have the best dry cat food brand.
That's because many cats don't drink enough water and are at risk of kidney problems.
The best dry cat food ensures your cat gets enough animal-sourced protein, necessary amino acids, and plenty of vitamins/minerals.
Just keep in mind that sometimes cats get bored with the same taste or get addicted to certain flavors/brands.
For optimal nutrition, consider adding wet food or homemade cat treats to your cat's diet.
My final recommendation would have to be buying Wysong Epigen 90 Dry Dog & Cat Food. Its high-protein diet will ensure your cat gets everything they need.
What do you think about these best dry cat foods? Which one is the best-tasting dry cat food according to your kitty? Share below!
Resources: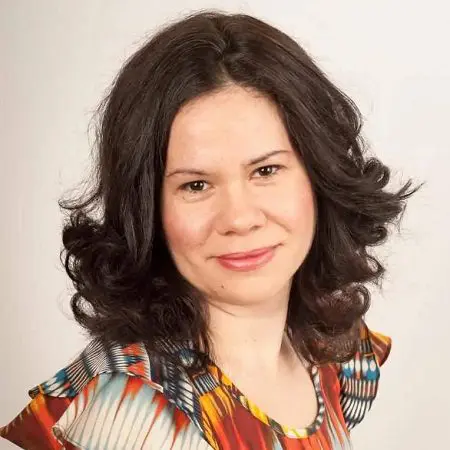 Olfa T
Olfa knows how to get things done and has a keen business sense that others admire. She's always on the go, coming up with new ideas! Her ability to anticipate the needs of her readers and deliver information that they want is what makes CatVills such a success. She loves cuddling her cat Picaciu. He is her inspiration.
Last update on 2023-11-27 / Affiliate links / Images from Amazon Product Advertising API