Last updated on April 20th, 2023 at 11:19 am
Battery-operated cat water fountains are becoming increasingly popular among pet owners who want to ensure their feline companions have access to clean and fresh water throughout the day.
These innovative devices are designed to provide a continuous flow of water that mimics the appeal of a running tap, enticing cats to drink more water and stay hydrated.
Powered by batteries, these cat water fountains offer convenience and flexibility as they do not require a constant power source, making them ideal for placement in various areas of the home.
They are easy to set up, operate silently, and can help prevent stagnant water, which can lead to health issues for cats.
With their unique features and benefits, battery-operated cat water fountains are a smart choice for cat owners who prioritize their pets' health and well-being.
Check out or list of the best options on the market.
1. HoneyGuaridan Pet Fountain
One of the only truly battery-operated fountains, the HoneyGuaridan Pet Fountain is a relatively new entry onto the market.
In fact, it wasn't available when I first sat down to research this post (for repeat readers, the original top product here is no longer available).
Even more impressive, it actually has good reviews, unlike others that I looked at!
Benefits
Dual-powered fountain runs on both batteries and AC power.
Smart Working Mode- change modes with the press of a button.
Integrated water pump that avoids dirt & fur buildup
Transparent design lets you keep an eye on water levels & quality.
Very affordable
Drawbacks
Recommendation
Overall, I'm really impressed with the features of this budget-friendly cat fountain.
With a 4-star rating across over 300 reviews, it's a solid choice.
Sure, it's kind of basic-looking, but at least it actually runs on batteries!
I just wish it actually came with the batteries.
As long as you choose good ones, though, you shouldn't have an issue.
What Are Cat Parents Saying?
Most pet owners highly recommend HoneyGuardian's smart pet fountain and are very impressed with its functions, durability, and design.
They also mention that their cats, dogs, and pet rabbits enjoy drinking from the fountain and that they aren't bothered by the pump sounds.
And as this pet owner shows in this video, it's easy to install the carbon filter, and the infrared sensor is quite useful since it shuts off the stream after two minutes.
2. PETKIT Cat Water Fountain
PETKIT Cat Water Fountain
【Reliable EVERSWEET 2S Drinking Fountain】2L/68oz water fountain...
【Monitor Your Pet's Water Intake】EVERSWEET 2S includes a water...
【Smart LED Indicator Light】Embedded Intelligent LED lights can...
Another one that popped up since my last search, the PetKit technically runs on USB-powered electric, BUT you can also use a battery backup source.
Benefits
Powered with a USB cable, but includes back-up battery option.
Stainless steel water bowl and filter tray for added durability.
Pump shuts off on its own when water gets too low.
Relatively quiet compared to other fountains (less than 30dB).
Mesh screen keeps out fur and other debris.
Activated carbon filter and ion exchange to purify the water.
Drawbacks
Again, batteries sold separate.
You need REALLY good batteries to power it.
Some complaints about customer service.
RECOMMENDATION
Overall, this one earned 4.3 stars across over 900 ratings, but there were a few complaints.
Some buyers said that it worked great…until it didn't. They had a hard time getting through to customer service, too.
However, given the overwhelmingly positive feedback, I'm feeling pretty confident in recommending it. And as the reviewer says in this video, it looks pretty cool and is very low decibel.
That said, once again, I wish it came with the darn batteries!
3. Kastty's Cat fountain
Kastty's Cat Water Fountain
【Whisper Quiet Cat Water Fountain】Our pet water fountain is proud...
【101oz Large Capacity Pet Fountain】3L / 101oz water capacity is...
【Safe Cat Fountain with 1 Activated Carbon Filter】To ensure that...
Kastty has a great battery-operated cat fountain, which is an excellent choice for cat parents who want something quiet, reliable, and well-designed.
The fountain is made from stainless steel and ABS materials for maximum durability and has a capacity of 67oz, perfect for multi-cat households.
Benefits
Kastty's fountain has a sensor mode, which turns on the water when your cat enters the sensor area and then turns it off. It also has a steady flow mode.
The low-power indication shows that it's time to change the batteries and ensures your cat won't be left without drinking water.
The filter replacement sensor is great for reminding you to change the filters every 21 days.
The upgraded filtration system features a food-grade activated charcoal filter to remove all impurities.
It has AC and battery-operated power, so this battery-operated cat water fountain is perfect for indoor and outdoor use.
The unit is easy to assemble/disassemble and has a quiet pump, so the noise won't bother your cat too much.
The fountain has low energy consumption when running on AC power and won't increase your electricity bill.
The motor turns off when the water is low to prevent damage.
Drawbacks
A bit noisy
Pump malfunctions
Recommendation
As a whole, Kastty's cat fountain has great customer reviews and a rating of 4.3 stars. Most reviewers are happy with the fountain's quiet pump.
However, many cat owners mention that the batteries didn't last as long as they expected, and they had to change them weekly.
Some owners also note that the fountain worked well for only a couple of months and that their cats didn't like the flow of water.
4. Homerunpet Cat Fountain with Wireless Pump
Sale
Homerunpet Cat Water Fountain
【Cat Fountain with Wireless Pump】No more tangled wires! This...
【Ultra-Quiet Water Fountain】Experience unparalleled quiet with our...
【Effortless Cleaning's Cat Fountain】 Simplify your routine with...
Homerunpet's cat fountain isn't cordless or battery-operated in the traditional sense of the word. However, it has a unique pump design, which is why I've included it in this list.
Benefits
The wireless ultra-quiet pump eliminates exposed electrical wires inside the unit, which guarantees your cat's safety.
The large capacity of 68oz is perfect for small and large cats and can provide your cat with enough drinking water for a week.
The unit is easy to clean and maintain because you don't have to bother with inside wires, and there are no hard-to-reach places.
It features a triple-filtration system so the charcoal filter will trap all impurities, ensuring your furry friend has fresh and clean liquid to drink. And replacement filters are easy to find.
The unique ergonomic design stimulates the natural flow of water to ease cats' anxiety and tempt them to drink more.
Drawbacks
Needs to be plugged in
Doesn't come with replacement filters
Recommendation
Most cats owners are satisfied with the performance and durability of this wireless cat fountain. The unit is easy to assemble, and cats quickly get used to it.
However, some pet parents note that they're having issues with the LED light, and it's not so easy to check the water levels as they expected. But most don't have any major complaints.
5. Automatic Pet Fountain with Smart Pump by BQYPOWER
BQYPOWER has an excellent drinking fountain for cats and dogs, which won't disappoint you in terms of design and reliability. It has a capacity of 2L, so it's great for cats, small dogs, and other pets.
Benefits
Like other fountains for cats I've reviewed, this model has an infrared sensor, which turns the stream on whenever your cat is within range to save power and extend the battery life.
This automatic pet fountain features two-in-one power modes so that you can rely on the battery power supply in cases of blackouts or when you're traveling with your cat.
Unlike some other models I've seen, this fountain comes with a standard wall plug-in and you won't need to purchase an adapter.
The fountain has three flow modes, so you can set it to match your cat's drinking style. Moreover, the 360-degree multi-directional stream ensures the water is rich in oxygen.
You don't have to worry about water levels since the LED indicator will turn red whenever you need to fill up the fountain.
The pump has very low power consumption whenever you're using the plug-in mode, so it won't increase your electricity bill.
Drawbacks
Difficult to get replacement filters
Recommendation
In terms of capacity, design, and filtration, the BQYPOWER is similar to other pet drinking fountains. However, it stands out with its three-flow design to increase your cat's hydration.
Cats owners also like it a lot and share that you can barely hear it working. However, some mention that it's hard to find replacement filters and that the unit comes without batteries.
However, some cat parents say you don't get a plug for the unit and that you need to purchase a USB plug if you don't want it to run on batteries.
6. Dog H2O DH025 Cordless Battery Operated Pet Water Fountain
Dog H2O DH025 Pet Water Fountain
No wires, no limits. Place it anywhere! There are no cords for puppies...
Large drinking area for medium to large dogs with 200 fl. Oz (6.3...
Includes 3 tablets of dental care. Dental Care supports healthier gums...
Dog H20's battery-operated pet fountain is the right choice for you if you have multiple cats or a large dog. It's made from plastic and holds up to 63oz of liquid.
Benefits
This cordless pet fountain is made from durable, BPA-free materials and is easy to clean because it's dishwasher-safe.
You don't need any tools to take the fountain apart or change the filters as you can see from this video below.
The fountain features a timer with four settings to filtrate and aerate the water for maximum freshness.
Relatively quiet compared to other fountains (less than 30dB).
It comes with three filter pads and three dental tablets to combat bad breath, which is common in cats and dogs.
Drawbacks
You have to keep changing the batteries
Water doesn't constantly flow
Recommendation
Pet owners also have a good impression of Dog H2O's pet fountain and agree that it's an excellent choice for pets that like to chew wires.
However, some owners note that the pump doesn't work as well as they expected and that the batteries can't generate enough power.
7. Petmate Fresh Flow Rain Battery Fountain for Cats and Dogs
Sale
Petmate Fresh Flow Rain Battery Fountain
KEEP CAT OR DOG HYDRATED WITH FRESH WATER-Circulates water for your...
BATTERY OPERATED – First fully battery-operated fountain in the...
MULTIPLE DRINKING POINTS –It pulls the water from the bowl up to the...
Petmate has another great battery-operated cat fountain, which is an excellent choice if you have a cat that likes to chew wires.
Benefits
Petmate's drinking fountain is made from food-grade plastic for maximum durability.
The unit weighs only two pounds and measures 12.9 x 9.25 x 9.2 inches, so you can place it anywhere in the house and move it whenever you want.
The batteries last long because the pump turns off automatically every 20 minutes.
The compact design is great for cat owners who don't have much space.
You can keep an eye on the water levels, thanks to the transparent upper body.
Relatively silent pump and easy to find fountain filters
Drawbacks
Has a weird noise
Not easy to assemble
Gets dirty quickly
Recommendation
Cat owners have a mixed opinion about Petmate's automatic drinking fountain. They say that the device is hard to put together, and it gets dirty very quickly since it's white.
Moreover, batteries are not included in the package, so you'll have to purchase them separately. And you have to clean it very frequently to keep it in working condition.
But as this YouTube reviewer says, the free-falling stream design attracts your pet's curiosity and encourages proper hydration.
8. Tronssien Store's Battery-Operated Cat Fountain
Tronssien Store Cat Water Fountain
🐈SEPARATION OF WATER AND ELECTRICITY: The main components of cat...
🐈AUTOMATICALLY SENSES PETS AND ATTRACTS THEM TO DRINK: Auto IR...
🐈TRIPLE FILTRATION SYSTEM: The pet water fountain is equipped with...
Tronssien has the best battery-operated cat fountain for owners who have multiple cats. This fountain has a similar capacity as most cordless water fountains – 2L – and it comes with two filters.
Benefits
Unique design to separate water and electricity to ensure your cat's safety and a quiet pump to reduce your cat's anxiety
Sensor mode, which turns on the water for 20 seconds when your cat is within the sensor's range (2-6 meters).
Triple filtration system to remove trap food, debris, and pet hair and keep the water as clean as possible for long periods of time
Warm LED light at night to make it easy for your cat to find the fountain
Transparent body so that you can keep an eye on your cat's water consumption and refill the fountain before the pump burns out
The fountain is very light, so it's easy to move it around or take it with you when you're traveling with your pets.
Drawbacks
Some customers complained about the Automatic sensor and night light not working
Recommendation
In general, cat owners share positive experiences with this fountain and say that it helps increase their cats' water intake.
However, some complain that they've got issues with the LED sensor and the night light.
These are the only truly battery-operated cat fountains I could find.
Now, I could end the list here and send you on your merry way, but I have a few other ideas that may work if you really want a cordless cat water fountain.
Other cordless alternatives for cat water fountains
These alternatives may not be what you had in mind when you began your battery-operated cat fountain search, but they could be your best option.
I'm going to be honest here, while I've seen great reviews for Ebi Ceramic Fountains, I've never heard of the brand until recently.
They're not sold on Amazon or on any other mass retailer that I can find, so you have to go directly through their website.
They really are quite beautiful, though, and totally handcrafted in the US.
Most of them run on either just batteries or both AC/DC. I'll warn you, they are pricey! However, like I said, they're handmade.
Faqs
Do Vets Recommend Water Fountains for Cats?
Yes, many vets recommend a drinking fountain for pet cats to improve your kitty's hydration levels and avoid kidney and urinary tract issues.
Many cats ignore their water bowl because stagnant water isn't as tempting as moving one. As such, your cat can be chronically dehydrated without you knowing it! 
Is a cat water fountain worth it?
A cat drinking fountain is worth it because it can keep your pet well-hydrated and reduce the risk of kidney problems and urinary tract infections due to bad drinking habits.
Moreover, a fountain ensures that your cat has constant access to water and won't get thirsty if you forget to refill your cat's usual ceramic bowl. 
Do cat water fountains use a lot of electricity?
Most cat drinking fountains use very little electricity because they have an auto mode and turn on/off. On average, you can expect your fountain to consume as much energy in 24 hours as one lightbulb.
And some fountains operate on batteries, so they don't use any electricity. 
Can you use a cat fountain without a filter?
You can use cat fountains without filters, but it's not wise to do so. 
Filters prevent debris and dirt from accumulating in hard-to-reach places inside the fountain and remove heavy metals from the water.
And it keeps food particles, pet hair, and dirt from entering the pump. 
Can you leave a cat water fountain on all the time?
Yes, you can leave your cat fountain on all the time as long as you check the water levels. Otherwise, you risk burning the pump if there's no liquid inside the fountain. 
Wrap-Up
While it's hard to find the perfect cordless cat fountain, Honeyguard's smart pet fountain is an excellent choice because of its ergonomic design, durability, and filtration system.
It's also large enough to suit the needs of multi-pet households and it's easy to clean it and change the filters. And it can last several hours on battery power only, which is still great.
Resources: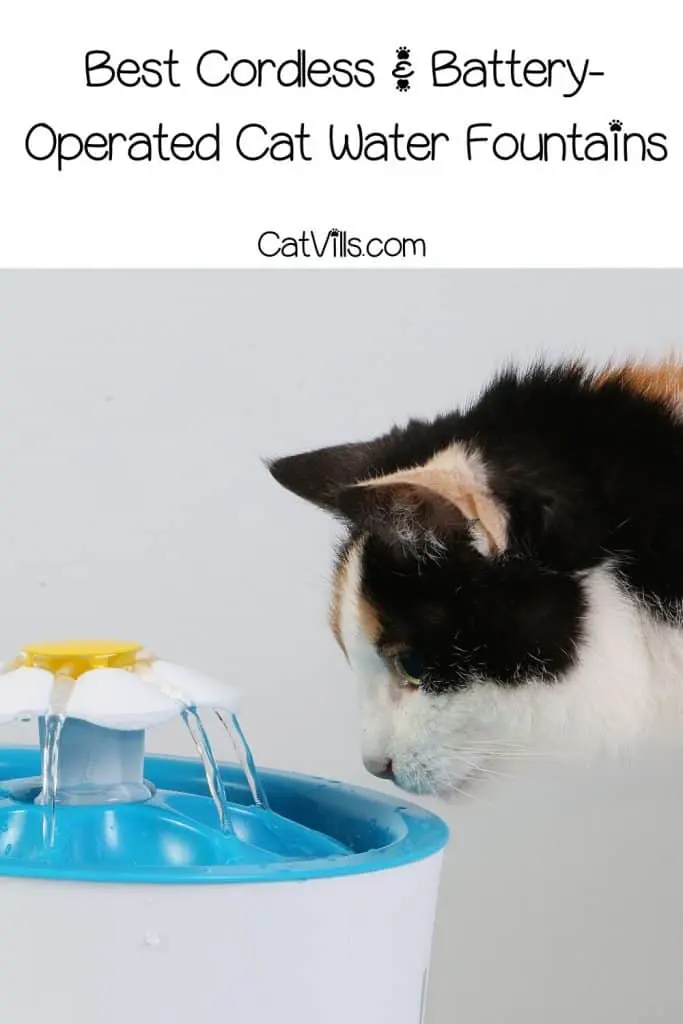 Last update on 2023-11-28 / Affiliate links / Images from Amazon Product Advertising API