Updated in 2023
Let's talk about battery-operated cat water fountains, or more accurately, how near impossible it is to find one.
Do a quick "cat water fountain battery-operated" search and you'll find results listing the top 10, top 20, top 50 even!
Now click those results and tell me how many are actually run on DC power.
Let me save you the trouble: less than 10%.
I can only imagine that all of these writers skipped the class that explained the difference between AC & DC power.
So, do they even exist; and if so, where can you find them?
Read on to find out!
Don't have time to read the whole post? Take a look at our top picks below for the closest things to truly battery-operated fountains.
FYI, this post contains affiliate links. If you make a purchase through these links, we earn a small commission at no extra charge to you.
Battery-Operated Cat Water Fountains TOP PICKS at a Glance
Check the table below for a side-by-side comparison of our favorites!
Do Battery-Operated Cat Water Fountains Actually Exist?
The good news, yes, they do exist.
The bad? They're not as easy to find as Google search results (or even Amazon search results) would have you believe.
Trust me, I learned this first-hand while researching not only this list but our other quiet cat fountain buying guides.
It's super annoying. I am pretty sure that those lists really, really, really wanted to hit the keywords "cat water fountain battery operated" and didn't care how they got there.
I went through every single result on the top pages and literally 1 out of 10 recommendations was actually powered by batteries.
So, rather than give you another frustrating list padded with results that aren't even remotely what you're searching for, I am giving you a shortlist of an actual battery-operated, automatic cat water fountain.
I'll also give you a few other options for "cordless" fountains!
13 Best Cat Water Fountains That Are Battery Operated
Like I said, this is going to be a fairly short list because 99.9% of cat fountains are corded options.
Yep, even the majority of the fountains on so-called "best battery-operated pet fountains" lists!
Still, I did manage to round up a few! Check them out!
One of the only truly battery-operated fountains, the Smart Cat fountain is a relatively new entry onto the market.
In fact, it wasn't available when I first sat down to research this post (for repeat readers, the original top product here is no longer available).
Even more impressive, it actually has good reviews, unlike others that I looked at!
Benefits & drawbacks of SmartCat Water Fountain
| Benefits | Drawbacks |
| --- | --- |
| Dual-powered fountain runs on both batteries and AC power. | Battery is not included. |
| Smart Working Mode- change modes with the press of a button. | |
| Integrated water pump that avoids dirt & fur buildup | |
| Transparent design lets you keep an eye on water levels & quality. | |
| Very affordable | |
Recommendation
Overall, I'm really impressed with the features of this budget-friendly cat fountain.
With a 4-star rating across over 300 reviews, it's a solid choice.
Sure, it's kind of basic-looking, but at least it actually runs on batteries!
I just wish it actually came with the batteries.
As long as you choose good ones, though, you shouldn't have an issue.
ALSO RECOMMENDED: Fountain for Persian Cats
What Are Cat Parents Saying?
Most pet owners highly recommend Honeyguardian's smart pet fountain and are very impressed with its functions, durability, and design.
They also mention that their cats [1], dogs, and pet rabbits enjoy drinking from the fountain and that they aren't bothered by the pump sounds.
And as this pet owner shows in this video, it's easy to install the carbon filter, and the infrared sensor is quite useful since it shuts off the stream after two minutes.
Don't forget to also check out this awesome Uahpet water fountain!
Check Latest Price



ZERO Smart Pet Water Fountain with Wireless Pump — $34.99

It is an all-rounder smart pet water fountain that is wireless, whisper-quiet, and with no-brainer maintenance.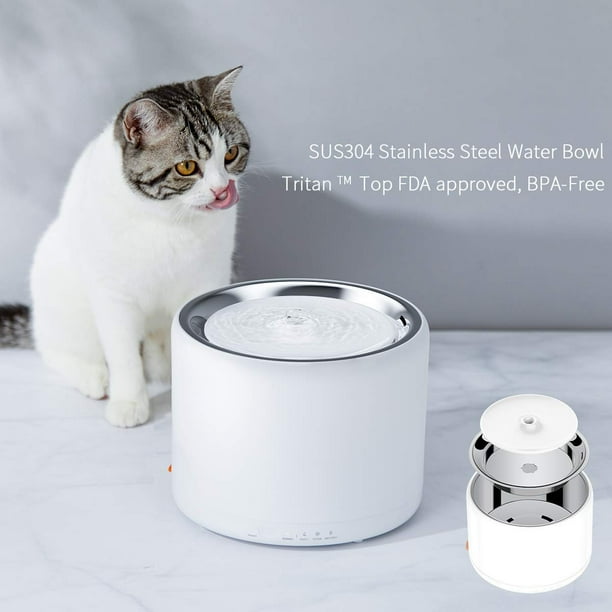 Another one that popped up since my last search, the PetKit technically runs on USB-powered electric, BUT you can also use a battery backup source.
Benefits & drawbacks of PETKIT Cat Water Fountain
| Benefits | Drawbacks |
| --- | --- |
| Powered with a USB cable, but includes back-up battery option. | Again, batteries sold separate. |
| Stainless steel water bowl and filter tray for added durability. | You need REALLY good batteries to power it. |
| Pump shuts off on its own when water gets too low. | Some complaints about customer service. |
| Relatively quiet compared to other fountains (less than 30dB). | |
| Mesh screen keeps out fur and other debris. | |
| Activated carbon filter and ion exchange resin to purify the water. | |
| You get five replacement filters with each unit. If you wish to purchase more, look for Petkit filter units for Eversweet 2, Eversweet 3, and Cybertial Puredrink fountain. | |
RECOMMENDATION
Overall, this one earned 4.3 stars across over 900 ratings, but there were a few complaints.
Some buyers said that it worked great…until it didn't. They had a hard time getting through to customer service, too.
However, given the overwhelmingly positive feedback, I'm feeling pretty confident in recommending it. And as the reviewer says in this video, it looks pretty cool and is very low decibel.
That said, once again, I wish it came with the darn batteries!
Sale
PETKIT Dog Cat Water Fountain,Automatic Pet Water Fountain with Anti-Dry Burning Pump, Smart/Normal Modes, Water Level Window, Ultra-Quiet, Quadruple Filtration Dog Water Dispenser -2L
【Reliable EVERSWEET 2S Drinking Fountain】2L/68oz water fountain for cats and small dogs. The circulation system helps provide maximum oxygenation for fresher, better tasting water and entice dogs and cats to drink more water. The pump will shut off automatically, when it senses the lack of water in the fountain bowl
【Monitor Your Pet's Water Intake】EVERSWEET 2S includes a water level window and it offers a better view to monitor the overall water consumption of your pet. The LED Light will notice you to add water in time. It is a safe and efficient way to manage pet's water consumption without constantly watching your pet
【Smart LED Indicator Light】Embedded Intelligent LED lights can easily remind you the water dispenser working status. It will indicate water shortage and remind when you need to replace the filter. SMART mode and NORMAL mode are available
【Quadruple Filtration System】PETKIT pet fountain is equipped with high performance purifying filter which is composed of a cotton layer, a coconut shell activated carbon and ion exchange resin. The filtration system provides healthy, fresh and oxygen-enriched water for your cats, dogs and small animals
【Ultra-Quiet and Auto Power off Pump】The pump is ultra-quiet (measured below 30dB) and has low energy consumption, which gives you and your pets 100% sweet sleep. You can hardly hear the noises.【Note】Eversweet 2S is powered with USB cable(adapter not included), please follow the instruction to use 5V adapter so that the machine can work normally.
ALSO CHECK: Catit Water Fountain Reviews
Kastty has a great battery-operated cat fountain, which is an excellent choice for cat parents who want something quiet, reliable, and well-designed.
The fountain is made from stainless steel and ABS materials for maximum durability and has a capacity of 67oz, perfect for multi-cat households.
benefits & drawbacks of Kastty's Cat fountain
| Benefits | Drawbacks |
| --- | --- |
| Kastty's fountain has a sensor mode, which turns on the water when your cat enters the sensor area and then turns it off. It also has a steady flow mode. | A bit noisy |
| The low-power indication shows that it's time to change the batteries and ensures your cat won't be left without drinking water. | Pump malfunctions |
| The filter replacement sensor is great for reminding you to change the filters every 21 days. | |
| The upgraded filtration system features a food-grade activated charcoal filter to remove all impurities. | |
| It has AC and battery-operated power, so this battery-operated cat water fountain is perfect for indoor and outdoor use. | |
| The unit is easy to assemble/disassemble and has a quiet pump, so the noise won't bother your cat too much. | |
| The fountain has low energy consumption when running on AC power and won't increase your electricity bill. | |
| The motor turns off when the water is low to prevent damage. | |
Recommendation
As a whole, Kastty's cat fountain has great customer reviews and a rating of 4.3 stars. Most reviewers are happy with the fountain's quiet pump.
However, many cat owners mention that the batteries didn't last as long as they expected, and they had to change them weekly.
Some owners also note that the fountain worked well for only a couple of months and that their cats didn't like the flow of water [2].
And as you can see from this video, Kastty's large fountain is easy to clean.
Cat Water Fountain, Whisper Quiet 101oz Cat Fountain Pet Water Fountain, Cat Drinking Bowl, Water Fountain for Cats Inside, Cat Water Dispenser with LED Light, w/ 1 Cat Waterer Filter
【Whisper Quiet Cat Water Fountain】Our pet water fountain is proud of its ultra quiet pump. It makes barely any noise. Compared to other pet water fountain, our cat water fountain is a great choice for a light sleeper. You can even put the water dispenser in the bedroom. Note: Please clean the water pump every 2 weeks in case that dog hair/debris might block the pump and cause malfunction.
【101oz Large Capacity Pet Fountain】3L / 101oz water capacity is great for small to medium sized pets. The large water tank can last for 2 weeks. No worries about your pet's drinking problem when you are on a business trip. Please note that the pet fountain will not work if the water level is lower than 650ml.
【Safe Cat Fountain with 1 Activated Carbon Filter】To ensure that your cats and dogs always have clean drinking water, we selected a food-grade filter, consisting of a PP cotton layer and coconut shell activated carbon, which can get rid of 99% impurities. This cat water fountain is also BPA free, durable, and easy to operate and clean. Rinse the cat fountain filter before use and replace them every 3-4 weeks.
【Pet Water Fountain with LED Light】The LED light will change from blue to red when the water is less than 650ml, which reminds you to refill the water fountain. Built-in switch on the power cord allows you to turn on/off the light at any time.
【Water Fountain for Cats Inside】This package comes with 1 cat water fountain, 1 activated carbon filter, 1 quiet pump, 1 adapter and a nice gift box. Your cats and dogs will definitely like to drink running water from our Kastty drinking fountain.
Homerunpet's cat fountain isn't cordless or battery-operated in the traditional sense of the word. However, it has a unique pump design, which is why I've included it in this list.
Benefits & Drawbacks of Homerunpet Cat Fountain with Wirel
| Benefits | Drawbacks |
| --- | --- |
| The wireless ultra-quiet pump eliminates exposed electrical wires inside the unit, which guarantees your cat's safety. | Needs to be plugged in |
| The large capacity of 68oz is perfect for small and large cats and can provide your cat with enough drinking water for a week. | Doesnt come with replacement filters |
| The unit is easy to clean and maintain because you don't have to bother with inside wires, and there are no hard-to-reach places. | |
| It features a triple-filtration system so the charcoal filter will trap all impurities, ensuring your furry friend has fresh and clean liquid to drink. And replacement filters are easy to find. | |
| The unique ergonomic design stimulates the natural flow of water to ease cats' anxiety and tempt them to drink more. | |
Recommendation
Most cats owners are satisfied with the performance and durability of this wireless cat fountain. The unit is easy to assemble, and cats quickly get used to it.
However, some pet parents note that they're having issues with the LED light, and it's not so easy to check the water levels as they expected. But most don't have any major complaints.
Check out this video to learn more about Homerunpet Cat Water Fountain.
Homerunpet Cat Water Fountain with Wireless Pump, 68oz/2L Ultra Quiet Pet Water Fountain for Cats and Dogs, Easy to Clean and Assemble, Filters Included, Dual Working Mode, Smart LED Light
The World's First Patented Wireless Pump Pet Fountain: Say goodbye to all the redundant and exposed wires that every conventional pet fountain will have. Our patented wireless pump has cancelled the electrical wires immersed in water to make pet drinking safer than ever. It also works more quietly than the falling leaves at lower than 20dB, inaudible to humans.
Effortless Cleaning: The wireless pump with a detachable inner tank has redefined and simplified the cleaning process for you. There is no need to drag the wires out or brush the tight corners and hard-to-reach crevices like others. It takes no effort to detach the water tank, making it so much easier to clean and refill.
24/7 Flowing and Filtered Water: Our pet fountain simulates the flow of natural streams which awakes your pet's love for the water. The filter provides a triple purification system, with one layer of activated coconut charcoal powder sandwiched between two layers of cotton mesh. It effectively prevents water from being stale, ensures good taste and filters out pets' hair and impurities. The filter sponge inside the pump further protects it from hair and dirt.
Whisper Quiet: To reduce the noise generated by the water flow, 20 water paths are designed to minimize the noise down to 20dB, allowing for peaceful moments for you and your loved ones. It's highly recommended for families that fresh and flowing water is preferred by your furry friends all day.
Builds For Larger Valid Capacity: The 68oz / 2L water capacity is ideal for both cats and dogs. It can provide 1~2 cats with fresh water for 1 week, suitable for pets' parents who leave their home frequently. The patented pump keeps running at lower than 7oz. The transparent window allows you to monitor the water level easily, and the LED indicator notifies you when the pump stopped working. It is also BPA-free and built for long-lasting.
BQYPOWER has an excellent drinking fountain for cats and dogs, which won't disappoint you in terms of design and reliability. It has a capacity of 2L, so it's great for cats, small dogs, and other pets.
Benefits & Drawbacks of Automatic Pet Fountain with Smart Pump by BQYPOWER
| Benefits | Drawbacks |
| --- | --- |
| Like other fountains for cats I've reviewed, this model has an infrared sensor, which turns the stream on whenever your cat is within range to save power and extend the battery life. | DIfficult to get replacement filters |
| This automatic pet fountain features two-in-one power modes so that you can rely on the battery power supply in cases of blackouts or when you're traveling with your cat. | |
| Unlike some other models I've seen, this fountain comes with a standard wall plug-in and you won't need to purchase an adapter. | |
| The fountain has three flow modes, so you can set it to match your cat's drinking style. Moreover, the 360-degree multi-directional stream ensures the water is rich in oxygen. | |
| You don't have to worry about water levels since the LED indicator will turn red whenever you need to fill up the fountain. | |
| The pump has very low power consumption whenever you're using the plug-in mode, so it won't increase your electricity bill. | |
Recommendation
In terms of capacity, design, and filtration, the BQYPOWER is similar to other pet drinking fountains. However, it stands out with its three-flow design to increase your cat's hydration.
Cats owners also like it a lot and share that you can barely hear it working. However, some mention that it's hard to find replacement filters and that the unit comes without batteries.
However, some cat parents say you don't get a plug for the unit and that you need to purchase a USB plug if you don't want it to run on batteries.
BQYPOWER Battery Operated Cat Water Fountain, 2L/67oz Pet Fountain Cat Water Dispenser Infrared Sensored with Smart Pump and LED Indicator, Automatic Pet Water Fountain for Cats Dogs
🐱【AUTO IR SENSOR MODE】 The water in pet water fountain will come outs as your pet enters into the sensing area (sensing angle: 120°| sensing distance: 4ft) in auto IR sensor mode. And shuts down when pet leaves. So you won't be wakened up by a thirsty cat in the middle of the night. No longer full of worries to leave since pets will be well hydrated by the automatic water in your absence. Helps save power and extend the longevity of the cat fountain at the same time.
🐈【DUAL POWER SUPPLY DESIGN】 The cat water fountain can be used indoors powered by a socket or used outdoors (family trip or camping) powered by a battery. Cat fountain includes a USB wire as well as a standard wall plug-in, so you can plug it in wherever you need to. Ultra low power pump of only 1W, four batteries (not included) are capable of backing it up for a long-period outing. Continuously work with the least battery consumption to let you be absent as long as possible (up to 30 days).
🐶【KEEP YOUR PET HEALTHY】Pet water fountain equip with triple-filtration system, selected a food-grade filter. Each filter is composed of coconut shell activated carbon, ion exchange resin and PP cotton layer which can get rid of 99% impurities. High effectively to filter hair, heavy metals improve the taste of the water. Helps increase water consumption and reduce the risk of urinary tract infections. Provide healthy and hygienic water for your beloved pets all day!
🐱【3 FLOW DESIGNS TO ENCOURAGE DRINKING】The water can be adjusted to three different flow settings-lower waterfall, higher waterfall and gentle fountain. Each mode meets the needs of various pets which match the drinking habits of cats, dogs, and other pets. 360°multi-directional streams aerate the water for added oxygen. Fountain with lovable flower design and free-falling stream will attract curious pets to check it out. Encourage pets to drink more often. Keep kitty, cat and dog very happy!
🐕【SUPER QUIET + SMART LED LIGHT+LOW POWER】 This water fountain for cats inside has a water pump that is so quiet (≤40db). The low-level of noise it makes while functioning will not scare your cat. Unique LED indication system to help you monitor water levels. Auto LED light will turn red to remind you to add water when water levels are too low. Low-consumption pump can operate for an astounding 10,000 hours which means that it normally lasts between 2.5-4 years!
Dog H20's battery-operated pet fountain is the right choice for you if you have multiple cats or a large dog. It's made from plastic and holds up to 63oz of liquid.
Benefits & Drawbacks of Dog H2O DH025 Cordless Battery Operated Pet Water Fountain
| Benefits | Drawbacks |
| --- | --- |
| This cordless pet fountain is made from durable, BPA-free materials and is easy to clean because it's dishwasher-safe. | You have to keep changing the batteries |
| You don't need any tools to take the fountain apart or change the filters as you can see from this video below. | Water doesn't constantly flow |
| The fountain features a timer with four settings to filtrate and aerate the water for maximum freshness. | |
| Relatively quiet compared to other fountains (less than 30dB). | |
| It comes with three filter pads and three dental tablets to combat bad breath, which is common in cats and dogs. | |
Pet owners also have a good impression of Dog H2O's pet fountain and agree that it's an excellent choice for pets that like to chew wires.
However, some owners note that the pump doesn't work as well as they expected and that the batteries can't generate enough power.
Sale
Dog H2O DH025 Cordless Battery Operated Pet Water Fountain, Cool Blue/Translucent Black
No wires, no limits. Place it anywhere! There are no cords for puppies or playful dogs. A programmed timer regularly filters (2Min every 90Min, 45Min or 20Min) & aerates water to minimize saliva buildup on water surface.
Large drinking area for medium to large dogs with 200 fl. Oz (6.3 quarts) capacity, ensuring clean water All day long. Time to upgrade from that dirty dog dish today!
Includes 3 tablets of dental care. Dental Care supports healthier gums & helps fight "doggy breath". includes 3 water softening Filter pads
Dishwasher friendly, disassemble in seconds without tools. Food grade & BPA free materials used to Ensure pure water.
Super quiet pump system powered by 4 x "D" Size batteries (not included), 3 year limited warranty on the pump. Optional USB powered (mini USB plug), once connected the fountain runs continuously (USB cable & USB adaptor not included).
Petmate has another great battery-operated cat fountain, which is an excellent choice if you have a cat that likes to chew wires.
Benefits & Drawbacks of Petmate Fountain
| Benefits | Drawbacks |
| --- | --- |
| Petmate's drinking fountain is made from food-grade plastic for maximum durability. | Has a weird noise |
| The unit weighs only two pounds and measures 12.9 x 9.25 x 9.2 inches, so you can place it anywhere in the house and move it whenever you want. | Not easy to assemble |
| The batteries last long because the pump turns off automatically every 20 minutes. | Gets dirty quickly |
| The compact design is great for cat owners who don't have much space. | |
| You can keep an eye on the water levels, thanks to the transparent upper body. | |
| The fountain has a filter to remove impurities and pet hair from the water. You can purchase a replaceable filter from the manufacturer. | |
| You get five replacement filters with each unit. If you wish to purchase more, look for Petkit filter units for Eversweet 2, Eversweet 3, and Cybertial Puredrink fountain. | |
| Relatively silent pump and easy to find fountain filters | |
| As you can see from this video, the Petmate's gentle fountain has multiple drinking points, which is great for multi-cat households. | |
Recommendation
Cat owners have a mixed opinion about Petmate's automatic drinking fountain. They say that the device is hard to put together, and it gets dirty very quickly since it's white.
Moreover, batteries are not included in the package, so you'll have to purchase them separately. And you have to clean it very frequently to keep it in working condition.
But as this YouTube reviewer says, the free-falling stream design attracts your pet's curiosity and encourages proper hydration.
Sale
Petmate Fresh Flow Rain Battery Fountain for Cats and Dogs, 75 oz
KEEP CAT OR DOG HYDRATED WITH FRESH WATER-Circulates water for your pet to keep water fresh and not stagnant Holds up to 75 ounces of water to ensure your pet has enough water
BATTERY OPERATED – First fully battery-operated fountain in the market No Cords, outlets or limitations on where to place the fountain
MULTIPLE DRINKING POINTS –It pulls the water from the bowl up to the top and the water cascades down into the water receptacle. Pets can drink from the bowl, from the top and from the water flow out of the receptacle
BATTERY SAVING TECHNOLOGY – the pump turns off automatically to conserve battery life – and restarts after a period of time to repeat the filling of the water receptacle
FRESH, FILTERED WATER – the Fresh Flow Rain includes a filter to filter debris from the water being brought up through the tube
Tronssien has the best battery-operated cat fountain for owners who have multiple cats. This fountain has a similar capacity as most cordless water fountains – 2L – and it comes with two filters.
Benefits & Drawbacks of Tronssien Store's Battery-Operated Cat Fountain
| Benefits | Drawbacks |
| --- | --- |
| Unique design to separate water and electricity to ensure your cat's safety and a quiet pump to reduce your cat's anxiety | Some customers complained about the Automatic sensor and night light not working |
| Sensor mode, which turns on the water for 20 seconds when your cat is within the sensor's range (2-6 meters). | |
| Triple filtration system to remove trap food, debris, and pet hair and keep the water as clean as possible for long periods of time | |
| Warm LED light at night to make it easy for your cat to find the fountain | |
| Transparent body so that you can keep an eye on your cat's water consumption and refill the fountain before the pump burns out | |
| The fountain is very light, so it's easy to move it around or take it with you when you're traveling with your pets. | |
In general, cat owners share positive experiences with this fountain and say that it helps increase their cats' water intake.
However, some complain that they've got issues with the LED sensor and the night light.
These are the only truly battery-operated cat fountains I could find.
Now, I could end the list here and send you on your merry way, but I have a few other ideas that may work if you really want a cordless cat water fountain.
Battery Operated Cat Water Fountains. 2L/67oz Ultra-Quiet Automatic LED Dog Water Dispenser with 2 Replacement Filters & Smart Pump.Pet Water Foutain for Cats,Dogs,Multiple Pets.
🐈SEPARATION OF WATER AND ELECTRICITY: The main components of cat water fountatin are all concentrated in the separable upper part which is fully enclosed, and the water outlet method is changed to pumping which could preventing power leakage.At the same time, the design method makes it easy to clean.
🐈AUTOMATICALLY SENSES PETS AND ATTRACTS THEM TO DRINK: Auto IR SENSOR Mode, when your pet enters the sensing area (2-6 meters), a water fountain will automatically discharge water for 20 seconds. The sound of water will attract curious pets to come. According to the cat's drinking habits, After the water is discharged once, it will sleep for 30 minutes and then re-open the induction.
🐈TRIPLE FILTRATION SYSTEM: The pet water fountain is equipped with 2 replacement filters,each composed of activated carbon, ion exchange resin and non-woven fabric, forming a triple filtration system,keeps water better tasting and safer for pets
🐈BATTERY OPERATED,LARGE CAPACITY: Automatic cat water dispenser has a water capacity of 2 liters, which means that it is great for small to medium-sized pets.Transparent sink can clearly see the amount of water left. The cat water fountain designed wireless,battery-powered,freeing up the use of the site. If the power goes out at your house, your cat or dog can still drink water.
🐈RUNS ULTRA QUIETLY & EXTRA LONG DURATION: Low-decibel silent design, It makes barely any noise. Charge once, use time up to about 30 days. The lithium battery sets up a protection plate when the detection of safety problems will automatically power off.
Other cordless alternatives for cat water fountains
These alternatives may not be what you had in mind when you began your battery-operated cat fountain search, but they could be your best option. I'm going to be honest here, while I've seen great reviews for Ebi Ceramic Fountains, I've never heard of the brand until recently.
They're not sold on Amazon or on any other mass retailer that I can find, so you have to go directly through their website.
They really are quite beautiful, though, and totally handcrafted in the US.
Most of them run on either just batteries or both AC/DC. I'll warn you, they are pricey! However, like I said, they're handmade.
9. Ceramic Fountains
I'm going to be honest here, while I've seen great reviews for Ebi Ceramic Fountains, I've never heard of the brand until recently.
They're not sold on Amazon or on any other mass retailer that I can find, so you have to go directly through their website.
They really are quite beautiful, though, and totally handcrafted in the US.
Most of them run on either just batteries or both AC/DC. I'll warn you, they are pricey! However, like I said, they're handmade.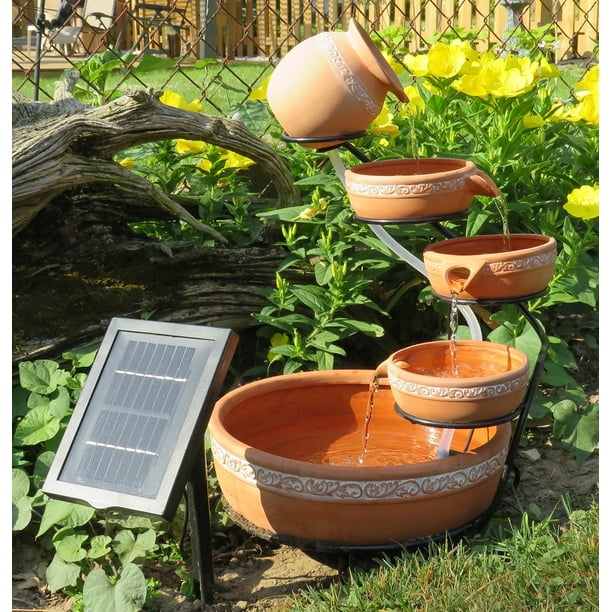 Okay, so this one is not really a pet fountain, but bear with me.
If you're willing to keep up with adding clean water, it's actually a beautifully simple (not to mention just plain beautiful) option.
While it may work better outdoors than inside, you could probably adapt it for indoor use more easily than the hose-powered fountain.
It's solar-powered, so for outdoor use you just need to make sure it's in a sunny spot.
However, if you can put it near a window or source of natural light, you could bring it inside.
And as this video shows, the fountain is not big at all, so you can squeeze it into your house with no problems.
Sale
11. DIY It
While the video above may not be the most stable, the final product is pretty nifty!
I would take out all the random extras in the fountain, though, you don't really need them and they'll just trap bacteria.
12. Or try this DIY tabletop fountain
Another fantastic tutorial (this one actually lists out the steps for those of us who need to read rather than watch them), can easily be modified to create a wireless cat fountain.
Look, unless you're hooking a water fountain right up to your water supply, you're going to have to change the water regularly.
It doesn't matter if you buy a battery-operated pet fountain, a corded one, or heck, one that sings a little jig and folds your laundry for you!
No, that last one doesn't exist. I wish! Seriously, though, unless your cat flat-out refuses to drink from a bowl, a plain old gravity water bowl will do.
Your cat will still have plenty of fresh water ready when he wants it, and you won't have to worry about filters, buying batteries, or finding a nearby outlet.
PetSafe Healthy Pet Water Station - Small, 64 oz Capacity - Gravity Cat & Dog Waterer - Removable Stainless Steel Bowl Resists Corrosion & Stands Up to Frequent Use - Easy to Fill - Filter Compatible
WATER CAPACITY: Available in 1/2, 1 or 2 1/2 gallon water capacities
DRINK ANY TIME: This gravity water station allows you to keep your pet hydrated at all times of the day or night
STURDY CONSTRUCTION: The reservoir is made of durable plastic and locks in place to help from knock over and spills
HYGIENIC WATER BOWL: The bowl is stainless steel and more hygienic for your pet
EASY-TO-CLEAN: Disassembles for easy cleaning; stainless steel bowl is dishwasher safe
U.S.-BASED CUSTOMER CARE: Our pet product experts are here to help you and your pet and are available by phone, email or chat if you have any questions
ESTABLISHED EXPERIENCE: PetSafe brand has been a trusted global leader in pet behavior, containment and lifestyle innovations for nearly 30 years. We help pets and their people LIVE HAPPY TOGETHER
So, there you go!
Unfortunately, if you're dreaming of a fantastic, 5-star, top-of-the-line battery-run pet fountain, you're kind of out of luck.
And by "kind of," I mean you have a better chance of winning the lottery than finding one.
See, there's a reason why pet fountain manufacturers don't really use batteries. As we saw in the cons of the few above, they're just not strong enough.
While I couldn't find you more than a couple of options (and believe me, I tried), at least they are actually battery-operated cat fountains and not clickbait results. 😀
Faqs
Do Vets Recommend Water Fountains for Cats?
Yes, many vets recommend a drinking fountain for pet cats to improve your kitty's hydration levels and avoid kidney and urinary tract issues.
Many cats ignore their water bowl because stagnant water isn't as tempting as moving one. As such, your cat can be chronically dehydrated without you knowing it! 
Is a cat water fountain worth it?
A cat drinking fountain is worth it because it can keep your pet well-hydrated and reduce the risk of kidney problems and urinary tract infections due to bad drinking habits.
Moreover, a fountain ensures that your cat has constant access to water and won't get thirsty if you forget to refill your cat's usual ceramic bowl. 
Do cat water fountains use a lot of electricity?
Most cat drinking fountains use very little electricity because they have an auto mode and turn on/off. On average, you can expect your fountain to consume as much energy in 24 hours as one lightbulb.
And some fountains operate on batteries, so they don't use any electricity. 
Can you use a cat fountain without a filter?
You can use cat fountains without filters, but it's not wise to do so. 
Filters prevent debris and dirt from accumulating in hard-to-reach places inside the fountain and remove heavy metals from the water. And it keeps food particles, pet hair, and dirt from entering the pump. 
Can you leave a cat water fountain on all the time?
Yes, you can leave your cat fountain on all the time as long as you check the water levels. Otherwise, you risk burning the pump if there's no liquid inside the fountain. 
Final Recommendation
While it's hard to find the perfect cordless cat fountain, Honeyguard's smart pet fountain is an excellent choice because of its ergonomic design, durability, and filtration system.
It's also large enough to suit the needs of multi-pet households and it's easy to clean it and change the filters. And it can last several hours on battery power only, which is still great.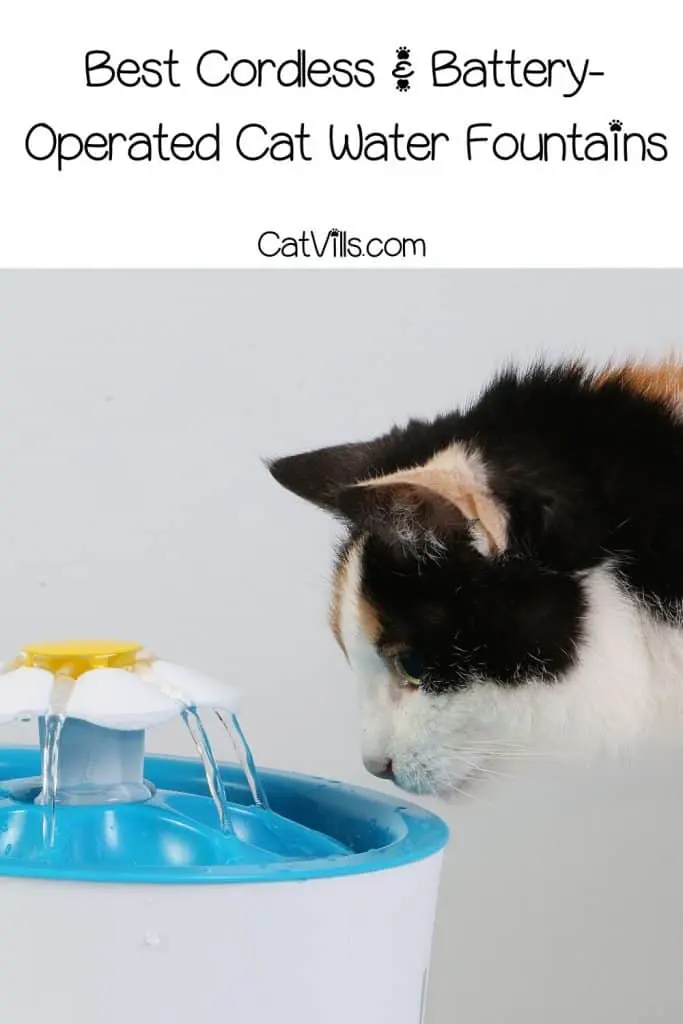 Resources:
1. The surprising physics of cats' drinking. MIT News | Massachusetts Institute of Technology. Avilable at: news.mit.edu
2. published SP. Study Reveals Physics of How Cats Drink. livescience.com. Published November 11, 2010. Accessed March 28, 2022. Avilable at: Livescience.com
Do you know of any actual battery-operated cat water fountains that I missed? Please share below so I can add them!
Nicole Etolen
Nicole is one of the writers here on CatVills. She's been a cat lover most of her life and-at one point- counted five felines as part of her family. Today, she's proud cat mom to two indoor kitties and caregiver for a slew of ferals.
Last update on 2023-03-30 / Affiliate links / Images from Amazon Product Advertising API