If you are looking for a fun project and something that will bring your feline friends endless joy, you can't go wrong with a DIY cat tree!
There are hundreds of cat tree plans available online, and I have selected my favorites to share with you.
From your basic scratching posts to designs that incorporate a cat condo and more, there's really so much to choose from.
Let's dive in and take a look!
11 Plans for a DIY Cat Tree
I tried to include a good mix of simple and more complex plans. That way, no matter how handy you are, you can make the perfect tree for your kitty!
1. Nature Inspired Cat Tree
A nature-inspired cat tree is our number one pick for more than just its great aesthetics.
While many cat tree plans require special materials, this design uses stuff you probably already have lying around.
However, the best thing about this plan is that you can choose the tree branches you are going to use. It guarantees that your creation will be a one-of-a-kind design.
Similar cat trees sell for around $800 online, but you can make your own using only the following:
Tree branches
1 or 2, 1″x3″x8′ furring strips
1, 2″x2″x6′ furring strip.
4, 1″x2″x8′ furring strips
1, 1/4″ 4'x4′ plywood
1 box of 1-5/8″ drywall or wood screws
1 box of 3-1/2″ screws
1 box of 1-3/8″ drywall screws
Wood Glue
Wood filler
Hot glue
Carpeting
A non-toxic general purpose adhesive
Bushy Greenery or fake tree leaves
You can find the full plan here.
2. Kitty Loft With Concealed Litter Box
This stylish cat tree was designed with functionality in mind.
Its appealing symmetrical design boasts a cat loft and feeding area, room for play, and a concealed compartment of a kitty litter tray.
It comes second on our list for its aesthetically appealing yet functional design. All you need to construct it is the following:
Wood (all size, all shape)
Sisal rope
PVC tube (like for gutters)
Hose clamps
Angle brackets
Flexible fences
Carpet flooring
Staples
Hinges
Screws
You can find the complete plan here.
3. Simple Wall Mounted Cat Tree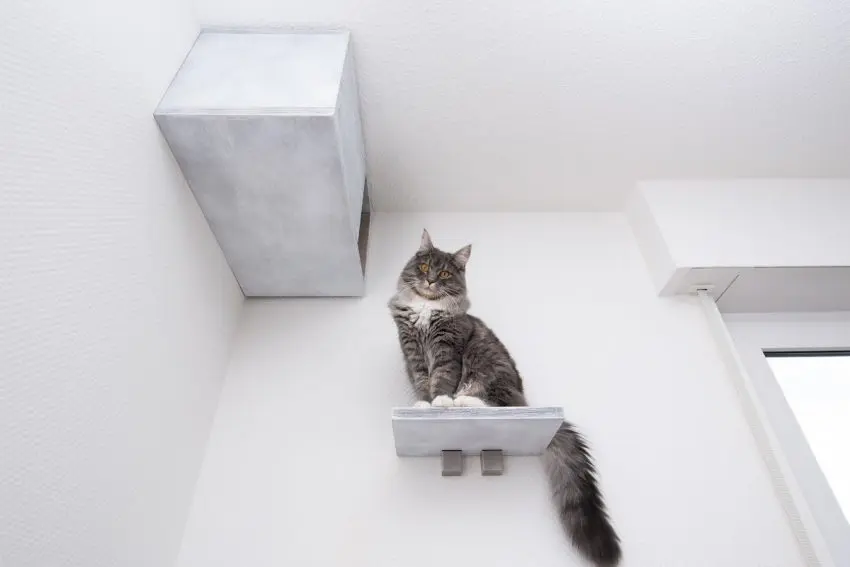 This beautiful design strikes a balance between simple design and the multi-level cat tree concept.
With the platforms mounted to the wall, the tree's base acts only as a climbing post.
This gives you many options to make an amazing cat tree that isn't ugly that scales to the amount of space you have available.
You will need the following to make your own simple wall-mounted cat tree:
square edge timber (2400 x 44 x 44 mm)
plywood (16 mm thick) cut into four 20 x 40 cm and one 40 x 40 cm pieces
sisal rope (10 mm diameter)
angle brackets
screws and wall plugs
double-sided tape
optional: carpet underlay
carpet
You can find the complete plan here.
4. Eiffel Tower Cat Tree
This Eiffel Tower design makes for an awesome cat tree. However, the project is a bit more involved than others on our list.
Rather than using a list of items to construct it, the design needs to be printed or laser cut from cardboard.
After that, you will need to follow a couple of instructions to put on the finishing touches.
After that, you will need to cover the structure in the carpeting of your choice.
You can purchase the digital print-ready files here.
5. Minimalist Wall Mounted Cat Decor
This entry is a bit of a cheat. It is a fully designed and shipped product. However, it does require construction and assembly.
The hexagonal shapes, along with the climbing shelves, mimic the function of a cat tree but in a minimalist wall-mounted installation.
This isn't your traditional cat tree, but it offers you many options for configuration, all in a clean, attractive design.
You can purchase this item and comprehensive instructions here.
6. Cat Wall Playground
The cat wall playground might not be a 'cat tree' in the conventional sense.
However, if you have a lot of space for it, like a dedicated cat room, this is the most impressive DIY cat play we've seen.
While functioning in the same way as a cat tree, the different elements combine to make a huge play and living area for your cats.
The product description boasts 'Invoke your cat's natural instincts, and we believe it!
The files and template provide detailed instructions as well as a list of the things you will need.
You can purchase the file here.
7. Homey Double Chair Cat Tree
The following tree on our list is ideal for anyone looking for a simple, easy DIY project.
It's pretty much two chairs stacked, one upside down on the other.
While that may sound a bit makeshift, you can build something exceptional for your feline friend with a bit of craftsmanship and careful design.
You can add a disused wooden ladder to the design and even natural tree branches to make a custom cat tree. The basic instructions require the following:
Wood (The Chairs)
carpet
Pieces of fabric (Optional)
You can find the complete plan here.
8. The Custom Modular Cat House/Tree
This is one of our favorite options. It would have ranked higher on our list if it weren't a bit on the pricey side.
Instead, you can buy the modular designed parts to construct this modern masterpiece yourself. It is as customizable as it is easy on the eye.
So many basic cat tree designs can clash with your decor. This design promises a visually appealing solution.
You can purchase the kit here.
9. The Cat Condo
This is our favorite budget-friendly design. This simple-to-follow plan should apparently set you back less than $25.
It is a beautiful, simple cat tree and condo combo. The free plan includes instructions and a list of the required materials.
You can get the free plan here.
10. Dollhouse Miniature Cat Tree/Scratcher
This adorable mini cat tree is perfect for those with limited space. It's small enough to place upon a counter or coffee table.
It offers a perch and scratching post, which in our experience are what a cat loves most anyhow.
You could easily construct a similar homemade cat tree with hot glue, wood glue, a couple of cardboard tubes, and a piece of wood. The plan does admittedly make things a bit easier.
You can purchase the complete kit here.
11. DIY Cat Shelves
We have already seen how convenient DIY bookshelf cat trees can be. The great thing about this approach is that you can better utilize the space you have available.
You can create a wall-mounted cat tree from various wall mounts. Better yet, you can then use these as the base from which to add scratch posts, faux vines, natural branches, and natural carpet.
If an average cat tree just isn't your style, and you want to create a custom area for your indoor kitties, this is the way to go. For the bare shelves, you will need the following:
Plywood
Carpet
brackets
Screws
You can find a great video tutorial on DIY cat shelves here.
Is it Really Cheaper to DIY a Cat Tree Than Buy One?
In short, yes. In researching for awesome cat trees, we came across several resellers using DIY plans and charging a small fortune for the finished product.
There is nothing wrong with that, given you have consent from the original creator of said plans. It is, however, cheaper to have a go at it yourself.
The question doesn't really boil down to whether or not it's cheaper to do it yourself.
Instead, it's a question of whether or not you are comfortable tackling a specific plan.
It can be worth paying more if you have your heart set on a particular design and aren't confident it is within your skill level.
Safety Precautions
A number of the projects on our list require the use of specialized tools.
While some of those tools are relatively safe, some saws and grinders you might need present a real risk of serious injury.
Make sure to read all the necessary manuals and operating procedures for any tools you need to use. If you are uncertain, ask an expert for assistance.
FAQs
WHAT CAN I USE INSTEAD OF A CAT TREE?
Many people prefer an 'outdoor real cat tree.' This is as the name suggests. If you have trees in your yard, you can add platforms, scratching posts, and many of the features from the cat trees on our list. Alternatively, a scratching post, small perch, and a cat bed are all you need to meet your kitties' basic needs. Some kitty nook designs incorporate natural branches and sisal rope. You can combine your cat's feeding and water bowls. The point is to give them a comfortable little nook that will keep your kitties happy.
WHAT DO YOU DO WITH OLD CAT TREES?
The great thing about old, worn cat trees is that the materials can be reused in new DIY projects. You can usually reuse the base pieces, some soft pieces, like carpet and sponge, strips of wood, and any wood discs. With this material, you can easily construct a smaller cat tree or use the materials in a brand new project. You can also donate an old cat tree to a local shelter or rescue center.
Conclusion
DIY cat trees make for a rewarding project, save you money, and allow you to express your creativity.
In addition, they work out cheaper than buying ready-made cat trees and cat furniture.
The only limits are how comfortable you are with tackling the project, and in some cases, access to specialized equipment.
Have you tried making your own DIY cat tree? We'd love to hear your experiences in the comment section below!