Last updated on February 10th, 2023 at 03:11 am
Do you need help choosing the best cat food dishes or bowls? I'll provide everything you'll need to make this decision easy. You'll soon become an expert on all things cat food dishes and bowls.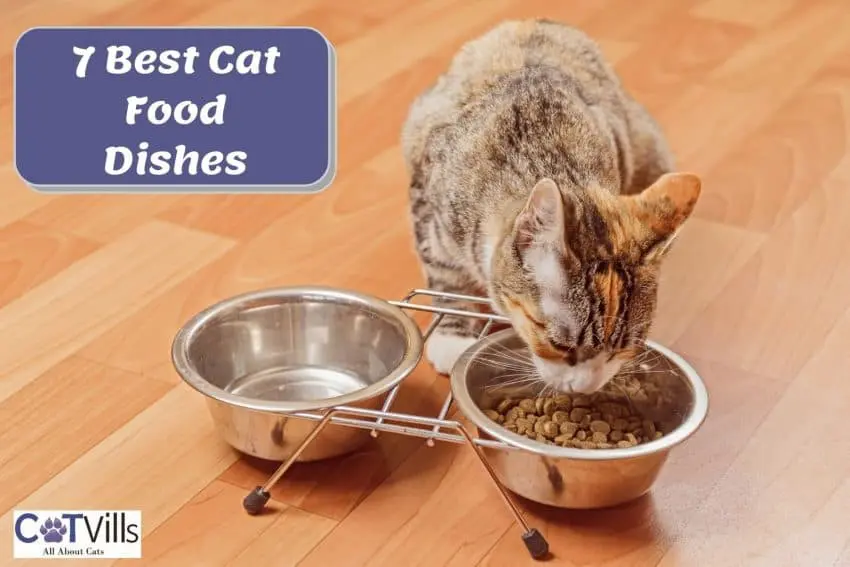 But before we dive into those discussions, let's take a look at some high-quality options.
READ MORE: How to Cook Cat Food?
Top Cat Food Dishes at a Glance
FYI, this post contains affiliate links. We earn a commission if you make a purchase at no extra cost to you.
Check this table below for a side-by-side view of our top 5 picks. Read the review for further details.
Top Benefit
Complete diner station design
Made with handcrafted ceramic
7 Best Cat Food Dishes
If you're looking for food dishes for your kitties with a beautiful design, Taberu's Cat Dining Station is a perfect fit.
The included acrylic bowls and birch wood stand will blow you away.
You won't have to worry about any complicated setup process, either.
It only takes two minutes, and your cats will be ready to use this stylish dining station.
Your cats will adore this station as much as you do. As one customer put it, they'll "love the dish as much as [you] love looking at it!"
| Benefits | Drawbacks |
| --- | --- |
| Complete diner station design (two acrylic bowls and birch wood stand included) | Priciest option by far |
| Beautiful design | Serving wet food on elevated levels could be an issue |
| Allows elevated bowl placement | |
| 2-minute assembly | |
| Suitable for any cat | |
| Dishwasher-safe | |
Final Verdict:
Finding a better-designed dining station for cats would be a hard thing to do.
This choice meets every notable criterion, from elevating food placement to being dishwasher-safe.
But I do have to admit this product's more expensive than I like.
A customer also mentioned one performance issue, "it broke after loading the two bowls with wet food and placing both at the higher level."
However, these concerns shouldn't stop you from considering this dining station.
The beautiful design and convenience alone will more than make this option worth its asking price.
Check Latest Price



Taberu Cat Dining Station


KoreanDesignShop's Handcrafted Ceramic Raised Cat Bowl is a wonderful option because of its raised design, promoting better future health.
Its handcrafted ceramic design material isn't anything to look over, either.
You'll even have four color choices to help ensure the bowl will fit your cat's personality.
The bowl's heavy-duty construction will make spills a non-issue, as well.
Buyers will have a hard time finding an area where this bowl doesn't make their lives easier.
| Benefits | Drawbacks |
| --- | --- |
| Four elegant color choices | Some customers reporting packaging issues |
| Made with handcrafted ceramic | Slightly pricy for a non-personalized option (cost is for individual bowls) |
| Sturdy, heavy construction to stop spills | |
| Raised design to promote better health | |
| Easy to wash | |
| Free shipping | |
Final Verdict:
The product's solid design, elegant color patterns, and heavy-duty construction are ideal traits for a cat food dish.
Each of these attributes will make this bowl mesh right into your home without any hassles.
A customer or two did mention the product arriving broken, though. But the company managed to solve these issues quickly by sending a new one.
Overall, you could do a lot worse for your cat's food dish. Honestly, doing much better than this option would be supremely difficult.

Customization is the main reason TheCraftinCouple's Customizable Cat Food and Water Bowls makes it onto our list.
This complete dinner set comes with a stand that owners can personalize with their cat's name.
You can customize the stand color, too, further ensuring your cat can eat in style.
The included two stainless steel bowls will also provide a bacteria-free, mess-free eating zone.
Even the most rambunctious cat won't be able to tip over this wood stand.
| Benefits | Drawbacks |
| --- | --- |
| Five color options | Slow shipping |
| Two bowls | No returns allowed, due to customization |
| Customizable stand | |
| Durable construction | |
| 100% handmade | |
| Cats won't tip it over | |
Final Verdict:
Everything about this dinner set was crafted with such care and elegance.
The creator did an excellent job building a product perfect for feeding our favorite kitties.
But it does have slower shipping speeds and a more expensive price tag than other options.
You'll have to weigh whether its ingenious design is worth these issues.
I would fall into the category of thinking it's worth it. The customization and excellent performance quality make the extra cost almost irrelevant.
Plus, I'm never going to have issues waiting a little longer for high-quality products.

The CatTailStudioArts Cat Food Saucer is a perfect dish for serving cats wet food.
Its flat surface will allow them to gobble it up without any difficulty.
You can also place it into the microwave and heat up food for them.
Cleaning the sauce after meals will be another non-issue as its dishwasher-safe.
But I can't forget to mention it's terrific mouse design pattern. One customer even stated that these dishes were "even more beautiful than [they] imagined."
| Benefits | Drawbacks |
| --- | --- |
| Perfect for wet food | Not suitable for dry food |
| Adorable mouse design pattern | Takes up to a month to ship |
| Numerous color scheme combination | No returns |
| Microwave-safe | |
| Personalized with your cat's name | |
| Dishwasher-safe | |
Final Verdict:
Overall, there isn't much to complain about this product as a wet food dish. It'll provide your cat with their meals on a plate personalized just for them.
But its incapability as a dry food dish does hurt its versatility.
I'm afraid dry food users will have to look elsewhere and not benefit from its many outstanding features.
If you're a wet food user, I don't see any reason why this dish isn't already in your shopping cart.
It'll meet your expectations and certainly pass them for some buyers.

I'm always going to welcome good-intentioned humor when it comes to pet food bowls.
Whiprint Funny's Cat Food Bowl certainly fits the bill with its hilarious inscription.
But its benefits don't stop there as both sizes can hold massive amounts of cat food.
Small can fit 3 cups, and large will hold 5 cups, which could help when you're on long trips.
More importantly, it's sturdy and durable enough to withstand a cat's attempt at tipping it over.
| Benefits | Drawbacks |
| --- | --- |
| Two sizes (small or large) | Maybe be too deep for some cats |
| Sturdy, ceramic construction | Again, no returns accepted |
| Funny inscription | |
| Microwave-safe | |
| Dishwasher-safe | |
| Holds large quantities of cat food | |
Final Verdict:
Aside from its large capacity and sturdy construction, you'll love its numerous color options.
It's almost outrageous how many choices they offer, considering their 52 variations.
Some cats might be a little uncomfortable with the deepness of this bowl, though. There might be a trial and error period for a bit to get them used to it.
But once they're used to it, you'll join the many people who are delighted with this bowl.
I have no reason to believe otherwise based on its overwhelmingly positive customer reviews.

A cat's never been more comfortable than when eating their meals out of Skrtuan Store's Cat Food Dishes.
These bowls feature a sloped design to prevent a cat's whiskers from touching the sides.
Each bowl also has a non-slip bottom to stop the dish from sliding all over the place.
The bargain level price is another appealing piece of its appeal.
You'll receive three high-quality bowls for a price that usually only gets a buyer one or two.
| Benefits | Drawbacks |
| --- | --- |
| Three dishes | Not microwave-safe |
| Suitable for dry and wet food | Food sticks to the bottom, according to some |
| Affordable price | |
| Non-slip bottom | |
| Cute cat ear design | |
| Sloped sides to promote comfort | |
Final Verdict:
This option's affordable price and comfortable eating experience are hard aspects to beat.
I didn't even mention its cat ear design that's an absolute favorite among most owners.
The only downside is these bowls can't ever go into a microwave.
It'll make them unusable as their plastic construction will start melting almost immediately.
Otherwise, there isn't a single reason these bowls couldn't work for dry or wet food users.
Their ability to prevent whisker fatigue alone makes them more than worth your time.
Sale
Our final option, Bonza's Double Cat Bowls, offers an entire dinner set at an affordable price.
You'll receive two stainless cat dishes and a durable silicone base with this option.
These aspects will create a stable, comfortable eating area for your cat.
It can serve both the highest quality dry cat food and wet food without issues, as well.
As a result, it ends up being our most laid-back, uncomplicated dish set.
| Benefits | Drawbacks |
| --- | --- |
| Two stainless steel cat dishes | Larger breed cats can tip it over |
| Durable silicone base | Doesn't keep out ants |
| Usable for dry and wet food | |
| Dishwasher-safe | |
| Affordable price | |
| 100% BPA free | |
Final Verdict:
Anyone looking to keep things simple would benefit significantly from having this dish set.
It makes feeding your cat straightforward without any unnecessary bells and whistles.
If you have a larger breed cat like a Maine Coon, the bowls could be an issue. There was more than one report of cats over 15 pounds tipping these products over.
Smaller cat owners shouldn't have any trouble with them, though.
Their stainless steel construction and simplicity will make them an outstanding purchase.
Sale
READ MORE: Can Cats Eat Almond Butter?
What to Look for in the Best Cat Food Dishes
Picking a suitable cat food dish or bowl will come down to several different factors. I'll dive into each of them below to ensure this process becomes as simple as possible.
Dish Material
As you might imagine, cat dishes are made from numerous materials. Each of them offers its own pros and cons when it comes to overall quality.
The most common materials used for cat dishes are stainless steel, ceramic, and plastic.
Plastic and ceramic offer a bit more flexibility while usually costing less than steel.
However, stainless steel cat bowls will be much more durable and last a more extended period.
I tend to stick with stainless steel options because I don't want to replace my cat dishes anytime soon.
I'll talk about a few other reasons why stainless steel is a better material than ceramic in our FAQ section.
But regardless, your ideal material won't be based on what I consider the right choice.
You'll need to think about what one fits your budget, preferences, and cat's personality.
Hygiene
Companies will make some bowls from materials, which are more hygienic than others.
Stainless steel is an excellent example as its germ-resistant and withstands multiple washings.
But it's essential to realize not every available cat bowl will be hygiene. Options made from low-quality plastic tend to have this issue.
These bowls will chip and allow bacteria to harbor inside those spaces. You'll want to avoid these dishes as much as possible for your cat's health and safety.
Size
Your chosen cat dish needs to fit at least one's meal worth of their food.
Otherwise, these dishes aren't going to handle or meet your expectations as a cat owner.
I'd recommend looking for bowls capable of holding one to two cups. This food amount should be more than enough for a cat's meal.
Shape
The ideal food dish's shape will depend on what your cat likes. In most cases, shallow bowls with sloped slides are more comfortable for cats to use.
But straight-sided bowls do offer their advantages. These dishes won't tip over as easily, which could prevent messes inside your home.
It's essential to note a heavier bowl won't slide or tip as often, either.
Some owners go with a bottom-heavy bowl equipped with a grip on its bottom to avoid these issues.
Your Cat's Needs
As I mentioned earlier, your cat might have personal requirements worth considering.
An example would be a cat who eats its food too fast will need a bowl that can slow them down.
I'll talk about slow feeder bowls more later on in the article.
Some other cats might prefer an elevated bowl or have an adverse reaction to plastic. Another thing to consider is whether your cat eats outside.
Outdoor cats will need dishes that are heated or contain an ant-proof design. It's a simple way to ensure your kitty gets their meal without any disruptions.
Collapsible bowls and automatic cat feeders are some other choices worth considering. An owner who travels with their cat would benefit significantly from a collapsible option.
Meanwhile, busy owners who need to feed them when they're away would love an automatic cat feeder.
But the main point is each buyer will need to account for their cat's specific preferences before choosing a food dish.
Otherwise, this entire process might become a waste of time and money.
Versatility
Some cat food dishes will only help serve dry or cold meals. But the best cat food bowl or plate will offer versatility concerning its ability to serve meals.
In other words, these products will have designs that can handle hot meals.
It would be best if you looked for options considered microwave-safe to ensure it has this versatility.
Cost
The price of cat food dishes will vary significantly from product to product. It makes constructing a budget based on your particular needs a must for any buyer.
For instance, a person who wants a stainless steel food bowl will need higher budget ranges. These products often cost a bit more than plastic or ceramic types.
Accounting for these details is the only way to keep your budget realistic. You can then use these resources to lessen the number of choices. It makes for a much easier and less stressful buying experience.
Best Cat Food Dishes FAQs
Should cat food dishes be elevated?
It's not necessary, but it does come with outstanding benefits. Elevating a cat's food and water bowls will reduce the strain when they're leaning their bodies. It can reduce future problems in their digestive system, hips, and spine.
Do cats prefer bowls or plates when eating? 
Cats don't have too much preference when it comes to bowls or plates. They instead care about the deepness of their food bowl or dish. They'll be annoyed by anything that allows their whiskers to touch the sides when eating. 
Are slow feeder bowls good for cats?
Yes, slow feeder bowls help keep a cat from gulping down its food too fast. It'll help limit the risk of bloating, vomiting, overeating, and stomach issues. They'll even provide a little mental stimulation during the meal.
Are ceramic or stainless steel dishes better for cats?
Experts consider stainless steel the best food bowl or dish material. As this article from 1-800 PetMeds tells us, stainless steel bowls "are unbreakable, durable, dishwasher-safe and easy to keep clean." What more could a cat owner want?
Conclusion
I hope our discussions about the best cat food dishes brought you some clarity.
But if you still have a question or two, feel free to use our comment section. I'll make sure to answer each post as soon as possible. Thanks for reading!
OUR TOP PICK
If you don't have to read our entire article, I'd recommend skipping right to TheCraftinCouple's Customizable Cat Food and Water Bowls. This option offers everything a person could want in cat food dishes.

For you, which are the best cat food dishes? Can you share with us your favorite below?
Last update on 2023-11-27 / Affiliate links / Images from Amazon Product Advertising API