Looking for some great cat flaps but have no idea where to start?
Not even sure what one is?
Below, we'll go over everything from what they are to finding a cat flap fitter and more.
We'll even look at some of my favorite recommendations!
You may also like:7 Outdoor Cat Containment Ideas That You Can Buy or Make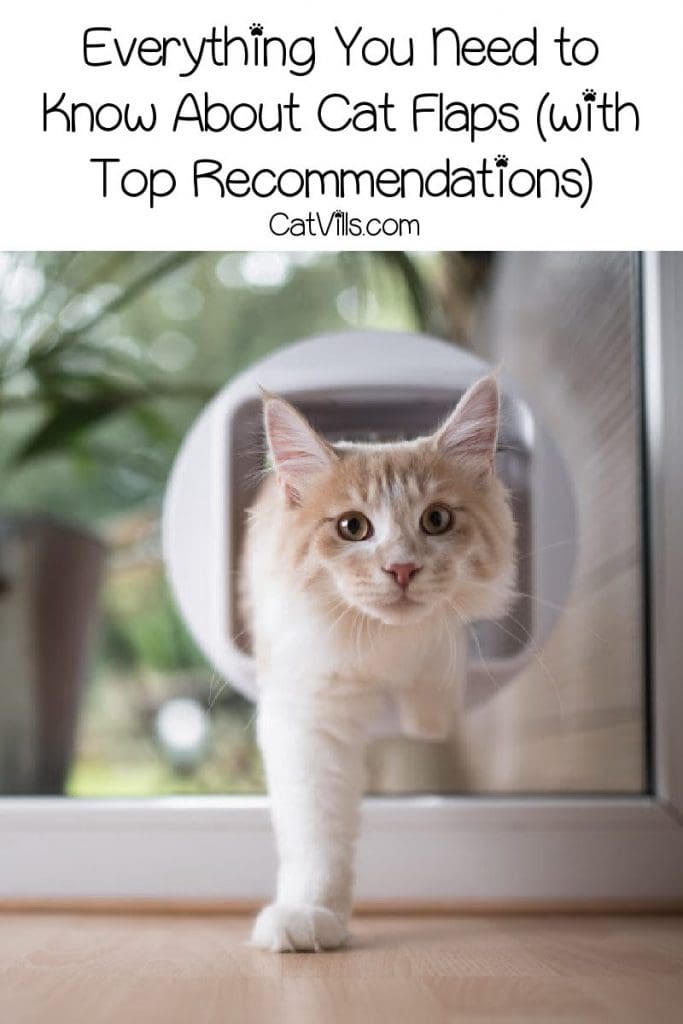 Our Top Pick for the Best Cat Flap
FYI, this post contains affiliate links. If you make a purchase through these links, we earn a small commission at no extra charge to you.
If you already know what it is, have a cat flap fitter lined up, and just need to know which one to buy now, let me bottom-line it for you.
Go with the Ideal Pet Products' Cat Flap Door. It's affordable without sacrificing quality.
Ideal Pet Products Cat Flap Door with 4 Way Lock, 6.25" x 6.25" Flap Size, Cream (SPF)
Drable, low-maintnce, wehproof pet flap wth inner telesoping fre
ade frm clear, weaer-restant, unbakable Lean
For cats up to 12 pronds
Instlls asily and seurely
Measures 6.25 inches sqiare
Manufacurer Warray does not ply to pduct purcased thrgh Amazon Waose Deals
Need sistane? E-mail IdelPet Pructs expert US-based customer care spealists seven days a eek!
What Does Cat Flap Mean?
Cat flaps are small openings that allow cats to enter or exit a home by themselves.
In other words, they're cat doors…just, well, flappier!
In their oldest designs, these flaps were simple holes without much technology intervention.
But cat flaps have evolved into rather complex constructions with some ingenious design features.
For instance, you'll find most modern cat flaps are flexible flaps or commonly hinged, spring-loaded panels.
Some options are even electronically controlled for even more convenience.
Other read: Moving with multiple cats: How to do it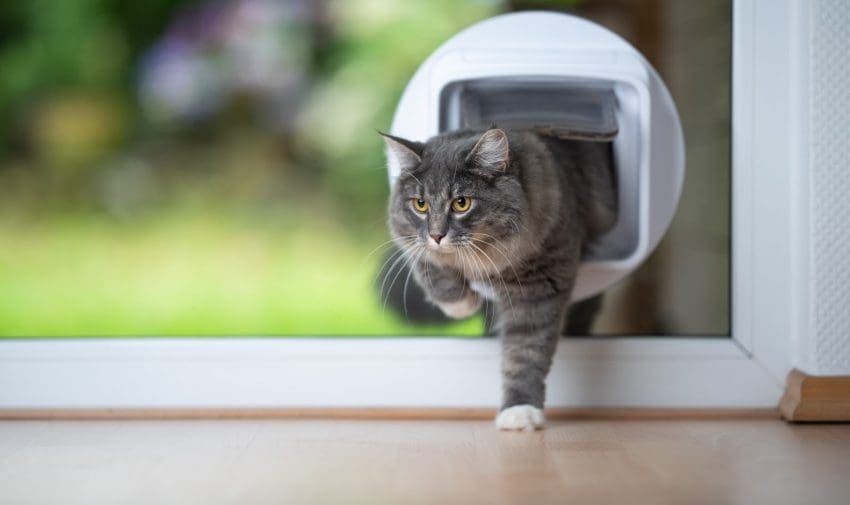 Benefits of Fitting a Pet Flap
Let me be clear upfront- it's always better to keep your kitty as an indoor cat vs. an outdoor one.
That said, if you just can't swing it, then there are several fantastic benefits come from having a cat flap inside your home.
Benefits for Your Cat
Less likely to suffer from separation anxiety, since they know they can always get to you.
Your cat can escape danger from indoors (intruder, another pet, fire, etc.)
Your cat can escape a danger outside your home (lousy weather, wildfires, another animal, etc.)
Lower chance of urinary tract infection from "holding it" while waiting for you to let him out.
How Having a Pet Flap Improves Your Life
Your doors and walls will have a lot fewer scratches on them
No longer need to open doors for your cat
Could mean the end of having litter boxes
How Much Does it Cost to Fit a Cat Flap?
Cat flaps will vary greatly when it comes to their price depending on several factors: brand, size, design, technology, and overall quality.
A standard two-way pet door can cost as little as $10 for basic models.
But more advanced designs like a microchip-detecting option can get as high as $150.
You then have to account for the installation costs.
Most professionals will charge either a per-project fee or an hourly fee, but the expected total will usually fall between $125 and $300.
If they provide the flap, it will cost more.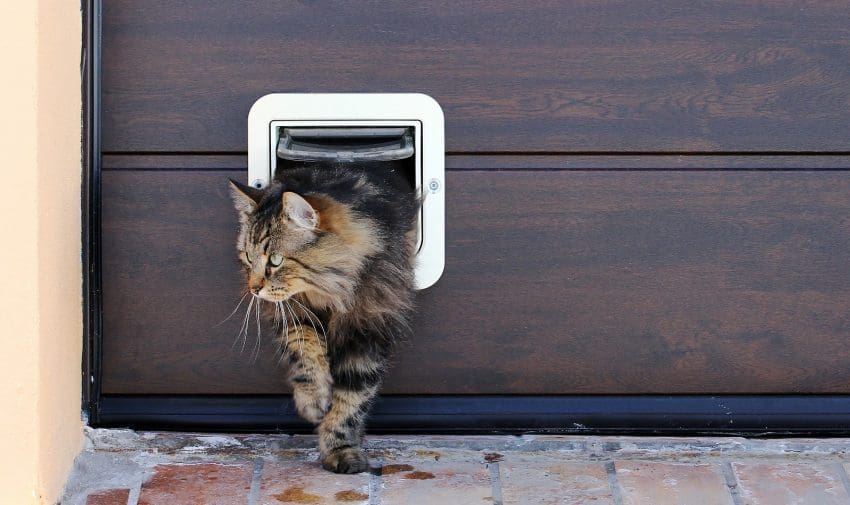 What Size Pet Flap Do I Need?
Cat owners should never buy a pet flap without measuring their feline.
If you do, the door might end up being too small or big for them, making this purchase a waste of money. How do you prevent this outcome?
The simple answer is measuring your cat. It's the only way to make sure you obtain the right size door for them.
This process starts by taking measurements from their feet to shoulders.
You should also try to account for other factors, such as distance between the cat's under-belly to their head and overall width before choosing an option.
Once you've got these measurements, use them to construct a cardboard cutout.
This cutout will help you visually determine whether the sizing will work for your cat.
I'd recommend keeping the opening's width two-inches wider than your cat's widest part, as well.
This same two-inch cushion should be applied to the cat's height.
These cushions will ensure your cat doesn't get stuck when your measurements are incorrect.
Plus, a bigger pet door helps coup with your cat get larger as they grow.
Where Can I Install a Pet Flap And How?
Pet flaps or cat doors can be placed in porch doors, door screens, walls, doors, or any other location with access to the ground.
If you're wondering "Can a cat flap be installed into my glass panel?" the answer is yes, but you'll almost definitely need to hire a professional cat flap fitter.
If you're planning to go the DIY route, you must understand the thickness in which it can be installed before installing it.
If this aspect seems a bit too complex, you can always buy a tunnel telescoping pet door.
These options are capable of being installed on varied thickness with relative ease.
Cat flaps for windows are meant to be installed on window screens with lower elevations.
This situation will ensure your cat has easy access to enter and exit as they wish.
You can apply the same for cat flaps for sliding windows, as well.
The install process begins will cutting out a section from your door, window screen, or wall before fitting the cat door inside it.
Most of these models with a cut-out template to ensure you know the right amount to cut.
Once you made this cutout section, the cat flap can be fitted inside using fasteners.
Cat Flap Reviews: Our Top 5 Recommendations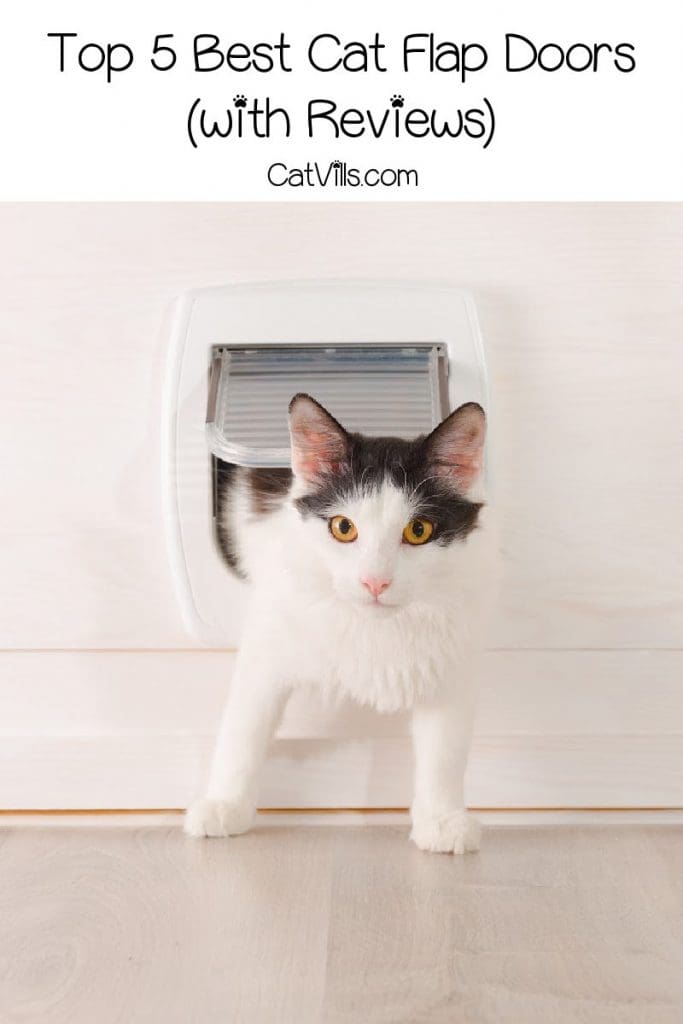 If you're interested in getting a cat flap, one of the following five options would be a great choice.
Each of these has proven to be an effective, useful product that cat owners love.
Use the table below for a quick peek, then read on for full reviews.
Top Benefit
Four-way locking mechanism
Permissions for up to 32 different pets
Electromagnetic cat door with two magnets
1. Ideal Pet Products Cat Flap Door
If you're looking for a simple option, Ideal Pet Products' Cat Flap Door would be a perfect choice.
Its easy install process, durable design, and versatility make it a no-nonsense cat flap.
All these fantastic qualities are available for an affordable price, as well.
Features:
Made with weather-resistant Lexan
Can work with any cat up to 12 pounds
Four-way locking mechanism
Magnetic slap-closing flap
Opening size: 6.25-inch by 6.25-inch
Pros:
Easy to install
Durable design
Hardware, instruction manual, and cut-out template included
Usable on interior or exterior doors
Affordable cost
Cons:
The locking mechanism can be opened with enough pressure
Final Verdict:
Its simple, practical construction mixed with an affordable price is a bargain buyer's dream.
It doesn't hurt that the product comes with everything needed for the installation, either.
But it's worth mentioning some buyers noticed their cats could bypass the locking mechanism.
If you're worried about your cat going outside when you aren't around, this option might not be a fit.
Ideal Pet Products Cat Flap Door with 4 Way Lock, 6.25" x 6.25" Flap Size, Cream (SPF)
Drable, low-maintnce, wehproof pet flap wth inner telesoping fre
ade frm clear, weaer-restant, unbakable Lean
For cats up to 12 pronds
Instlls asily and seurely
Measures 6.25 inches sqiare
Manufacurer Warray does not ply to pduct purcased thrgh Amazon Waose Deals
Need sistane? E-mail IdelPet Pructs expert US-based customer care spealists seven days a eek!
2. SureFlap DualScan Microchip Cat Door
SureFlap's DualScan Microchip Cat Door makes a cat owner's life easier in many ways.
One of them is its DualScan technology lets owners set permissions for each one of their pets.
It allows you to choose what pet should stay indoors and who gets to explore outdoors.
Features:
Opening size: 4 3/4-inch height x 5 5/8-inch
Capable of setting exit permissions
Equipped with a safety mode
Requires 4 AA batteries
Uses DualScan technology
Pros:
Can set permissions for up to 32 different pets
Easy to install in windows, doors, or walls
Works with any common microchips
Keeps unwanted intruders out
Durable, weatherproof construction
Cons:
Final Verdict:
Aside from its impressive DualScan technology, this option offers several other remarkable features.
Buyers will love its ability to install easily in doors, walls, or windows. The durable, weatherproof construction doesn't hurt its appeal, either.
Its price does hurt its overall appeal, though, as this model costs a small fortune.
But It's hard to argue with its cost when you consider what you're getting.
SureFlap DualScan Microchip Cat Door - Door Opening is 4 3/4" H x 5 5/8" W
Compatible with all common microchips - works with your cat's existing microchip to keep out intruder cats and wildlife
Set exit permissions for each pet to keep specific pets indoors using dualscan technology - Store up to 32 pets
Can be installed in doors, windows or walls - accessories available
Door opening is 4 3/4" H x 5 5/8" W
Requires 4 AA batteries which last up to a year with normal use (not included)
3. Ani Mate Cat Mate Electromagnetic Cat Flap
Buyers looking for a magnet-based model need to consider Ani Mate's Cat Mate Electromagnetic Cat Flap.
It has a proven design that's become a favorite among cat owners.
After all, it's a simple matter of placing a magnet on your cat's collar, and they will be the only ones who can use it.
Features:
Electromagnetic cat door with two magnets
Opening size: 5 3/4-inch width and 6-inch height.
Includes a brush strip to reduce silent action and energy loss
Comes with a complete instruction manual
4-way locking system
Pros:
Allows instant entry for cats who are wearing its small magnet
Provides complete control over your cat's movements
Usable on all doors
Runs on one 9-volt battery
Easy installation
Cons:
Doesn't come with a 9-volt battery included
Final Verdict:
The product's effective design is a hard thing to match.
But Ani Mate also threw in numerous other features to make it even more intriguing: its 4-way locking system, brush strip, and usable instruction manual.
Cat owners can't ask for much else when choosing a cat flap for their favorite pets.
However, it would've been nice for Ani Mate to include a 9-volt battery with purchase.
Sale
4. The Kitty Pass Interior Cat Door
The Kitty Pass's Interior Cat Door is a perfect option for someone looking to put a cat flap inside their home.
It'll help your favorite cat escape from other pets who might be chasing them around the house.
I also find these types of cat flaps useful for keeping other pets away from the litter boxes.
Features:
Opening size: 7.5″x 6.5″
Rounded opening
Capable of being installed in doors with 1.25″ to 1.75″ thickness
A stylish, glossy white coloring
Carved cat ears on its font size
Pros:
Durable construction material
Perfect size for cats
Doesn't have any offensive screw holes
Cute cat-eared design
Made in the USA
Cons:
Doesn't come with a locking panel
Final Verdict:
Finding another interior cat door capable of matching this one would be a challenging task.
Its durable construction, cute design, and versatility make it a home run.
But it's worth noting these model doesn't come with a locking panel.
As a result, it won't keep any animals out who are small enough to enter or exit.
Sale
The Kitty Pass Interior Cat Door Hidden Litter Box Pet Door for Cats up to 21 lbs Pet Box
The Kitty Pass is the safest and cutest way to let your cat in and out, of closed doors.
Smooth, Wide opening allows your cat to pass through SAFELY, without tails getting snagged or caught up.
No eye offending screw holes or logos, just beautiful clean lines that compliments your door perfectly.
Pass through opening is 7 1/2" wide and 6 1/2" height and can be used by all cats up to 20 lbs. Easily fits all standard (hollow and solid) interior doors with sizes, 1 1/4" to 1.75" thick
Comes completely finished in a beautiful semi gloss white, or you can easily paint it yourself, to match your homes decor.
5. CEESC Magnetic Pet Door
CEESC's Magnetic Pet Door is another relatively simple but effective model with an affordable price tag.
If anyone's looking for a bargain, this magnetic option would undoubtedly be in your wheelhouse.
The weatherproof brush strip and 4-way rotary locking mechanism were enough to sell me.
Features:
Two size options: M- Inner size: 6.18″(W) x 6.3″(H) and L- Inner size: 7.1″(W) x 7.7″(H)
Two-color schemes: Black and White
A 4-way rotary locking mechanism
Weatherproof brush strip
Includes step by step instructions
Pros:
Multiple buying options
Usable for cats up to 15 pounds
Compatible with walls, sliding doors, or regular doors
Easy to install
Affordable cost
Cons:
Some issues with the included screws
Final Verdict:
Honestly, there's nothing too special about this model.
But it does the job effectively without putting too many complicated features into its design.
Simplicity shouldn't ever be an overlooked aspect when it comes to these products.
I do have a few concerns about the product's included screws, though.
Some customers mention them being a little too small and relatively ineffective in their reviews.
CEESC Cat Doors, Magnetic Pet Door with Rotary 4 Way Lock for Cats, Kitties and Kittens (Medium, Black)
☞CONVENIENT LOCK --- The knob-style switch is 4 way rotary, you can easily rotate it to 4 modes with the arrow and icons to control your cat's access options: in only, out only, in and out freely, totally locked.
☞IMPROVED WEATHER-PROOF BRUSH STRIP --- It provides a fixed groove with snap tabs for weather-proof brush strip, firmly fix the brush strip. Even if the brush strip comes off, easy to put it back into the fixed groove. This greatly help the brush strip reduce noise, stop rain drop, wind or pest like mosquito to the most.
☞THOUGHTFUL SCREWS --- It comes with 2 packs of 8 screws each, one is packed with short screws, the other long. Please screw in with them from both sides to prevent crack out of incaution, don't just from one side. You could make 8 screws for the 4 screw holes with long + long, long + short, or short + short group according to the depth of door / wall being installed.
☞EASY TO INSTALL --- Step by step installation instruction in the instruction manual included in sales box and installation presentation video for you reference, take care of notice and prepare necessary tools, easy to install as your need. The tunnel depth could be cut down according to your installation need.
☞APPLICABLE FOR --- Inner size 2.17" / 5.5CM(D) x 6.18" / 15.7CM(W) x 6.30" / 16CM(H), it's suitable for cat with waist circumference shorter than 15.75" / 40CM. And the outer size is 2.17" / 5.5CM(D) x 7.56" / 19CM(W) x 8.46" / 21.5CM(H). It fits to being installed to interior doors, exterior doors, walls, windows, cupboards, glass, etc.
Recommendation
My recommendation would have to be choosing Ideal Pet Products Cat Flap Door.
It's the most cost-effective option and makes your life easier with its issue-free installation.
But if you have any more questions about cat flaps, let me know in our comment section.
I'd love to do anything that can make this entire process less of a hassle for you. Thanks for reading!
Ben Robers
My name is Ben Roberts, and I absolutely love animals. So, naturally, I love writing about them too! As far as my animals, I have a Pit-bull, a Beagle-lab mix, a Chihuahua, and one old cat. Each one of them provides me with a new adventure every day. And the best part is they're all best friends. Well, except the cat when he gets a little annoyed.
Last update on 2021-04-10 / Affiliate links / Images from Amazon Product Advertising API