Wondering if Stella & Chewy's Marie's Magical Dinner Dust for cats is worth checking out?
My kitties recently had a chance to try it out, compliments of Chewy!
Read on for our full review to see if they thought it was magical.
Related: Best Budget Dry Cat Food
What is Stella & Chewy's Marie's Magical Dinner Dust?
Before we dive into that answer, just some quick notes.
First, in case you didn't catch that disclosure above, Chewy sent us a bag of Magical Dinner Dust to try out with my kitties.
Second, this post contains affiliate links, so if you buy through them we earn a small commission at no extra charge to you.
Last, the full name of the recipe we tried is is Stella & Chewy's Marie's Magical Dinner Dust Cage Free Chicken Recipe Freeze-Dried Raw Cat Food Topper.
I'm shortening it to Magical Dinner Dust because that's just too long to keep saying!
Let's go over the ingredients, then I'll share my personal thoughts.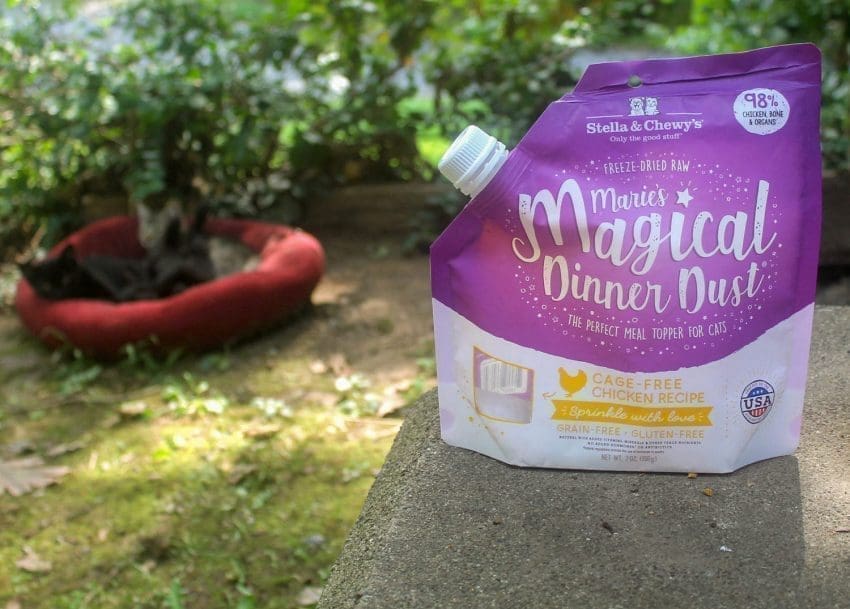 Magical Dinner Dust Ingredients
While the ingredients vary depending on the recipe, according to Chewy's nutritional information, this one contained:
Chicken (Ground With Bone), Chicken Liver, Chicken Gizzard, Pumpkin Seed, Potassium Chloride, Sodium Phosphate, Choline Chloride, Fenugreek Seed, Dried Pediococcus Acidilactici Fermentation Product, Dried Lactobacillus Acidophilus Fermentation Product, Dried Bifidobacterium Longum Fermentation Product, Dried Bacillus Coagulans Fermentation Product, Taurine, Tocopherols (Preservative), Dandelion Greens, Salt, Ried Kelp, Zinc Proteinate, Iron Proteinate, Vitamin A Supplement, Vitamin E Supplement, Niacin Supplement, Copper Proteinate, Riboflavin Supplement, Sodium Selenite, D-Calcium Pantothenate, Biotin, Manganese Proteinate, Thiamine Mononitrate, Pyridoxine Hydrochloride, Vitamin D3 Supplement, Folic Acid, Vitamin B12 Supplement.
Yes, I know, it's kind of a long list. I also reviewed a recipe for dogs, and the ingredient list was A LOT shorter.
Keep in mind, though, that the majority of those ingredients are vitamin supplements used in small amounts.
According to Stella & Chewy, 95% of the Magical Dinner Dust is made up of "meat, organ and bones, plus organic fruits and veggies."

Is it safe for my cat?
I want to know that I'm giving my kitties the safest food possible, so I spent some time looking around the Stella & Chewy website.
I learned that the brand makes all of their products in their own US facilities, rather than outsourcing it to other processing plants.
They also explain their process for freeze-dried raw products. In their words,
All of our frozen and freeze-dried raw products go through HPP (high pressure processing) to naturally destroy harmful bacteria while assuring the food's nutritional value is not affected. Stella & Chewy
I've used their products for years, so I do trust them, even with that loooong ingredient list. 🙂
Is it a good value for the money?
Safety doesn't really matter if I can't even afford to buy the food in the first place, right? We're all pretty broke these days.
The whole world is pinching pennies. Meanwhile, the cost of living is going WAY up (including the cost of pet products).
When you see the sticker price on Magical Dinner Dust, you definitely have to ask yourself, is it worth $20?
Personally, I say yes. Let me tell you why (it's a somewhat longish story, but I'll try to make it quicker).
Related: Best Cat Food for Allergies
Why is Stella and Chewy's Marie's Magical Dinner Dust worth the price?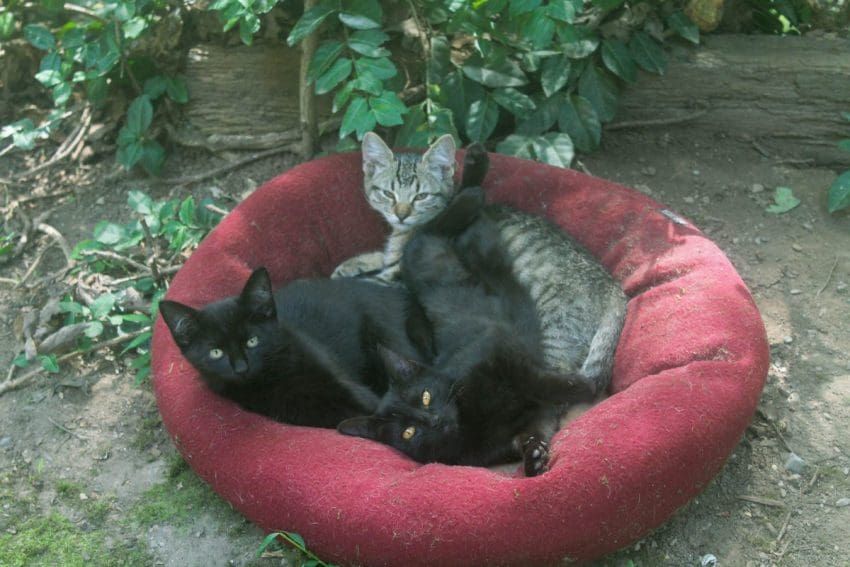 At the risk of sounding like a crazy cat lady, my mom and I currently care for our own two indoor cats plus 15 ferals, 9 of which are kittens.
You can see three of them above, including my beautiful golden-eyed pal Thestral, little grey Castiel, and Edgar Allen Poe.
We had a population explosion this summer, as we rarely have more than two kittens at once.
The shelters are packed here, so that's not an option. I can't afford to get all of the strays fixed, otherwise I would.
We've been socializing them in the hopes that someone may want one (or more) of them, but for now, they're all- for all intents and purposes- ours.
I don't know why I'm telling you all of that, like I'm trying to justify caring about stray cats.
I've had people say some pretty nasty things to me about it in the past, so it's kind of habit.
Anyway, along with giving my own two indoor kitties Magical Dinner Dust on their food, I also put it on my feral's foods.
Since I can't really afford to feed 15 cats the same premium food my own kitties get, I figure they actually need it more than Alex and Zoe.
So, here's where the "it's worth it" comes into play.
Even with using it every single day for the last three weeks for a total of 17 cats, my bag STILL isn't totally empty.
Getting there, yes. I think I have maybe another day or so left before I run out, but for $20, that bag has definitely lasted much longer than expected.
Now the big question- what do cats think of it!
REAS MORE: Can Cats Have Arugula?
What do cats think of Stella and Chewy's Marie's Magical Dinner Dust?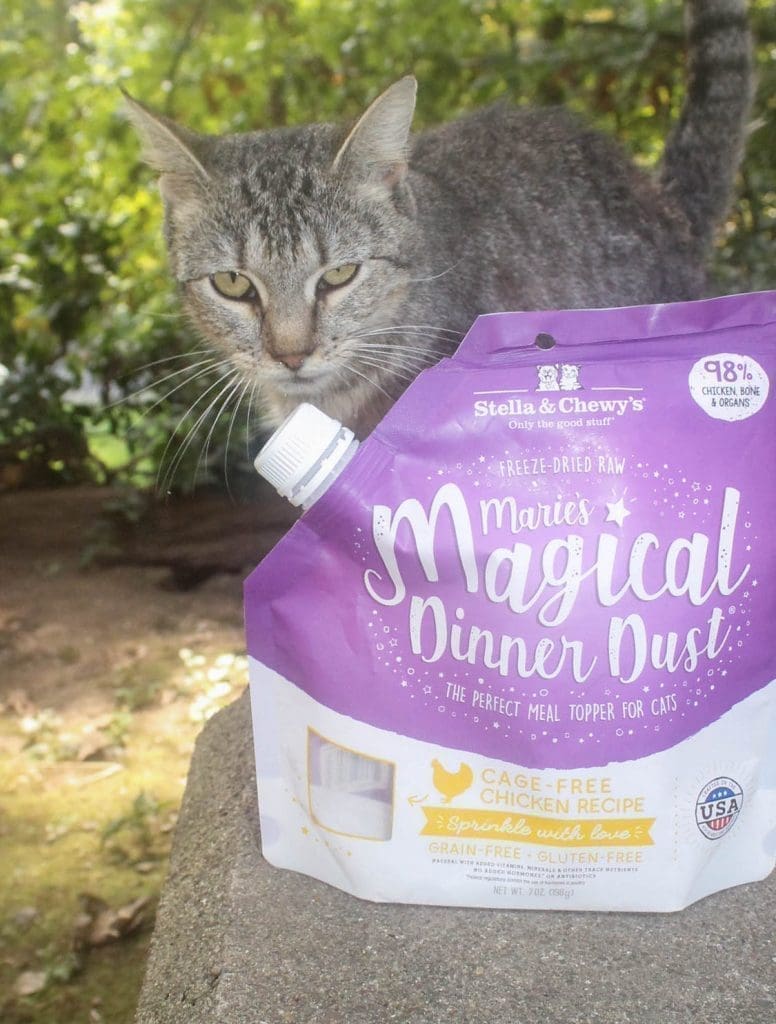 Let me start with what my ferals thought, then I'll tell you about my indoor kitties.
Honestly, I got better pictures of the outdoor cats, as Skittles was super excited to help!
Yes, I realize with each passing word I write, it's getting harder and harder to deny being a crazy cat lady.
What can I say? I am a sucker for a sweet kitty face!
Anyway, we feed our ferals pretty darn well, but like I said, they're not getting the most premium stuff on the planet usually.
Along with canned food and mid-range kibble, they also get chicken or turkey hot dogs as a treat.
We usually put the topper on those, because even the pickiest kittens love them.
Just look at Max and Finnegan chowing down!
Rue has her very own bowl…for now. Once the rest of the crew figures out she has plenty left, that won't last long.
Needless to say, they really do love the Magical Dinner Dust. Enough so that I'm buying another bag of it for them this week.
As for my indoor kitties, Zoe really liked it, while Alex was, honestly, indifferent. Usually, it's the other way around.
It's hard to find things that Zoe likes most of the time. For example, she likes exactly ONE type of cat treat, and she doesn't like certain meats.
So, that tells me that Magical Dinner Dust is perfect for picky cats.
It actually helped save us money because Zoe ate food that she normally wouldn't touch!
Final Thoughts
Long story short, yes, it's absolutely worth buying, even if it does cause just a little sticker shock at first.
You really can't go wrong with Stella & Chewy products, though! I've had great experiences with all of their stuff.
I like that a bag lasts so long, and that it helps give my both my indoor cats and my ferals a boost in their nutrition.
Stella & Chewy's Marie's Magical Dinner Dust is available on Chewy and comes in 2 recipes for cats, as well as 4 for dogs.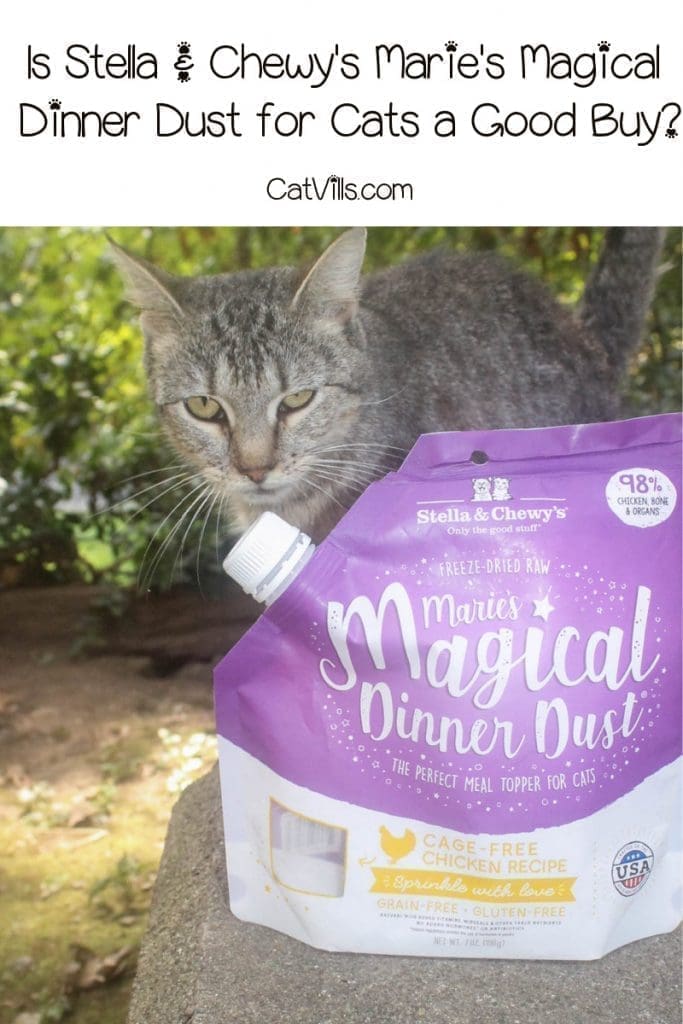 Have you tried Stella & Chewy's Marie's Magical Dinner Dust? Share your thoughts below!
Nicole Etolen
Nicole is one of the writers here on CatVills. She's been a cat lover most of her life and-at one point- counted five felines as part of her family. Today, she's proud cat mom to two indoor kitties and caregiver for a slew of ferals.