Last updated on June 13th, 2023 at 03:01 am
Want to create a more eco-friendly cat litter box for your feline friend?
Good for you for wanting to do your part to help save the planet!
Finding earth-friendly litter boxes is a bit of a challenge, but it can be done.
I did the same last year when I wanted a more natural product that was better for the environment.
But, I didn't want to sacrifice order control and other benefits that come with non-natural options.
That's why I researched the best eco-friendly choices and decided to share what I found in this guide to my top 10 picks.
at a glance
10 Best Eco-Friendly Cat Litters Reviews
First, let's take a quick look at why it is worth considering a more natural litter.
Clay-based litter is still one of the most popular cat litter types among pet owners. But since this type of litter isn't biodegradable, it's harmful to the environment. And mining the clay is very destructive.
Moreover, many clay litter brands contain crystalline silica dust, a known cancerogenic. Breathing these fine particles can lead to permanent lung damage.
Fortunately, you've got plenty of natural options that won't put your kitty at risk and will go perfectly with an eco-friendly cat litter box.
But what's the most eco-friendly cat litter? Let's see my top 10 best environmental cat litter picks.
#1 Winner: World's Best Litter The Original
World's Best Cat Litter
OUTSTANDING ODOR CONTROL — Keep your cat's litter box smelling...
QUICK CLUMPING & EASY SCOOPING — No more chiseling and scraping...
FLUSHABLE - SEPTIC SAFE — Skip the trip to the trash with a...
The World's Best Litter earns its name from its fast-acting clumping formula, superior odor control, and fast absorbency.
It's the best eco-friendly option since it's biodegradable, flushable, and planet-friendly. The way this litter clumps makes it really easy to scoop out of the tray.
It is really lightweight, which I love, and it has very little dust. I tried this with my pick cat, and she loved it.
Features & Attributes
Whole-kernel corn litter
Unscented
Measurements
Benefits
It's made from natural ingredients – corn kernels – without any added chemicals or fragrances, so it's safe for cats with sensitive noses.
Biodegradable litter, so it's septic safe and won't clog or damage your pipes.
The quick clumping action ensures cat waste doesn't pool at the bottom of the box or sticks to the walls.
It is a lightweight litter, perfect for cat owners that don't want to deal with heavy bags.
Safe for kittens over eight weeks old.
Fine texture, which appeals to most cats
Good odor control and less dust than traditional clay brands
Cat parents have used it successfully with automatic litter boxes, such as Litter-Robot
Drawbacks
It tracks around the house
Some customer reviews say that litter attracts bugs and ants
Not the best choice for homes with more than two cats.
It is a little expensive
How It Compares to Others
Relatively dust-free and absorbs cat urine very well, compared to other plant-based brands.
Long-lasting formula
How It's Evolved Over Time
World's Best Cat Litter improves and expands its product line, so its biodegradable cat litter is available in several variants, including scented and multi-cat.
Expert Tips
The manufacturer doesn't recommend mixing this corn-based litter with clay brands for the best results.
#2 Best Flushable: Really Great Cat Litter
Tift + Paw's Really Great Cat Litter won't disappoint pet parents looking for no-mess cat litter they can flush down the drain. I've been eyeing the litter for some time now and plan on using it soon.
Features & Attributes
Measurements
Benefits
Made from all-natural, eco-friendly materials with no harmful chemicals
Excellent odor control thanks to the added charcoal
Virtually dust-free, so it's a great option for cats with respiratory issues or allergies
Absorbs cat urine quickly and doesn't have a strong scent to bother sensitive cats
Dissolves in water and won't clog your septic system
Money-back guarantee if your cat doesn't like this type of cat litter
Long-lasting – one bag should last one month for a single cat
Drawbacks
Not the cheapest option
Once open, you should use the bag as quickly as possible, or it goes bad
How It Compares to Others
Contains charcoal for improved odor control
Less dust and tracking, compared to similar plant-based brands
Expert Tips
As Angie Bonnet from Sonoma Humane Society says, "you should not flush cat feces down the toilet." Studies show that cat parasites kill otters and other sea animals.
#3 Best Non-Gmo Cat Litter: Only Natural Grass Seed Litter
Only Natural Fast-Clumping Grass Litter is another great option for cat parents looking for the best eco-friendly cat litter. I really love that it is free from GMOs, which can be hard to find products that don't have them.
Features & Attributes
GMO-free farmed grass
Unscented
Measurements
Benefits
Renewable and biodegradable
Made in the USA from GMO-free grass
Excellent absorbency rate and quick-clumping action for tight clumps and mess-free litter box
Good odor control
Drawbacks
Expensive
A bit of tracking
How It Compares to Others
More expensive than traditional non-clumping litter brands
Less dusty than
Expert Tips
Mix the grass seed litter with your usual brand for a smooth transition.
#4 Best Low-Tracking: Okocat Less Mess Wood Pellet Litter
Sale
ökocat Cat Litter
PELLET CAT LITTER: Our next-generation, clumping cat litter...
EXCEPTIONAL ODOR CONTROL: Wood fiber naturally prevents enzymes from...
CLUMPING LITTER: Pellet litter absorbs liquid on contact, forming...
Okocat's wood pellets don't disappoint when you're looking for the best environmental cat litter that won't track all over the house. And doesn't love a litter that won't track? Me for sure!
Features & Attributes
Mini wood pellets
Unscented
Measurements
14.8-pound or 18.6-pound bag
Benefits
Excellent absorbency that prevents cat urine from pooling at the bottom of the box
Forms tight clumps for easy scooping
Wood fibers bond with enzymes to reduce ammonia odors
Special formula to reduce tracking around the house by preventing pellets from sticking to the cat's fur
100% recyclable box
Great for large breeds or long-haired cats
A large box lasts up to four months for a single cat
Drawbacks
A bit dusty, according to customer reviews
Not suitable for automatic cat toilet boxes
Some users find it hard to scoop
How It Compares to Others
Less tracking than some of the other best environmentally-friendly cat litter brands
Better odor control but more dust than other brands on the list
How It's Evolved Over Time
Bigger pellet size for less tracking
New environmental-friendly packaging
#5 Best Paper Litter: Fresh News Cat Litter
Fresh News Cat Litter
Cat Litter: No more lingering pet smell; Fresh News Recycled Paper...
Odor Control: Keep your pet's habitat fresh and smell free! The...
100% Recycled paper: Made with 100% post consumer paper from recycling...
What is the most environmentally friendly cat litter? Fresh News is one of the best eco-friendly cat-litters since it's made from recycled paper with no added chemicals.
I'm a big fan of cat litter and have used it in the past. My cats really liked it as well.
Features & Attributes
Recycled paper-based litter
Unscented
Baking soda
Measurements
12-pound bag
Benefits
Made from recycled paper
More absorbent than clay brands
Low-tracking formula
Low dust levels
No chemicals or fragrances
It contains baking soda for improved odor control
Suitable for adult cats and kittens
Affordable
Drawbacks
Not all cats like the pellet texture
A bit messy to clean
Some users find its odor control poor
How It Compares to Others
Paper-based litter absorbs liquids well but not as well as wood or other plant-based litter.
More affordable than other paper-based brands
Expert Tips
Dispose of the soiled pellets in the trash. Don't flush them down the toilet or use them in the garden to avoid environmental contamination.
#6 Best for Odor Control: sWheat Scoop Premium Cat Litter
Sale
sWheat Scoop Cat Litter
sWheat Scoop Natural Wheat Premium+ Cat Litter: Help eliminate smelly...
Odor Control: Made entirely from natural wheat, its powerful natural...
Natural: sWheat Scoop eliminates odors using natural, domestically...
sWheat Scoop is a great choice for multi-cat households wanting to eliminate pet waste odors.
Features & Attributes
Biodegradable wheat
Unscented
Measurements
36-pound bag or 25-pound bag
Benefits
Made from natural renewable resources with no harmful ingredients
An extra strong odor-controlling formula with natural enzymes to trap odors on contact and reduce solid waste smells
Fast-clumping action forms solid clumps for easy scooping and no-mess litter box
Flushable
Soft texture, perfect for cats with sensitive paws
Drawbacks
Expensive
A bit dusty
Some users say it attracts ants
How It Compares to Others
One of the most expensive eco-friendly litters
Better clumping action and odor control than most plant-based brands, but high dust levels and tracking
How It's Evolved Over Time
The new formula is three times stronger than the original.
Expert Tips
You can sign for sWheat perks and receive a monthly e-newsletter with health tips for trusted veterinarians, exclusive coupons, and promotions.
#7 Best Budget-Friendly: Feline Pine Original Cat Litter
Sale
Feline Pine Cat Litter
Net Quantity Of 40 Pounds
Chemical Free And Safe For Your Cat; 100 Percent Natural
Designed for multiple cat homes
Feline Pine wood shavings are the perfect choice for cat owners on a tight budget that want to reduce their environmental footprint.
Features & Attributes
Lightweight pine shavings
Natural pine scent
Baking soda
Measurements
Benefits
Made from recycled materials (reclaimed lumber), containing 100% natural pine.
Natural odor control, thanks to the pine fibers that trap odors on contact and neutralize them.
Excellent absorbency
Gentle on the paws
Relatively low-dust and low-tracking
Drawbacks
Some cats can be allergic to pine
Not suitable for automatic litter boxes
It tracks a bit
How It Compares to Others
More affordable than most wood-based cat litters
Similar quick-clumping abilities to other brands, but less dust
Expert Tips
Be careful when you use pine wood shavings because pine is toxic to cats unless it's kiln-dried to remove the toxic phenols.
#8 Best Scented Litter: Skoon All-Natural Cat Litter Lavender Scent
Skoon All-Natural Cat Litter
HIGH ABSORPTION = NO ODOR -- Urine is absorbed in seconds, so it...
NON-TRACKING, LOW DUST and HYPOALLERGENIC-- Skoon will not stick to...
LOW MAINTENANCE -- Skoon is clump free, so no more wasting time...
Skoon Lavender is an excellent choice if you're looking for scented litter to mask the litter box odors.
Features & Attributes
Diatom pebbles
Lavender scent
Measurements
Benefits
Made from fossilized algae, so it's completely natural and doesn't harm the environment.
Non-clumping, so it's a healthier option for cats and kittens
High absorbency rate for mess-free litter box
Excellent odor control, even in multi-cat households
Hypoallergenic
Low tracking
Easy to maintain and long-lasting
Drawbacks
Dusty
Pebbles are a bit sharp for cats with sensitive paws
Not all cats like scented litter
How It Compares to Others
Unlike other cat litters on the list, Skoon is a type of non-clumping cat litter, so it doesn't form clumps – you just need to stir the pebbles and remove the solid waste.
How It's Evolved Over Time
Added lavender scent for improved odor control
Expert Tips
Some cats hate the smell of lavender and avoid their litter box. Check this Skoon cat litter review to pick the right variant for your fur baby.
#9 Best for Multiple Cats: Petfive Sustainably Yours Natural Cat Litter
What's the most eco-friendly cat litter for multiple cats? Sustainably Yours covers all the basics you'd want in an eco-friendly option.
Features & Attributes
Corn and cassava
Unscented
Measurements
Benefits
Made from sustainable resources, so it reduces your cat's carbon footprint
Quick clumping litter that forms hard clumps for easy scooping
Traps and neutralizes odors on contact
Great for single and multi-cat households
Relatively low tracking and minimum dust production
Drawbacks
Not the cheapest options
Some find it messy
It can track
How It Compares to Others
Better clumping powers than most eco-friendly cat litters
Light in color, so it's easy to notice changes in your cat's urine
Expert Tips
You need one litter box per cat plus one extra to ensure your kitties aren't fighting over who should use the toilet box.
#10 Best Unscented Walnut Litter: Naturally Fresh Multi-Cat
Sale
Naturally Fresh is an excellent eco-friendly cat litter, thanks to its natural ingredients and low-dust formula.
Features & Attributes
Measurements
Benefits
Large grain-like texture to minimize tracking
Minimal dust production, perfect for owners and cats with respiratory problems
Eliminate cat poop and cat urine odors, thanks to a malodor counteractant
Great for multi-cat households
Drawbacks
How It Compares to Others
A bit darker in color than other eco-friendly brands, so it can be more difficult to notice changes in your cat's urine.
How It's Evolved Over Time
Improved formula for better odor suppression compared to the original version.
Expert Tips
This walnut litter is safe, even if your cat ingests some of it. But talk to your vet if your cat snacks on litter frequently.
What To Look At When Buying Eco-Friendly Cat Litter?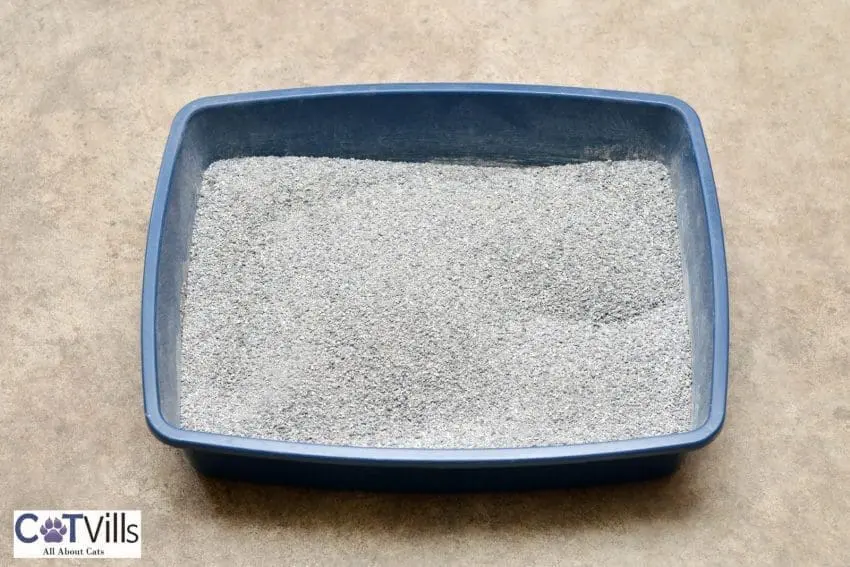 Let's talk about what features you should consider when buying the best environmentally friendly cat litter.
1. Material
Eco-friendly brands are made from renewable or biodegradable materials, such as paper, wood, corn, wheat, walnut, etc. And they're not all equal in how they absorb liquid and control odors.
Corn and wood-based litters are generally better because of their high-absorbency rate, low dust production, and natural odor reduction.
2. Texture
Dr. Pam Perry states, "Most cats prefer fine-textured clay litter over other types." Keep this in mind when picking up the best eco-friendly cat litter.
3. Number for Cats
Some cat litter types work great for a single cat but produce an awful smell when more than one cat uses the box. Check that the formula is strong enough to suppress odors from multiple cats.
FAQs
IS CLAY CAT LITTER BIODEGRADABLE?
No, clay cat litter isn't biodegradable and will stick around the landfill for thousands of years after you dispose of it.
WHAT IS THE SAFEST CAT LITTER MATERIAL?
Corn, wheat, wood, and paper are one of the safest cat litter materials because they're all-natural and don't contain harmful chemicals.
IS PRETTY LITTER ECO-FRIENDLY?
Is crystal litter bad for the environment? Producing crystals isn't as destructive to the environment as clay, but it's not a renewable resource. So Pretty Litter isn't eco-friendly.
Conclusion
An eco-friendly cat litter is not only a great way to reduce your cat's carbon footprint but also a healthier option for your kitty.
It may take a while to figure out which eco-friendly litter is the right one for your kitty. You can place several toilet boxes with different textures to see which will appeal the most.
Resources: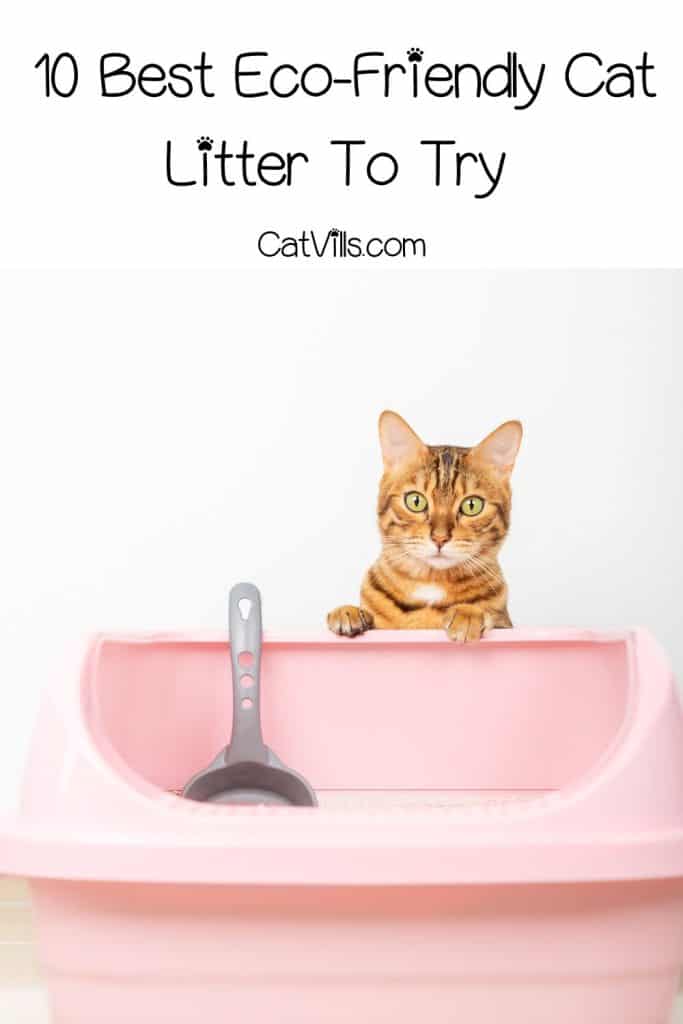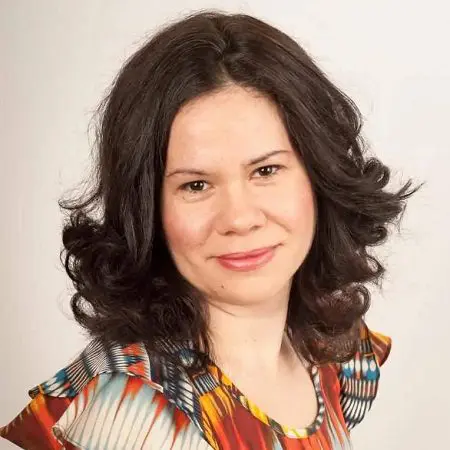 Olfa T
Olfa knows how to get things done and has a keen business sense that others admire. She's always on the go, coming up with new ideas! Her ability to anticipate the needs of her readers and deliver information that they want is what makes CatVills such a success. She loves cuddling her cat Picaciu. He is her inspiration.
Last update on 2023-11-28 / Affiliate links / Images from Amazon Product Advertising API