Are you looking for ceramic water fountains for cats?
As you'll find out, water fountains have many health benefits for cats, but not all models are safe for your precious kitty.
Fortunately, we're here with our top 9 ceramic cat water fountains to help you pick the best one for your cat.
Just keep reading.
Ceramic Cat Water Fountain Top Picks at a Glance
All living creatures need water to survive. And yet, cats often drink far too little water and are prone to dehydration and urinary tract infections.
Interestingly, drinking little water is not problematic for a healthy cat on a wet food diet. As specialists explain, "the fluid requirement can be fully covered" if the food has 80% water content.
Unfortunately, dry food has around 10% moisture, which isn't enough for a cat who has to consume 3.5-4.5 ounces of water per 5 pounds every day.
Naturally, you start to consider water fountains to increase your cat's water intake and prevent future kidney problems.
But which one is the best? Let's see our top picks.
#1 Winner: PetSafe Creekside Ceramic Pet Fountain
PetSafe has great water fountains for cats and small dogs, which are great for increasing your pet's water intake.
Features
PetSafe's 360-degree tower automatic water fountains are designed to mirror a natural bubbling water source to tempt your cat to quench its thirst.
It's made of high-quality, scratch-resistant ceramic for durability and safety, and you don't have to worry about bacteria because the constant circulation keeps it clean.
Best of all, the dual filtration system removes pet hair, debris, and foul odors from the water to make it irresistible for your cat. And it works quietly, so it's perfect for timid cats.
And the whole construction is easy to maintain since all ceramic parts are dishwasher friendly. You also get an extra replaceable carbon and foam filter.
Measurements
Measures 10.2 x 10.1 x 5.4 inches
60-oz capacity
Benefits
Antibacterial thanks to constant circulation
Dual filtration system keeps water clean
Easy to maintain and dishwasher-safe
Comes with extra filters
Drawbacks
Heavy to lift
Requires two filters every 2 to 4 weeks, which can be costly
How it Compares to Others
Dual filtration (carbon filter and foam filter)
One of the lightest ceramic cat water fountains (3.5 pounds)
One of the most silent models
How the Product Evolved
An improved filtration system compared to other PetSafe products.
Tips
You can purchase a pet fountain cleaning kit to clean hard-to-reach spots.
Replacement filters and replacement pumps are available from the manufacturer.
#2 Best for Large Cats: Drinkwell Avalon Ceramic Cat Fountain
Drinkwell has a wide variety of pet water fountains, but their Avalon ceramic fountain is great for large cat breeds.
Features
Free-falling streams mirror natural water sources and provide a constant flow
Large water capacity, perfect for big cats and small/medium dogs
Dual filtration removes bad tastes, food particles, and debris from the water and makes it more tempting for cats
Measurements
70-ounce water capacity
Measures 10.5 x 10.5 x 5.8 inches
Benefits
Big enough for large cats
Easy to maintain and dishwasher safe
Great customers reviews
Does a great job of keeping the water clean
Drawbacks
Not as quiet as other models
Requires two replacement filters
How it Compares to Others
Two drinking areas for cats
Heavier than other similar products (6.4 pounds)
Beautiful fountain, great for decoration
Dual streams for maximum water oxidation
How the Product Evolved
Bigger size and improved material, compared to other Drinkwell feline drinking fountains
Tips
You can purchase a replacement fountain pump if yours stops working.
Refer to the Use&Care Instructions to learn how to replace the carbon filters.
#3 Best Tip-Resistant: Pioneer Pet Raindrop Ceramic Cat Fountain
Pioneer Pet is the brand to choose if you're worried about your feline friend knocking their ceramic cat fountain on the ground and making a mess.
Features
Made from heavy-duty, food-grade ceramic with a wide base, which won't crack or break easily
The filtering system removes unpleasant odors and tastes to provide clean, fresh water for your feline friend.
Measurements
60-ounce water capacity
Measures 9.5 x 11.5 x 4.75 inches
Benefits
Lead-free
Relatively quiet, so it's perfect for shy cats
Comes in black or white
You can see how much water is left, so you don't have to guess when it's time to change the fountain water.
Dishwasher safe
Drawbacks
The pump isn't as durable as expected
Requires frequent cleaning
How it Compares to Others
A unique raindrop fountain design
Lighter than other models (5.4 pounds)
Available in two colors
How the Product Evolved
Improved material from plastic to stainless steel and ceramic
Tips
You should clean the pump every 1-3 months, depending on the number of animals using the fountain.
Pioneer Pet also has excellent ceramic cat food bowls.
#4 Best Quiet: iPettie Tritone Ceramic Cat Drinking Fountain
Sale
iPettie Tritone Ceramic Cat Drinking Fountain
Healthy Material and Easy to Clean - Tritone Cat Water Fountain is...
Dual Filtration System: Mechanical filtration with a foam filter...
Whisper-quiet Operation: The CE certificated IP68 pump runs with 2W...
iPettie's ceramic feline drinking fountain is the best quiet ceramic fountain for timid animals or cats scared of loud water pumps.
Features
Made from natural, eco-friendly ceramic for durability and safety, so it's an excellent fountain for cats, dogs, and other small pets.
Three-stage water purification and dual filtration to ensure your cat is drinking clean and fresh water without any bacteria, pet hair, or foul odor
Measurements
Measures 10.7 x 10.7 x 5.5 inches
70-ounce capacity
Benefits
Great capacity, which will provide water for 5-7 days (depending on the number of pets)
3-year pump warranty
Very quiet and doesn't consume much electricity.
Earth-friendly
Drawbacks
Some customers complain that the filters are expensive
The surface accumulates a slime film very quickly if not cleaned regularly
Heavy to lift and not very easy to clean
How it Compares to Others
Heavier than other brands (7.1 pounds)
24-hour customer care and pump warranty
How the Product Evolved
Tips
The water level should be above the "MIN" mark, or the pump might get damaged.
Contact the customer team, and they can provide a replacement ceramic bowl if yours cracks.
#5 Best for Kittens: Miaustore Cat Ceramic Water Fountain
These mini cat water bowl fountains are an excellent choice for kittens and cat owners with limited space.
Features
Handmade from a single piece of ceramic
Comes in Grey, milk, beige, blue, or black
Multiple drinking areas to keep cats happy
Measurements
Measures 7.5″ x 7.5″ x 5.5″
20-ounce capacity
Benefits
Beautiful, compact, and elegant
It works very quietly and doesn't bother cats or humans
Handmade from a small business
Easy to maintain and clean
Drawbacks
Instructions aren't clear on how to adjust the pump
Shipping costs extra
How it Compares to Others
Lower water capacity than other models
No filters
How the Product Evolved
Available in a very luxurious model with 24 Karot gold
Tips
Add water in small quantities to avoid overflowing this ceramic water fountain
#6 Best Stylish: NautyPaws Ceramic Cat Water Fountain
NautyPaws Ceramic Cat Water Fountain
NAUTPYPAWS CERAMIC CAT FOUNTAIN: 360 Ceramic Pet Fountain is made of...
DUAL FILTRATION SYSTEM: Ceramic cat fountain uses a replaceable...
EASY TO CLEAN : Porcelain cat fountain has a smooth surface and it is...
NautryPaws has one of the best ceramic water fountains with a stylish design to match any interior.
Features
Dual filtration system with a charcoal and foam filter to prevent dirt and cat hair from entering into the water
Triple continuous stream design to mirror running water and encourage your cat to drink
Made from scratch-resistant ceramic to ensure bacteria and dirt can't accumulate in cracks and scratches
Measurements
Measures 9.5″ x 4.7″ x 3.1″
70-ounces capacity
Benefits
Six colors
Multi-directional streams
24-hour customer support and quick response time
Comes with replaceable filters
Drawbacks
Customers report the pump is weak and doesn't last long
Not the cheapest replacement filters
How it Compares to Others
Available in a wide range of colors
Similar water capacity and filtration to other cat fountains we've reviewed
Easier to maintain and assemble than other models
How the Product Evolved
Improved design, compared to NautryPaws stainless steel cat water fountains
Tips
You can purchase replacement pumps and filters from the manufacturer.
#7 Best For Multi-Pet Households: PetSafe Drinkwell Pagoda Cat Fountain
Sale
PetSafe Drinkwell Pagoda Cat Fountain
Water Capacity: 70 Oz. Water Capacity Is Great For Cats And Small To...
Encourages Drinking: Dual Free Falling Streams Add Oxygen For...
Filtered Water: Includes Replaceable Carbon Water Filter That Removes...
PetSafe has one more ceramic pet fountain, perfect for multi-pet households or elderly cats with arthritis.
Features
Made from high-quality ceramic with two free-falling streams to make the moving water more appealing to cats
Two drinking areas with an elevated water dish, which makes it great for cats who can't crouch and hunch
Dual filtration to purify the water and remove bad taste and odor
Measurements
Measures 10.63 x 12.25 x 8.38 inches
70-ounce water capacity
Benefits
Beautiful Pagoda-style fountain
Four color options
Relatively easy to clean and maintain since ceramic parts are top-rack dishwasher safe
Mainly positive customers' reviews
Drawbacks
Not the cheapest replacement filters
Noisy
How it Compares to Others
Suitable for kittens and adult cats alike
Senior pet-friendly design
Louder and heavier than other models
How the Product Evolved
PetSafe drinking fountains are available in a wide range of sizes and materials to ensure maximum client satisfaction.
#8 Best Portable: XYIHHE Automatic Drinking Fountain for Cats
XYIHHE Automatic Drinking Fountain for Cats
【Elegant appearance and classic design】The color of the water...
【Hygienic water and quiet】The components of filtration include...
【Safe and Durable】Ceramic is safer than many other materials, and...
If you have to travel with your cat, this automatic water dispenser is the best choice.
Features
Made from corrosion-resistant ceramic for durability and easy maintenance with no sharp edge that could hurt your pet.
A four-part filtration system to ensure your kitty has access to fresh and clean water
Four colors available
Measurements
Measures 9 x 9 x 5 inches
60-ounce capacity
Benefits
It weighs four pounds, so it's not very heavy, and you can carry it with you when you're traveling with your cat.
Relatively quiet, so it's not likely to bother your pet
Great color options!
Drawbacks
Charcoal filters aren't easy to find
Not very easy to refill, according to customers
How it Compares to Others
Aesthetic design
Similar water capacity to other models
How the Product Evolved
Upgraded pump design for better water output
Tips
Watch the instruction videos if you have problems assembling the automatic water dispenser.
#9 Best Multi-Filter: Lu&Ba Cat Water Fountain
Lu&Ba Cat Water Fountain
Minimalist Design: The Lu&Ba Water Fountain apply bubble mode attracts...
Ceramic Water Pump: The noise of the pet fountain mainly comes from...
Multi-filter: The surface of the filter is made of high-density...
Lu&Ba indoor fountain for cats is excellent for owners who want something stylish with a great filtration system.
Features
Milt-filter system to remove debris, unpleasant odors, and calcium/magnesium ion for better urinary health
Ultra-quiet pump with a LED indicator for low water levels
Dark green base with an orange frosted tray
Measurements
Measures 9 x 9 x 5.9 inches
1.4 L of capacity
Benefits
Bubble mode to make water more appealing to cats
Easy to assemble/disassemble
Shuts off automatically to prevent pump damage
1-year warranty and 24/7 customer support
Drawbacks
There's no adapter in the package, so you have to get one or charge it through a USB
How it Compares to Others
Non-slip feet to prevent cats from turning the bowl over
Ceramic pump parts and sensor design
How the Product Evolved
Upgraded anti-dry protection system
Tips
Replenish the water every 3-4 days.
Clean with water and don't use any chemicals, or you can damage the fountain.
Why Choose Ceramic Cat Water Fountains?
By now, you're probably wondering why you should get a ceramic water fountain instead of the more affordable plastic option.
While owners think that plastic is more durable than ceramic, plastic scratches and bacteria/dirt can accumulate inside the cracks.
On the other hand, ceramic is more hygienic, easier to clean, and doesn't have the unpleasant plastic odor we all hate. It's also heavy and harder for cats to push around and destroy.
Moreover, many cats are allergic to plastic and develop cat acne.
What to Consider When Buying Ceramic Cat Water Fountains?
It's easy to get overwhelmed by all the available ceramic water fountains for cats when you don't know what features to consider.
Size/Capacity
Cats don't like to get their bodies or whiskers wet and avoid certain fountains because they're too small/too large for their liking. Consider your cat's age and breed to pick the perfect size.
The size and capacity also matter if you have multiple pets because they might be reluctant to stand close to one another.
Noise
Many cats don't like loud noises, especially when they're drinking water. And if your cat isn't feeling safe, they will ignore the fountain.
As such, you should pick an ultra-quiet pump to avoid disturbing your cat. A battery-operated cat water fountain is also an excellent idea, but most are plastic.
Filtration System
While ceramic water fountains can work well without a filtration system, it's not the best choice. Filters trap debris, purify the water, and remove foul odors/tastes.
Without filtration, you'll have to clean the fountain often to ensure your cat doesn't turn its nose at the water.
FAQ
Does My Cat Really Need a Water Fountain?
Most indoor cats don't drink enough water when they're on dry cat food and can't catch mice or birds. And moving water is more appealing to some felines than stagnant ones.
So, if your cat isn't drinking enough water or is at risk of developing kidney disease, you should consider a water fountain. 
Do Cat Water Fountains Need Filters?
Cat fountains can run without filters, but it can affect the quality of the water.
Fountains have nooks that can collect pet hair and other debris, making water taste bad and discouraging your cat from drinking. 
Do Cats Like Water Fountains?
While studies haven't found any proof that cats like fountains more than simple bowls, cat owners often report that their cats prefer moving water.
But some timid cats can be scared by the fountain's noise and be reluctant to drink from it if it's too loud for their liking.
Final Word
Ceramic cat water fountains are an excellent way to make your indoor cat happy and ensure your cat has access to moving water all the time.
It can even deter your stubborn feline from sticking its paws in your cup or drinking from the faucet. But it's important to keep tabs on how much your cat is driving.
If you notice sudden changes in your cat's drinking behavior, you should speak to your vet as soon as possible. Increased or reduced thirst can be a sign of an underlying disease.
We highly recommend PetSafe Creekside Ceramic Pet Fountain because it's light, silent, and easy to maintain. It also boasts a durable construction, double filtration system, and ergonomic design.
Resources: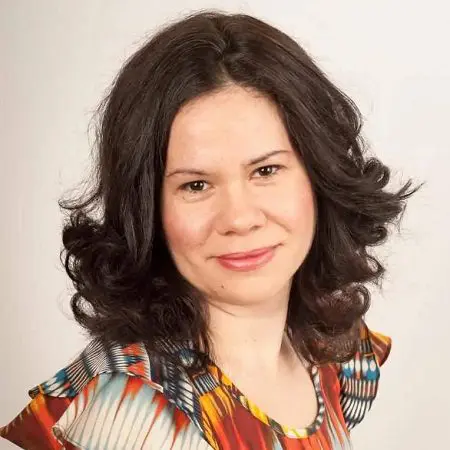 Olfa T
Olfa knows how to get things done and has a keen business sense that others admire. She's always on the go, coming up with new ideas! Her ability to anticipate the needs of her readers and deliver information that they want is what makes CatVills such a success. She loves cuddling her cat Picaciu. He is her inspiration.
Last update on 2023-09-28 / Affiliate links / Images from Amazon Product Advertising API