My sister's spoiled cat refused to use the Tidy Cat Breeze litter system so she promptly gave it to me to try.
I did and my cat Bella loved it!
If you are on the fence about buying the Tidy Breeze Cat Litter system – wondering if it is a good option for your cat, then this guide is for you.
Here I will be presenting an honest first-hand experience of the Tidy Cat Litter Breeze system so you can make an informed choice.
FYI, this post contains affiliate links. We earn a commission if you make a purchase at no extra cost to you.
CHECK: Best Cat Litter for Litter Robot
Which Items Are Included In Breeze Litter Box System?
The Tidy Cat Breeze Litter system consists of three different parts:
The middle part features a grated tray area which keeps the solids on top but allows the wet mess to trickle down.
This is where you add the pellets or litter. Purina Tidy Cat Breeze system comes with special low-dust natural zeolite pellets for you to add in this section.
The part on the bottom is the sliding tray where you add the absorbent pads included in the system.
You place one pad in the bottom tray- soft side up.
These pads are disposable and their soft absorbent material soaks up the urine and minimizes ammonia smells.
You need to change these pads every week if you have one cat and 2-3 times a week if you have multiple cats.
Both these 'parts' can be connected together with a third part that goes on top and latches into place forming the walls of the litter system.
These high walls prevent urine splashes if you have a cat like mine that always ends up peeing outside low-walled boxes.
If you own a cat or multiple cats, then you know how important it is to have a reliable mess-free litter box.
Traditional litter boxes are great but they have issues like stinky ammonia odor, tracking of litter, dusty litter, not to forget their incredibly messy clean-ups.
When automatic or highest rated self-cleaning cat litter box came on the scene, many cat parents, myself included, heaved a collective sigh of relief!
They made clean-up so much easier than the weekly scrubbing one had to endure with traditional litter boxes.
Compared to Purina's traditional Tidy cat litter system, the Breeze system is indeed a 'breeze' to use, set up, and clean.
It comes with absorbent pads that keep ammonia odors minimum and its sliding tray at the bottom combined with ABS plastic construction make it very easy to clean.
No more sticky messes and back-breaking litter box cleaning!.
When my sis gave me this litter box to try, I was a bit wary. Since her cat refused to use it, what were the chances that mine would take to it?
I was also worried I would not be able to set it up easily each time I washed and cleaned it.
My sis had given me the box assembled so I didn't have to deal with the assembly in the beginning.
I needn't have worried on both fronts!
Not only was the litter box's setup very easy (after I had disassembled it for cleaning), my cat also took to the box with ease.
I found out that adding an extra thick layer (about 6-7 inches) of pellets in the center of the box helped my cat get more comfortable while she did her business.
Purina recommends having one cat litter box per cat plus one. So if you have multiple cats, then it is best to buy several systems.
Since I was pretty impressed with the litter box and because we live in a multi-storied house, I like keeping multiple boxes – one on each floor – even though I just have one cat (Bella).
So I ended up buying another Tidy Cat Breeze system.
ALSO CHECK: DIY Cat Litter Box Enclosure
Main Features of the Tidy Cat Breeze Litter Box
Keeps ammonia odors down for nearly a week.
The box has a sturdy ABS construction.
There are several varieties available in it based on different needs: hooded system that gives privacy for finicky cats, extra large cat litter box for obese cats or multi-cat households, and also different varieties in the types of pads (scented/unscented) etc.
This is a complete litter box system to get you started with your cat's litter training.
Physical Attributes
Compact and perfect for small spaces. I have the regular size Tidy Cat system and it measures 21 (W) x 16.5 (L) x 10.5 (D) inches once assembled. It can be easily used by 2 small cats or one large cat.
The hooded litter box is slightly larger measuring 16.5 L x 21.75 W x 16.75 D inches.
The XL size 13.8 x 27.6 x 18.5
Ease of assembly
As mentioned earlier, I did not have any trouble assembling/disassembling the system.
There are notches provided in all the right places so all three parts fit in perfectly. There is even a cute 'cat face' shaped notch on the side of the box!
Here are the steps:
Place the absorbent pad with its soft side up in the lower tray. Slide it under the base.
Add the zeolite pellets in the middle tray.
Place the cover over this assembly.
Benefits
Easy setup and maintenance
Low profile entry and exit – suits most cats with mobility issues too.
Fast scooping
Great odor control
No dust litter great for people with allergies
Litter is non-toxic and safe around kids
Versatile – can be used with most litter/pellets
Fairly easy to clean
Benefits
Let's go over some of my absolute favorite features.
Ease of use
On the first day, I had to keep my cat's older litter box next to the Tidy Cat Breeze system.
I also added a bit of her older litter in the tray so she could sniff it and use it as a cue to 'go'.
By the third day, I was able to completely remove her older box since Bella was using the Tidy Cat Breeze quite happily.
Purina advises cat parents not to force their cats to use the box.
Be patient – you certainly do not want your cat to end up with litter box behavioral issues – so give it all the time it needs to adjust to the new system.
Ease of cleaning
I changed the pad after 6 days as it appeared to be completely soaked with urine. The clumped solid messes were easy enough to scoop out.
The manufacturers of the Tidy Cat Breeze litter box system have thought of everything – it comes with a convenient matching scoop along with a place to store it within easy reach so you can easily scoop out your cat's feces.
The mess is also easily seen so you need not 'dig' or search too much.
Purina recommends replacing all of the used pellets once a month. Some users have even washed the pellets to reuse them.
This works but it also tends to release some of the trapped ammonia back into the air.
Also, you can reuse zeolite pellets only so many times as it gets stretchy and could lose its absorbency.
Dust
The zeolite pellets are not at all dusty as clay-based litters tend to be which makes them a great choice for people having allergies or breathing issues.
Odor control
I am very sensitive to smells and every time I enter my home, I can easily tell that it smells quite fresh and there is no indication that I have a cat at home.
The super-absorbent pads and zeolite pellets definitely keep the air free from ammonia and feces smells.
It helps if you regularly scoop out the poop and change the urine-soaked pads underneath.
Ability to use other litters
I prefer using Purina's pellets with the system.
However, some users have used other litters like horse stall bedding pellets, soft foam balls or air gun pellets, stall pine pellets, and even dried pinto beans.
Do not use clumping litter.
Note that some of these litter types may not offer the superior odor control that Purina's pellets offer.
A few users have experienced leaks and messes when their cats back up against the wall and the urine tends to collect on the ledge of the box or on the floor.
Also, the tray (in some designs) has rectangular cups in the corners and urine can collect in them.
One solution is to keep the scoop in the designated area so that your cat cannot back up into it.
Another method to collect leaked urine is to place an absorbent mat under the litter box.
READ MORE: Tidy Cat Breeze Pellets Alternative
Drawbacks
Leaks reported
Some finicky cats refused to use the box
Litter pellets can be tracked
Pellets can be dangerous to cats if swallowed
Cannot be used with clumping litter
Purina claims that zeolite litter pellets are anti-tracking pellets, but I must disagree with them.
In my case, Bella needed a 7-inch thick layer of pellets which meant that she did end up tracking a significant amount onto the mat underneath the box.
Also, the mat I use has tiny dents in it and I found these to be filled with a significant quantity of litter pellets.
The pellets are nontoxic but some cats that ate them suffered intestinal blockage.
How it Compares to Others
Thousands of cat parents (yours truly included) have loved the Tidy Cat Breeze system.
I had no problem getting my cat to get used to it although some finicky cats could show some resistance.
The pellets are non-dusty which is a huge plus point for people with allergies or asthma or even for kids and elderly people.
The ease of setup and cleanup makes it a great litter system in my books.
I also love the fact that it comes with everything you need to set up your cat's litter area.
On the downside, the pellets are expensive and since a lot of it gets thrown out with the feces and tracked by kitty's paws, most people tend to run out of it rather quickly.
You can go in for cheaper alternatives like wood or pine litter which works well with the system.
How Has the Product Evolved?
Tidy Cat Breeze Litter boxes are available in different forms like Extra-Large, Hooded etc.
Some people did find that the hooded version created a stinkier litter area.
Extra-large Tidy Cat is ideal for multi-cat households or if you have a larger-than-average cat.
For a review of Tidy Cat Breeze Hooded System check out the video below:
Expert Tips
Start slow. Don't force or rush your cat to use the Breeze system.
Add some of the old litter to the new box so your kitty can adjust.
Use cheaper pellets like pine/wood/horse bedding/air gun pellets.

Tidy Cat pads absorb odors and urine and can be used for up to a week for single-cat households.
You can rotate the pad without touching it and extend the pad's life which makes it eco-friendly and economical too.
Physical attributes
Specially made for the Tidy Cat Breeze system
Soft, super-absorbent material designed to absorb liquids fast
Disposable
Dimensions: 11.65 x 5.7 x 3 inches
| Benefits | Drawbacks |
| --- | --- |
| Control ammonia smell for a week | Some refill pads end up being puffy and lumpy |
| Super absorbent | |

Tidy Cat Breeze litter pellets refill is readily available on top retail sites. You will get outstanding odor control with these pellets.
Physical features
Dehydrating mordenite zeolite pellet litter
Natural and non-toxic
99.9% dust-free
| Benefits | Drawbacks |
| --- | --- |
| Superior odor absorption | Not 100% tracking-free |
| Can be washed and reused a couple of times. (This process releases ammonia back in the air – so it isn't recommended). | Expensive as they get wasted and tracked |
| Easy to use | Cats that eat them are known to suffer intestinal blockage |

How Does the Tidy Cats Breeze Litter Box System Work?
If you want a reliable, absorbent, low-dusty, low-tracking litter box for your cat, then the Tidy Cats Breeze System is a great choice.
It is a complete system to help you get started with your cat's litter box.
It will definitely make litter box issues a thing of the past thanks to its superior odor control.
Litter scooping is also easy thanks to the zeolite pellets which stick to the feces and make it easy to scoop out.
The liquid mess trickles down to the bottom tray which has the absorbent Tidy Cats Breeze Pads.
These soft pads absorb the urine very fast and that keeps the stinky ammonia smell minimum.
You can also rotate the pads without touching them to extend their life.
You can replace the pad once a week if you have one cat and two or three times a week for multiple cats.
Alternatively, it is best to buy several Tidy Cats Breeze litter box systems for multiple cats.
Tidy Cats Breeze pellets need replacing every once a month.
I recommend adding a substantially thick layer since most cats are very clean creatures and they do not like doing business in their own cat waste.
A thicker layer can help cover up previous feces but it is important that you scoop out the dry clumps on a daily basis.
Things to Consider Before Buying Breeze Cat Litter System
Here are the factors to consider when selecting Breeze Cat Litter system:
1. Size and style of the box
This is the most important factor to consider when selecting the Breeze Cat litter system.
It is available in three sizes – regular, extra-large, and hooded. Most cats hate cramped litter boxes and will refuse to use small boxes.
Select the size that is suitable for your kitty. Measure your kitty from nose to tail when it is extended.
The box you select should be at least comparable to this measurement if not bigger. You must also select a box that is as wide as your cat is long.
Hooded boxes could be too restrictive although some cats love their privacy. It is a good idea to know what your cat prefers.
If your cat sprays, then select the hooded system as it can keep messes and leaks minimum.
In case you don't know what style your cat prefers, you can select both boxes so your kitty can choose.
2. Number of boxes
Vets recommend buying N+1 boxes where "N" is the number of cats you own.
If you live in a multi-storied house, you can even consider placing one box on each floor – even for a single cat household.
This way, your pet has several options for doing its business and there won't be toileting wars among multiple cats.
FAQs
DOES THE BREEZE LITTER SYSTEM WORK?
Every cat is different. Just because one cat easily takes to the Breeze doesn't mean that another will do the same. It is important to know your cat's preferences and select the right Breeze system. Give your cat some time to adjust to the new box. Speak to your vet if your cat starts showing litter box issues like defecating outside, etc.
HOW LONG DO TIDY CATS BREEZE PELLETS LAST?
For most single-cat households, a single bag of Tidy Cats Breeze pellets should easily last a month. If your cat tracks a lot of the pellets and in multi-cat households, you'd need to buy the bags more frequently.
HOW TO GET MY CAT TO USE THE BREEZE SYSTEM?
Show your cat the litter box as soon as it arrives. Let it sniff and explore the box.
Place the Tidy Cats Breeze litter system next to the older box.
Add some of the older litter to the Breeze system.
The moment you see your cat use the box, treat and praise it.
Never rush your pet. Be patient.
IS TIDY CAT BREEZE SAFE FOR KITTENS?
Tidy Cat Breeze system litter is made of Zeolite which is a natural, non-toxic mineral. These special pellets are safe as long as kittens do not eat it. If your cat does eat the litter, please see your vet right away to prevent intestinal blockage.
Conclusion & Final Recommendation
Tidy Cat Breeze system is a safe, non-toxic, and mess-free litter box solution whether you have one cat or several cats.
It is super-absorbent and keeps the ammonia and urine smell minimum. The litter that comes with the system is low in dust and also easy to scoop out.
The Tidy Cat Breeze system is also available in different sizes and a hooded version.
Its pads quickly absorb and trap odors to keep your house fresh and clean.
If you are dealing with smelly, messy litter boxes, you can try the Tidy Cat Breeze.
It is indeed a hassle-free way of minimizing litter box mess and cleanup hassles.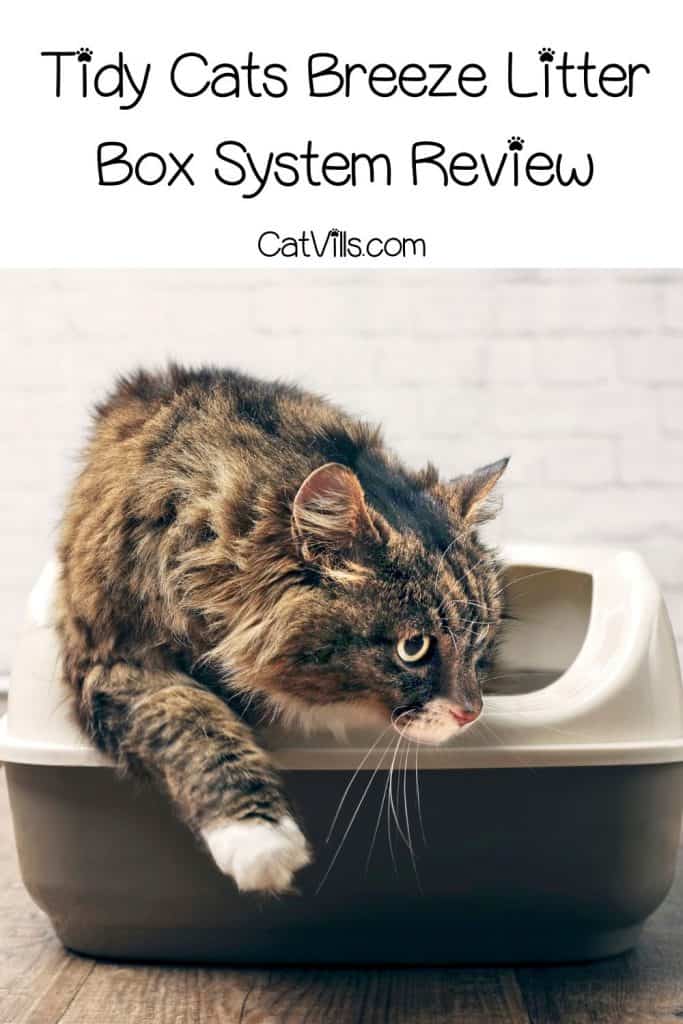 What do you think of Tidy Cats breeze litter box? Have you tried using it? Please share your experience below!
Andreea Juganaru
Andreea is a very passionate content creator and her purpose is to provide you with the most interesting articles, while constantly discovering new facts. She's been freelance writing for the past five years and has created numerous articles and educational materials while managing her own business.
FIND HER ON: FACEBOOK.
Read her latest articles.
Learn more about Andrea here
Tidy Cats Breeze Cat Litter Box System
Tidy Cat Breeze Litter Box is a great way to keep your home clean and fresh. Check out my honest review and you'll surely love this easy-to-clean litter system!
Product SKU: 62129
Product Brand: Tidy Cats
Product Currency: USD
Product Price: $37.98
Product In-Stock: InStock