Finding the best litter box for messy cats is a lot harder than it should be!
The truth is, most boxes have major design flaws that make them unsuited for messy or "high-peeing" kitties.
Don't worry, though, there are a few that have mastered the art of creating a relatively mess-free litter box!
Today, we'll talk about my top five picks!
Our Top Picks At A Glance
Best Litter Box for Messy Cats
1. IRIS Top Entry Cat Litter Box  Review
The IRIS Top-Entry litter box is one of the highest-rated high-walled litter boxes out there.
The best part? It's totally budget-friendly! Let's check out its benefits.
benefits
The top entry design prevents cats from peeing over the top
Entry is roomy enough for most large cat breeds (but not heavy cats, as we'll see in the cons).
Small holes on the lid help knock litter off your cat's feet as he exits.
The round shape means no nooks and crannies to clean, so it's a breeze to scoop out.
Comes in multiple colors (some of which are actually stylish for a litter box).
Super budget-friendly. While some colors are a bit more than others, expect to pay well under $50 for this box.
cons
Cats that don't dig to bury their waste may end up stepping in it to get out…which means it gets tracked outside the box.
The lid isn't really designed for heavy cats, who may manage to collapse it entirely.
It's too tall for elderly cats who have trouble jumping.
Recommendation
If you have a spry young cat that's about average weight (or on the petite side), this is a great budget-friendly option.
You do get what you pay for, so don't expect it to last throughout your cat's entire life.
2. Modkat XL Litter Box Review
If you're looking for the best litter box for picky cats and have a fairly decent budget, the Modkat is the way to go!
It's kind of pricey, but you'll see why it's still one of the best leakproof litter boxes in its benefits!
benefits
The patent-pending design allows you to make it either a top or front entry box.
As a top-entry box, it virtually eliminates all litter tracking.
Front-entry option includes a "walk-off step" to cut down on tracking.
Swivel lid makes it easy to clean. If any litter gets left on the lid it will drop down inside.
Includes a reusable tear-resistant liner that secures with hooks.
Roomy enough for cats of most sizes.
cons
At over $100, it's pricey for a litter box.
As the name implies, it's large, so not ideal for an apartment.
Replacement liners are also pretty pricey. While they last "up to 3 months," for messy cats you'll likely need to change it monthly.
Recommendation
While it's costly, I do like the Modkat for picky cats since you can quickly switch it from top to front entry.
If you have a cat that prefers front but you want a top-entry box, you can start with the front configuration and get them used to this particular box.
Then, once they like it, switch it to top-entry. If they hate it, you can always go back.
3. Nature's Miracle High-Sided Litter Box
For messy cats that prefer uncovered boxes, you'll want to go with Nature's Miracle High-Sided box.
It's a fairly simple box so there isn't a whole lot to say about it, but let's take a look at its benefits anyway.
benefits
The high sides prevent litter scatter and contain urine from high-peeing cats.
Non-stick surface makes for easy cleaning.
It's large enough for big kitties.
Entry is low enough for most senior cats
cons
The low entry does present an issue for cats who pee facing the box of the back and then kick litter all over.
Not the best odor free litter box, since it's uncovered.
Although it's low enough for the average senior kitty, the entry may not be quite low enough for arthritic cats.
Recommendation
If you're looking for a super budget-friendly uncovered litter box for a messy cat, this is really the only option I'd recommend.
Again, you get what you pay for, so it would be unfair to judge the lifespan of this box against a more expensive one.
Will it last forever? No. Is it a great little litter box for high-peeing kitties. Yep!
4. Petphabet Jumbo Hooded Litter Box Review
The Petphabet is my top choice for those who want an inexpensive hooded box with a little more style than the traditional beige offerings.
Benefits
It's large enough for two average-sized cats to use at the same time, which means your messy kitty has plenty of room to kick and dig.
The high back and lid help prevent spillover
Clear cover contains odors yet helps claustrophobic cats feel less enclosed.
Easy to clean with its durable antimicrobial non-stick plastic
Comes in multiple colors, although they tend to vary by day (and what is in stock).
cons
Although the high back prevents pee from getting everywhere, the seal isn't the best, so really high pee-ers can still "make their mark" outside the box.
Cats who value privacy will not like the clear lid.
While said lid contains odors, you'll still be able to see the litter (and what's inside of it).
Also, not so much a con of the box itself, but of the brand as a whole: while it theoretically comes in 7 colors, half the time a lot of those colors are out of stock.
Recommendation
The issue with the seal prevents me from recommending for boys who tend to spray high up when they use the litter box.
However, if you have a high-peeing female cat, it's still a good choice, especially if you want a box with a little more style.
5. Petmate Top Entry Litter Cat Litter Box
Don't let its super simple look fool you, the Petmate Top Entry box is among the best of the best when it comes to litter boxes for messy cats!
benefits
It's enclosed on all sides to keep litter from spilling onto the floor.
Great for cats who like their privacy (or people who don't want to look at litter).
The textured lid helps knock litter from your cat's feet as he exits.
The built-in handles and rounded edges make it easy to clean.
Compatible with Petmate Top Entry Litter Pan Liners
It's very inexpensive for a top-entry litter box.
cons
Not exactly the most attractive litter box.
The litter box doesn't come with any liners, so you have to buy them separately.
While it looks large enough for big cats, it's actually better suited for small to average-sized kitties.
Not the most durable top-entry litter box.
Recommendation
Sure, it's not the prettiest litter box around but really, none of them look like a work of art.
It's functional and does a great job of containing messes without busting your budget!
What to Look for in a Mess-Free Litter Box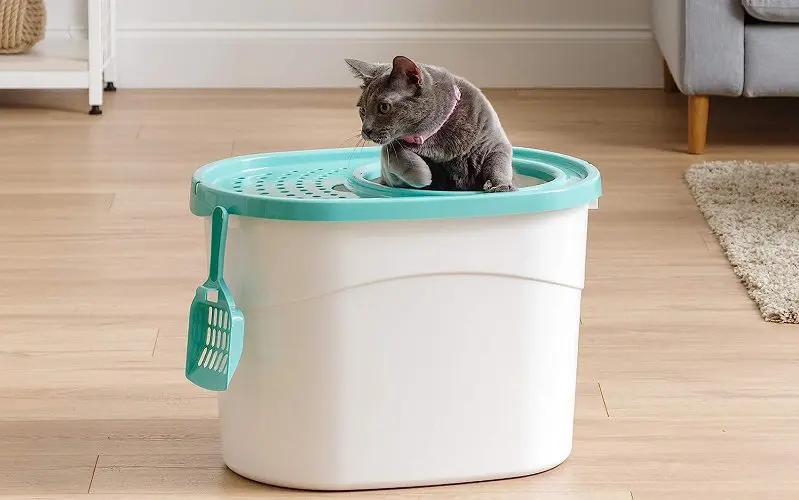 If you walk into a pet store and take a look at the average covered litter box, you'll notice that they come in two pieces.
The bottom, or pan, is where the litter goes. The top is there to give your cat privacy and hide the litter so you don't have to look at cat poo all day!
Makes sense, right? It's fairly standard and works well for most kitties.
When it comes to messy cats, though, there are two potential pratfalls with that particular design: the size of the pan and the spot where the two pieces meet.
We'll talk about both a bit more as we go through features to consider when buying a mess-free litter box.
1. The height of the litter pan
Whether you opt for a lidded or lidless box, the height of the "usable area" is probably the most important factor.
If you have high-peeing kitties you know exactly why this matters so much!
A pan that's too short allows your cat to pee right over the top and either onto your floor, wall, or (best case scenario) all over the back of the lid.
If you're going with a lidless box, you definitely want something that's higher than your cat's behind!
Even if you get a lidded litter box, you'll still want something that has a high-walled pan all around (and not just at the back, because not all cats pee facing the same direction!).
2. The seams where top and bottom meet
When you look for lidded boxes, pay close attention to the seams where the pan and lid meet.
If you can see any gaps, you better believe your messy cat will find a way to pee right out of them!
You'll also want to look at how the lid secures to the box. Does it just sit there? Is it attached by super flimsy clips?
Messy cats have a magical way of knocking lids off the pan when they're not securely attached. Trust me, I know!
3. Your cat's personality
What on earth does your cat's personality have to do with buying a mess-free litter box? A lot more than you think!
Even the most awesome litter box on the planet is a hunk of junk if your cat won't go anywhere near it.
We'll take a look at the best litter box for picky cats as we go over the top mess-free picks, but for now, ask yourself:
Does my cat only like a specific type of litter (if so, you'll want to avoid automatic boxes that use proprietary litter).
Does my cat need privacy to pee, or does she prefer an open design?
Do I have a large breed cat?
All three of these factors play a major roll in choosing the best litter box setup for messy cats!
Final Word
As you can see, top-entry box is, overall, the best litter box for messy cats.
The question of which one to get depends almost entirely on your budget!
If you can afford it, go with the Modkat, since it gives you more options.
For smaller budgets, I think I like the IRIS best, but the Petmate is a super close second.
What are your thoughts on the best litter box for messy cats? Share below!
Last update on 2023-11-27 / Affiliate links / Images from Amazon Product Advertising API