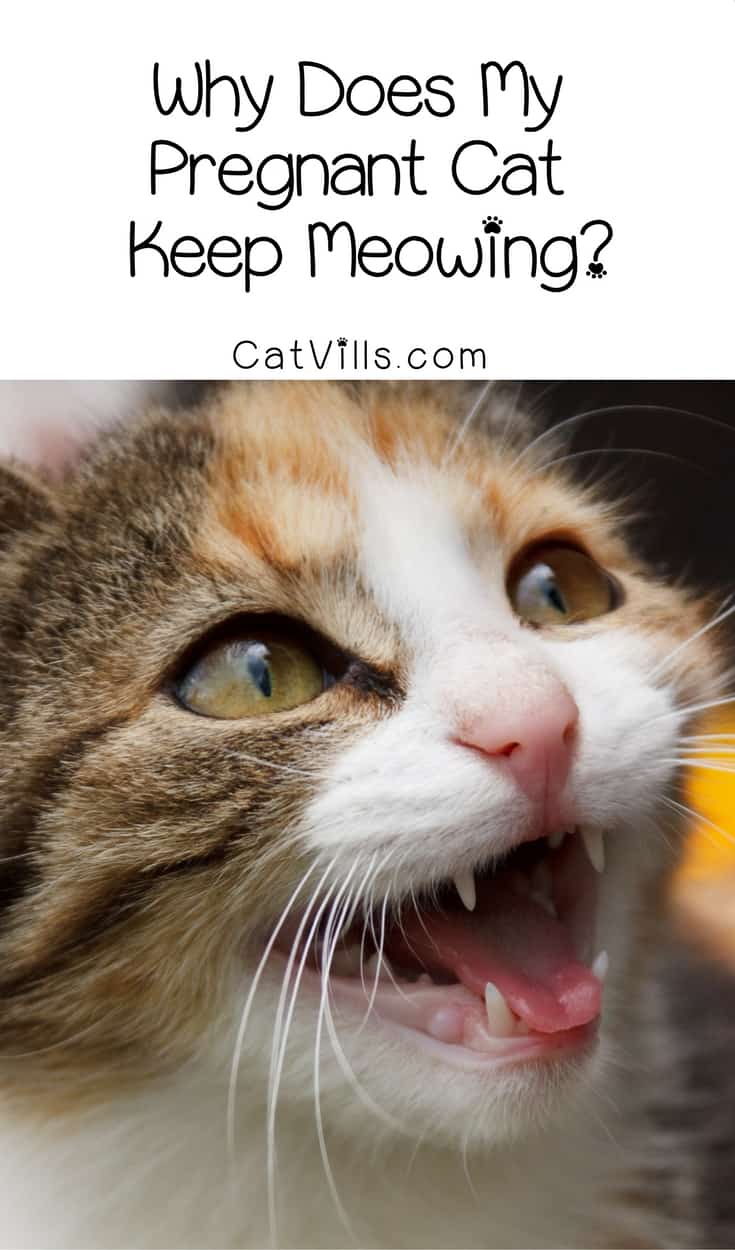 A pregnant cat can be quite vocal, especially in the latter stages of pregnancy. I recently came across a question in the forums from a woman whose family started feeding a stray cat. She said the cat appears to be pregnant and has started to vocalize and trying to enter the house. Her question was in regards to why the pregnant cat keeps meowing. This is only one scenario in which a pregnant cat will vocalize, so let's talk about it for a bit.
A Pregnant Cat is a Vocal Cat
Generally speaking,  a pregnant cat is a vocal cat. As some of you may know, animals CAN vocalize due to pain, but that's not the only reason. This is especially true of cats who are never shy about letting you know exactly what they want.
A Safe Place
Let's address a pregnant cat's need for a safe place first, since it ties directly into the question posed by the woman I mentioned at the beginning of this post. In her situation, it's obvious that the cat is vocalizing to communicate to the owner that she wants to come inside. As a pregnant cat nears the time of birth, she'll seek out a safe, sheltered environment in which to have her kittens.
The woman who started feeding the cat has the best possible place for the cat to have her kittens. The cat knows that the house is a source of food, and she sees that it is a sheltered environment. For a cat, this is a golden birthing area. It's also quite likely that this cat has come to view the woman as her family, so she trusts that the house is a safe place.
Discomfort
Much like pregnant women, pregnant cats experience discomfort towards the end of pregnancy. I want to emphasize this – discomfort NOT pain. Cats have litters of between 2 and 5 kittens. However, I have seen cats who were stuffed full of kittens – I'm talking 7. With all of those little kittens crammed inside her abdomen, a pregnant cat will, of course, experience discomfort. This discomfort can lead to vocalizing, whether it be a general complaint or a request for some TLC from her owner.
Seeking Comfort
Although cats have a reputation for being haughty and generally standoff-ish, it's been my experience that cats are actually quite loving creatures. Like any creature who is in discomfort, a pregnant cat will vocalize because she's seeking moral support from her human. I have seen pregnant cats absolutely howl until their owner scooped them up into their lap. After that, the cat was nothing but a purr machine.
Pain
Of course, a pregnant cat may be vocalizing due to pain. As with any pregnancy – dog, cat, or human – it's important to be vigilant throughout the entire process. Be aware, however, that vocalization is not the only indicator of pain, and in the case of a cat, you will most definitely want to look for other signs to confirm in the cat is in pain.
If you suspect your pregnant cat is vocalizing due to pain, be on the lookout for other signs of pain. These signs include:
Retreating to a solitary space
Uncharacteristically snappy
An arched back
Lack of appetite
The unfortunate part of the symptoms that I just listed is that they can be related to pain or just to the fact that your cat's belly is full of other cats. If you suspect that your pregnant cat is in pain, don't wait for more confirmation. Call your vet, and get your kitty in as soon as possible.
A Pregnant Cat Vocalizes for Lots of Reasons
Cats are never shy about making their feelings known, which means a pregnant cat will vocalize for several reasons. If your pregnant cat is vocalizing, don't immediately jump to the conclusion that something is wrong. Refer to the possible reasons I listed above, and cross each off of your list as you find what satisfies your cat and what doesn't.
If nothing seems to make your pregnant cat feel better, or if the vocalizing is accompanied by any of the symptoms of possible pain that I listed above, call your vet immediately. With any pet, it's better to be safe than sorry.
Have you ever experienced a pregnant cat who kept meowing? Share your stories below.