Thinking about investing in some cat water fountains to really spoil your kitty?
Then you'll want to check out our complete guide below.
We've talked a lot about the different types, do cat water fountains work, how to use them safely, and moreover the years.
Today, we're pulling it all together for you in one bookmarkable guide!
Let's talk about cat water fountains, and why you may need one!
Now, let's start with a quick look at our top picks, then keep reading for all the glorious details.
This post contains affiliate links. We earn a commission if you make a purchase, at no extra cost to you
Cat Water Fountains Top Picks at a Glance
Check the table below for a side-by-side comparison of our favorites!
Top Benefit
Ideal for multi-pet households
Suitable for cats and small to medium-size dogs
Editor's Choice
Top Benefit
Ideal for multi-pet households
Top Benefit
Suitable for cats and small to medium-size dogs
EVERYTHING YOU NEED TO KNOW ABOUT CAT WATER FOUNTAINS
Cat water fountains are one of those things you don't technically need to raise a happy & healthy kitty, but they sure are a nice touch!
Have you noticed your cat being picky when it comes to his water bowl?
Does he prefer the running tap?
If your cat is healthy but exhibits this behavior, you may have a reluctant drinker on your hands.
However, don't despair, there may be a simple solution.
The cat fountain.
Below, we'll go over literally everything you need to know: the types, how and when to use them, and more. We'll also look at some of our expert picks!
6 Best Cat Water Fountains (Review)
The Pioneer Fountain Big Max
is stainless steel at its best. The circulating water starts at the top in a smaller elevated bowl, then flows down in a stream to pool in the larger capacity dish – perfect for multi-cat households, dogs, or picky drinkers that like to have options.
The fully enclosed and quiet pump oxygenates and purifies the water using replaceable charcoal filters, and continuously cleans the water as it circulates.
The stainless steel reservoir comes in two sizes, 60 and 128 ounces.
| Benefits | Drawbacks |
| --- | --- |
| Stainless Steel makes it easy to clean and is dishwasher safe | May be too large and bulky for some customers |
| Charcoal filters are easy to change | The pump needs to be completely taken apart and cleaned every few months |
| Two-size capacity | |
| Two tiers for drinking gives variety and offers comfort for the height of the animals | |
| Flowing water is perfect for lapping | |
What We Like
The Pioneer Fountain Big Max is ideal for multi-pet households. We like the two-tier idea, and the stainless steel is easy to keep clean.
Sale
Pioneer Fountain Big Max- Stainless Steel 128 Oz
Circulating drinking water is naturally appealing to your pet
Replaceable charcoal filter for clean and pure, healthy water
Dishwasher Safe. Refer the user guide below for Pum Trouble shooting steps and Installation steps
128 oz capacity. refer Troubleshooting guide for Product instruction
Modern design fits in any home décor
Maintenance Guide - Pump needs to be cleaned out monthly to make sure it stays in good working order. More details given in user manual.
Flowing water will make a sound, but what if you had the option only to have the water flow when your pet approaches it? That's just one of the features of the HoneyGuardian Smart Fountain.
This ingenious design works by using three built-in modes;
Infrared induction mode – will dispense water when the infrared sensor detects your pet within five feet of the fountain.
Continue mode – dispenses water on a continual basis
Intermittent mode – circulates water for one hour, then shuts down for 30 minutes.
A simple push of a button changes your fountain from one mode to the next.
Another feature the HoneyGuardian offers is a low-level water reminder. If the water level becomes too low, it automatically shuts itself off, and a LED light will shine as a reminder to add more water.
This unit is also compact and made from food-grade and BPA-free materials.
| Benefits | Drawbacks |
| --- | --- |
| Three-modes to operate in | Functional over fancy |
| Holds just over a ½ gallon of water | Water does not pour |
| Easy to clean | |
| Uses ultra-low power | |
| Suitable for cats and small to medium-size dogs | |
| Quiet | |
What We Like
The three-mode system allows for more versatility of function. It's quiet because the water does not require a spout to pour from, but still offers the purifying and movement of the water that cats enjoy.
Looking for other fountain suggestions? Read our detailed guide about the quietest cat water fountain
HoneyGuaridan Smart Automatic Pet Water Fountain Dispenser with Infrared Induction, Designed for Small & Medium-Sized Dogs and All Cats
Built-in 3 working modes : infrared induction mode, continues mode and intermittence mode. Press the power button to change the working mode. In infrared induction mode, the water fountain will dispense water when the infrared sensor detect your pets within 1.5 meters; in continues mode, the water fountain keeps dispensing water 24 hours; in intermittence mode, which circulate water for 1 hour and shut down for 30 minutes.
Compact and Patent Design: The Max height is 6.3 inches, the Min height is 5.5 inches. The re-circulating system is designed by a wide and smooth slope to keep sure facing more fresh air.If water is not enough, it stops working and remind you to refill water by shining LED light.
Easy to dissemble and clean: the pet water fountain is easy to dissemble if you follow the instructions, super easy to clean the fountain by water and cleanser. Please replace the carbon filters each 2 or 3 weeks to keep the water pump work longer.
2.5L (88oz) Capacity Water to satisfy a cat one week drinking or a medium-sized dog 2-3 days drinking.So you no need to worry about the travel in weekend.
12 Months Warranty Supported. No reasons for return or full refund in two months. During warranty time, if anything happens to your HoneyGuaridan W25 automatic pet water fountain, no need to buy another. We will send you a replacement for FREE. We take personal pride in delivering ultimate customer satisfaction.
From Upflow Fountains to one made specifically for long hair cats, the ThirstyCat Fountain company is one "cool cat."
Made in a studio (not an assembly line) these beautifully crafted ceramic cat fountains come in a variety of styles, colors, and water flow to suit any feline's individual needs.
The Upflow Fountain is perfect for cats that want moving water, but not a direct stream (think school-type fountain).
The Tall Upflow Fountain is the one you may consider if your feline has a longer coat – the neck of the fountain is taller to prevent your cat's hair from dipping into the bowl.
The Stream Fountain creates a steady flow of water from a beautifully crafted spout that adds a flair of decorative beauty to a serviceable unit.
| Benefits | Drawbacks |
| --- | --- |
| Quality crafted | More expensive than most fountains |
| Many designs to choose from | |
| Ceramic is sprayed on for added durability | |
| Cat Tap Add-ons turns an Upflow into a Stream Fountain | |
| Large capacity bowls available for multi-pet households | |
| Works of art with the added function will fit into any decor | |
| Vet recommended | |
What We Like
ThirstyCat Fountains are beautifully crafted and look more like a "work of art" than a pet dish. The Cat Tap Add-on is a great way to turn a "low flow" into a pouring stream.

With 50 ounces of free, filtered water at their disposal, your pets should never be thirsty. The Premier Pet Fountain
has a submersible pump that circulates the water through two filtration systems: a foam filter, to remove dirt and hair, and an activated carbon filter, to remove bad taste and odor.
The continuously moving water prevents bacterial growth and keeps the water cleaner than a standing bowl ever could. Plus, your pet will have the option to drink from the free-falling stream or the shallow bowl.
| Benefits | Drawbacks |
| --- | --- |
| Holds up to 50 oz. of fresh, filtered water | Design provides function over appearance |
| Free-falling stream encourages pets to drink more | |
| Made with BPA-free plastic that is top-shelf dishwasher safe (excluding the pump) | |
| Fountain plugs into the wall and uses a low voltage 12V system for safety | |
| Inexpensive | |
What We Like
The two-part filtration system works to pull out both chemicals in the water as well as floating debris. The low price point makes it affordable for everyone.
No products found.
The PetSafe Drinkwell Seascape
fountain isn't just functional its sleek design will fit into most decors. It comes with a 70-ounce capacity and two ways to filter the water, a sponge to grab floating debris and a carbon filter to purify the water.
The submersible pump and ball design of the water flow make it super quiet. The entire unit is made from ceramic, making it easier to keep clean and is top-shelf dishwasher safe.
| Benefits | Drawbacks |
| --- | --- |
| Functional and aesthetically appealing design | Two filters to replace |
| Effectively cleans the water | Water pools not pour |
| Ceramic is easy to clean | The pump needs to entirely be taken apart once every month to keep it in optimal working order |
| Reasonably priced | |
What We Like
The overall design of this unit would fit into most decors. The two-part filtration system gives your pet the optimal tasting and smelling drink every time.
PetSafe Drinkwell Seascape Ceramic Pet Water Fountain - Quiet Automatic Water Dispenser for Cats and Small Dogs with Filters Included - 70 Ounce (2 Liter) - Dishwasher Safe - Square Modern Design
WATER CAPACITY: 70 oz. water capacity is great for cats and small to medium sized dogs
ENCOURAGES DRINKING: Moving water entices your pet to drink more and constant circulation helps to promote good pet hygiene
FRESH WATER: Includes replaceable carbon water filter that keeps water fresh
WHISPER-QUIET: Submersible pump and circulating water provides quiet operation and is great for anxious pets
HYGIENIC CONSTRUCTION: Ceramic design is more hygienic and looks great in the home
EASY-TO-CLEAN: Fountain is top-shelf dishwasher safe
U.S.-BASED CUSTOMER CARE: Our pet product experts are here to help you and your pet and are available by phone, email or chat if you have any questions
ESTABLISHED EXPERIENCE: PetSafe brand has been a trusted global leader in pet behavior, containment and lifestyle innovations for nearly 30 years. We help pets and their people LIVE HAPPY TOGETHER
No products found.
The Mospro Pet Fountain
comes in two sizes, 1.6 and 2 liters. This unit is designed to hold the water, so there's no need to replenish it as often. The whisper-quiet motor won't disturb you or your pets and uses two pieces of replaceable activated carbon filters, which can be used repeatedly.
This cat water fountain has three water flow settings: flower waterfall, flower bubble, and gentle fountain mode perfect for all kinds of pets. The recessed sink and water circulation system are designed to increase the contact area of water and air, which provides more oxygen to the water.
| Benefits | Drawbacks |
| --- | --- |
| Made of finely polished antibacterial PP resin material | Multistage filtration will require more cleaning |
| BPA-free, non-toxic and odorless, with food-grade certification | |
| The quick-release structure is designed for easy removal and cleaning | |
| Aesthetically pleasing design and economical | |
| Stores the water for less replenishing | |
What We Like
This fountain's capacity to store water is great for busy people or for those that need to be gone overnight. The unit is whisper quiet and is appealing to look at.
No products found.
Providing your pet with a water fountain offers many benefits like increasing your pet's desire to drink more. Cat water fountains are also designed to remove chemicals, odors, and bad tastes, through a filtration system.
Whether you choose one of these top five models or find one that suits your individual needs, water fountains are a healthy addition to any pet parent's home.
7. The best cordless cat water fountains
So, let me be brutally honest here: there is NO really stellar cordless water fountain.
I did offer up a few feasible options in the post linked above.
However, there's really only one that I kind of like and even then, I'd only use it for traveling.
If you're curious, it's this one (pictured above and in the little box below). It's technically made for dogs, but will work fine for cats, too.
Dog H2O DH025 Cordless Battery Operated Pet Water Fountain, Cool Blue/Translucent Black
No wires, no limits. Place it anywhere! There are no cords for puppies or playful dogs. A programmed timer regularly filters (2Min every 90Min, 45Min or 20Min) & aerates water to minimize saliva buildup on water surface.
Large drinking area for medium to large dogs with 200 fl. Oz (6.3 quarts) capacity, ensuring clean water All day long. Time to upgrade from that dirty dog dish today!
Includes 3 tablets of dental care. Dental Care supports healthier gums & helps fight "doggy breath". includes 3 water softening Filter pads
Dishwasher friendly, disassemble in seconds without tools. Food grade & BPA free materials used to Ensure pure water.
Super quiet pump system powered by 4 x "D" Size batteries (not included), 3 year limited warranty on the pump. Optional USB powered (mini USB plug), once connected the fountain runs continuously (USB cable & USB adaptor not included).
If you're crafty, that post also has some DIY tips, but I am too scared to try them (playing with wires and electrical currents freaks me out).
However, if you're willing to stick with a corded option, you have a whole world of possibilities.
Cat Water Fountains Shopping Guide: Know Your Options
Knowing your options for the different types of cat water fountains will go a long way towards helping you narrow down your final choice.
By "types," I mean a few different things. I know, that's confusing. Let me just keep going and you'll see what I mean.
Gravity vs. Automatic
First things first- do you want a fountain that runs on gravity or electricity?
Gravity water fountains aren't really "fountains" any more than our water tank in our home is a faucet.
Let me explain. Gravity fountains are those that have a bowl on the bottom and a "tank" of water on top.
Here, let me show you a picture, that's probably easier than me trying to describe things the way I see them in my head!
Basically, as your cat drinks, water comes down from the tank and replenishes the supply in the bowl.
They rarely contain a filter, so technically your cat isn't getting "fresh" water.
On the other hand, fountains that run on electricity (or batteries), are a lot different.
Some attach to a water supply in your home, while others use multiple filters to constantly clean the water within its chambers.
There are multiple types, but essentially they all work like this: cat triggers fountain, filtered water bubbles or flows, cat drinks the fresh water and walks away.
Water goes back into filtering chamber until next time and the process repeats.
When I talk about cat water fountains, I'm thinking more along the lines of the second option: fountains that are powered in some way.
Let's explore the different types.
Cat-Powered vs. Automatic Motion Sensor Fountains
As you start looking into corded cat water fountains, you'll find that they fall into two major categories: cat-powered and automatic.
I honestly have no preference here. Both have their pros and cons.
Cat-powered fountains are great for a busy household where someone or something is always on the move.
On the other hand, motion sensor fountains may be easier to actually get your cat to use.
Plus, it just feels more natural to me. Like, in the wild, our cats don't have to trigger a bubbling stream. It's just there.
If you prefer the second option, check out our top picks for the best automatic cat fountain.
My #1 favorite is pictured above and below. The only problem? It needs to be attached to your water supply.
AquaPurr eC (Corded) - See The New AquaPurr 4 - Smaller and Battery Powered
The AquaPurr eC has been replaced by the AquaPurr 4
The AquaPurr 4 is only 3.5" in diameter
The AquaPurr 4 is battery powered!
The AquaPurr eC is discontinued. See the AquaPurr 4
Fantastic customer support - Don't hesitate to contact us
Any faucet leak issues are easy to fix - Just contact us - Email, Text, Phone, Social Media, Amazon Chat...
Fountains That Are Ideal for Short-Nosed Cats
Your cat's face shape is another major factor to consider in choosing the right fountain.
Persians and other cats with flat faces have different needs than kitties with longer "snouts."
While a regular fountain isn't necessarily dangerous (unless your cat has breathing problems) for short-nosed kitties, it's also not exactly ideal.
Think about how you'd feel if your whole face was basically submerged every time you took a drink!
We shared our picks for the best water fountains for Persian cats (and other flat-faced breeds), so check that out.
Again, my #1 pick shows here.
Sale
PetSafe Cat and Dog Water Fountain - Automatic Water Dispenser - Drinkwell Pagoda Ceramic Fountain for Pets - Filter Included - 70 oz
Water Capacity: 70 Oz. Water Capacity Is Great For Cats And Small To Medium Sized Dogs
Encourages Drinking: Dual Free Falling Streams Add Oxygen For Freshness And Encourage Pets To Drink More Water
Filtered Water: Includes Replaceable Carbon Water Filter That Removes Bad Tastes And Odors, Keeping Water Fresh
Two Bowl Levels: Upper And Lower Dish Provides Two Drinking Areas For Pets; Elevated Dish Is Great For Senior Or Arthritic Pets
Hygienic Construction: Ceramic Design Is More Hygienic And Looks Great In The Home
Easy To Clean: Fountain Is Top-Shelf Dishwasher Safe; Low-Voltage 12V System With Submersible Pump For Safe And Quiet Operation
Product Support: Petsafe Brand'S U.S Based Customer Care Experts Will Be Glad To Help, Call Monday Through Saturday
Stainless steel vs. Plastic Fountains
When it comes to the actual drinking fountain, you have even more options to consider.
Do you want something made from ceramic materials? Stainless steel?
Are you okay with just a good BPA-free plastic fountain?
I can't tell you which to choose, as it depends on your preferences and budget.
Personally, I like stainless steel because it's easy to keep clean. My favorite is pictured above.
I also love the idea of ceramic, but I'm a klutz, so I worry that I'll break it.
Still, it beats plastic in my opinion because- again- it's easier to maintain.
That said, plastic isn't an awful choice, per se. Just make sure it's BPA-free and what not.
Also, understand that you'll need to replace them more often (see safety tips below).
Check out our post on stainless steel vs plastic pet fountains for more info.
Sale
PetSafe Stainless 360 Pet Fountain - 1 Gallon (128 oz) Dog and Cat Water Fountain - Water Filters Remove Hair - Water Dispenser Entices Pets to Drink - Customizable Cat and Dog Water Bowl Dispenser
128-OZ CAPACITY: Perfect size for cats, dogs and multiple pet households
ENCOURAGE PETS TO DRINK: Filtered, water streams entice pets to drink more and help support kidney health through increased hydration; constant water circulation and stainless-steel construction help to promote good pet hygiene
CUSTOMIZABLE WATER FLOW: The versatility of this fountain allows you to choose from 1-5 water streams, and you can also twist the top to adjust stream flow
FRESH, FLOWING WATER: Replaceable carbon filter refreshes water and the foam filter catches pet hair and debris to keep your cat's water clean
HIGH-GRADE STAINLESS MATERIAL: This stainless-steel pet fountain is made with high-quality materials that are hygienic, durable, and rust and scratch resistant
COMPATIBLE FILTERS AND PUMP: Fountain uses PetSafe Drinkwell Carbon Filter #3 (PAC00-13712), PetSafe Drinkwell Foam Filter 5 (PAC00-13711) and Drinkwell Replacement Pump (PAC00-13206)
U.S.-BASED CUSTOMER CARE: Our pet product experts are here to help you and your pet and are available by phone, email or chat if you have any questions
ESTABLISHED EXPERIENCE: PetSafe brand has been a trusted global leader in pet behavior, containment and lifestyle innovations for nearly 30 years. We help pets and their people LIVE HAPPY TOGETHER
Noisy vs. Quiet Water Fountains for Cats
No products found.
The noise factor is the very last thing I consider when shopping for cat water fountains.
Honestly, I don't need the quietest fountain in the world.
My cat's water fountain is far enough from the bedrooms- and even the living room- that the sound doesn't really bother me.
However, if you live in a small apartment or plan to keep the fountain in your room, try one of these quietest water fountains.
No products found.
Once you've finally settled on the perfect fountain, there are a few more things to consider before setting it up and letting your cat go to town.
Safety & Other Considerations for Cat Water Fountains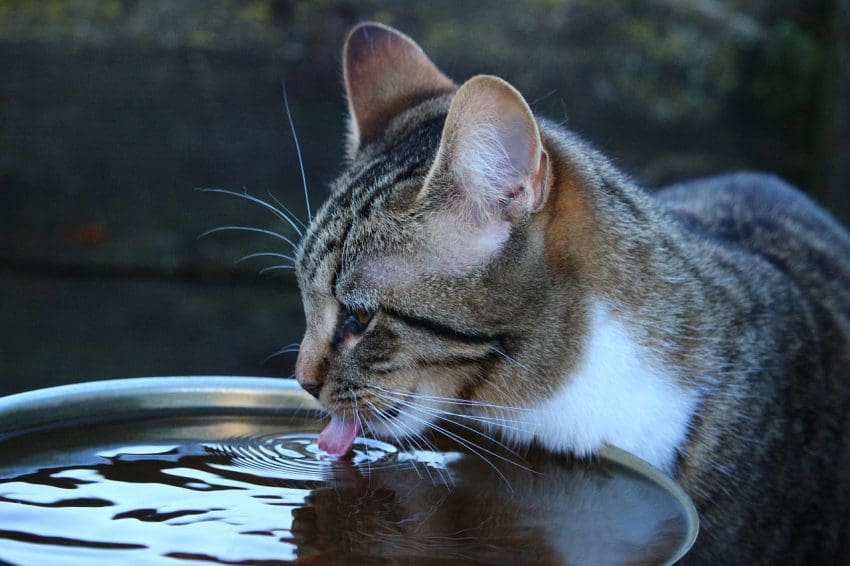 Are cat water fountains safe for a cat that likes water?
Short answer is yes, obviously. Otherwise, we wouldn't spend so much time finding good ones for you!
We don't recommend anything that could put your cat in harm way here, after all.
Let's just quickly go over some of the highlights of that piece here and briefly discuss some safety tips.
Set it up in the right place
Choosing the right location is absolutely key to giving your cat a safe and satisfying fountain experience.
Obviously, you'll want to keep it where your cat usually goes for a drink. For us, that's the kitchen.
Beyond that, though, you need to consider where you'll be plugging it in.
Choose a spot close enough to an outlet that you avoid running dangerous cords all over the place.
At the same time, you want it far enough away so that water doesn't splash back into the outlet!
Keep up with the cleaning
Regardless of what type of fountain you get, you absolutely MUST follow the manufacturer directions for keeping it clean.
For unfiltered fountains, that means changing the water daily- or at most every other day.
If you go with a filtered option, read the manual to find out how often you need to replace it.
For gravity and filtered fountains, do a complete cleaning once every other week for single-cat households.
If you have multiple cats, go with a weekly cleaning routine.
Even fountains that attach right to your sink need cleaning, so don't think you can skip this step if you invest in one.
During your weekly (or every other weekly) cleaning, pay attention to the parts to check for damage and look for any frayed wiring.
Replace plastic fountains regularly
One of the reasons I prefer stainless steel over plastic is that the former can last a lifetime.
Plastic, however, breaks down a lot faster. It's also hard to keep clean.
So, even if you're meticulous about following cleaning directions, chances are you'll need to replace it at least once a year (and that's me being generous).
As I said, these are the highlights regarding cat water fountain safety.
Check out that post I shared with you above for more in-depth info. It was written by a former vet tech.
That about covers everything you need to know about cat water fountains!
Like I said, they're not a vital purchase, but they definitely make life a little easier.
How Much Water Does My Cat Need Each Day?
If you are concerned that your feline friend isn't drinking enough water, you may be worried about nothing.
Daily water intake for your pet will depend on many factors. The size of your cat, the time of year, and your feline's diet will all determine how much water your Kitty needs.
For example, large cats like the Maine Coon will need more.
Likewise, if it's hot out, you'll want to make sure kitty is drinking more.
If you feed your cat a dry diet, he will need more water to help digest the food – kibble only contains about 10% moisture, whereas, canned food is around 80% water.
According to Preventive Vet, a healthy cat (in normal circumstances) will require between 3.5 to 4.5 ounces of fresh water per 5 pounds of body weight each day.
Signs of Dehydration in Cats
If you are concerned your pet may be experiencing dehydration, watch for these signs and symptoms
When a cat doesn't eat, it could be a sign of trouble. Dehydration may not be the cause, but it will be a side effect if it goes on for too long. If your cat hasn't eaten for 24 hours, get her to your veterinarian for a thorough checkup.
Perform the "skin tent test" to check for dehydration – just pull up on your cat's skin around its shoulders and watch how fast it settles. Skin that springs back into place is normal, while slow-moving skin could be lacking adequate water intake.
Dry, tacky gums could be a sign of dehydration.
Is your cat extra sleepy or lazy? Does he lack the energy to play as usual? These could be signs of a lack of water.
If you cat has experienced excessive vomiting or diarrhea, he could also be in store for dehydration.
Dull and sunken eyes can be a sign of dehydration.
Unlike dogs, cats don't usually pant, but they might if they are overheated, which can go along with a case of dehydration.
A good reason to scoop your litter box on a daily basis is so you can monitor your cat's output. Too little urine could be a sign of dehydration and other urinary tract conditions.
The next time you have your cat to the vet, ask him or her to show you how to take your pet's pulse rate. Having this skill can help you determine whether Kitty's heart is racing or is too slow – it could save her life!
Check out this video for a visual on how to do the skin tent test and test for other signs of dehydration in cats.
If your cat is exhibiting any of these signs, encourage her to drink more water. If Kitty refuses, then be sure to get her to the vet for treatment.
Benefits of a Cat Water Fountain
For decades, pet parents have selected a bowl (most likely based on looks or convenience), filled it with tap water and placed it on the floor for Kitty to lap at.
The problem with this method is the water quickly becomes stale, warm and is subject to all manner of debris. If your cat is like mine, the minute a "floaty" shows up in the dish, he's done!
A standing bowl is also not the best method for the cat's natural drinking "stance."
According to research, (and observation) cats use the tip of their tongues, along with inertia (gravity's opposite), to get the water they need from source to mouth.
They do this by touching the water and quickly drawing their tongue back up to their mouth, Watch your feline the next time he's at the water bowl.
So, it only makes sense that flowing water would be more appealing to the physiological makeup of the feline body.
Another benefit of a cat water fountain is most use filters to remove debris, hair, and (more importantly) chemicals found in tap water.
This keeps the water fresh and appealing to those finicky felines.
Lastly, cat water fountains continuously move the water in the bowl.
This not only aerates the liquid but also makes it easier for animals to judge the water level, which most seem to appreciate.
Okay, so we covered pretty much everything you need to know about the what, when, where, and why. Now let's take a look at a few of our favorite cat water fountains. Think of this as the grand finale to this guide!
Final Recommendation
Sale
Pioneer Fountain Big Max- Stainless Steel 128 Oz
Circulating drinking water is naturally appealing to your pet
Replaceable charcoal filter for clean and pure, healthy water
Dishwasher Safe. Refer the user guide below for Pum Trouble shooting steps and Installation steps
128 oz capacity. refer Troubleshooting guide for Product instruction
Modern design fits in any home décor
Maintenance Guide - Pump needs to be cleaned out monthly to make sure it stays in good working order. More details given in user manual.
Do you have any of these cat water fountains? Tell us your favorite below!
Last update on 2022-12-29 / Affiliate links / Images from Amazon Product Advertising API