Searching for the best vacuums for cat litter?
We've got you covered!
We're taking a deep dive into the best cat litter vacuums in every single category!
Keep reading for the entire guide, or use the table of contents below to jump to the section you need most.
FYI, this post contains affiliate links. If you make a purchase through these links, we earn a small commission at no extra charge to you.
We're covering A LOT of ground below! If you're in a rush and just need the perfect vacuum right now, though, Check this table!
Top Cat Litter Vacuums at a Glance
Don't have time? Here is a quick comparison of our favorites!
Top 18 Best Cat Litter Vacuums
When it comes to vacuums, there's a rich variety. We've got canister vacuums, stick vacuums, handheld, robotic, and so on.
Each type of vacuum has its pros and cons and can be useful in your fight against litter.
So, we're going to take a look at the best vacuums from each category.
Check out the tables in each section for a quick look, then read on for in-depth reviews.
Top 5 Best Upright Vacuums for Cat Litter
In general, upright vacuums are perfect for carpets and hardwood floors.
They feature a brush roll that's ideal for loosening debris from rugs and carpeted areas, such as litter. They've also got a powerful suction capacity.
However, upright vacuums aren't as versatile as other models and might be heavy to push around.
If you need a powerful vacuum to clean hardwood floors, carpets, and rugs, you don't need to look further than Dirt Devil and their Multi-Floor bagless vacuum.
It's a powerful machine, which can handle kitty litter and pet hair without problems.
One of the big advantages of this vacuum is its three-stage filtration system that provides maximum cleaning with no suction loss.
It also features a rinseable filter and a foam sleeve for fine dust and dirt, which is great for people with allergies.
More importantly, Dirt Devil Razor can swivel and swerve, which allows you to vacuum around and under furniture with ease.
All you have to do is tilt the handle!
Furthermore, this corded vacuum has Spin4Pro Premium Pet Brushroll and Turboclaw pet tool.
You can remove pet hair from any surface with ease, even when the dirt and hair are embedded in the upholstery.
The instant cleaning wand is also an excellent extra that allows you to reach high/low places with no problems.
The vacuum also has got a long cord and weighs 12 lbs. It's not too heavy, and the design makes it easy to storage.
However, long cat hairs might get tangled in the brush, so you need to clean it after each vacuuming.
Moreover, some customers point out that spare parts are expensive and hard to find.
Pros:
3-stage filtration
washable filters
foam sleeve
swivel/swerve
Pet Brushroll and Turboclaw
an instant cleaning wand
relatively light
Cons:
hair gets tangled in the brush
spare parts might be hard to find
Bissell is another brand with a well-earned reputation among cat owners, thanks to its high-quality products.
It's no surprise that their CleanView bagless vacuum is included in our list of the best vacuums for cat litter.
The CleanView corded vacuum features a multi-cyclonic cleaning system for powerful suction that won't miss anything within its reach.
Since the system separates dirt and air, you don't have to worry about litter damaging the inside of the machine.
This Bissell's vacuum also has multi-level filtration to capture the smallest dust particles, and its filters are washable.
It also includes a Febreze vacuum filter (not washable) that eliminates odors and keeps the smell from permeating into your home.
That's perfect for vacuuming soiled litter.
Another advantage is CleanView's Turbo brush that removes embedded dirt, dust, and pet hair from various surfaces.
The vacuum is suitable for bare floors, carpets, hard floors, stairs, and upholstery, so it has you covered.
Moreover, this bagless vacuum has an easy empty feature, which reduces the mess when emptying the container.
You also get special tools for cleaning hard-to-reach areas, such as a crevasse tool and a dusting brush.
I also like that this upright vacuum has a long cord (25 ft), so you move it around without worrying about unplugging and plugging it again.
Unfortunately, the cord isn't retractable, and customers mention that it gets in the way when vacuuming.
Pros:
a multi-cyclonic cleaning system
multi-level filtration
odor-eliminating filter
a Turbo brush
suitable for various surfaces
long cord
extra accessories for cleaning tight spots
Cons:
the cord doesn't retract automatically
If you're looking for a kitty litter vacuum for deep-cleaning, you can't go wrong with Shark Rotator Lift-Away.
It's perfect for embedded dirt or pet hair and has an option to switch to hard floors.
However, the Shark Rotator's biggest advantage is its completely sealed HEPA system and anti-allergen seal, which captures up to 99% of dust and particles.
That's great when you're dealing with a possible allergen, such as litter.
Moreover, Shark Rotator has a detachable Powered Lift-Away pod to make vacuum under furniture and above-floor a piece of cake.
It also comes with a crevice tool for hard-to-reach areas and a pet brush to clean stubborn pet hair from upholstery and furniture.
Another advantage is that you can use the LED headlight to find dirt/litter under furniture and bed, and the long cord gives you plenty of flexibility.
Moreover, you can easily switch from carpet to floors thanks to the fingertip controls.
However, it's a bulky machine, and it's not very easy to maneuver with it. Moreover, it's expensive, but it has a 5-year limited warranty.
Pros:
a sealed HEPA system
a detachable pod
extra accessories
LED headlight
fingertip control
Cons:
Hoover's produce is the next in our list of best vacuums for cat litter on carpets and hard floors.
Their Pet Max product is designed for better suction with less maintenance, and you can use it on carpets and floors alike, thanks to its brush on/off switch.
Another great thing about Pet Max Cleaner is its allergen block technology, which captures 97% of the dander, pet hairs, and pollen.
So, it won't have problems contain cat litter as well.
Moreover, it has a 12 ft extended reach and a quick-release wand that gives you flexibility and allows you to clean high spots with ease.
You never know when your kitty is going to tract litter up the bookcase!
Hoover's product also includes a pet kit to help you get rid of cat hair on any surface, including stairs and upholstery.
You also get a crevice tool and a dusting brush.
Unfortunately, it doesn't swivel or swerve, which makes cleaning under beds and furniture slightly difficult.
It's also heavy, but it's got a long power cord so that you cover more distance before you have to unplug/plug it again.
Pros:
brush on/off switch
allergen block technology
a quick-release wand
a pet kit
Cons:
it doesn't swivel
not very light
This Dyson model impresses with its Radical Root cyclone technology and redesigned brush bar, which drives bristles deep into the carpet.
It also features a tangle-free Turbine tool with counter-rotating heads to remove dirt/hair easily.
Moreover, Dyson DC65 comes with a handful of tools that can be handy when vacuuming litter.
It has an Up Top tool, which twists in different positions, a soft dusting brush for flat surfaces, and a stiff bristle brush for carpets.
Furthermore, you can clean hard-to-reach areas and tight spots with the Reach Under Tool.
The mattress tool, on the other hand, is perfect for removing allergens, dust, and pet hair from your mattresses.
However, this Dyson Animal vacuum is heavy and might be awkward to use.
The container is also not that easy to empty, especially when it's full of dirt, mud, and litter particles.
Pros:
a Radical Root cyclone filtration
a tangle-free tool
a Reach Under Tool
suitable for deep carpet cleaning
Cons:
heavy
might not be easy to empty
3 Best Stick Vacuums for Cat Litter on Hardwood Floors
Think about stick vacuums as lighter and slimmer versions of upright ones.
They're great for whisking away small debris and they maneuver well around furniture.
However, stick vacuums don't have such strong suction, and you can't rely on them for deep cleaning or picking up large debris.
On the bright side, cordless stick vacuums offer you great freedom of movement, but their lithium-ion battery might have a short life.
Bissell PowerEdge is best suited for hardwood floors, and its innovative V-shaped foot is excellent for picking small/large debris.
It also features a rubber squeegee system for picking cat hair and dirt from floors and hard-to-reach areas.
Bissell is also on our list of the best stick vacuums for cat litter because it's light, versatile, and has swivel steering to clean around furniture.
It also has cyclonic filtration to separate air and dust, so you don't have to worry about damaged parts.
Moreover, Bissell PowerEdge has an easy to empty dirt cup to reduce the mess after you've finished vacuuming.
It also features a 20-feet long cord, which gives you plenty of room to move around the house.
However, some cat owners point out that Bissell PowerEdge clogs from time to time and that it doesn't have as strong suction power as they expected.
Pros:
a V-shaped foot
swivel steering
cyclonic filtration
long cord
designed for pet hair/dirt
Cons:
Another great product from Bissell is their Featherweight stick vacuum. It combines three tools in one – a stick, a handle vacuum, and a stair cleaner.
It works best on hardwood floors, but you can also use it to pick surface dirt from low pile carpets, countertops, and rug areas.
Since this stick vacuum weighs approximately three pounds, you can forget about dragging heavy machines around.
It also comes with a crevice tool and a floor nozzle to clean corners, edges, and other hard to reach places.
The biggest disadvantage is that it has a standard filtration system, and picking too much kitty litter at once might damage it.
It also has a short cord, but its lightness, versatility, and price make it perfect for cleaning the occasional litter mess.
Pros:
light
versatile
combines three tools in one
extra accessories for hard-to-reach places
Cons:
standard filtration system
short cord
not suitable for high pile carpets
If you're looking for a light but powerful kitty litter vacuum, you should take a look at Shark Rocket DeluxePro.
It has two settings – one for hardwood floors/area rugs and another for high pile carpets to tackle embedded dirt.
Moreover, Shark Rocket DeluxePro converts into a handheld vacuum and comes with several useful tools.
These include a motorized floor nozzle, a duster tool, a pet brush, and a wand.
Moreover, it has a LED headlight to illuminate spilled litter and advanced swivel steering so that you can clean around obstacles.
Its dust cup is XL-size, so it can handle a lot of debris before you have to empty it.
However, some users note that the Shark Rocket DeluxePro has a heavy motor and is more awkward to use than expected.
Pros:
suitable for floors and carpets
converts into a handheld cleaner
extra tools
advanced swivel steering
LED headlight
an XL-size dust cup
Cons:
might be awkward to use due to a heavy motor
3 Best Canister Vacuums for Kitty Litter
If you've got different types of flooring inside your house, you can't go wrong with a canister vacuum.
Unlike stick and upright vacuums, they've got a tank with an attached hose and are suitable for cleaning almost any surface in your home.
Usually, canister vacuums have great suction power, but they're heavy, and it's not always convenient to drag the canister around or up/down the stairs.
Do you have to deal with soiled litter often? Then you won't be disappointed by Armor All's utility shop vacuum.
It's perfect for dry and liquid cleaning and can handle litter with no problem thanks to its powerful 2 peak HP motor, great suction power, and 2.5-gallon tank.
Moreover, this utility shop vacuum comes with all the necessary interior cleaning tools that you might need. Y
ou get a crevice tool, a detail brush for delicate parts (vents, dashboards, and so on), and a 2-in-1 utility nozzle.
This dry/wet utility vacuum is on our list of the best cat litter vacuums because it's also compact, easy to carry around, and has onboard accessory storage.
It also converts into a blower, which might come in handy.
However, users note that the vacuum is loud, which can be stressful for pets. Some also complain that it's difficult to clean.
Pros:
suitable for dry/wet cleaning
large tank
tools for interior cleaning
compact and easy to move
Cons:
loud
might be difficult to clean
#2 Severin Germany Special Bagless Vacuum Cleaner
If you're looking for a canister bagless vacuum with great suction power, you should take a look at Severin and their product.
It features a Multi-Cyclonic System and is suitable for floors and carpets, making it one of the best vacuums for cat litter.
Moreover, Severin has a HEPA filter to remove dust, allergens, mold, and spores from the sucked air. The filter also absorbs odor, so you don't have to worry about the litter stinking up the vacuum.
The Severin vacuum comes with handy accessories for pet owners, such as a Jet Drive turbo brush for deep cleaning, an XXL upholstery nozzle with Claw-collect for removing embedded dirt, and a parquet nozzle for floors.
Moreover, the vacuum has a soft sound design, which might make your cat less scared when you vacuum.
It's not the lightest vacuum, but it has a long, retractable cord that gives you room for movement.
Pros:
suitable for floors and carpets
a Hepa Filter
an odor-absorbing filter
pet-friendly accessories
works quietly
Cons:
The biggest advantage of Miele is that it's specially designed for cat and dog owners.
It features an adjustable Electrobrush with five height settings, suitable for different carpets to remove embedded debris and pet hair.
Moreover, Miele has six suction settings, ensuring that no debris will be left behind no matter what surfaces you're cleaning.
Its Active AirClean filtration system also captures 99.9% of all allergens and neutralizes pet odors, thanks to its charcoal layers.
While relatively heavier than upright models, Miele's corded vacuum is easy to maneuver and comes with a crevice tool for tight spaces, a dusting brush, an upholstery tool, and a Mini Turbo Brush (for removing pet hair from furniture).
However, it's an expensive machine, and the canister isn't bagless.
Pros:
specially designed for pet owners
adjustable Electrobrush
six suction settings
an AirClean filtration system
neutralizes pet odors
extra tools, including Turbo Brush for pet hair
Cons:
bagged
not the cheapest option
Top 3 Best Handheld Vacuums for Cat Litter
What's good about handheld vacuums is that they're light, portable, and relatively cheap.
They're ideal for small messes, such as picking crumbs, dust, and dirt.
Unfortunately, handheld devices don't have the same suction power as standard vacuums, and cordless models require batteries to work.
Still, they can be an excellent alternative for the occasional litter spills.
It's not a surprise that Bissell handheld vacuum makes the list of the best vacuums for kitty litter.
It's small, affordable, and perfect for cleaning upholstery, stairs, and cars.
Bissell's Pet Hair Eraser comes with two specialized nozzles – one for picking up litter and cat food and another with bristles to collect embedded cat hair.
It has a cyclonic cleaning system for maximum suction and multi-level filtration.
Moreover, the Eraser has a 16-foot cord length, so you've got plenty of movement before you have to unplug/plug.
However, some customers say that the blowing air scatters litter and fur before you can vacuum it.
Pros:
suitable for different surfaces
hard nozzle for cat litter
cyclonic system
multi-level filtration
long cord
Cons:
might scatter fur/litter
the cord isn't very long
The Eureka lightweight vacuum is suitable for different surfaces, and since it's cordless, you can take it anywhere and use it anytime.
Moreover, Euraka's vacuum features a cyclonic filtration system to ensure powerful suction and remove allergens from the air.
The washable filters and dust cup mean that you don't need to worry about replacing bags.
The rubber seal is another advantage since it keeps the debris and dirt in the dust cup until you empty it.
The vacuum also comes with a crevice attachment, and you can use it to clean under furniture and in other tight spaces.
However, the lithium-ion rechargeable batteries last 20 minutes, and the vacuum isn't powerful enough for big messes.
Pros:
light
cordless
a cyclonic filtration
washable filters and dust cup
rubber seal
Cons:
only lasts 20 minutes before recharge
This Dustbuster by Black+Decker features cyclonic action, which makes it an excellent choice for pet parents.
It also has a transparent dirt bowl – easy to see when it's time to empty it, and it has a capacity of 20.6 ounces.
Moreover, this dustbuster model boasts a rotating slim nozzle, perfect for tight spaces, a crevice attachment, and a flip-up brush.
The filters are also washable, so you won't have to replace them.
The vacuum is cordless and has a 4-hour fast charging base with Smart Charge technology to shut the charger off when the battery is recharged.
However, some users note that the vacuum is loud and that you have to recharge it often.
Pros:
a cyclonic action
a transparent bowl
rotating nozzle
washable filters
Cons:
not very quiet
needs frequent recharging
Top 2 Best Robot Vacuums for Cat Litter
People who hate vacuuming have to love robot vacuums. They do all the work for you while you sit on the couch.
These cleaners can get under furniture and other spaces where full-size devices can't, and you can control some models remotely.
While convenient and easy to use, we can't compare robot vacuums with standard ones when it comes to power.
You also have to remove obstacles out of the way for maximum results. Still, these vacuums can be suitable for litter as well.
With a 3.3-inch slim body, the ILIFE cleaner gets under beds, sofas, and other furniture with no issues.
All you have to do is press the CLEAN button/remote, and the machine is ready to go.
What's also great about ILIFE is its selective cleaning modes – auto clean, spot clean for deep cleaning, and scheduling vacuum.
It's perfect for edge cleaning, and you don't have to worry about the machine falling off the stairs thanks to the anti-drop sensors.
Moreover, the ILIFE cleaner features pet hair care technology and is perfect for getting rid of cat hair and debris, such as litter.
It works best on hard floors and is easy to control with a remote.
Thanks to the self-charging feature, the vacuum charges automatically, and you don't have to worry about forgetting to plug it in.
However, it's not very good on carpets, and it can be difficult to set the timer.
Pros:
selective cleaning modes
pet hair care technology
self-charging
easy to turn on/off
Cons:
might be difficult to set up
Since iRobot Roomba has a 3-stage cleaning system, it's one of the best robotic vacuums for cat litter.
The dual multi-surface brushes take care of dirt/debris, while the edge-sweeping brush deals with corners and walls.
The auto-adjust cleaning head is another great feature, which adjusts the machine's height so that the brushes can clean different surfaces.
Moreover, Dirt Detech technology detects the dirtiest areas in the house and cleans them thoroughly.
The Roomba also learns your cleaning habits to offer extra cleaning sessions during pet shedding months and charges automatically.
It also navigates well around the hose, and the Cliff Technology keeps it from falling off stairs.
However, it's more suitable for light-duty cleaning and can't handle a lot of pet hair.
Pros:
a 3-stage cleaning system
multi-surface brushes
an auto-adjust cleaning head
Dirt Detach Technology
learns your cleaning habits
Cons:
might not handle lots of pet hair
Top 2 Best Carpet Sweepers for Cat Litter
Carpet sweepers are something like a broom but with some extra features.
They're an excellent choice if you want something affordable that doesn't take much space.
While carpet sweepers can pick kitty litter, don't expect the powerful suction of a full-sized machine.
The pro is that a carpet sweeper won't get damaged by kitty litter.
Bissell cordless sweeper features a seven-brush system – three main rotating ones and four stationary.
It's perfect for bare floors and carpets and doesn't need electricity or cords.
This sweep can sweep lint, dust, crumbs, and other small particles on forward/backward motions.
When you're finished, empty the dirt pan into the trash. The handle also lies flat so that you can clean under furniture and beds.
Since you sweep manually, there are no delicate parts that litter can damage.
Still, it requires more effort than a standard vacuum, and there's no dust filtration or suction power.
Pros:
cheap
easy to use
suitable for cleaning under furniture
light and easy to store
Cons:
#2 Fuller Brush's Electrostatic Carpet & Floor Sweeper
Fuller's Brush electrostatic sweeper is an excellent choice for low pile carpets, laminate floors, hardwood floors, and tiles.
The electrostatic design attracts dirt, dust, and pet hair like a magnet, so it's suitable for kitty litter.
The electrostatic carpet sweeper also features an adjustable handle to clean under beds and furniture with ease.
It's also light, portable, and convenient to carry/store anywhere in the house.
Moreover, the sweeper has a dual dust bin and comes with a comb to remove any stuck hair from the bristled brushes. You also get a 3-year warranty.
However, the Fuller Brush sweeper is relatively expensive, and it's not as effective as a vacuum.
Pros:
an electrostatic design
an adjustable handle
portable
a dual dust bin
Cons:
Vacuums for Cat Litter: Do You Need One?
If you are a cat owner, dealing with litter outside the litter box is a common problem.
Some cats like to dig so much that they throw litter everywhere when they use the box. Some types of litter also have such high traction that your cat carries it all over the house.
Since litter particles are small, it's easy for them to get stuck in carpets, between floorboards, and every possible nook.
You sweep, but you still keep finding litter in the most unlikely places, and you notice an unpleasant odor hanging around your house.
Eventually, you get sick of sweeping every time your cat uses its litter box and start wondering if you can't vacuum the mess with your vacuum cleaner.
Unfortunately, not all vacuum cleaners are suitable for the task.
Let's see what features you should look for in a cat litter vacuum.
Most vacuum cleaners can handle a small amount of litter from time to time. So, you can use a vacuum to clean litter with no problems.
But if you're planning on doing it regularly, you need a special vacuum for the job. Otherwise, you'll soon have to replace your regular vacuum.
Let's see why.
#1 Damage
We can divide cat litter into three general types – clay, biodegradable, and silica. No matter what type you use, all litters harden to absorb moisture.
That's why it's so difficult to scrape it off the box after a few days.
The problem is that these particles can damage your vacuum's components.
When you vacuum, they travel at high speed and might hit a delicate part, resulting in a break or damage.
Litter is also sharp and can destroy hoses and filters. Think about it as if you're vacuuming small, sharp rocks.
#2 Mold
No one likes mold in their house, but few know that soiled litter is the perfect breeding ground for mold.
Vacuuming wet litter or cleaning wet areas after vacuuming dry one creates the ideal conditions for mold to thrive.
If mold grows, you can spread it through the vacuum around the whole house. That can be a problem for people with breathing problems, such as asthma.
#3 Dust
Litter, especially clay-based, produces a lot of dust. You can see it when you pour the dust into the litter box and when you scoop it clean.
Dust can build inside your vacuum cleaner, especially around the motor and the brushes. It can clog your machine and lead to overheating.
You might switch to dust-free cat litter brands, but there would still be some dust particles in the air.
#4 Odor
Cat litter has a specific odor once it absorbs your cat's waste.
The smell can build around your vacuum's inner part and spread throughout the whole house.
You might not have another choice but throw the vacuum cleaner away because you can't get rid of the pungent odors hanging around.
How to Choose Cat Litter Vacuums?
There are so many models and brands that anyone would have a hard time deciding when it comes to vacuums.
Since you want a machine that can handle litter, you have to be even more careful in your selection.
So, here are a couple of things to keep in mind when you're looking for a cat litter vacuum.
#1 Power and Filtration
Since you don't want to change vacuum cleaners every couple of months, you need a good machine to handle the sharp litter particles without breaking them.
To prevent dust from destroying filters and motors, you need a cleaner with a bypass flow motor.
It separates dust and air so that the particles can't accumulate inside the machine.
Usually, such cleaners also have a powerful suction, which you want since litter tends to stick to carpets and floors.
#2 Type of Flooring
Think about where your litter box is and what type of flooring you have around the house.
Some vacuums work better on low carpets, while others are suitable only for floors.
Vacuuming carpets and rugs require roller brushes that can get dislodged particles.
On the other hand, you'll need a vacuum with a hard floor attachment for hard floors or surfaces.
#3 Bagged vs. Bagless
Bagged and bagless vacuum cleaners have their advantage when dealing with litter. Let me walk you through them.
Bagged vacuums collect dust, dirt, and debris in a bag. The downside is that you have to replace the bag and filter when they get dirty.
Bagless models, on the other hand, have a container that gathers the debris. You have to empty it after each use, which can create the occasional dust cloud.
But you avoid letting a bag of dirty litter sit for days inside the vacuum.
Moreover, you can wash the container if any smells and odors linger. You can't do that with bagged cleaners, and the risk of soiled litter with them is higher.
As such, bagless vacuums are better suited for dealing with kitty litter.
Still, a bagged vacuum will do the job as long as you replace the bag frequently and clean the filter.
#4 Cordless vs. Corded
In general, cordless vacuums are light, portable, and easy to maneuver.
However, they don't have the same powerful suction as some corded ones, have a small dust capacity, and require frequent recharging.
Corded models will be a better choice for cat litter, but it still depends on how much cleaning you plan to do and where (under furniture, corners, walls, and so on).
If you hate dragging/carrying a vacuum around, a handheld cordless one can still do an excellent job.
#5 Durability
Finally, cat litter vacuums should be sturdy and durable. You want a machine that will last you for years without needing repairs.
Unfortunately, such vacuums can be expensive. However, they can be a good investment if you choose the right one.
How to Prevent Litter from tracking
It's not the lightest vacuum, but it has a long, retractable cord that gives you room for movement.
Get a litter mat. It catches dirt, debris, and litter when your cat gets out of the litter box. You'll only have to clean the mat/rung instead of the whole house.
Consider a high-side cat litter box. If your cat likes to dig in the litter, you might avoid the mess by getting a litter box with high sides.
Try an automatic litter box. It cleans the soiled litter and keeps the litter box fresh. The downside is that not all cats like this type of box.
Contain the litter box. Put it in the bathroom, inside another big box, or the tub to reduce the mess.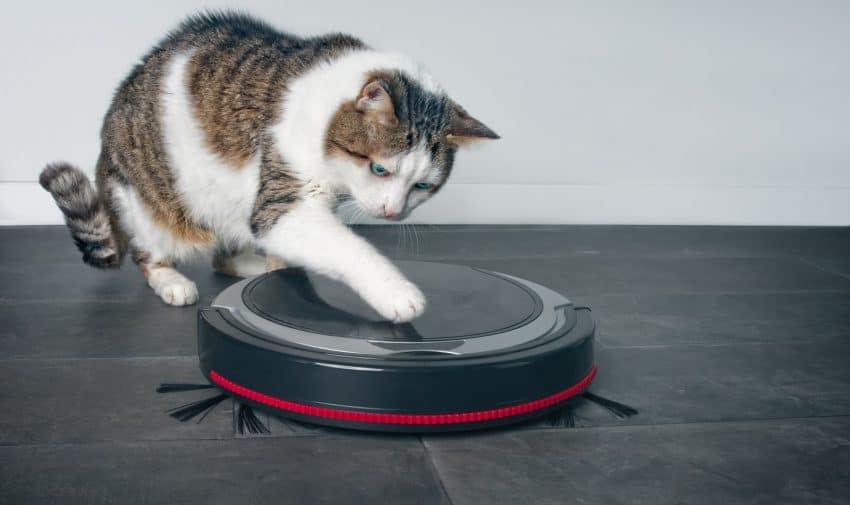 FAQs
Last update on 2022-06-26 / Affiliate links / Images from Amazon Product Advertising API