Looking for the best dust-free cat litter to help you and your cat breathe easier?
While no litter is 100% free of dust (which is why brands use words like "low dust" instead), some are definitely better than others!
Today, we'll go over some of the best clumping and non-clumping brands on both Amazon and Chewy that are as close to dust-free as possible!
Why go with dust-free litter?
First, let's quickly discuss why you'd want dust-free litter in the first place, and then we'll check out my favorite brands.
Better for your health
If you have allergies, asthma, or other breathing problems, dust-free cat litter is a must.
In fact, in this case you'll want to go with a brand that claims to be 99% dust-free versus just low-dust (we'll talk about both below).
However, even if you don't have breathing issues, dusty cat litter can still irritate your lungs and respiratory system.
Plus, think about what else is getting kicked up with all that dust. Go ahead, I'll give you a second to consider it. If you guessed urine and feces, you get a gold star!
Seriously, it's gross, right? Do you really want microparticles from your cat's waste system floating around your house? I know I don't!
Better for your cat's health
Again, if you have an asthmatic cat (which I did for 15 years), it's super important to choose a dust-free litter.
Consider this: you just spend about 15 minutes a day with the litter box. Your cat is in and out of there all day long, digging around and kicking up dust.
Plus, your cat doesn't know to wear a mask or hold her breathe while she does her business.
So, if you have to use a silica-based litter, it's best to go with a dust-free version.
Better for your home
You spend a lot of time cleaning and dusting your home, so of course you don't want all that hard work ruined every time your cat uses the litter box!
Dust-free litters also tend to be "low-tracking" brands, so not only do they keep tiny litter particles off your walls, furniture and more, they also keep tiny dirty footprints off your floors!
Bottom line, dust-free litter is just the smartest choice all around.
Types of Dust-Free Cat Litter
As far as types go, you have a few different options. Let's take a look.
Clay Cat Litter
I'm going to be brutally honest: while this is probably the cheapest type of litter, it's also one of the least dust-free options.
Yes, it's entirely possible to find low-dust clay litter, but that's about all it will be, low dust.
Still, overall, it's your most budget-friendly option as well as the type of litter that the majority of cats prefer.
Pellet Litter
If you've ever seen brands like Yesterday's news, you've heard of pellet litter. The brand uses recycled newspapers to create absorbent little pellets.
Pellet litter is pretty much the epitome of dust-free non-clumping cat litter. If you're looking for a low-tracking litter as well, this is your best bet.
However, it's also the most expensive as well as the most likely to be totally rejected by your kitty.
Silica Cat Litter
As a relatively cheap ingredient, silica is commonly used for cat litter dust control. It's less dusty than clay, although not quite as dust-free as pellets.
It's important to note that silica can cause health problems in large quantities.
However, dust-free versions specially formulate their beads to keep them from getting stuck to your cat's paws and tracked around your house.
Litter Made from Biodegradable Materials
While pellet, clay, and silica are the most common materials in major national brands like Tidy Cats, Fresh Step & Scoop Away, they're far from the only types of cat litter.
Things like wheat, corn, wood, and even walnuts are used to create a dust-free litter that's good for the environment as well as your cat.
I've used nearly every single one of these brands at least once during my 25 years of cat ownership, so I'm speaking from experience!
For those few I haven't had a chance to try, I asked other cat-loving friends for their thoughts.
I'll break it up into the best brands on Amazon followed by those on Chewy since I shop at both equally and assume many other cat parents do as well!
Best Dust-Free Cat Litter
1. Arm & Hammer Clumping Cat Litter
Arm & Hammer is pretty well-known for making low-odor cat litter, but I'll be honest with you, I wouldn't call most of them "low-dust."
However, their Cloud Control brand seeks to remedy their rep for being a dusty litter.
Features & benefits
Price per pound: about $0.67
Claims to be a 100% dust free formula and actually lives up to that promise
A special "dander shield" even helps cut down on cat dander getting into the air when you scoop.
Uses hypoallergenic light scent
Cons
It's very heavy for cat litter
Some users complain that it doesn't clump well
While it's dust-free, it still sticks to your cat's feet and tracks outside the box.
Recommendation
Of all the brands I looked at, this is the only one that claims to be 100% dust-free.
I've used multiple types of A&H cat litter and for the most part, never had an issue with it. I haven't had a chance to try this one yet, though.
The only thing that worries me is the weight. I have back problems, so I can't lug heavy packages of litter around.
I can't seem to find a smaller, lighter box of this style, and that seems to be a common complaint with other customers.
Still, Arm & Hammer has a good rep overall, so give it a try!
2. Purina Yesterday's News Non Clumping Paper Cat Litter
Purina's Yesterday's News is a pellet-style dust-free non clumping cat litter that's eco-friendly and recommended by vets.
Of all the best dust-free cat litter brands on Amazon, it's probably my #1 choice for people or cats with asthma.
Features & benefits
Price per pound: about $0.66
99.9% dust-free
#1 brand recommended by veterinarians.
Unscented so it won't irritate you or your cat.
Absorbs 3x the moisture of the average clay litter
Pellets made from old newspapers are gentle on your cat's feet
Made without chemicals, so it's non-toxic.
Cons
Doesn't clump, so you have to change out the whole box regularly
Too large for most litter scoops, meaning you can't really remove feces easily
Many cats don't like pellet litter, so you may end up not being able to use it
Recommendation
I'm not sure when Purina bought Yesterday's News. I've used it before, but it didn't have "Purina's" behind the name, so I can't say how it works now.
However, it's among the most highly rated dust-free cat litter brands, so it's definitely a good place to start.
You may need to ease your cat into it though. Try adding it as a base layer under clay litter, then use more and more until they're used to it.
3. Purina Tidy Cats Clumping Cat Litter
I'm going to be brutally honest here: my mom (who lives with me and cleans the litter boxes) is NOT a fan of Tidy Cats because she said it's too dusty.
Maybe this one will change her mind? It's actually low-dust, as there is no 100% Tidy Cats dust free litter.
Features & benefits
Price per pound: about $1.23
As the name implies, it's super light, so it's easy on your back.
Don't let the lack of heft fool you, one 17lb box is the same as a box twice the weight.
Low dust (NOT totally dust-free, but as close as you'll get with Tidy Cats)
Keeps ammonia odors at bay for up to 14 days as long as you scoop regularly.
Cons
It's not totally dust-free. In fact, it's not even 99% dust-free.
It's scented, which can be an issue for people or cats who are sensitive to perfumes.
Since it's lightweight, it tends to track easily.
It's one of the pricier brands.
Recommendation
If you're looking for as close to dust-free as possible, I'd really only recommended this particular brand to Tidy Cats loyalists (which is why I included it in the first place).
Don't get me wrong, I personally like Tidy Cats on the whole, but this isn't an ideal solution for those who need a dust free cat litter for asthma.
However, I do like it because it's super easy on my back, so consider that!
4. SmartCat All Natural Clumping Cat Litter
Remember how we talked about cat litters made from strange materials like wood, wheat, and so on?
Well, this is one of those! It's made from all-natural grass grown in the US.
Features & benefits
Price per pound: about $2.85
99% dust-free
Clumps on contact, better than even the best clay litter
It's half the weight of traditional litter, making it a good option for those with back problems.
Chemical-free, clay-free and biodegradable, so it's good for the planet.
It's also fragrance-free (although grass does have it's own natural aroma)
Cons
It may feel strange to your cat at first so you'll have to get him adjusted to it.
Obviously, if you're allergic to grass, it's not a good pick.
It's a bit pricey for cat litter (even if you take into account that a 10-lb bag is equal to 20-lbs of clay litter)
Although dust-free, some users complain that it tends to track around the house.
Recommendation
This is one of the few that I haven't personally tried, although friends love it.
I adore the idea of an all-natural chemical-free litter, but since I have allergies, I worry that the grass seed would aggravate them.
Like I said, though, eco-friendly friends swear by it, so it's definitely worth giving it a go!
5. Fresh Step Clumping Cat Litter
Fresh Step is one of our top 3 "keep in rotation" litter brands for our cats, and I've used this exact formula many, many times.
Features & benefits
Price per pound: about $0.50
Forms tight clumps that are super easy to scoop out.
The added Febreze helps control odors for up to 10 days.
Activated charcoal for added odor control.
Fantastic for multiple cat litter boxes.
Relatively low tracking issues
Budget-friendly
Cons
It's actually only a low-dust formula (however, it's one of the least-dusty litters we've used).
It is rather heavily scented, which could be an issue for some people.
Tends to stick to the sides of the box (just about all clay litter will do this, though)
Recommendation
Like I said, this is one of my favorite brands, so of course, I recommend it. Although it's low-dust vs. dust-free, we've never noticed an issue with it.
That said, it's probably not a good option for people who have issues with scented products. While the scent is nice, it's still fairly strong.
Best Dust-Free Cat Litter on Chewy
Now let's head over to Chewy to check out their best dust-free litter brands, shall we!
1. Frisco Multi-Cat Clumping Cat Litter
Frisco is cheaper than pretty much every other brand on this list (and even cheaper than store brands), but don't let that scare you!
I was pleasantly surprised by how well it worked with our multiple cat household.
Features & benefits
Price per pound: about $0.35
Uses a special proprietary system to make it a low-dust option.
Hypoallergenic and free of plant proteins, dyes or added scents.
Made with all-natural clay
Doesn't stick to the bottom of the litter box.
Cons
Since it's made of clay, it's a low-dust vs. no-dust option.
Tends to stick to your cat's paws, so it's not a no-tracking option.
Clumps tend to be heavy and wet compared to some other clay litters
While it does control some odors, it's not the best brand for that particular job.
Recommendation
Although this isn't one of my top picks overall, I do love that it's super budget-friendly.
Litter is crazy expensive for what it is, and those who are dealing with tough times deserve a low-dust option that won't bust their budget.
Is it the world's best litter? No. However, it's still a good choice when you can't quite swing more expensive brands.
2. Dr. Elsey's Precious Cat Ultra Clumping Cat Litter
Dr. Elsey's is one of the other few brands on this list that I haven't had a chance to try yet, but it's highly rated among other cat owners.
Features & benefits
Price per pound: about $0.60
It's 99.9% dust-free!
Hypoallergenic and all-natural, so it's good for those with allergies.
Comes in 5 different "formulas," including one that's designed just for senior cats.
Great for multiple cat families (this particular one is made for them, but all of their formulas tout this benefit)
Unscented formula
Cons
Since it's clay-based, it clings to the walls of the litter box
Not the best odor control
Clumps have a tendency to get "cement-like"
Recommendation
With around 80% of customers rating this 4+ stars, it's definitely a good brand to try.
In fact, it's on my list for my next Chewy order!
Remember, you get free shipping on orders $49+, even when you're buying something heavy like cat litter!
3. World's Best Cat Litter Scoopable Multiple Cat Clumping Formula
If you're looking for a dust-free and silica-free clay alternative that's good for the planet & your cat, try World's Best Cat Litter.
It's made out of compressed corn, making it a biodegradable option, too!
Features & benefits
Price per pound: about $1.07
99% dust-free
Concentrated formula traps odors and prevents ammonia smell.
Flushable formula is safe for septics and sewers (so it's a good choice for the Cat Genie litter box)
Forms small clumps that are easy to remove.
Cons
Pound for pound, it's one of the pricier options.
Although it has good overall odor control, it can get stinky in multi-cat households if you don't scoop daily.
Since it's made of corn vs clay, some cats may not want to use it.
Recommendation
I have picky cats so this isn't one of the brands I've personally tried.
However, I know quite a few people who say it totally lives up to its name!
It's a great option for those who want to avoid clay entirely, as well as those who need something that's safe to flush.
4. Naturally Fresh Walnut-Based Multi-Cat Quick-Clumping Cat Litter
Naturally Fresh is a rather unique dust-free cat litter, since it's made from walnut shells.
It's one of the most eco-friendly cat litter options on this list.
Features & benefits
Price per pound: about $0.84
One bag equals three of the leading clay litter.
Creates harder clumps to make it easier to scoop.
Super absorbent, so one bag lasts a while!
Doesn't track or stick to paws.
Made with renewable sources and no chemicals or toxins
Cons
Again, since it's so unique, cats may be apprehensive to use it.
Not flushable or compostable
It's " Virtually dust-free," however not 100% dust-free
Some say it has an unpleasant odor
Recommendation
I am kind of fascinated by the idea of a walnut-based cat litter, and I really like that it's so eco-friendly.
Of course, you'll need to get your cat used to it since it's so completely different from anything they're used to!
5. sWheat Scoop Multi-Cat Natural Wheat Cat Litter
sWheat Scoop is one of the first non-clay litters that I ever heard of (after Yesterday's News), and it's also one that's highly recommended by vets!
As the name implies, it's made from wheat, so it's all natural.
Features and benefits
Price per pound: about $0.85
Recommended by vets for kittens and post-surgical cats
Clumps fast and firmly for easy scooping.
No added fragrances or toxic ingredients
100% biodegradable
Long-lasting odor control
Cons
Not good for families with wheat allergies, obviously.
Cats may not like the way it feels
Tends to track quite a bit
Recommendation
This is a great budget-friendly option that's also good for the planet.
I love that it's gentle enough for tiny kittens as well as cats who just had surgery.
I also like that it's biodegradable and compostable, which means it won't sit in landfills!
Final Word
While the best dust-free cat litter for you depends on your preferences, I can tell you which ones I most prefer!
Overall, I'm a fan of Fresh Step because it's affordable and works very well in our multi-cat household.
For a non-clay litter, though, I'd have to go with either sWheat or Yesterday's News, as both are recommended by vets.
Which would you choose for the best dust-free cat litter? Share below!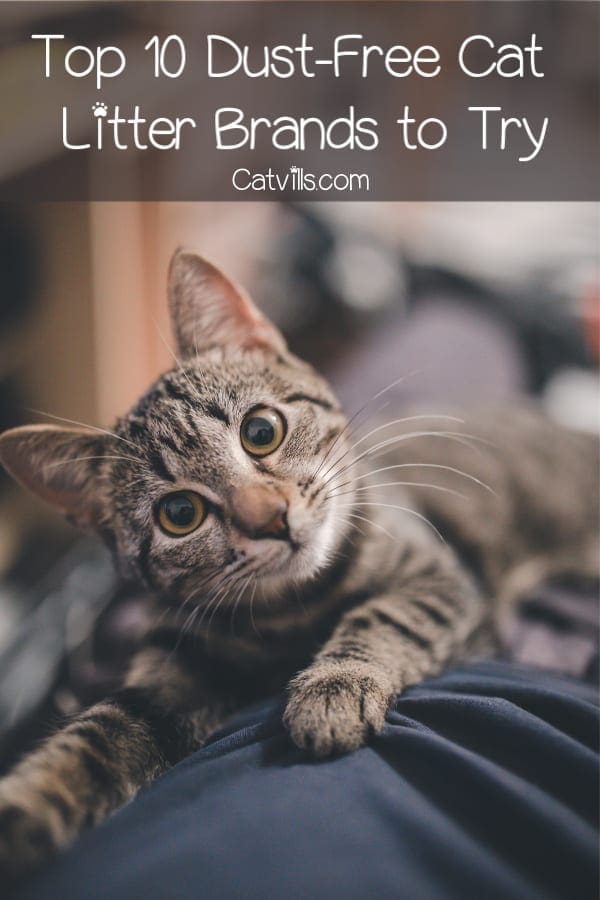 Last update on 2023-09-21 / Affiliate links / Images from Amazon Product Advertising API