On the hunt for some amazing tuxedo cat names?
I've got you covered!
Below, I came up with a grand total of 450 different ideas, with plenty each for males and females.
We have SO much to look at, so let's just jump right in.
200 Black and White Tuxedo Cat Names for Males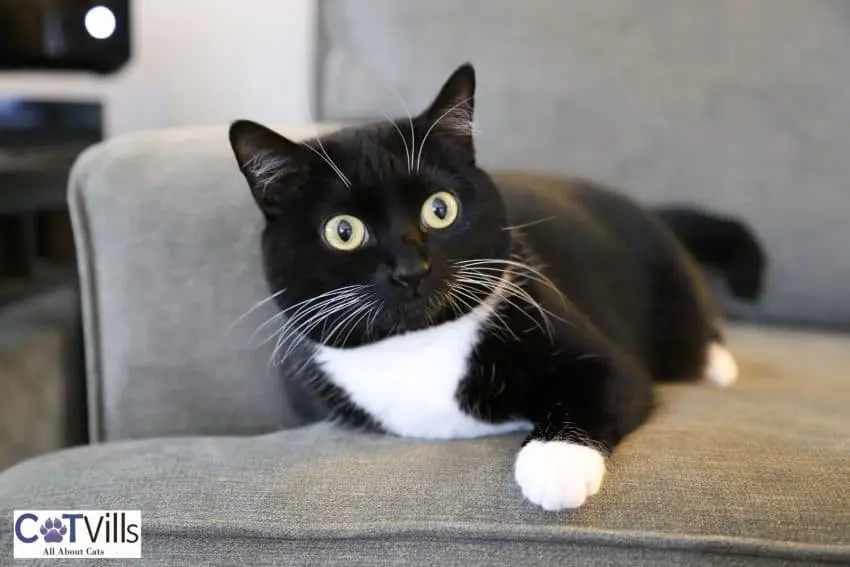 Did you know that Sir Isaac Newton, William Shakespeare, and Ludwig van Beethoven all owned tuxedo cates?
Here is a list of names for black and white cats to choose from!
Admiral
Aesop
Alabaster
Albino
Alcott
Alder
Aldous
Alfonso
Alfred
Ansel
Ash
Asher
Ashford
Atwood
Avalancha
Babka
Bandit
Barcode
Bear
Benedict
Berkeley
Berlin
Blanc
Blot
Bones
Boo
Boop
Bowtie
Brair
Brandson
Brently
Broderick
Burhbank
Butler
Calhoun
Carlton
Carmichael
Carter
Casper
Catson
Chairmin
Channing
Charlie
Chaucer
Cheetah
Cheshire
Chess
Chinstrap
Chuck
Clark
Cleveland
Dalmation
Daniel
Desmond
Dickens
Doonesberry
Dot
Dyke
Edison
Edmund
Eldridge
Everest
Faith
Faulkner
Fedora
Ferris
Finn
Frank
Franklin
Garcon
Gentleman
Geoffrey
George
Geraldo
Ghost
Gideon
Goatstrap
Goldwin
Gomez
Gustav
Handsome
Harlowe
Hartford
Holstien
Hulk
Hyde
Igor
Jacques
James
January
Jarvis
Java
Java
Jazzy
Jeckle
Jeeves
Jefferson
John
Karl
Kayden
Keane
Keaton
Keats
Keats
Kendrick
Kenji
King
Kingston
Lancelot
Lemur
Leopard
Loki
Lucifer
Lunar
Lux
Lyndon
Macbeth
Madden
Maestro
Marble
Mask
Maul
Mickey
Mint
Mischief
Mistoffelees
Mittens
Mocha
Mufasa
Muttonchop
Mystery
Nala
Norman
Nutmeg
Ocra
Officer
Olive
Onyx
Oreo
Oxford
Panther
Patty
Penguin
Pepper
Pew
Picasso
Pixel
Polar
Pongo
Powder
Preston
Prince
Puma
Quinote
Raven
Redmond
Retro
Rockwell
Rooney
Royal
Sabon
Salavador
Saltman
Scar
Scat
Shiro
Simba
Sinclair
Sky
Slyvester
Speck
Splatter
Spot
Spuds
Stedman
Steinway
Stripe
Sushi
Talcum
Tan
Thom
Tiberius
Tigger
Tim
Vader
Venom
Vintage
Wallace
Walrus
Washington
Weib
Wes
Wesley
William
Willie
Winter
Wit
Wolverine
Zima
Zorro
Check: 400+ Pretty Tortoiseshell Cat Names
200 Black and White Tuxedo Cat Names for Females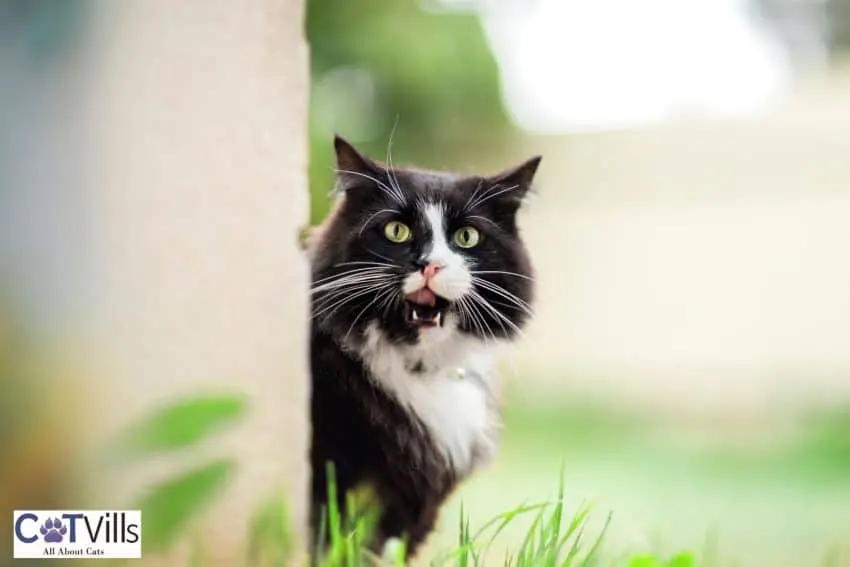 Your tuxedo kitty probably carries herself with the same grace as Rihanna, Hilary Clinton, Celine Dion, or Ruby Rose do. No matter what breed of cat she might be, she certainly looks chic with her stylish fur tux and fancy pants. Now wouldn't you want to give her a stunning name that defines her? Here's a list of amazing black-and-white cat names for tuxedo kitties.
Abitail
Addams
Alaska
Alley
Amberose
Amewlia
Angel
Ariel
Ashley
Astaire
Aubrey
Balbo
Balley
Barney
Berliz
Betty
Bianca
Blair
Blaney
Cadhla
Calico
Cantinflas
Catalina
Catalope
Catamari
Catams
Cate
Catherine
Catie
Catifornia
Catleb
Catmila
Cato
Catpurrrnicus
Cattage
Cattherine
Catti
Chalky
Charcoal
Cinder
Cindy
Clancy
Clare
Clare
Claus
Clawdia
Clawsome
Cleocatra
Cloud
Cookie
Cotton
Cream
Cruella
Cummerbund
Daisy
Dameron
Dania
Dara
Diamond
Dinah
Dolly
Dottie
Dove
Duchess
Dudley
Eabha
Elsa
Emarald
Feeny
Feline
Fitso
Flakey
Fleas
Fleas
Florence
Flower
Fluffy
Freckes
Fred
Frida
Frosty
Furances
Furnando
Furrdiand
Garibaldi
Godiva
Goldie
Goldie
Grace
Gucci
Hairy
Harlequin
Harmony
Heidi
Hogal
Hope
Hulihee
Imogen
Inky
Ivory
Jasmine
Jennifer
Jessicat
Kane
Kelly
Keys
Kit
Klondike
Lady
Ladybug
Love
Lucat
Luna
Madison
Magic
Maltese
Manchu
Marie
Marilyn
Marlene
Marshmallow
Meochael
Mewoses
Minnie
Misty
Moira
Muffin
Nabmaw
Nelly
Neo
Neville
Nicola
Nimbus
Noir
Norse
Oedipuss
Oleander
Opal
Orla
Pawdoma
Pawl
Pawla
Pawmer
Pawmfrey
Pawtunia
Pearl
Perdita
Petil
Pinstripe
Poe
Polkadot
Poppy
Princess
Puffin
Purrie
Purrincess
Purrsley
Purrune
Queen
Rachel
Rebeus
Riona
Ritsy
Rivera
Roisin
Rose
Rosebud
Rowan
Rufus
Ruggero
Sabina
Sassy
Shadow
Shady
Shamu
Shannon
Show White
Sirius
Sith
Smokey
Smudge
Snape
Snowy
Soul
Speckles
Stormy
Stripey
Sturgis
Sugar
Swirl
Tabitha
Toulouse
Twilight
Verdi
Whitey
Wyat
Yeti
Yosemite
Zappa
Zendaya
50 Popular Tuxedo Cat Names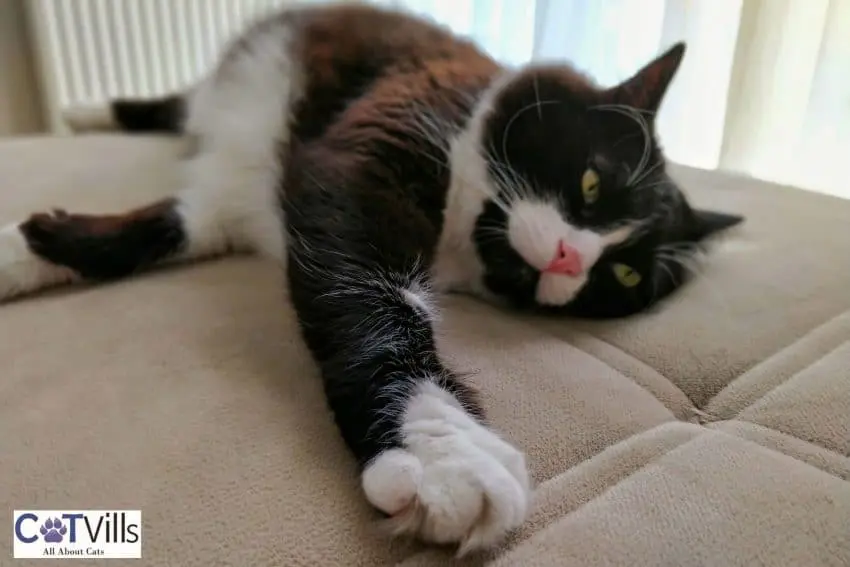 Tuxedo cats come in different patterns of coats and colors. Some even have white patches splashed all over a dark coat, while others have a solid color on their paws, crown, tail, etc. They are not always black and white either and can be grey, orange, etc. Here's a list of stylish and cute names for your dapper feline friends.
Albatross
Blake
Britton
Carlton
Chandler
Checkers
Chester
Chilly
Chop
Coco
Coffee
Domino
Donegal
Duke
Ebony
Edgar
Expresso
Felix
Figaro
Gatsby
Gibson
Gunslinger
Hamlet
Hayes
Ice
Luigi
Marble
Mario
Mignight
Milo
Nebula
Neckbeard
Panda
Patches
Pebbles
Pepe
Priest
Puffin
Roschach
Shenandoah
Skunk
Snoopy
Snowball
Socks
Spade
Vanilla
Wednesday
Willy
Woopie
Zorro
Tuxedo Cat Names FAQs
Do you still have questions about tuxedo cats and their names? We have tried to answer some common questions. Take a look at the answers!
HOW DO YOU PICK THE RIGHT NAME FOR YOUR TUXEDO CAT?
Choosing the right name for your tuxedo cat doesn't have to be a challenging process. You can pick cartoon names, like Sylvester from Looney Tunes. You can name your pet after famous cats like Blackie the millionaire, or an actor who pulls off tux really well, like Beyonce.
WHAT'S A GOOD NAME FOR A BLACK AND WHITE KITTY?
Your tuxedo kitty may have a black coat or a white coat. Either way, she has a gorgeous look and personality that deserves a stunning name. There are many names to pick from, like  Astaire, Betty, Cinder, Dove, Elsa, etc.
WHAT ARE SOME BADASS CAT NAMES FOR TUXEDO CATS?
Whether your tuxedo cat is a cute girl or a handsome boy, you can give them some amazing badass names. For your male tuxedo cat, you can pick names like Kuro, Batman, Wolverine, etc. For girl cats, you can choose names like Catwoman, Megan, Zelda,  etc.
IS TUXEDO CAT A SPECIFIC BREED?
Contrary to the popular belief,  there is no specific tuxedo cat breed. Tuxedo cats have stylish coats of two colors, and the patterns look like the cats are wearing a tuxedo. This gives the animal a fancy feline look. This look is a result of genetics and not breed.
IS A TUXEDO CAT A RARE CAT?
A tuxedo cat is a bicolored cat that belongs to all cat breeds. The coloration, a result of its genetics, is not particularly rare and tuxedo cats are quite commonly found all around the world. They surely look stylish and cute and they all have unique patterns.
WHAT IS THE MOST FAMOUS CAT NAME?
According to a survey, the most popular cat names in the US are Max, Chloe, Bella, and Oliver. If you're planning to give your pet a famous cat name, you can choose names like Sylvester, Tom, Duchess, Penelope, Garfield, Crookshanks, etc.
WHAT ARE SOME GOOD NAMES FOR CATS WITH WHITE PAWS?
Cats with white paws look like they are wearing socks or shoes. They also look like they are wearing pants. You can choose names like Mittens, Mr./Ms. Boots, or Socks for them. You can try creative names like Vanilla Beans, Tippy-Toe, or Snow-Paw.
Final Words
Now you have lists of various male and female tuxedo cat names for your stylish-looking feline friend.
I hope that our list of tuxedo cat names will help you pick the right name for your dapper pet – something that you'll both love!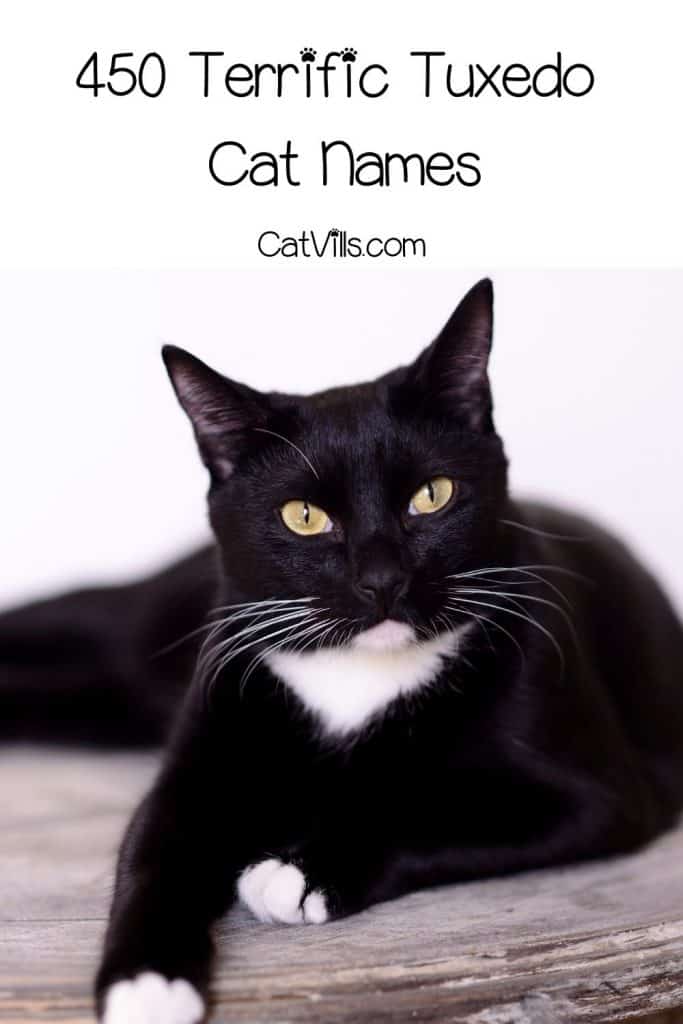 What are your favorite Tuxedo cat names? We'd love to hear your choices below!
Andreea Juganaru
Andreea is a very passionate content creator and her purpose is to provide you with the most interesting articles, while constantly discovering new facts. She's been freelance writing for the past five years and has created numerous articles and educational materials while managing her own business.