Last updated on October 8th, 2023 at 03:20 am
Cats are curious creatures that love to climb, scratch, and lounge in cozy spaces.
That's why a cat tree can be a great addition to your home, providing your feline friend with a dedicated space to play, rest, and satisfy their natural instincts.
But with so many options available, how do you choose the best cat tree for your pet?
We'll explore the top picks for the best cat trees on the market, from budget-friendly options to high-end models.
Top Picks At A Glance
Best Cat Trees On The Market
Each of these trees meets my top three criteria!
They're all stable enough for your crazy cat, affordable in the sense that they're a good value for the cost, and versatile enough to keep kitty happy.
1. Best Wall-Mounted: CatastrophiCreations Mini Garden Cat Tree
The Mini Garden CatastrophiCreations structure is one of our all-time favorites!
Comes With
Pole Sections: 3
Pole Top Platform x 1
Pole Bottom Platform x 1
Pole Coupling x 2
18″ Escape Hatch x 1
Mounting Plank Tops x 4
Mounting Plank Bottoms x 10
Planter Tops x 2
Rust-proof, Stainless Steel Planter Pot x 2
6 pre-cut sections of grommeted fabric
(A) 3 grommets (16") x 5
(C) 5 grommets (32") x 1
Features and Benefits
You can use the planter for some cat nip to make it even more enticing.
Holds 62 lbs per hammock and 85 lbs per wooden piece.
Fantastic for households with multiple cats
Cons
At 11 inches deep, it may not be big enough for XL cat breeds.
The planter leaks, so it's not good for plants that need a lot of water.
Recommendation
One of the biggest complaints about this model is regarding the included planter. Basically, it leaks, so you can't actually use it for most plants.
While you could just replace them with better versions, considering they're one of the selling points on this one, that's no small issue.
2. Best Durability: Go Pet Club Cat Tree
One of our favorite cat trees for the average house cat is the one we have now: the Go Pet Club Cat Tree. We have the blue one, but it comes in other great color options.
We have three cats of average weight, more or less. Willow is a bit overweight, but she's 15 and doesn't climb as much. Zoe and Alex, though, love this tree!
Features
Four large levels in all, including the base
A sisal-covered ladder for more climbing fun (although, to be honest, my cats don't use it except as a scratching post)
A plush top perch for napping (Zoe and Alex fight over this spot!)
Plenty of sisal-covered posts, which last surprisingly long! Zoe scratches them constantly, and only one has come undone after over a year.
Like we said, we've had this for more than a year. It's taken some major abuse both from our cats and from our dogs ramming into it while playing, and it's still standing!
3. Best For Large Cats: FEANDREA Cat Tree
It is the best cat tree for large cats for so many reasons.
features
Strengthened with battens at the bottom and anti-toppling fittings for increased stability.
Roomy cat cave with a cute little window, and a luxury top perch.
Large "basket-style" nap spot that's deep enough even for Maine Coon cats.
This tree definitely meets all of our requirements! It's stable thanks to the added features, versatile, and surprisingly affordable!
4. Best Handcrafted: CatastrophiCreations Cat Tree Shelves
We feel like the Cat Mod Climb Track (which is just called "Climb" on their website) is a good choice.
It's not quite as simple as some of the other pieces we'll look at, but also not nearly as complex as our top pick.
Comes With
Pole Sections: 3
Pole Top Platform x 1
Pole Bottom Platform x 1
Pole Coupling x 2
18″ Escape Hatch x 1
Mounting Plank Tops x 5
Mounting Plank Bottoms x 9
4 pre-cut sections of grommeted fabric
(A) 3 grommets x 2
(C) 5 grommets x 2
Features and Benefits
Made with 12 oz. cotton canvas, bamboo, sisal rope, and steel
Holds 85 lbs per shelf
Choose from unfinished, English chestnut, or oak wood.
Perfect for multiple cats
Cons
As with all of their structures, you need to know where your studs are in your wall.
One complaint is that cats can fall off the bridges.
Recommendation
While most of the reviews on this one are very positive, one customer pointed out an issue with the bridge.
They stated that their cat fell off because there was nothing to stabilize the edges.
CatastrophiCreations replied to that with an offer to help troubleshoot it, showing that they do monitor reviews and try to help fix any issues that arise.
5. Best For Senior Cats: FEANDREA Multi-Level Cat Tree
FEANDREA wins again as the best cat tree for older cats!
The multi-level cat tree with feeder bowl is just the right size for achy kitties who can't climb like they used to.
Features
3 levels, including the base, with plenty of leeway for climbing or jumping
2 comfy caves to give senior kitties a nice retreat from the noise
1 cozy perch for people watching
3 sisal scratching posts
Detachable feeding bowl (so your older cat can grab a drink without walking to the kitchen)
Your senior cat will definitely enjoy playing with this tree.
6. Best Flooor-TO-Ceiling: HOPERAN Floor-to-Ceiling Cat Tree
We're crazy in love with the HOPERAN floor-to-ceiling cat tree! It's a tree that runs from your floor all the way up to your ceiling and yet takes up hardly any floor space.
Features
The entire thing is modular, so you can put it together exactly how you want it.
Comes in many different sizes and colors.
Buy the pole from them or get it separately.
The platforms are made in the USA with sustainable materials.
We can think of a few spots in the house where we'd love to put this! We have very little floor space, but we do have some unused corners where it would fit!
7. Best Realistic Tree: Majestic Pet Cat Tree
Although it only stands at around 4 feet tall, it packs a lot of fun into that compact size.
Features
Large scratching posts and pads keep claws off your furniture.

Soft padded perch on the top of the tree offers up a cushioned spot for a nap.

Cute hanging sisal toy gives kitty something fun to play with.

The modern design and neutral colors fit into any decor.
We love this one because it doesn't look much like a cat tree, so it won't stand out like a sore thumb in our house.
It's also compact enough to stick in my bedroom, where my cats hide when company comes over.
8. Best Modular: KATRIS Modular Cat Tree
Our top pick for the best "alternative" cat tree is also the #1 tree on my wish list right now. The Katris Blocks modular cat tree isn't just stylish; it's completely customizable.
Features
The Tetris-like blocks can be configured into just about any final size and shape.
It comes with 5 blocks to get you started, but you can buy more sets and expand it as much as you want.
Assembles easily with the included clips.
It looks like modern art instead of a cat tree!
The only major drawback is that it doesn't come with any padded areas, but that's okay! I could easily add some to the cubes.
This one remains one of our all-time favorites and is quite possibly our number one pick.
9. Best For Budget: Armarkat Cat Tree
Armakat makes some fabulous options in all shades of blue, but we love the Sky Blue cat tree the best.
Some of the other blues can be a bit too dark for a house that needs a more airy color.
Features
At 38L x 24W x 66H Inches, it's roomy enough for most cats.
40-pound weight limit, so it can easily handle two average-sized cats (or one Maine Coon)
Four levels of fun, and even some cute dangling toys!
Sisal rope covers the posts, giving cats a great place to scratch.
Super budget-friendly.
If you're looking for a budget-friendly blue cat house, this is a great pick! If the light blue isn't your thing, check out their other shades.
10. Cat Tree King
We discovered the Cat Tree King when writing about cat trees for Maine Coons and other big cats.
Features
Poles are covered with glued-on sisal rope from top to bottom.
Top to bottom plush, so you never see unfinished wood.
Uses the highest-quality plush to provide the ultimate comfort for your kitty.
Roomy perches and platforms let multiple cats sleep curled up together or play on the same level.
It looks so cozy, doesn't it? Cat Tree King is popular in the Netherlands, and they follow European standards for pet products, which are a lot stricter than the US laws.
11. Best Tower Tree: TRIXIE Cat Tower
Features
The large measures around 20x14x25, so it's small enough for even the tiniest space.

Open it up for playtime, then just fold it shut to store it.

Tepee-style condo and the hammock are wrapped in super soft plush.

Natural sisal scratching surface to keep cats from clawing your furniture.

Removable cushion insert is machine-washable.
We're amazed by how many features they managed to fit into such a small cat tree, and it's super cute, too!
12. Best Cheap Option: Go Pet Club Corner Cat Tree
The Go Pet Club 51″ High Beige cat tree comes in well under $100, yet it doesn't look or feel "cheap."
Features
Four levels, including the base

All of the poles are sisal-wrapped for plenty of scratching surfaces
A nice-sized cat condo for nap time
Stands at 51″, but takes up less than 2′ of floor space.
Keep in mind that this is designed for small cats, so it's not a good choice for a Savannah or Maine Coon.
What We Look For in the Best Cat Trees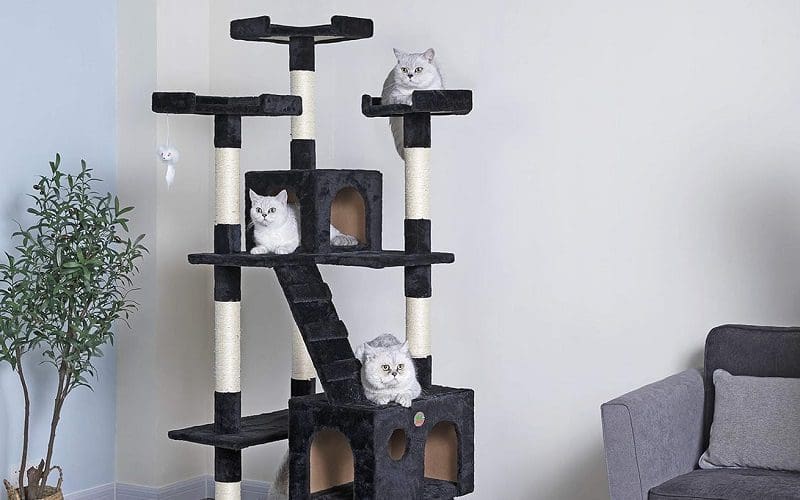 1. Stability
Stability is probably the most important feature of the best cat trees! We want to make sure my cats can climb safely and not knock over the tree!
It also needs to withstand the Fuzz when he does "zoomies," because he may be lithe, but he knocks into things with the force of a Cat 5 hurricane!
Are they wide enough to support the perches? Do they screw in tightly, or do they wiggle and jiggle like Santa's belly?
You might think a wide base is enough to make a tree stable, but it's not. You also need to look at the poles of the tower.
2. Affordability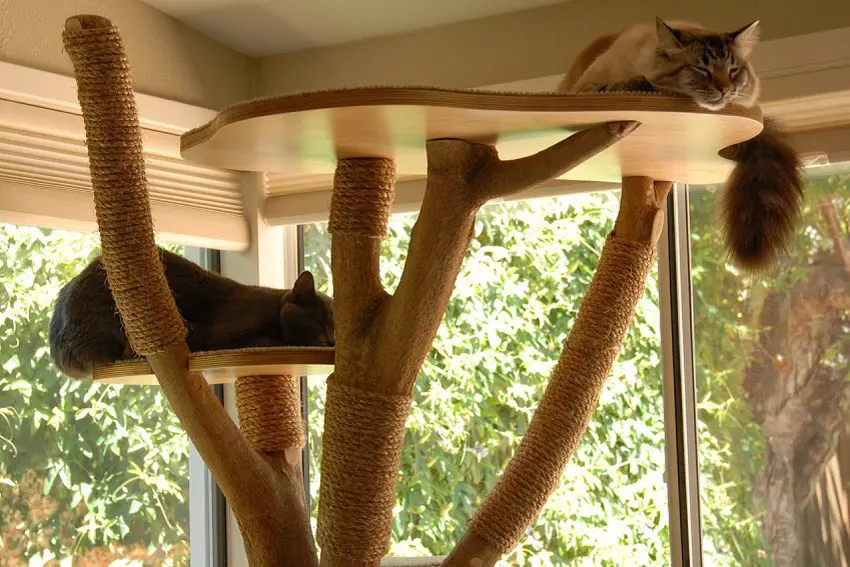 Once we determine the stability of a cat tree, I ask myself, "Can I afford it?" You'd think that would be the first question, but if it's not stable, there's no need for me to go any further.
Affordability is more than just "how much can I afford to pay right now? It's also about value for money.
Just because you can afford a $700 tree (yes, they exist) doesn't mean you should. Think about how long that tree will last.
If it's something that you know will last the life of your cat, then it's a good deal. If it will fall apart in a few months, skip it.
Even the cheapest tree isn't really "affordable" if you have to replace it in two months!
3. Versatility
When I look at cat trees, I want something that, at the very least, does three things:
It gives our cats something to climb on (obviously).
Provides plenty of surfaces for them to scratch, so they don't claw up our furniture.
Offers a cozy little nap spot.
It doesn't have to be a monster of a tree to meet those three requirements. There are some great smaller trees that look unassuming, but they do all three!
Wrap-Up
Investing in a cat tree can provide endless entertainment and comfort for your feline companion.
By selecting a sturdy, well-designed model that suits your cat's needs and preferences, you'll be providing them with a safe and fun space to explore and relax.
From cozy perches to scratching posts and hiding spots, there's a cat tree out there that's perfect for your pet.
We hope our guide has helped you find the best cat tree for your furry friend, and that they'll enjoy their new playtime haven for years to come!
Last update on 2023-11-28 / Affiliate links / Images from Amazon Product Advertising API