Looking for the best climbing walls for cats?
Or maybe you heard a friend talking about them and want to know exactly what they are?
Either way, I've got you covered!
First, we'll talk about exactly what constitutes a "climbing wall."
Then, we'll take a look at my top five favorite components for making your own!
Heads up: This post contains affiliate links. If you make a purchase through these links, we earn a small commission at no extra charge to you.
Check this comparison table for a quick guide. Read the review for further details.
Top Benefit
Hand-crafted and totally modular
Includes space-saving condo
READ MORE: Is it Cheaper to Build a Cat Tree?
What Are Cat Climbing Walls?
Cat climbing walls are exactly what they sound like: a wall for your cat to climb.
Still confused? I was too at first when a friend asked me to help her find the best cat climbing walls.
The conversation went a little like this:
Her: Hey, can you help me find a good cat climbing wall?
Me: Huh? Do you mean like a tower or tree?
Her: No, a wall! A climbing wall. You know, a wall that they can climb.
Me: So, like a wall-mounted cat tree?
Her: *Dramatic sigh* No, like you put things on a wall. Different things. And they can climb it.
Me: Ah, got it.
What she wanted was basically a whole bunch of different stuff that she could put on one special "climbing wall" for her cat.
In other words, wall-mounted trees, shelves, and even scratching posts.
So, with that in mind, I gathered up a list of the best cat furniture and components that you can mount on a wall.
Add as many or as few as you like to customize your own cat climbing wall!
I'll also share with you a few DIY cat walls that I found when I was trying to figure out what the heck she was talking about!
Let's get started!
Best Climbing Walls for Cats
This post is a little different than our usual reviews and recommendations because you can use all of these climbing wall components together or separately!
In other words, you don't have to choose just one, so feel free to mix and match!
Check out the table below for a quick glance, then read on for more details.
All cat climbing walls should have at least one really good scratching post, so let's start there with this one by Fukumaru.
While you can theoretically mount any scratching post on your wall with the right know-how and hardware, this one is ready to hang.
Features & benefits
It's easy to install as long as you know where your studs are located.
The multilevel design can adapt to pretty much any wall angle.
Made of high-quality materials like solid wood and natural jute.
Every piece of it can be replaced if need be.
All parts are fully tested to be safe for both you and your cat.
Cons
It's kind of heavy so you really need to place it on a stud that can handle the load.
The platforms are not big enough for large breed cats like Maine Coons and Savannahs.
While the post and platforms are fairly sturdy, the hammock is a bit weak. You may want to remove it if you have a heavier cat.
Recommendation
As far as mounted scratching posts for your climbing walls go, this is definitely my top pick.
While I don't love the hammock, that's one very small component and can easily be removed.
No products found.
I am a big fan of CatastrophiCreations because they offer such a wide range of wall-mounted cat furniture.
They're also a small business and everything is handmade!
While you can mix and match from their entire line, the Playplace Hammocks make a great addition to your cat's climbing wall!
Features & benefits
The entire system is handcrafted and designed to be as stylish as it is functional.
The ladder combined with the sisal hole creates a fun wall-mounted haven for kitties.
Sturdy enough for multiple cats (fabric holds up to 60 lbs and wood parts up to 85 lbs).
Hammocks are made of thick canvas and platforms consist of real wood.
Cons
Designed for a fairly specific wall, as studs must be 16″ apart and you'll need four of them.
The wood is "rough" rather than smooth. Not sharp or dangerous but more of a natural wood than super-sanded, if that makes sense.
The "escape hole" is only about 7.5″ big so if you have a ginormous kitty it's not going to be big enough.
Recommendation
I love this particular component to your climbing walls because it's neutral and stylish, so it won't stand out like a sore thumb.
If the wall stud specifications don't work with your home, you can contact them and they may be able to change things around a bit for an extra fee.
If you want to really go all out and create the ultimate cat climbing wall, you'll definitely want to add in this set by Tinton!
Features & benefits
All of the shelves and the house is made from real solid pine wood.
Scratching post made with durable natural sisal.
Natural wood color looks stylish in your home (or you can stain it with a pet-safe stain to match your decor).
Includes two condos, making it a great choice for multiple-cat families.
Cons
Houses may be a snug fit for larger cats.
May be a bit tricky to hang since you need to locate studs for all components.
Unclear as to how much weight it holds (not in the description)
Recommendation
This set would look really cute among other "farmhouse" decor, but it may be a little too cutesy for a more modern decor style.
I do love that it includes two condos since my cats are forever fighting over the single condo in my cat tree!
TINTON LIFE 9pcs Wall Wood Cat Climber Set - 2 Cat Condos Houses & 4 Cat Shelves & 2 Ladders & 1 Sisal Cat Scratching Post Cat Steps Cat Perch Cat Bed
MATERIAL: all cat shelves and house are made of solid Pine wood, while the scratching post is made from natural Sisal. High quality and durable.
LUXURY SET: cat house x 2 + cat shelves x 4 + cat ladder x 2 + scratcher post x 1
FUNCTIONAL: Cats have an instinctual need to climb and scratch. Perfect play structure to bring out the acrobat in your cat, physically and mentally challenge your feline friend.
SAFE & SAVE SPACE: Our furniture allows cats to have their own territory that is up high enough for them to feel secure. This set is the perfect solution for homes and apartments with limited floor space. These wall-mounted structures will not obstruct the flow of your living space.
SIZE: each house 15.6"L x 11.8"W x 11.4"H; each shelf 13.8"L x 9.5"W; each fabric ladder 31.5"L x 9"W; climbing post 15.7"L x 4" Dia.
ALSO CHECK: Best Beds for Ragdoll Cats
Now for something a little more modern that doesn't scream "this is cat furniture!"
One thing to keep in mind as we read through the reviews: the Contempo cat shelves come in sets of two
Features & benefits
Comes in 10 different non-toxic finishes and 4 hardware colors to match your decor.
You can also buy it totally unstained and either leave it natural or stain it yourself.
Straight lines, rounded corners, and the "floating" style create a very zen-like look.
Mix and match with other components from the line for the ultimate cat climbing wall.
Cons
At 9″ wide, not really deep enough for large breed cats.
At least one bracket needs to go into a stud.
Can get kind of pricey if you're using them to build an entire cat wall.
Recommendation
I love that these are handmade (they're actually on Amazon Handmade) and that buying them supports a small business.
They're very elegant and modern-looking so they'll fit in great with any decor.
However, they're just not wide enough for ginormous kitties, so keep that in mind.
The Trixie Pet playground makes another great addition to your modern-style climbing walls!
It's rather unique and pairs well with either the CatastropiCreations or the Contempo sets.
Features & benefits
Inspired by the latest trends in modern minimalism decor.
Includes two sisal-wrapped perches, plush hammock and a plush-lined condo.
Sisal backing on the hammock and around the condo gives your cats even more scratching surfaces.
Plush backing on each component helps protect your walls.
Cons
Made with MDF wood (aka fiberboard or particle board).
Unclear as to the weight limit since it's not mentioned in the description.
Again, not really big enough for large cats.
Recommendation
Although there are no reviews on this particular set, Trixie Pet in general scores fairly well among customers, so don't let that freak you out.
While I don't love the fact that it's made with particle wood, I do love all the other little touches (like plush backings).
It's a super cute set that would work well for smaller cats.
Sale
TRIXIE Wall Mount Cat Tree Lounge Set | Brown | Condo | Hammock | Scratching Post | Cat Furniture
Cat Superhighway – Reclaim your floor space with our 4pc Cat Tree Wall Set; can be easily configured to any room and various ceiling heights, and allows for your unique design
Nap Time - Cats love nothing more than to snuggle up after playtime; the hammock and condo cushion are covered in soft, plush fabric making naptime comfy, plus it's great for face rubbing and nuzzling
Playtime - Satisfy your cat's natural instinct to jump, climb, scratch, and lounge with our modern cat tree wall mount furniture; it is perfect to entertain your cat's curiosity while providing comfort and security
Installation – Units must be installed securely between 12" and 16" wall studs for security
Includes: 1 Hammock, 1 Condo/Cave, 2 Steps, and all hardware
Age range description: all life stages
Each of these components would work well together or alone for your cat climbing walls.
Just remember, you need to know your walls and where to find your studs!
Now, how about some DIY ideas?
Related: Kerbl cat tree REVIEW
DIY Cat Climbing Walls
As you saw, most components above are designed for smaller kitties. So, what about our big guys?
For them, I went off in search of totally DIY cat climbing wall ideas.
Take a look at what I found, along with a few recommendations for components.
FYI, these ideas work for smaller cats, too! I just wanted to give our big kitties a little extra attention.
1. The DIY Shelf Method
Give your kitties an entirely custom wall by making your own shelves.
The best part about doing it this way: you can create just the right size for your cat.
The worst part? You definitely need to be handy with a saw!
If you're not comfortable building shelves on your own, I love these floating shelves from Amazon.
They're wide enough to hold big kitties and each one can hold up to 40lbs.
Sale
BAYKA Floating Shelves for Bedroom Decor, Rustic Wood Wall Shelves for Living Room Wall Mounted, Hanging Shelving for Bathroom, Laundry Room, Small Shelf for Plants, Books(Brown,Set of 3)
Magically Transform Your Walls with Our Floating Shelves: Tired of placing stuff around horizontally? Try vertically! Make full use of the empty places up above the table and create versatile storage space to organize your fancy items. With a snap of your fingers (kidding, you have to install the wall shelves), your messy living room, bedroom, bathroom and kitchen will be given an entirely new look.
Simple and Suitable: Nothing but some screws are needed to fix these shelves to the wall and to maintain their function. Simply designed with solid wood and industrial matte metal brackets, the floating shelves not only enhance the aesthetic flare of any contemporary household, but also enable a delightful decoration to match any design or style of room.
Different Assembly for Different Styles: The unique triangular design offers two unique display forms. Install these shelves with the board on top of the brackets or below, whatever suits your taste. Choose your favorite way to display the shelves and match your decor.
Sturdier and Easy to Assemble: Large: 16.5 × 5.5 × 4.6 inches; Medium: 14.2 × 5.5 × 4.6 inches; Small: 11.4 × 5.5 × 4.6 inches. These floating shelves are wider and sturdier than others to safely hold photos, books, toys, artwork, small plants and more. Easy to install with all necessary hardware included; you just need to follow the simple instructions and you can assemble in minutes.
Why Purchase This Product? The sturdy structure, easy installation and elegant design makes this a great addition to your home. Surprisingly, our beautiful wall shelves can also be used as cat shelves to allow lovely cat to have its own space to rest and play.
2. Corner-mounted cat wall system
Here's another cool idea that cost less than $100 and takes advantage of a curvy corner wall.
I love this for an industrial-style home. You can use the shelves above along with an old metal bed frame or garden fencing.
AMAGABELI GARDEN & HOME 2 Pack Garden Fence Border 44" x 36" Rustproof Landscape Wrought Iron Fencing Gate Folding Patio Flower Bed Black
HEAVY DUTY & STURDY: This high Amagabeli garden fence gate dog barrier outdoor is with single panel size 44" high x 36" wide. 2 panels in total to be HEAVY DUTY metal garden fence gate and flower bed fencing for your beautiful yard and garden.
PREMIUM DURABLE MATERIAL & RUSTPROOF: Powder Coated Finish make it rustproof. Forged with HIGH GRADE wrought iron with those leaves decoration on top part of the fence makes it sturdy and attractive. The rustproof coated garden wire fence is welded with thick wires and it is an architectural structure that is durable and sturdy.
EASY INSTALLATION: It is easy to install with step by step instructions. Each piece of panels can be easily attached by interlock. Pick a place, hammer the spike into the ground and put the fence's peg on it. All Done!
MULTI PURPOSE: Folding and attachable decorative fence, it can be modified into fence door or pet pen! Perfect to be used as decorative garden fence, tree fence, vegetable garden fencing, path edging, garden border fence, folding fencing, animal barrier, patio landscape edging fence and more.
CUSTOMER CARE: We offer premium products for you while exceeding highest industry standards and offer thoughtful and considerate customer care.
3. Wall of Posts
If you don't want to hang shelving all over your walls, this is a really neat alternative!
You can buy high-quality sisal rope on Amazon pretty cheap and make them as large as you need to for your cat.
The best thing about these DIY climbing walls is that you can easily mix in some of the premade components and create the ultimate cat gym!
Final Recommendation
No products found.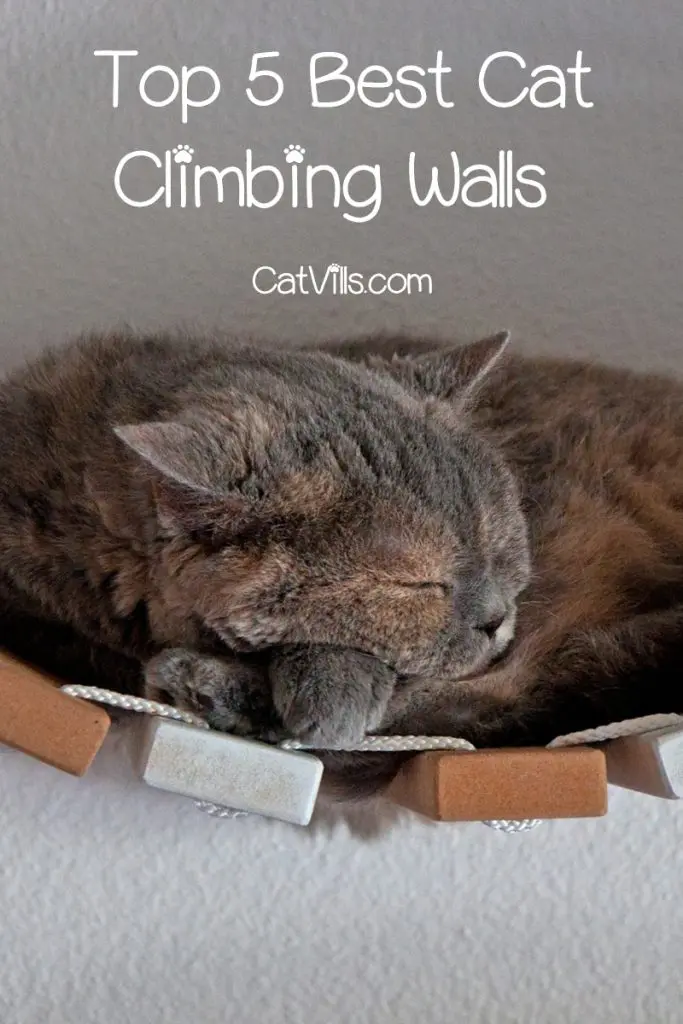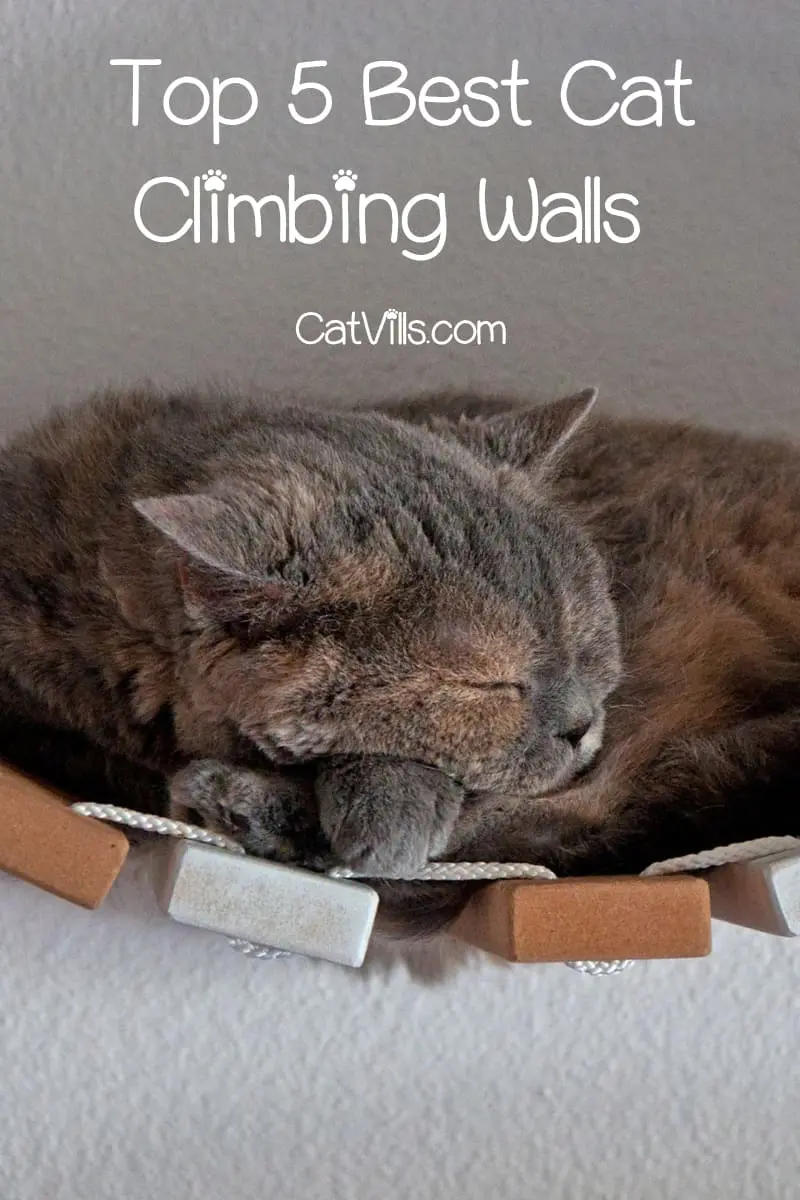 Do you have any other great ideas for cat climbing walls? Share below!
Nicole Etolen
Nicole is one of the writers here on CatVills. She's been a cat lover most of her life and-at one point- counted five felines as part of her family. Today, she's proud cat mom to two indoor kitties and caregiver for a slew of ferals.
Find her on Linkedin. Read her latest articles.
Learn more about Nicole Here
Last update on 2023-01-10 / Affiliate links / Images from Amazon Product Advertising API